Need dual screens on the run and at home?
You can, thanks to espresso.
New to the market, the founders of espresso were looking for a portable external screen. With little to no options out there, they produced their own.
Coming in at 13 and 15 inch, espresso have produced the thinnest, lightest touch screens ever with pure simplicity of use.
STG was sent a 15 inch touch espresso Display to connect up and try out.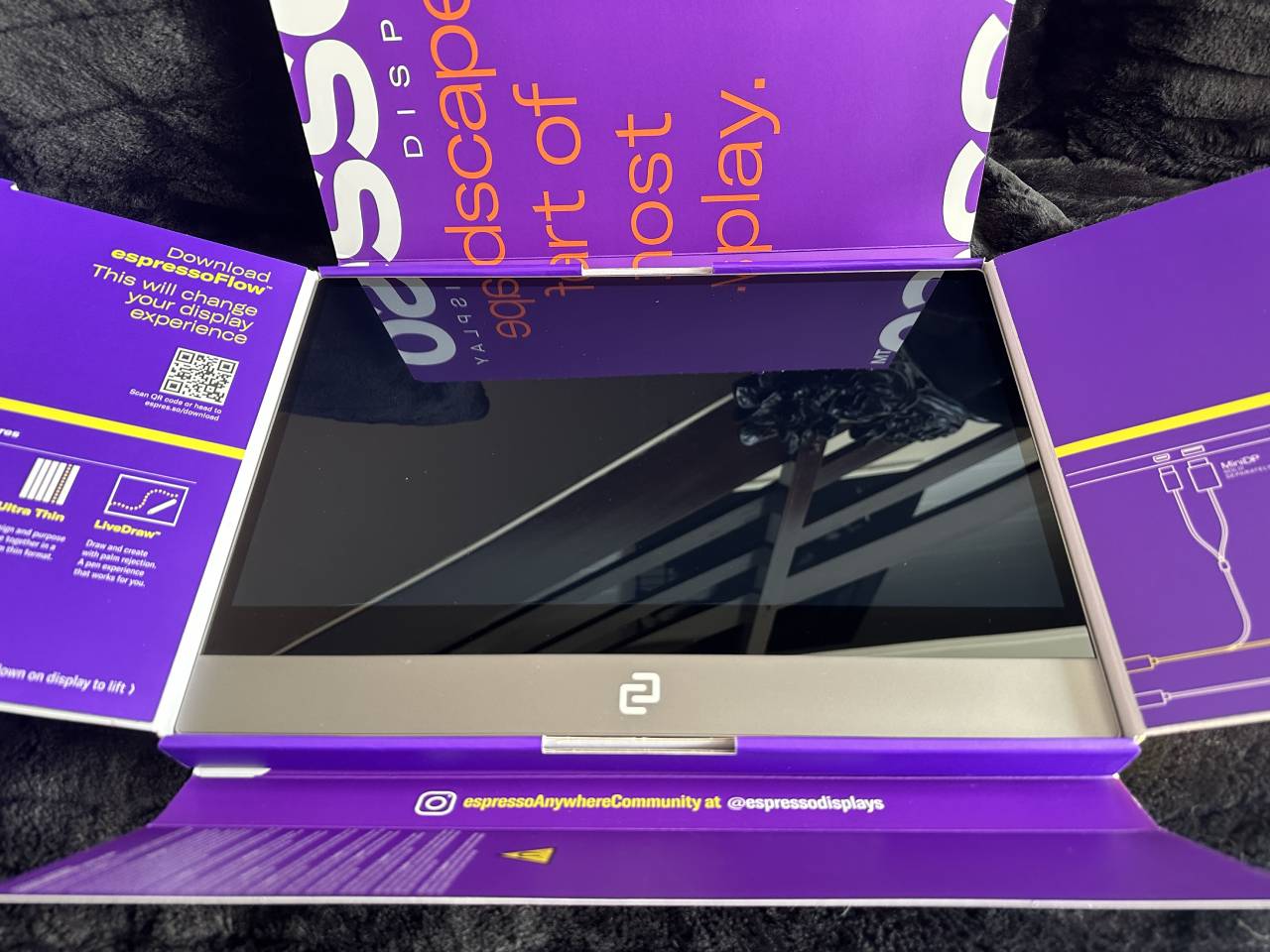 From the box you get the feel you have something of notable quality. And thin, oh yes, almost paper thin.
The displays themselves are LED, the 15 inch having a resolution of 1920 x 1080.
Two USB-C ports are on the under-side of the display. Why two?
Well some devices are under-powered via USB-C, so one is for connection and the second can be used for additional power.
Designed for portability, the espresso Display weighs next to nothing, but you do need to pack it well. Being near-to wispy thin you'll need to take care of it if jostling about.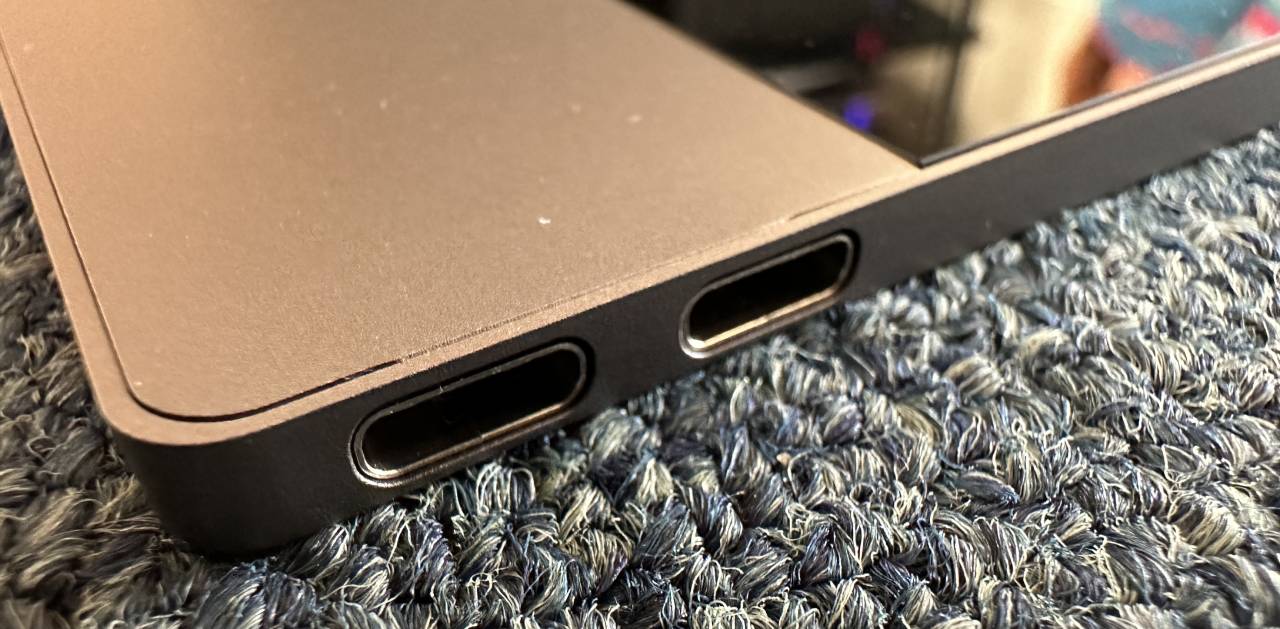 The screen's bezel isn't too chunky and thankfully espresso placed a wide bay are under the screen for you to pick the monitor up without mashing your oily fingers across the glossy display.
Connecting up, as mentioned, is real easy. Super easy.
Windows will detect the additional screen and then you'll just need to go into display settings and rejig the accessibility (where the display is situated native to your PC or laptop).
Windows, Mac and Android compatible, the espresso Display gives Mac fans something that Windows users have had for years. Touch screen.
MacOS was a similar affair to Windows, connected and boom you're good to go.
There's also a free app; espresso flow which you can install to give you more Display options and tools.
Android was a little different though.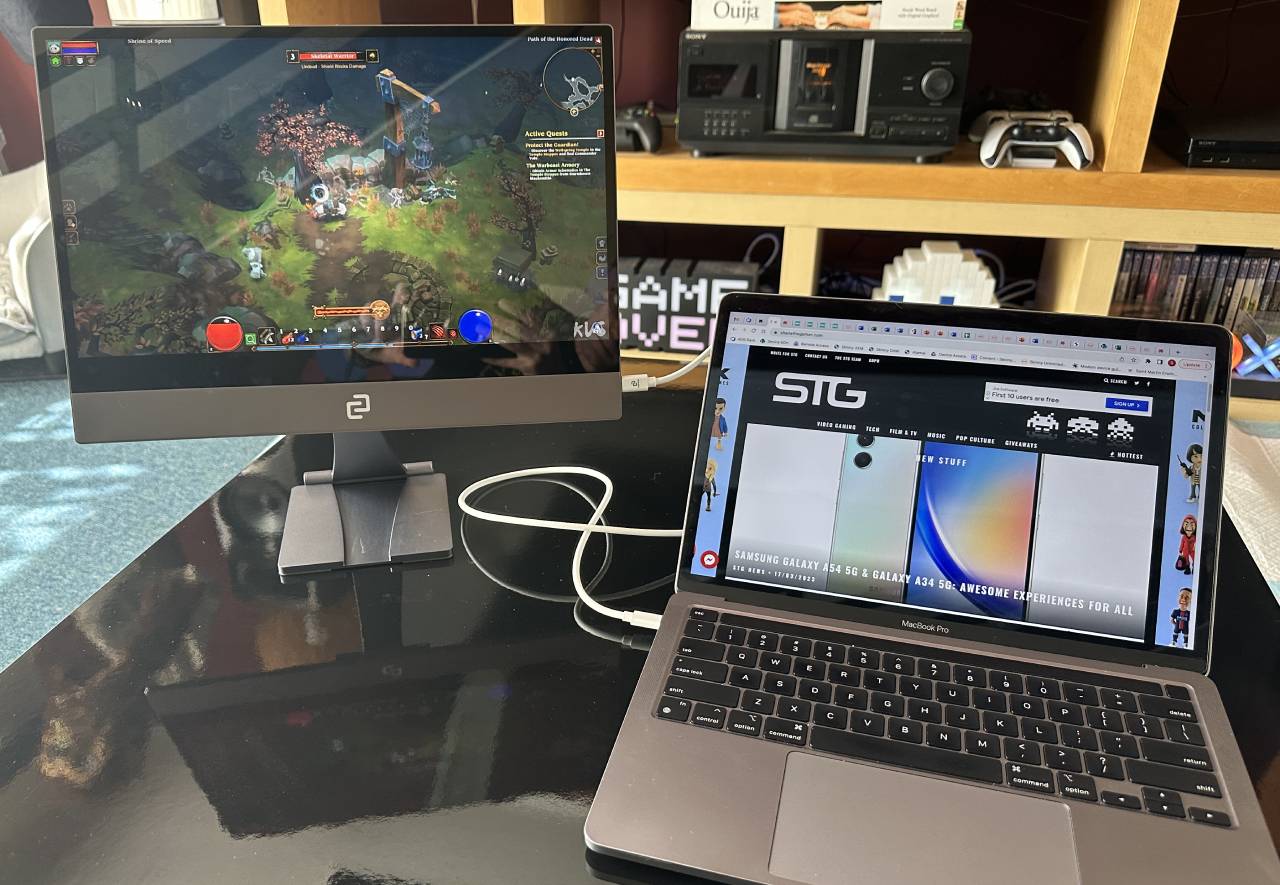 Connecting the 15 inch touch espresso Display to a new model Samsung tablet didn't work as expected. This was not the fault of the espresso Display.
Android tablets and smartphones tend to be a little too under-powered via USB-C.
But it's not impossible to do, espresso have an additional (sold separately) power adaptor for their world's thinnest displays.
While the Samsung tablet, with built-in DeX detected that the display was there just wasn't enough juice.
Laptop, PC or Mac and desktop, no external power source needed.
If your device only has HDMI you will need to invest in a quality USB-C to HDMI adaptor.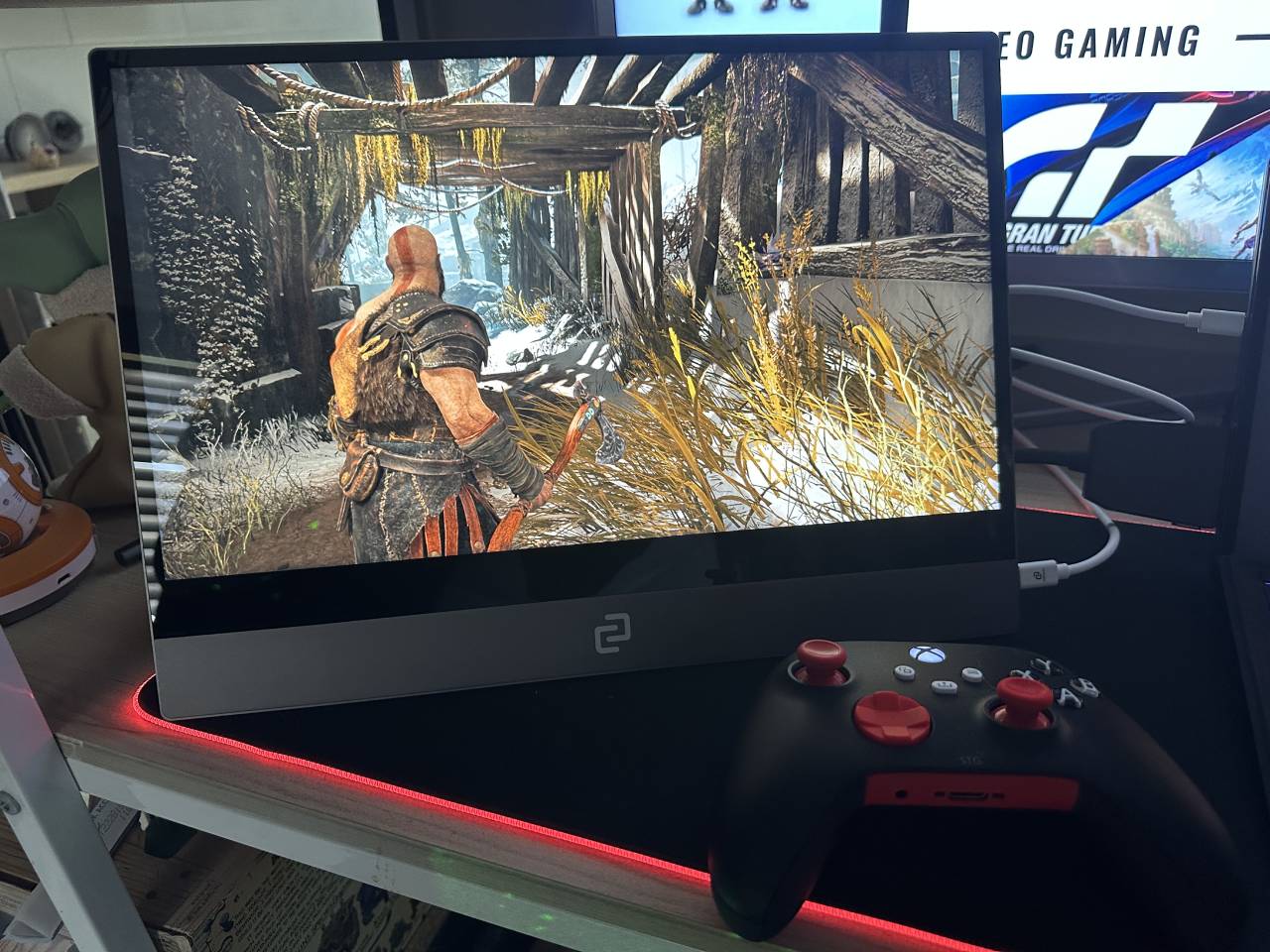 And speaking of espresso's external power adaptor, with the espresso Display you can accessorise, with a range designed for everyday users and creatives.
For any espresso Display owner it's an absolute must to get a display stand.
There's two options, one a kick stand and the other a higher raised one (which looks very Mac centric).
The raised stand has a super powerful magnet that clings to the back of the display. This said, be careful of moving the display on your desk if using the magnetic raised one, as easy as it connects, it also easily disconnects.
I preferred the kick stand for day-to-day use and this is likely the stand you'd want if you're going to be using the espresso Display out of the home or office, which is its intended purpose.
For the creatives you can sync up an espresso Pen stylus for fine detailing of your digital goodness and espresso have also released a paper-like screen layover. This does two things. Protects the face of the screen itself and gives you a feeing of designing on a textured surface.
There are non-touch versions of both the 13 and 15 inch espresso Display, but if you're on the look-out for a screen that can run with you wherever you go, my recommendation is to go for touch. Especially if you're a Mac user.
In my decades of tech reviewing I've covered off a lot of external screens and displays. The espresso Display was an astounding experience.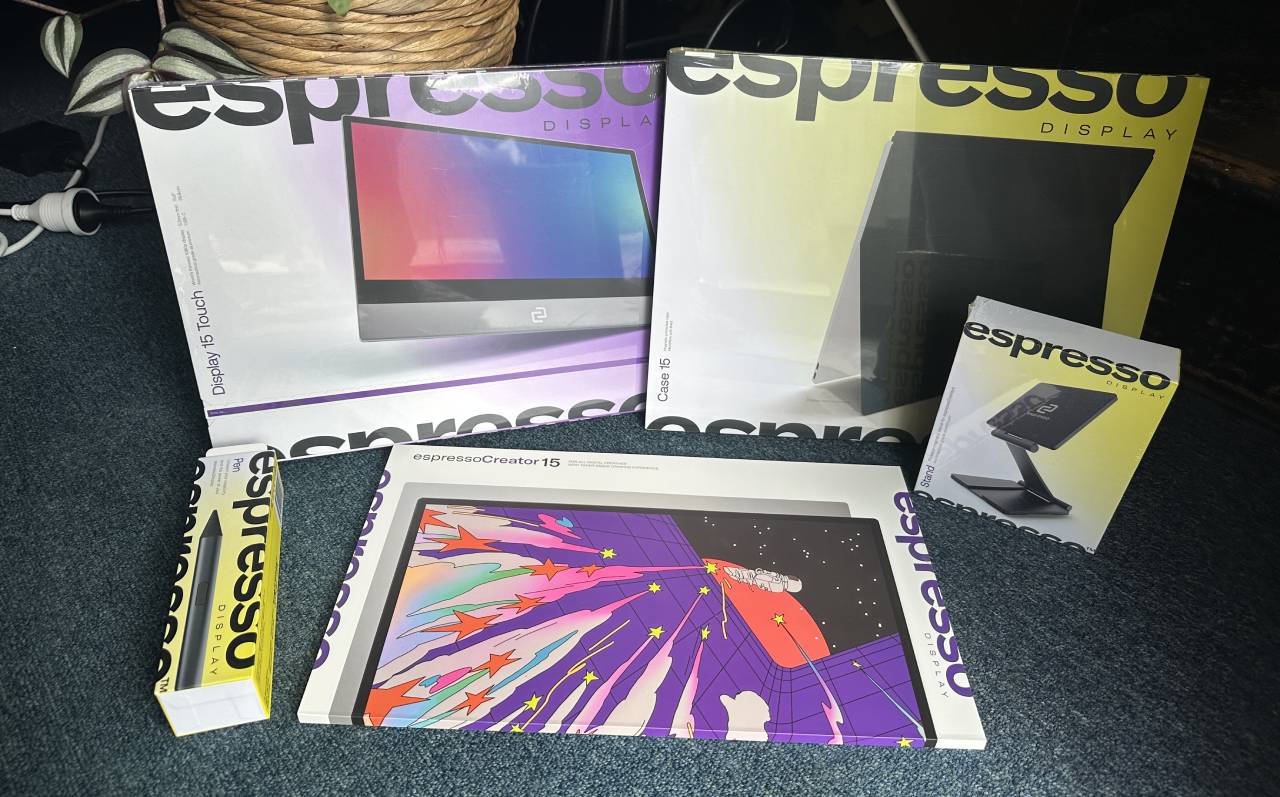 Most tend to be a bit bulky, not so portable, and packed on a few kilo's. espresso's Display's are none of that cumbersome nonsense and they are more than just a display. They can be used in landscape or portrait mode and when connected function exactly like a tablet.
They also have built-in speakers that actually sound real good. No transistor radio tinny-ness here.
I absolutely loved using the espresso Display and was able to add it in to my existing monitor setup with zero problems.
Super thin, lightweight and does more than it should, the 15 inch touch espresso Display is a true tech innovation with no current comparison products that even get close.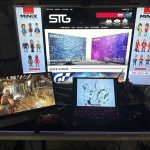 espresso 15 inch touch Display Review