Acer today announced that the Predator 21 X gaming laptop, with the world's first curved screen notebook, will be making its Australian debut at the highly-anticipated, eSports tournament, IEM Sydney at Acer's booth.
"The debut of the Predator 21 X in Australia is something we know all gamers and gaming enthusiasts have been eagerly waiting for. From its 21-inch curved screen, to the powerful 7th Generation Intel Core i7-7820HK processor, the Predator 21 X has completely redefined gaming and gaming devices. We're beyond excited to kick off Season 12 of Intel Extreme Masters with the Predator 21 X at the Sydney tournament and we're ecstatic that IEM Sydney attendees will have the chance to witness this beast in the flesh", said Gaba Cheng, Head of Products at Acer.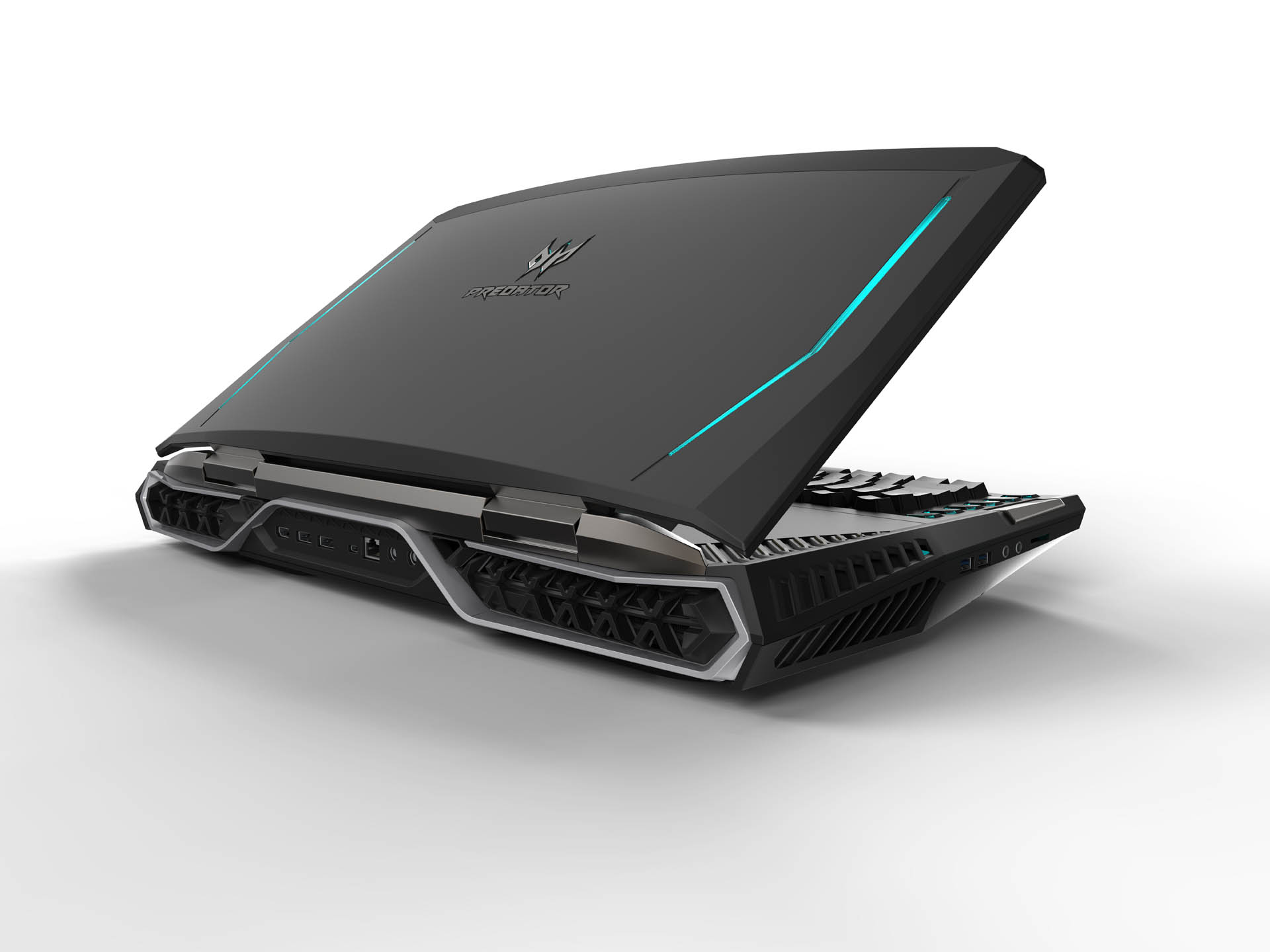 "The Predator 21 X is a gaming device like no other and as the official desktop, PC and notebook sponsor of IEM Sydney, this is the perfect opportunity for it to makes its first Australian appearance. This is a device for those who live and breathe gaming and what better place to find these passionate, gaming enthusiasts than at the biggest, global eSports tournament", Katherine Nguyen, Head of Marketing, Acer Australia and New Zealand.
Designed for serious gamers, the Predator 21 X (GX21-71) is the world's first gaming laptop to offer a curved 21-inch IPS display (2560 x 1080 resolution with a 120Hz refresh rate) and delivers a truly immersive gaming experience, especially when combined with the notebook's eye-tracking technology from Tobii. Taking PC gaming immersion to a whole new level, eye tracking lets gamers identify enemies, aim and take cover simply by gazing at objects. The curved screen also features NVIDIA G-SYNC technology, ensuring smooth and sharp gameplay.
Beneath the notebook's curved hood lies a powerful engine just waiting to wreak havoc, perfect for any eSports team looking to leave their mark. It features dual NVIDIA GeForce GTX 1080 graphic cards in SLI and is powered with the impressive 7th Generation Intel Core i7-7820HK processor for powerful performance and responsiveness. Supporting all this power is 64GB of DDR4-2400 memory, up to four 512GB solid state drives in RAID 0 configuration (including 2 NVMe PCIe SSDs, which are up to 5x faster than SATA SSDs) and a 7200 RPM hard drive of 1TB capacity.
In addition, Killer DoubleShot Pro prevents game lag and missed opportunities by automatically picking the fastest network connection (Ethernet or wireless), sending all high priority traffic over that interface while standard traffic is sent over the other. This ensures the highest priority traffic will always be put on the fastest and most reliable link. The speedy Thunderbolt 3 brings Thunderbolt to USB-C at speeds up to 40 Gbps, creating one compact port that does it all.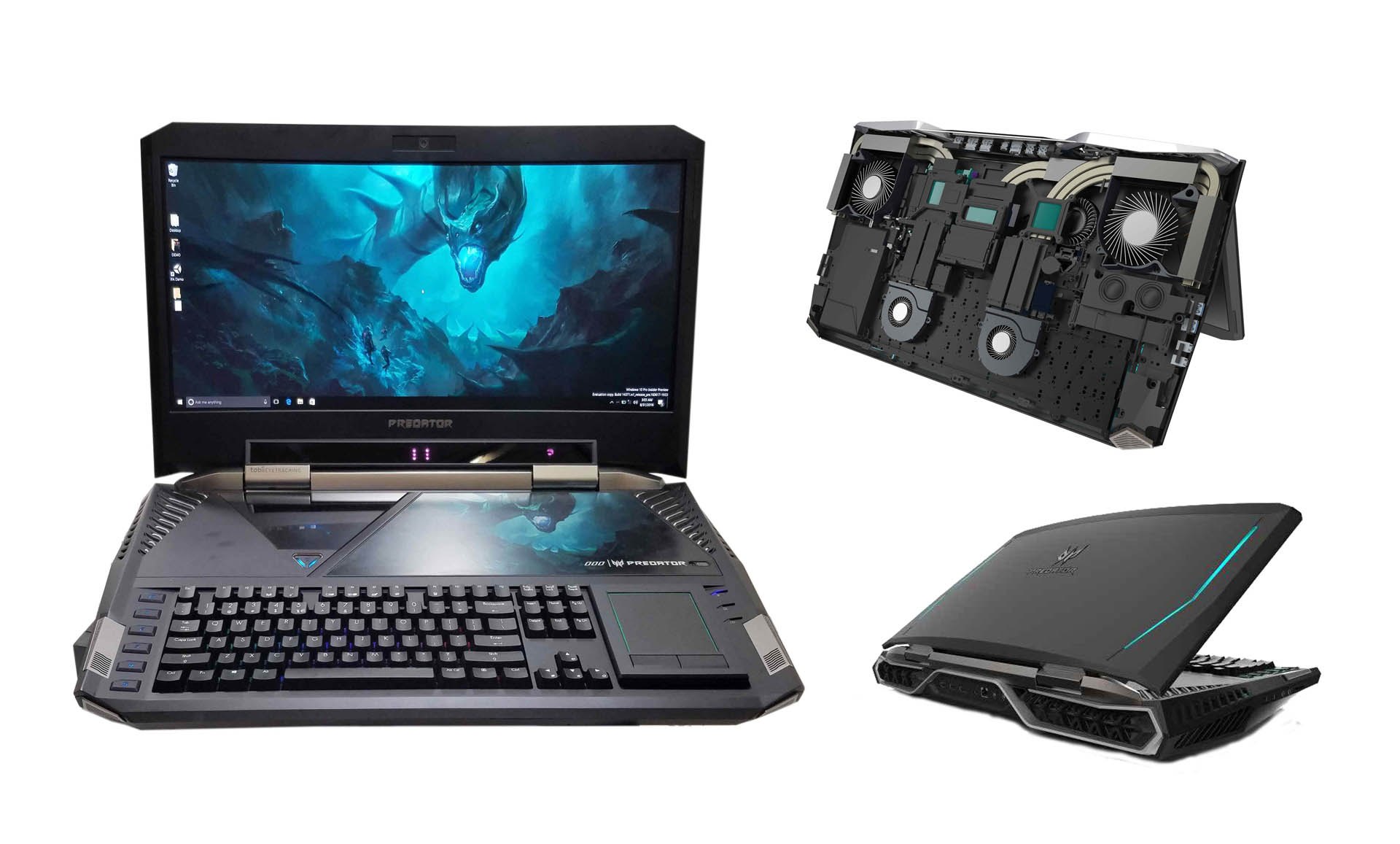 Dispelling excess heat effectively for uninterrupted performance during the most intense situations, the notebook features an advanced cooling architecture consisting of 5 system fans (including 3 ultra-thin AeroBlade metal fans) and 9 heat pipes. It also includes Acer DustDefender, which removes dust build-up and improves heat dissipation, and Acer's CoolBoost app, that can be used to adjust the fans' airflow to deliver extra cooling performance during heavy use.
The full-sized mechanical keyboard features Cherry MX Brown switches, which offer super-responsive tactile feedback and pure precision for fast and accurate gaming experiences. The individually programmable backlit keys, offer 16.7 million colour options, with which customers can swap out the black W, A, S and D keys with teal ones, using the included accessory kit. A unique numeric keypad allows it to be flipped over and turned into a Precision Touchpad.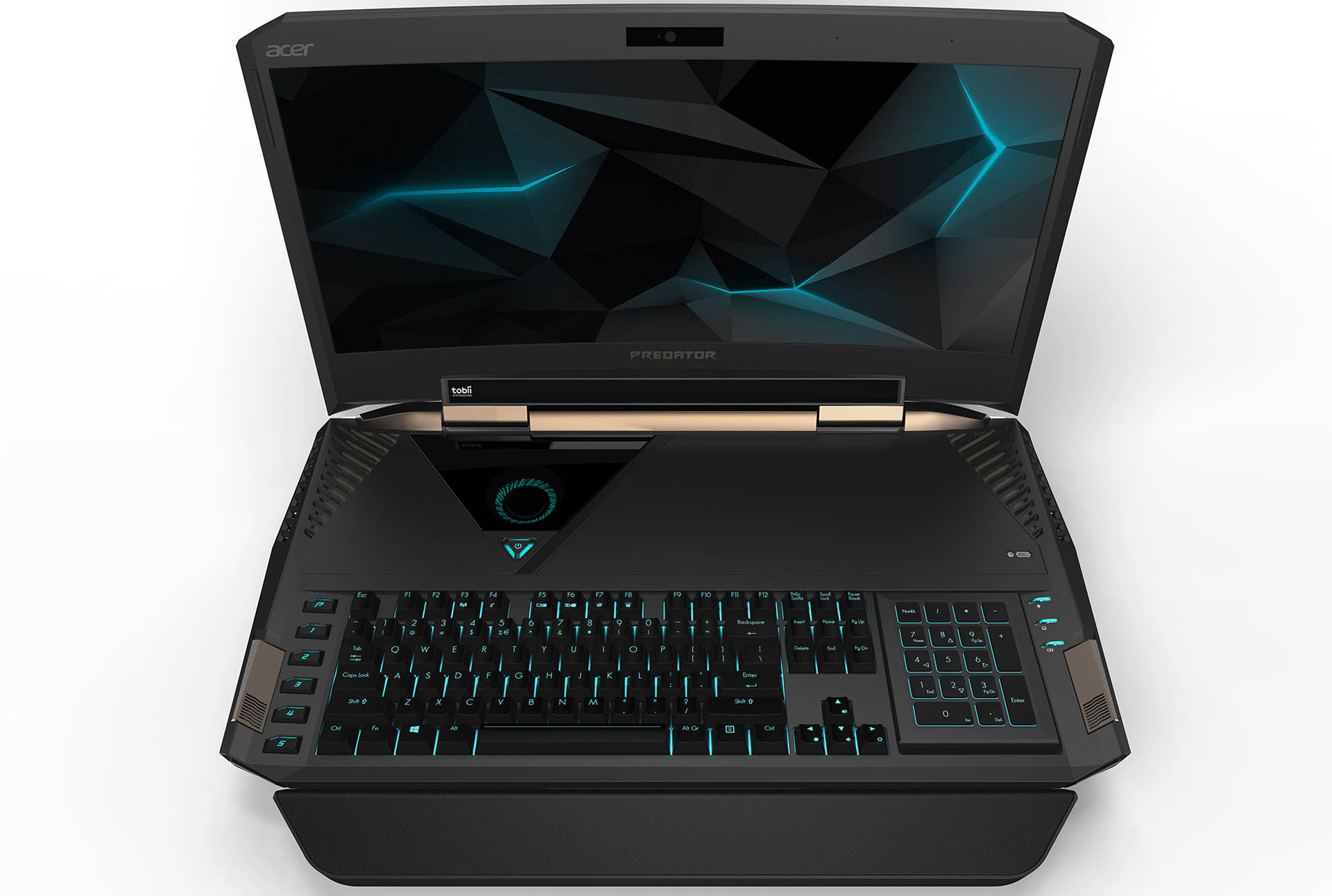 Located just above the keyboard on the right side is a metal maintenance panel which provides access to the RAM modules and one 2.5-inch hard drive. The notebook ships with a blue dragon graphic on the panel, or it can be customised with a combination of graphics, nation flags and name engravings. In addition, the first 300 notebooks will include a limited edition series number on the panel.
Being a premium and world first gaming laptop, the Acer Predator 21 X is also a premium price of around $8,999.99 USD.