Samsung have been the pioneers of smart technology since forever.
The first to bring us wearables in 2012 with the first Galaxy smartwatch and now they are first across the line with foldable screens.
Earlier this year (2019) Samsung wowed at their Unpacked event by previewing the then upcoming Galaxy Fold smartphone.
With a few hit and misses with the first batch, releasing in the U.S. Samsung took stock to the issues and reworked the first version of the Galaxy Foldable and have now re-released it to the tech hungry consumers.
Essentially the Galaxy Foldable is an Android smartphone and tablet in one.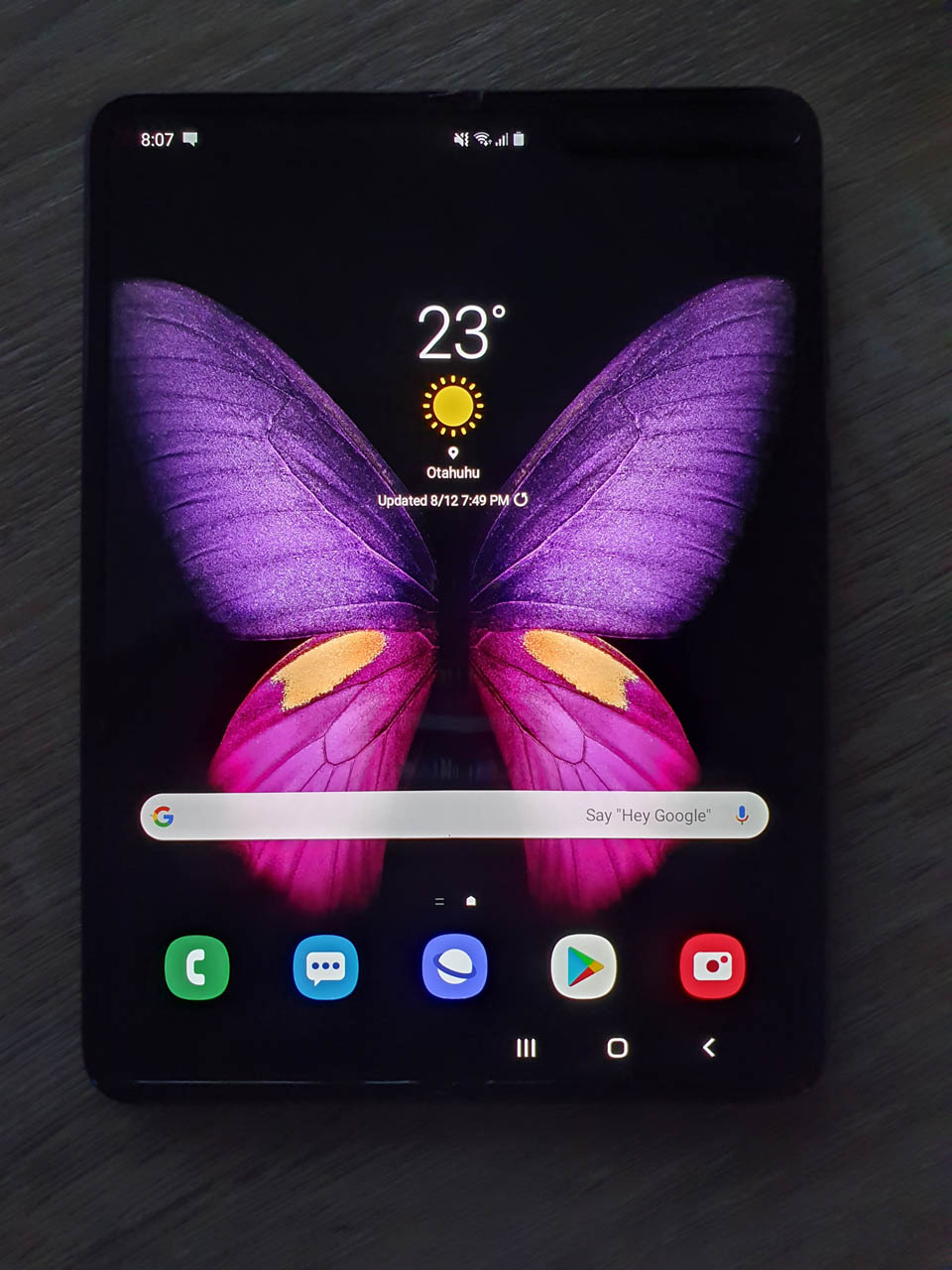 The device folds and unfolds easily enough with a satisfying click when opened to tablet mode and when closed to single phone screen.
The front screen comes in at 4.6 inches (when folded) which I liken to a preview screen.
It is fully functional and you can do everything generally without the need to open the Galaxy Fold – but there is a missed opportunity here whereby the front facing 'closed' screen does not go full width of the front.
While you can operate it okay, typing on the Samsung keyboard on this smaller front screen can be a bit challenging as the keys are so small and if you're all thumbs, like me, you'll be likely to open the device up to reply to  messages or for any serious typing.
The same can be said for using the camera – you are best to open it up to it's glorious 7.3 inch inner screen.
If you do begin working on the front screen there is continuation when you unfold the screen in to tablet mode.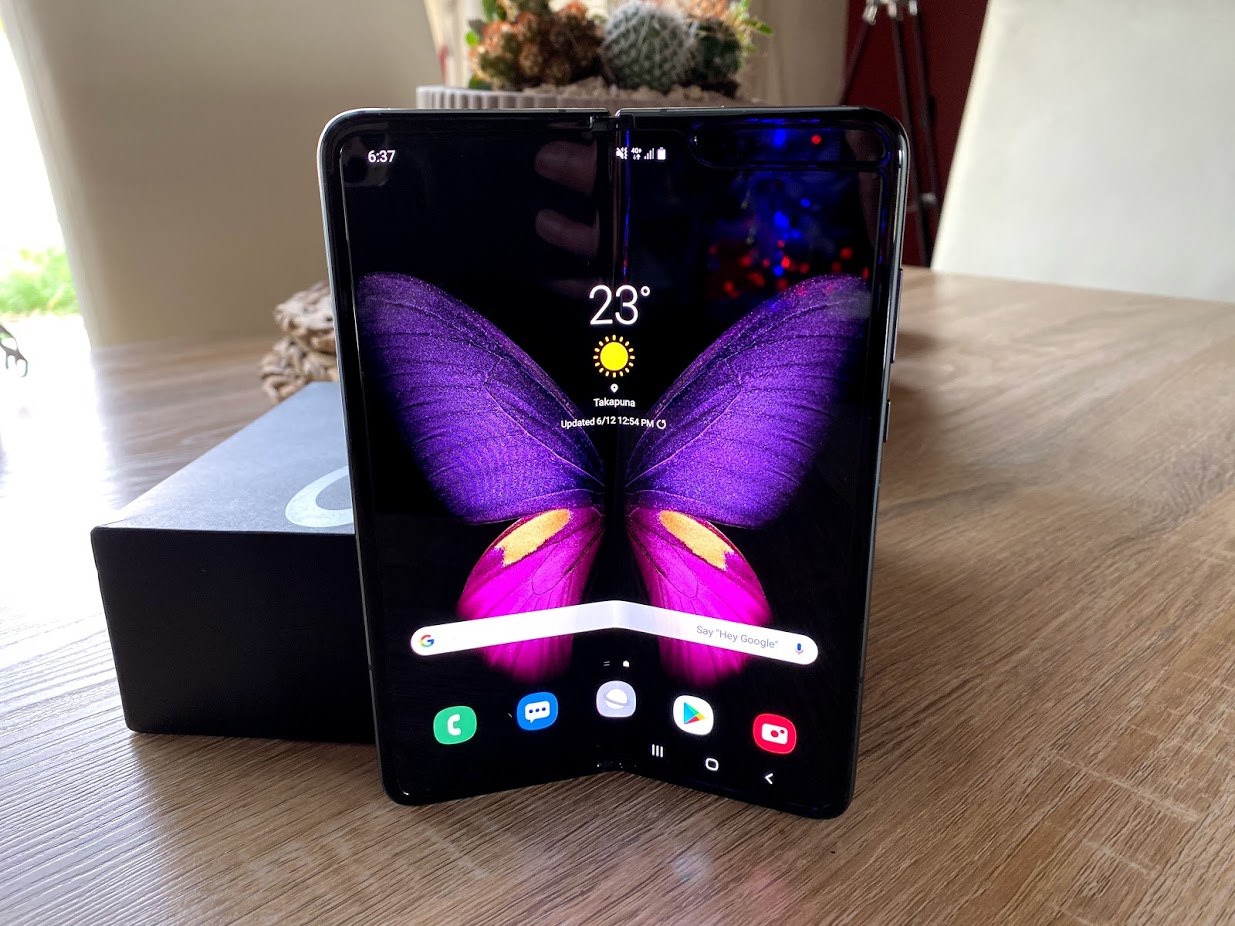 There are two lenses in the front camera, a 10MP 'selfie' camera and a depth sensor.
The rear cameras weigh in at 40MP when the triple array of the 16MP Ultra Wide Camera, 12MP Wide-angle Camera and the 12MP Telephoto Camera are added up.
Using Android PIE (9.0) the inner specs are just as equally impressive as the Note10+ and S10+ with 12GB RAM and a 512GB storage.
Oddly there is no option for storage expansion by way of micro-SD. The Galaxy Fold is dual SIM however.
Using the Galaxy Fold in open view certainly gives you a breath taking experience with the FHD Infinity Flex Display (the front facing screen is not FHD).
Whatever you use your smartphone for, having that extra screen width becomes something that you didn't know you needed until you have it.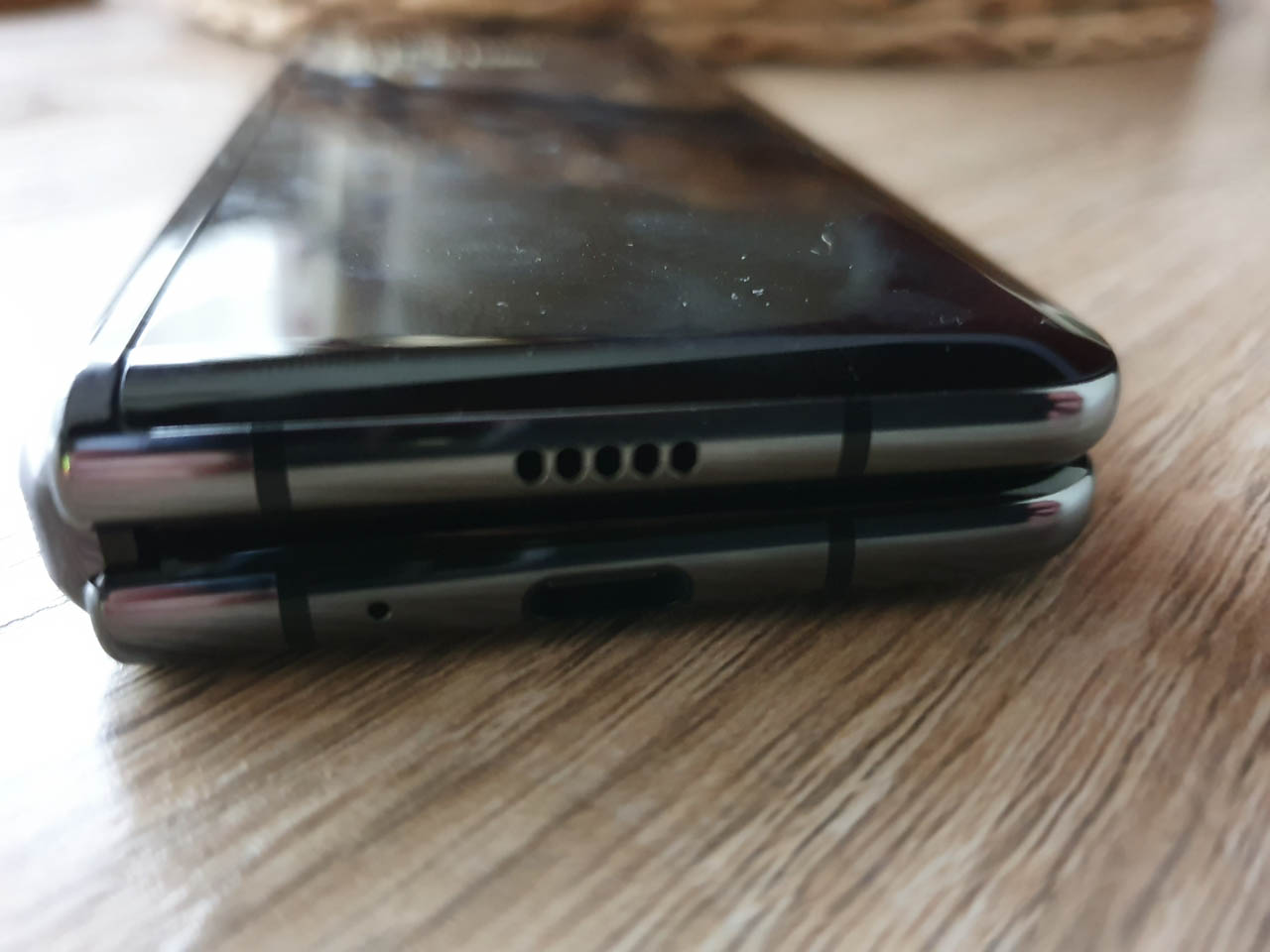 Split screen and you can have two Apps going on either side. Reading eBooks was that of an almost real book experience with either page on either side.
Netflix, YouTube and gaming strangely required me to hold the Galaxy Fold on it's side (landscape) to go to full screen when in tablet view. The center fold is almost invisible and can only be seen on certain angles.
But media watching, gameplaying or just boring work stuff is heightened by the fact you have a flexible tablet that you can put in your pocket.
When folded though – the Galaxy Fold is bulky. Similar to two smartphones sandwiched together with a taco-like hinge. As the center fold is not flush this is most definitely something you need to cautious of if you decide to own one of these. While strong enough, one wrong sit while the phone is in your back pocket is likely to break that hinge.
Still this IS the first version of the Galaxy Fold and if we think back to the other Samsung innovations when they first debuted we can expect the technology to advance in to a slimmer streamlined device as time goes on.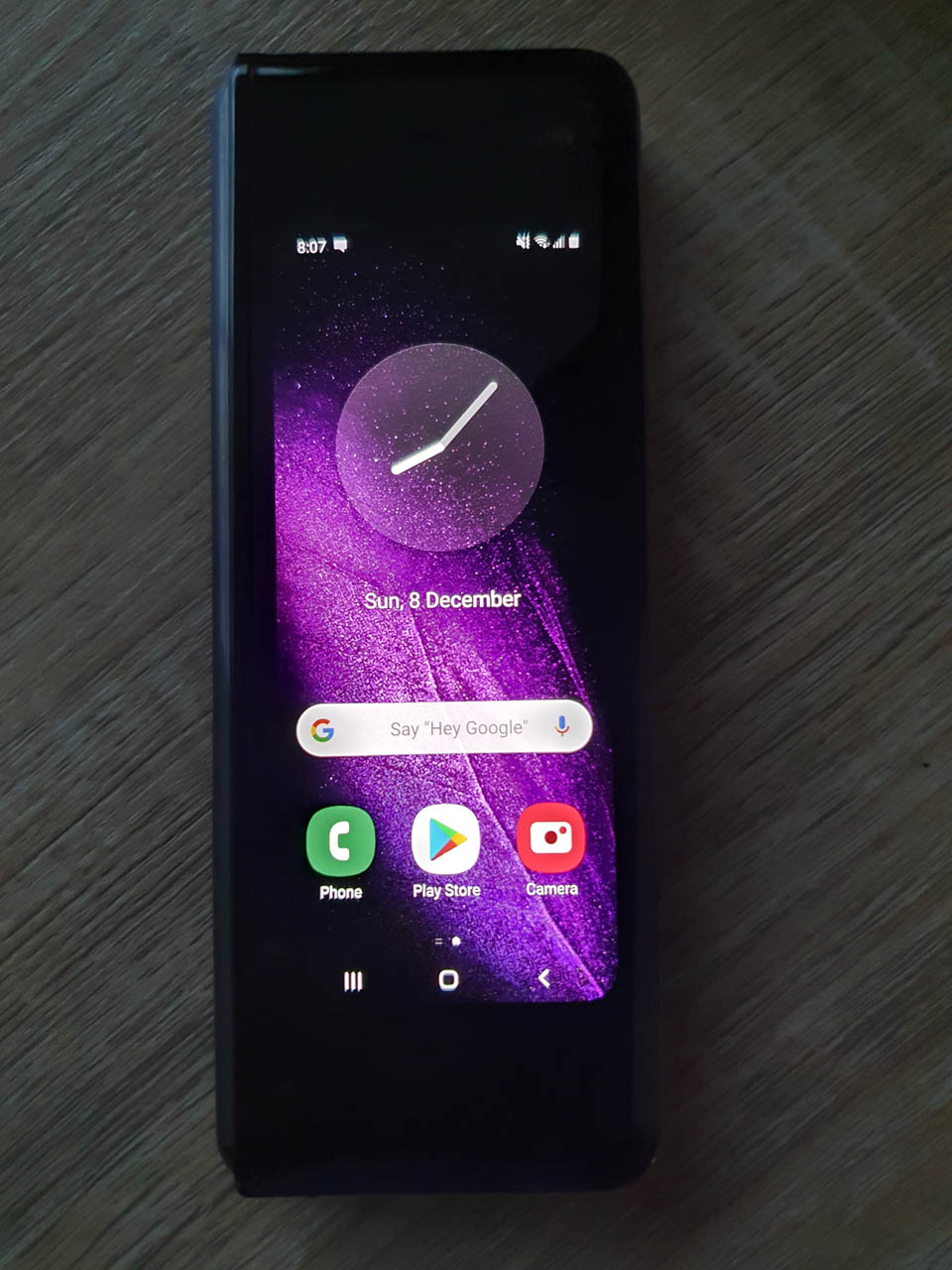 The Galaxy Fold is not a novelty or a gimmick. Not at all. It's a high spec Samsung Galaxy smartphone that gives you the best of both worlds while you're on the go.
With all nations either about to or already rolled out 5G networks there is a 5G model available.
The Samsung Galaxy Fold is not water or dust proof unfortunately so as a device that comes with a super high price tag, it is something of a trophy smartphone that you'll need to take care of.
Battery life is astounding. The dual capacity 4380mAh battery will see you right for around a day and a half with moderate use – this is impressive when you consider that it is a phone with all of the high spec trappings and a flexible tablet all in one.
While the Samsung Galaxy Fold may be out of most smartphone user's budgets it is a purely innovative and unique concept that we will see more of in the near future.
If you are an early adopter of tech and love innovation at it's best, the Samsung Galaxy Fold is a sure bet.
If, on the other hand, you are waiting for the technology to become a bit less pricey, which it will, watch this space.
Device details
Released: December (NZ) 2019
Device Name: Samsung Galaxy Fold
Chipset: 7㎚ 64-bit Octa-Core Processor x 2.84GHz (Maximum Clock Speed) + 2.41GHz + 1.78GHz
Memory: 12GB
Internal Storage: 512GB
Camera: F: 16MP. R: 40MP (total)
Price: $3, 399 (NZD)