When is the last time you put your phone away and just looked at the world around you?
And when you look at the world around you, do you merely see, or do you observe? For Vincent Munier in The Velvet Queen, observation is key.
In The Velvet Queen we are brought into the world of Vincent Munier, a wildlife photographer who is also a writer, director and cinematographer. It is after a screening of Munier's film about the Ethiopian wolf that he meets and befriends Sylvain Tesson, the man who accompanies Munier on his photographic journey in Tibet which makes up the basis of The Velvet Queen.
But this isn't an ordinary wildlife photography trip- Munier has a very specific target in mind: he is looking to photograph the elusive snow leopard. The film doesn't reference how elusive the snow leopard is in the wild, but it's worth noting that according to the Snow Leopard Trust, there may only be between 3,920 and 6,390 snow leopards left in the wild. That's not in Tibet alone, that's in the wild across the continents the snow leopard inhabits. Their task is far more difficult than attempting to photograph a species that is far more prolific in Tibet, like yaks or Tibetan antelope.
We are introduced to the concept of the blind– the method of camouflaging oneself entirely in order to merge with nature and waiting for the photographic subject that may never appear. In fact, in one scene Munier is so adeptly camouflaged that it's hard to distinguish him from a rocky outcrop.
Engaging in the blind also means being pelted by hard, wet snow flurries or being up before dawn in hopes of catching the leopard on a morning hunt. But Munier takes the blind to another level- his whole consciousness seemingly melds with the scenery. He is in his element in nature. He understands it. In order to attain the photographs he seeks (and the encounter with the leopard), he must work with nature, not against it.
As a result of being in the blind with Munier, Tesson's mindset begins to change. Unlike Munier, he is very much a man of the cityscape and like so many of us is used to seeing but not observing. It's through his experiences with Munier he is transformed and begins to observe much more than what he normally would.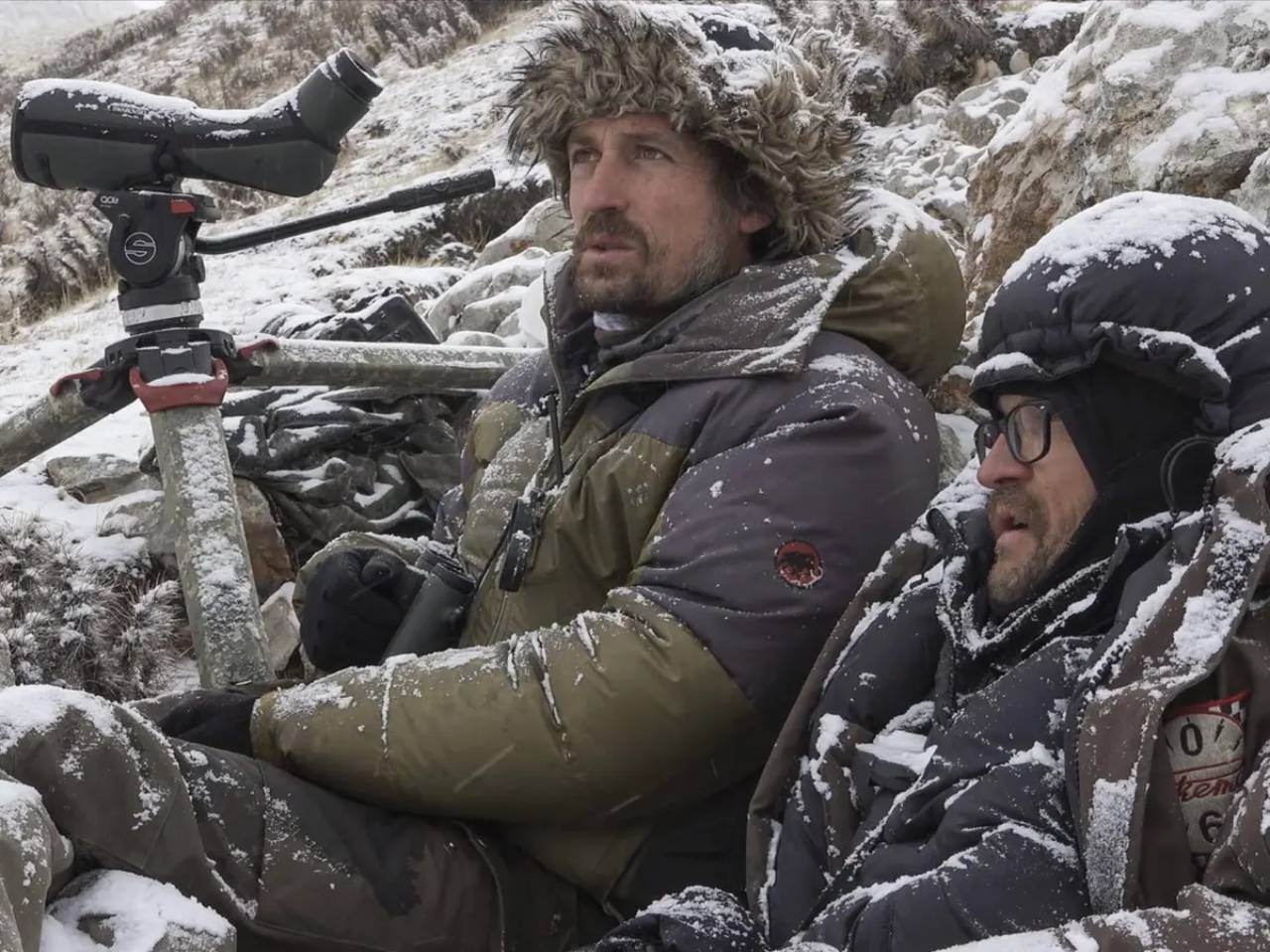 In turn, The Velvet Queen asks the viewer to also be in the blind themselves. You are not going to receive the sorts of instant gratification you would normally receive with other nature documentaries.
You are not going to be patted on the head and rewarded with cutesy shots immediately to sate your need to see ALL THE CUTE. Some nature documentaries feel incredibly intrusive and abrasive in their approach to capturing wildlife. We now have a wealth of technology available to secure the most incredible shots of nature and gratify our need as nature-lovers to see these things. But is it a good idea?
Take, for instance, a scene from The Velvet Queen and view it through the approach taken by some other nature documentaries. In the film, there is a scene where a pallas cat carefully stalks its prey, moving inch by inch in a manner that makes it look like a stop-motion character. But another member of the group of prey sounds the alarm, thwarting the cat's efforts. Another documentary may have some form of narration, perhaps some light-hearted music to turn the entire scene into an anthropomorphized comedy.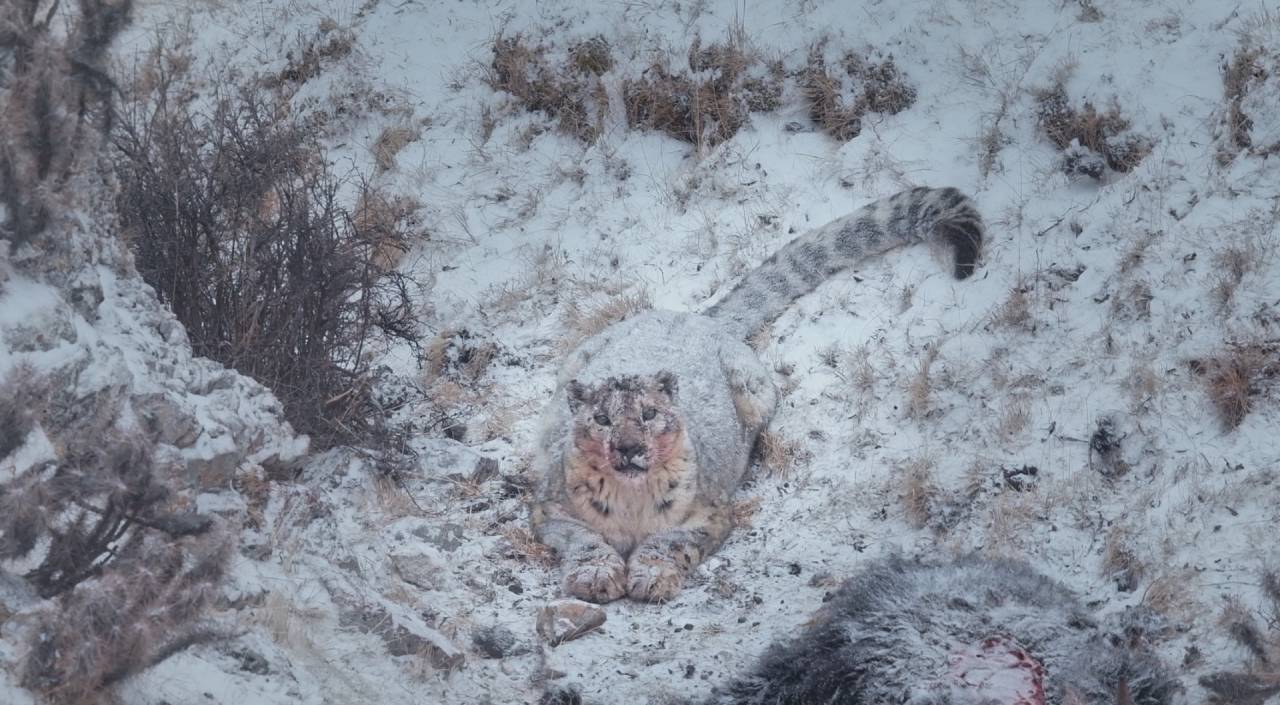 The Velvet Queen doesn't do this.
You are asked to observe, to see the scenes play out and internalize them as you see fit. That doesn't mean there isn't a wealth of wildlife to observe and celebrate. In fact, we are introduced to many intriguing species, including Tibetan antelope, Tibetan foxes, pikas, the aforementioned Pallas Cat and even a mother bear with her two cubs. Alongside many of these scenes there are Munier's exceptional photographs. At one point he manages to photograph the incredible moment when a pika manages to escape from the jaws of a Tibetan fox.
The film takes a gentle, meditative pace, accompanied by Sylvain's occasional poetic narration. It's an exercise in being in the moment, enjoying the sights as they come to you. It's guaranteed that as you watch Sylvain's mindset transforming you too will be transformed, even if it is only momentarily.
To further enhance the beauty of this film is Warren Ellis' music which swells occasionally at particularly poignant times but doesn't overwhelm the scene. It's a truly hauntingly beautiful score which melds particularly well with the cinematography of Marie Amiguet, Vincent Munier and Leo-Pol Jacquot. Together, with sound and vision they bring the Tibetan landscape alive; a place where dust storms envelop the landscape quickly, snow flurries pelt the land with hard, wet snow. Craggy mountains cast shadow that makes it easy for wildlife to hide. Sand dunes meet rocky ground and meandering rivers.
And we are all rewarded with our patience; especially as the credits begin with the most delightful trail camera footage of the queen in her kingdom, set to a beautiful song with Nick Cave's velvety vocals.
The Velvet Queen is meditative, beautiful and life-affirming; a visual escape from the constant duelling demands of a world constantly glued to cellphones and seeking likes and shares.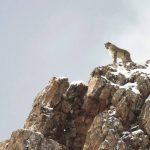 THE VELVET QUEEN (BLURAY) REVIEW