The Legion is calling on you.
Lenovo are the kings of laptops, having a range exclusive to business with their Thinkpads, their personal ones known as Yoga's and Legion for gamers.
Recently they released their Legion Y7000, a 15.6 inch weaponized beast.
Slick in a matte black finish the 9th Gen Intel i7 processor chipset with 12MB cache crunches data at a whopping 4.5GHz without overclocking. There is a Legion Y7000 Dashboard where you can fine tune this though and prioritize cores aswell as a myriad of other settings to get the most grunt out of the laptop for gaming.
The Y7000 is built to high performance and with the NVIDIA GeForce GTX 1660 Ti with a dedicated 6GB memory included in to the horsepower under the hood no game and no graphic setting is off limits.
The Lenovo Y7000 has x2 8GB RAM DDR4 sticks for memory (upgradeable) and the model that we received has a 512GB SSD running Windows 10 Pro.
Naturally this includes the Windows mixed reality platform for A.R. (Augmented Reality) and V.R. (Virtual Reality).
While Microsoft still need to come up with an affordable solution for both, the likes of HTC Vive or the latter version of Oculus (the new one is a standalone with streaming capabilities) have you sorted and the Y7000 is built for virtual gaming.
Testing out titles from my Steam library it was a beautiful thing seeing Forza 7, Gears 5, Shadow of the Tomb Raider and Borderlands 3 able to played fluidly and smoothly without the need to water down the eye candy.
For both the professional and casual eSports gamers and streamers the Legion Y7000 is an all in one. The built in web camera records at 720p and while this is on the lower side, the recorded footage does not appear low res. With the Y7000 you'd have a extended and future proofed stronghold on the eSports battle ground, even on battery power.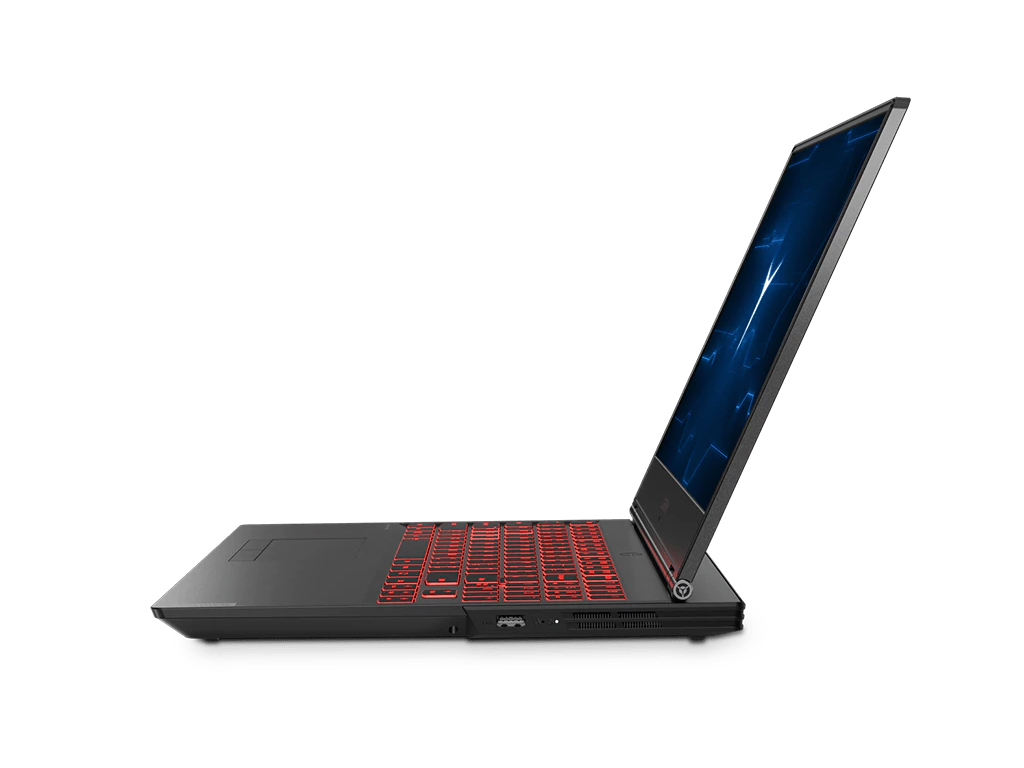 Whatsmore for the content creators out there the Y7000 is about ten pumped and ready workhorses when it comes to system taxing applications such as Adobe Photoshop and Premier.
Adobe Premier can choke a PCs resources at the best of times, usually depending on how many assets your edit has and the length of it. Then there's the outputting and rendering of your vids that will get many PCs, especially laptops' fans going in to hyper drive.
The Y7000 remains quiet and lightning fast.
I love the look of the Y7000. Some could argue that it resembles an Alienware with its formidable red glowing 'Y' on the rear of the screen (top of laptop). It does to be fair, but there has been some thought placed in to the overall design.
The base features a full sized red glowing keyboard and what Lenovo have done differently is that the base  resembles a docking station that has a hinged screen mounted to it.
The Y7000 has enough ports to see you right for all of your gamer gear and external drives. The left side comes with a 3.5mm AUX and a USB 3.0 socket.
The right one USB 3.0.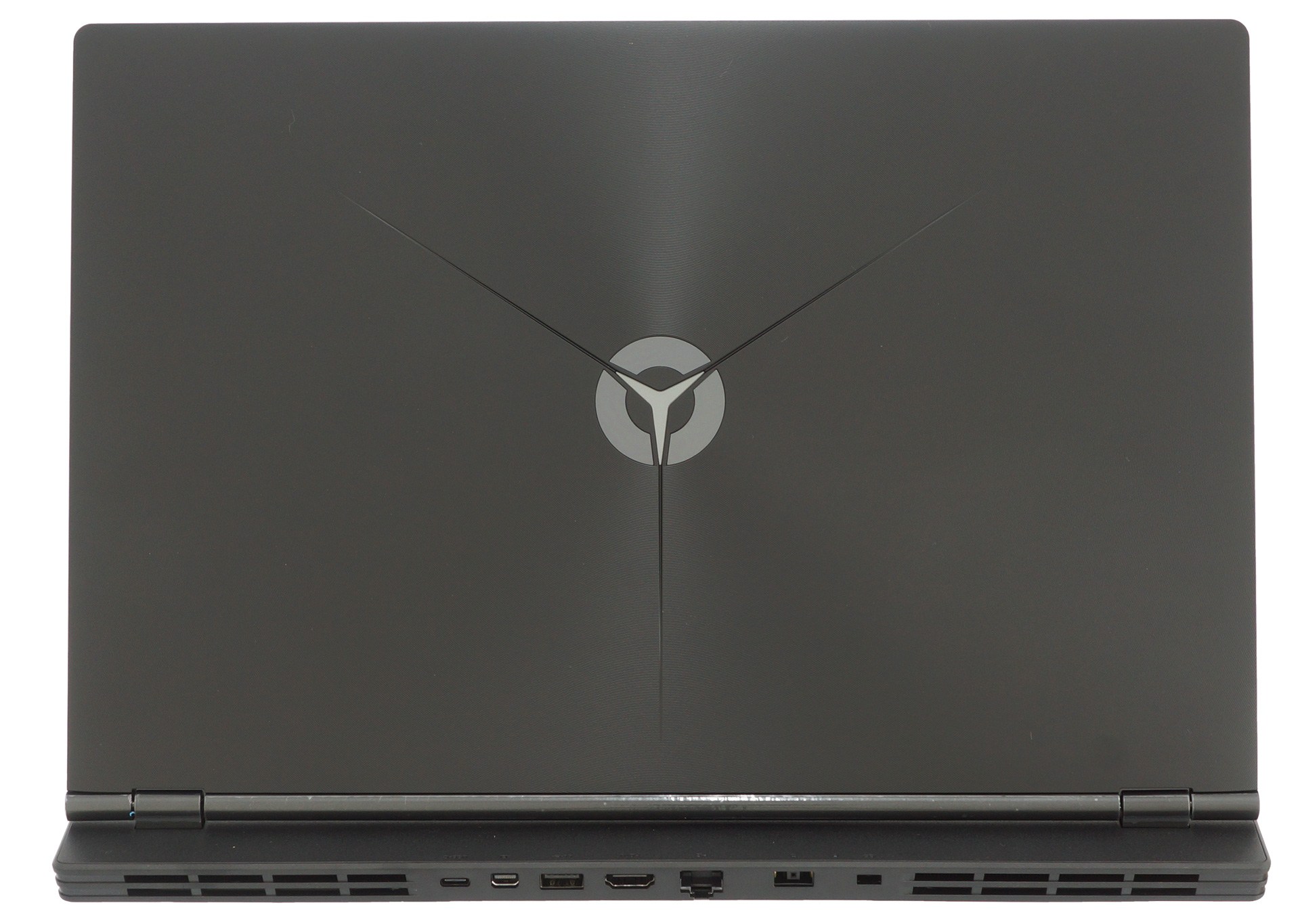 It's the back where most of your expand-ability and utilities are kept – which makes sense for cable management when using the Y7000 as a desktop PC.
There you'll find a single USB-C, HDMI, Power and a third USB 3.0 port aswell as LAN.
Lenovo are on track with the rear placement of ports, but I also think a couple more USB sockets are sorely needed. If you add a USB cabled chat headset, a gaming keyboard and mouse you're at full capacity.
Being that the internal SSD is 512GB and bearing in mind the data weight of games, you're likely to need to add an external drive or pay for an SSD upgrade on this particular model that we have.
So yeah without a USB hub you're probably going to come up short.
The Legion Y7000 is a sealed unit. The bottom cover is screwed on and so that you do not void any warranty I strongly advise that you do not remove it yourself to do any upgrades. This also means that the powerful 57W battery which can last up to 5 hours in my tests on gaming and 3.5 hours with content creation is also sealed away and is non removable.
Lenovo has done this as there is a sizeable grill for the fans on the lower casing but is also a bad thing if, say, your battery develops a cache over time.
All in all however the Lenovo Legion Y7000 is the sports car for eSports, gaming in general and content creators.
It outperforms a few of the gaming laptops we have had come through the doors at STG over the past 12 months and does not come with the same hefty price tag either.
Heed the call to join the Legion with the Y7000 as your primary weapon.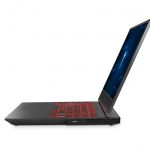 Lenovo Legion Y7000 Gaming Laptop Review
Device details
Released: Late 2019
Device Name: Lenovo Legion Y7000
Processor: Intel i7 - 9th Generation
Graphics Card: NVIDIA GeForce GTX 1660 Ti
Memory: 16GB
Internal Storage: 512GB
Price: Around $2,599.00