On July 19th, 2019, Radioactive / MCA / UMe will mark the 25th Anniversary of LIVE's seminal sophomore album Throwing Copper with a 26-track lineup that includes LIVE's previously unreleased, explosive eight-song performance at Woodstock '94.
This 25th Anniversary edition also finally sees the release of the previously unavailable track 'Hold Me Up', recorded at the time of the Throwing Copper sessions. The track was featured in the 2008 Kevin Smith film 'Zack and Miri Make a Porno', but has never been officially released, until now.
Kevin Smith said, "I first heard (the song) in '95 when we were putting together the Mallrats soundtrack. It was actually in the film for the first test screening, but Live decided they wanted to hold onto it as a potential single off their next album … When I was editing Jay and Silent Bob Strike Back … I put in a request for it…again, I was denied. Third time, apparently, was the charm. Needed a song for that sequence in Zack and Miri and remembered the Live track. This time, the band signed off on us using the track. Took 13 years, but was worth the wait!" In spite of Smith's endorsement, the song never appeared on the movie's soundtrack album.
Initially released on April 26, 1994, Throwing Copper cemented LIVE's position as one of the most instrumentally powerful and lyrically impactful bands of the modern alternative-rock era. The album topped the Billboard 200 Albums chart a year after its initial release. In Australia, it spent 10 cumulative weeks at #1 alongside seven Top 40 singles, and spent over two years in the Top 50. The album has been certified 7x platinum and was the eighth highest selling album in both '95 and '96. Across Live's incredibly successful catalogue, the four singles from Throwing Copper are the four most streamed tracks, 25 years on. 
Produced by Jerry Harrison (Talking Heads) and recorded at Pachyderm Recording Studios in Cannon Falls, Minnesota, Throwing Copper built upon the earnest sonic template the tight-knit four-piece band from York, Pennsylvania established with their compelling 1991 debut album, Mental Jewelry. From the anthemic manifesto of "Selling the Drama" to the fervent declaration of "I Alone" to the unrelenting charge of "All Over You" to the emotional-roller coaster journey of the epic "Lightning Crashes", Throwing Copper handily reinforced LIVE's drive to connect with their ever-expanding audience in as many ways as possible.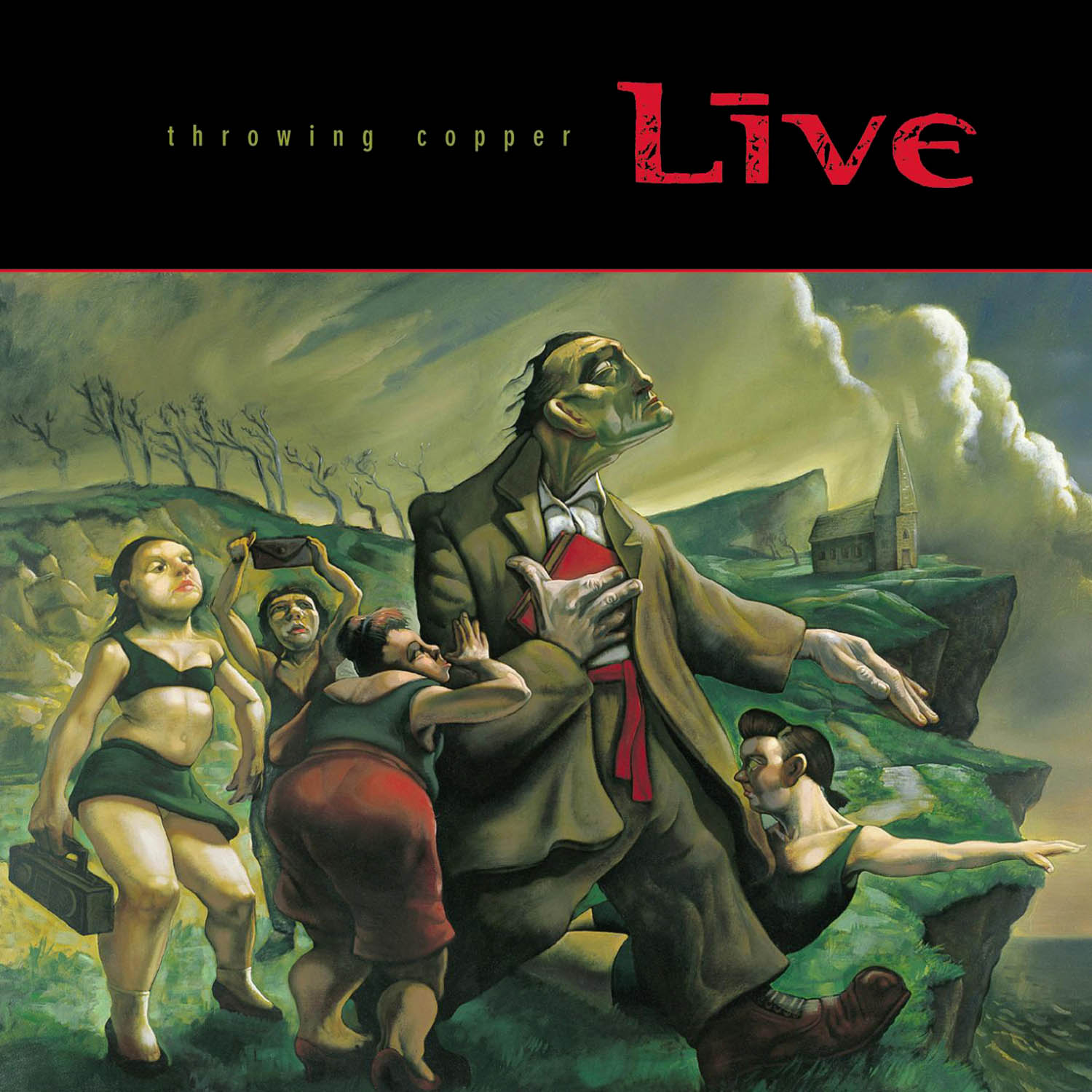 "Throwing Copper is big songs, big feelings, big dynamics," observes vocalist Ed Kowalczyk. "It was us taking the cart and throwing it way ahead of the horse, and we hoped the horse would eventually catch up. We had a 'let's build it and hope they come' attitude." Adds bassist Patrick Dahlheimer, "While touring for Mental Jewelry, the rooms were getting bigger, and I wanted our new music to fill those places and beyond. With Throwing Copper, I just knew it had to be more grand."
From there, LIVE was on a clear roll, having scored a key slot at Woodstock '94 on August 12, 1994, in addition to logging their first appearance on Saturday Night Live on January 21, 1995, and subsequently laying down an intimate nine-song set for MTV Unplugged on February 15, 1995 — all key signposts along the way for Throwing Copper's ultimate ascent to the top of the Billboard albums chart on May 6, 1995. "When you listen to it now," guitarist Chad Taylor says of their notable Woodstock '94 appearance, "the crowd is so loud, they literally overcome the sound of the band at times. It's magical! As I was mixing the audio for this re-release, it was giving me chills. Because I realized it was the band is in its primal infancy — the true birth of LIVE."
Without a doubt, "Lightning Crashes" is the galvanizing force of nature that took both LIVE and Throwing Copper into the next stratosphere. "Everyone in the band felt 'Lightning Crashes' could be a big single," admits drummer Chad Gracey. "That was based on, one, the greatness of the song, but also, two, the way bands at that time would build to their album's big ballad. We thought if we could get two singles out and then 'Lightning Crashes,' it could be successful and huge."
Kowalczyk humbly recognizes how Throwing Copper continues to elicit indelible, deep-rooted feelings to this day. "The fact that these songs have become part of our fans' DNA — that this album still matters to them and there's still such an emotional connection — that is the real accomplishment," he concludes. "All of the other things are great, that there are all of these trophy moments to reminisce about. But at the end of the day, the process and the journey and the music transcend all of those."
[rns_reactions]