Samsung Galaxy Unpacked 2023 was a big one.
Tab S9, Galaxy Watch 6 and the new Flips and Folds announced.
We received a Galaxy Z Flip5 just a bit before release to give it a run through.
Fundamentally the Galaxy Z Flip5 is the same as prior models. A clamshell Android smart phone that's near-to all screen.
But why go halvies when you can have the full monty. The Galaxy Z Flip5's front screen is now exactly that, a screen, fully covering the front cover of the device with a 3.4 inch Super AMOLED functional screen that enables to you to more effectively read notifications, activate the front camera (you know, for those all important quick selfies) and personalize the phone to you.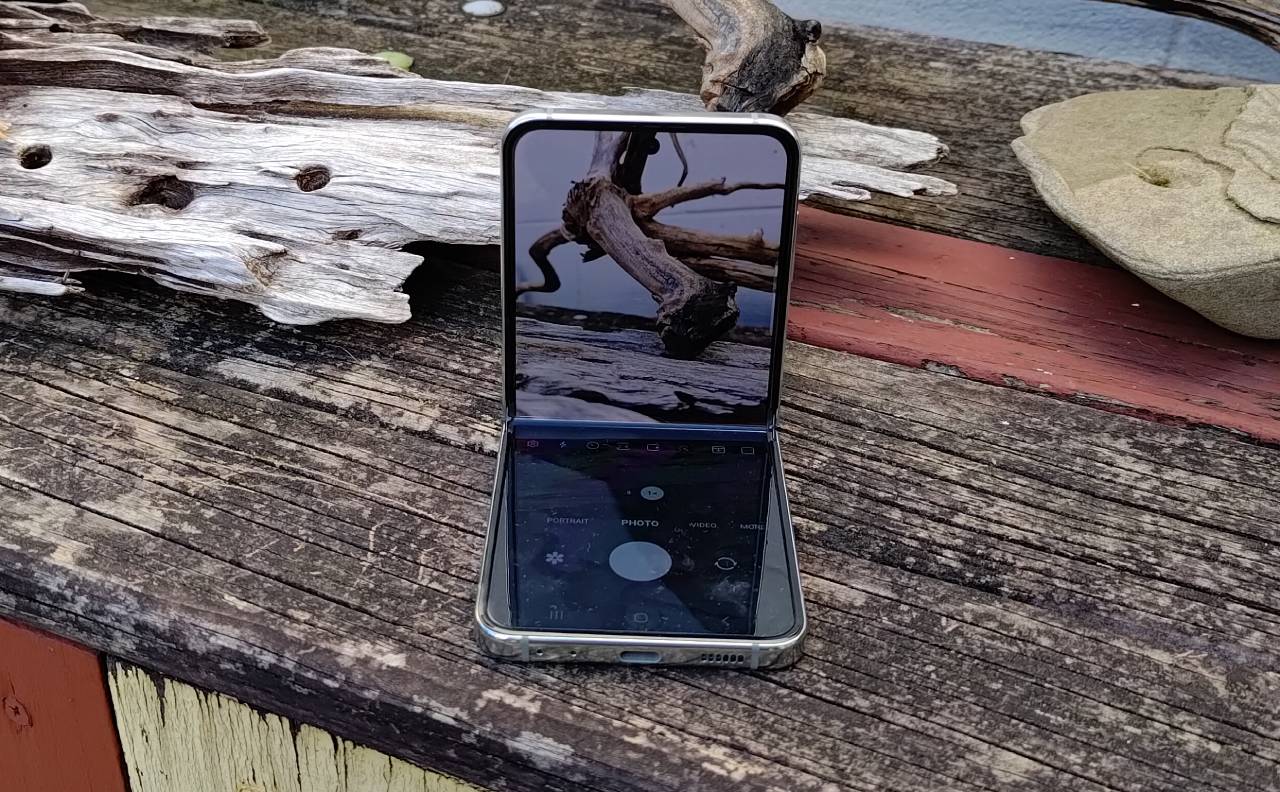 The front screen is a full view display for the front camera and now you don't need to awkwardly ask strangers to take pic of you on the street, instead use the hands-free 'FlexCam'.
Fold the Flip5 half way, place on a flat level surface with the front of the phone facing you and via gesture you can take those breath taking self-shots without needing to press a button. This also works with most social media apps too.
The main foldable Dynamic AMOLED screen is as vivid and crisp as ever coming in at 6.7 inches (2640 x 1080 px) and a refresh rate of up to 120Hz. And yes there is a centre crease.
Visible when the screen is off, but not so much when you're using the phone.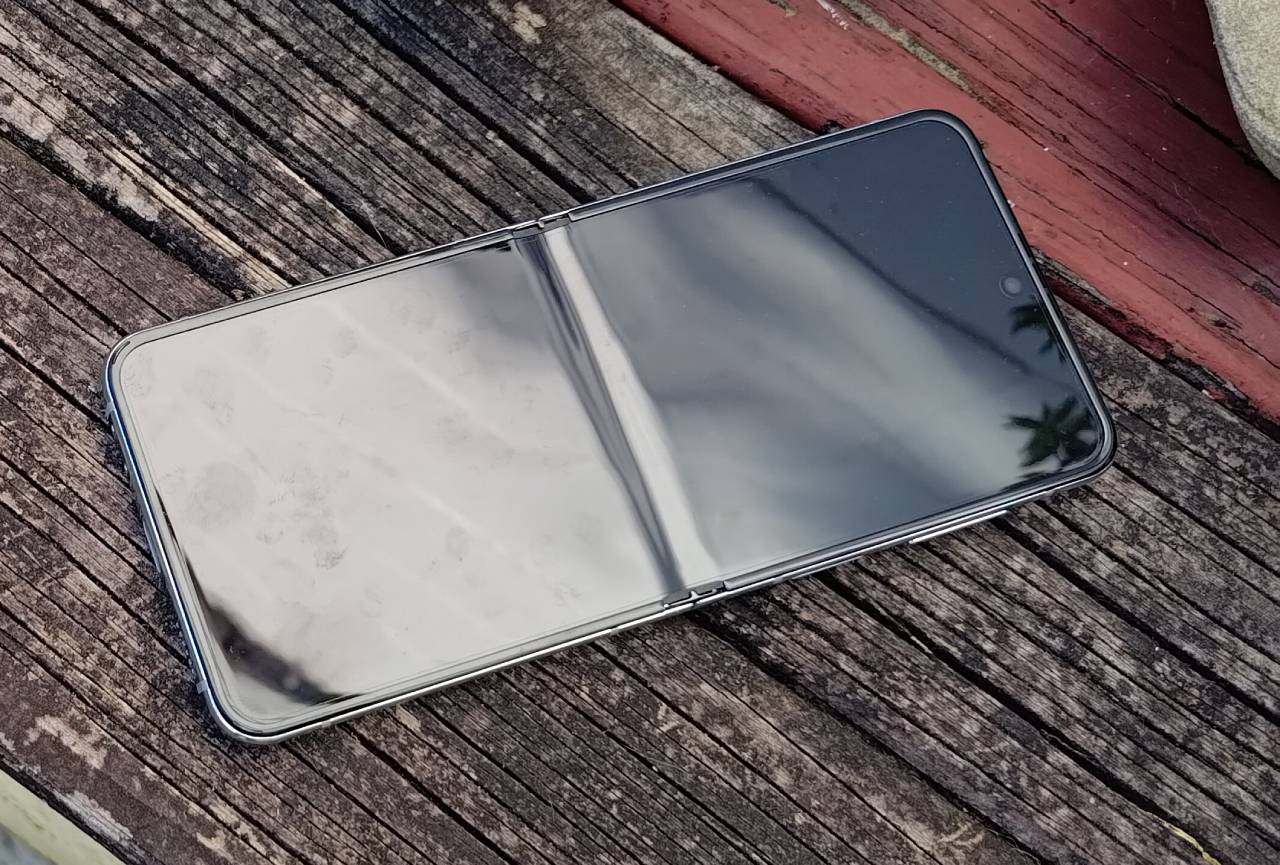 The Galaxy Z Flip5's core processor has the Qualcomm Snapdragon 8 Gen2. The next generation of last year's with a bit more speed and ideally better power consumption.
The internal memory of the new Flip5 starts at 256GB, which is the model we received at STG, but still the foldable is rocking 8GB RAM.
The RAM amount is likely to be enough for pretty much all users of the Galaxy Z Flip5, and if you're a mobile gamer, generally this will be enough to play console quality titles.
I tried Asphalt, Diablo Immortal and a personal fav – Pascal's Wager. All played without issue.
If you're in the market for a Flip5, likely hardcore mobile gaming may not be your thing, and it's the camera's you'd be eyeing up.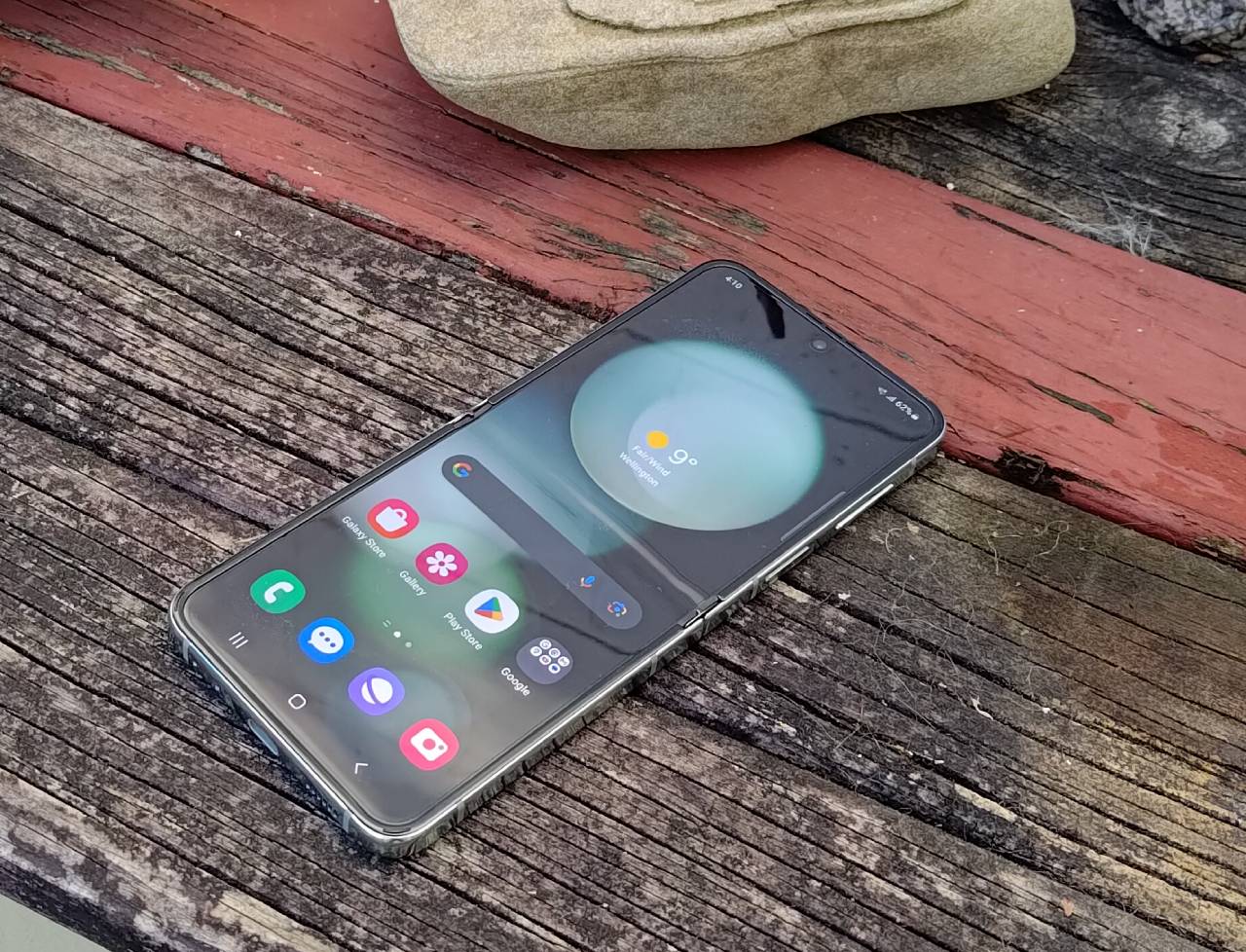 The Galaxy Z Flip5 can record in 4K from the front and rear camera's and you've got a 10MP front lens, and two 12MP (main and ultra wide) at the back.
Not quite as high in the pixel count as I was expecting for a new model – but it's not all about the megapixels, it's what you do with it. Right?
Samsung smart phones are notorious for excellent Nightography. Low light, or no light shots coming out almost as clear as day.
The Flip5 is no exception here. Asides from night time snapping the new foldable is a small photography powerhouse with its various modes and pixel perfect photo's.
I've always considered Samsung to have one of the best proprietary video and photo editors built-in to their phones as well.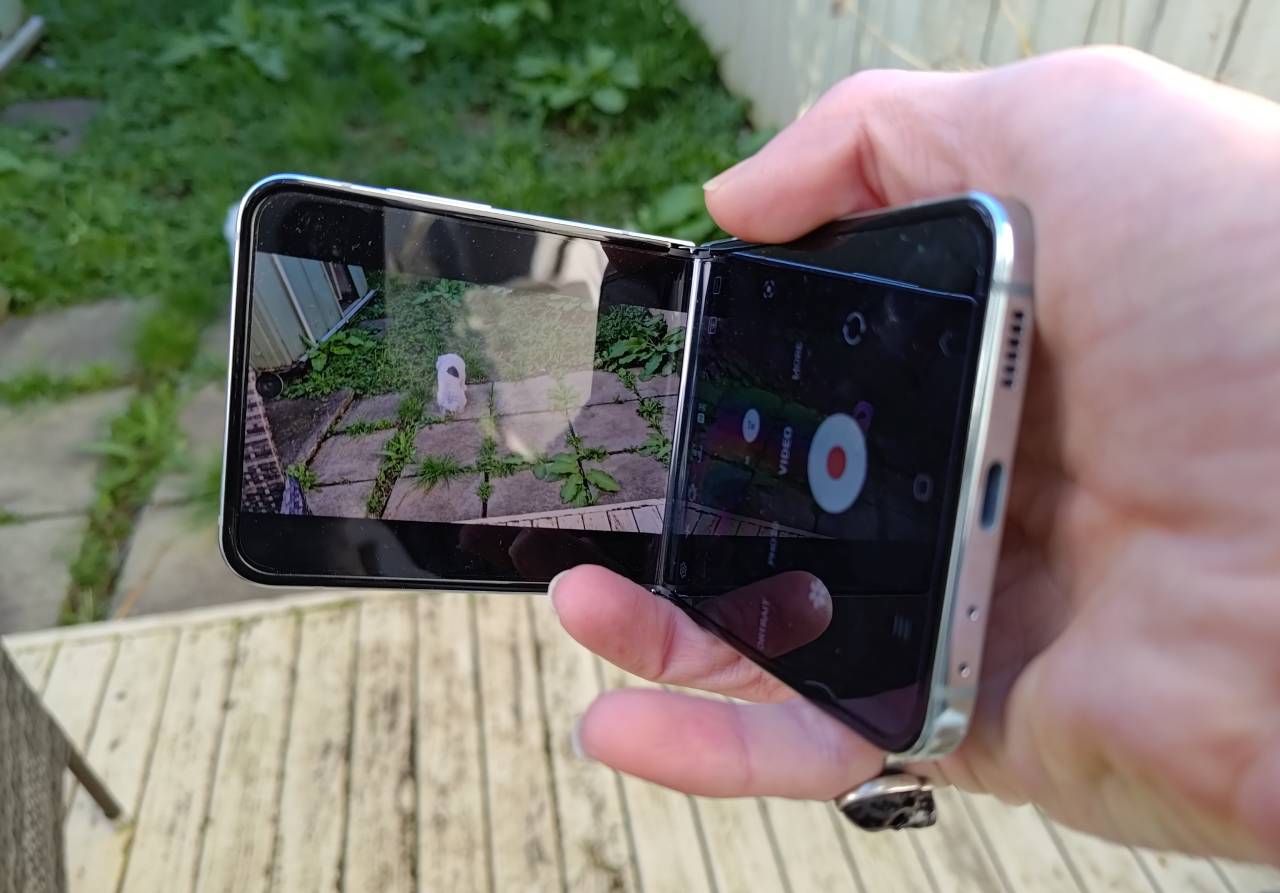 It's here that I'll make mention of a rebirth of classic video shooting mode.
Remember the days of camcorders?
The Galaxy Z Flip5, in a sense, mimics these by way of half opening the clamshell, holding the phone to one side and shooting your vid with the 'viewfinder' on one half of the screen and the record functions on the lower half.
Battery wise, the Flip5 has the same juice as last year 's model, coming in at 3700mAh.
Generally you'll easily get through a moderately busy day of emailing, music streaming, web and social media browsing and selfie snapping, but I did find I needed to do a mid afternoon charge up when playing mobile games or shooting a bit of test video.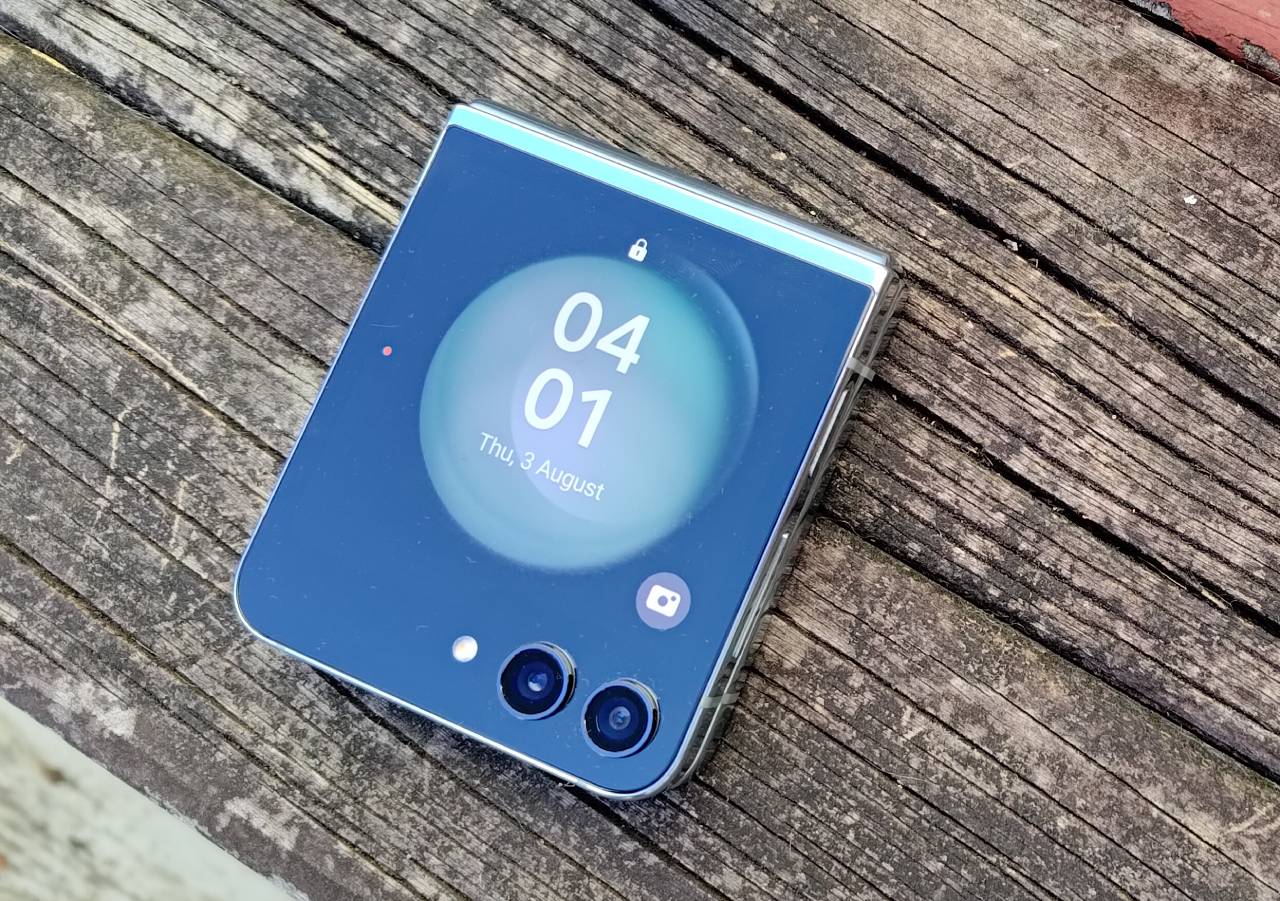 It would've been good to have seen the power-cell beefed up in this new model, but maybe this was a cost conscious decision by Samsung to keep the pocketable affordable.
The Flip models have always been a fav of mine. A fan of clamshell and all screen foldables, the Flip series has evolved over the years to become a productive, fashionable powerhouse that you can squish in to your pocket and go.
The Samsung Galaxy Z Flip5 is currently the top of the flip side right now.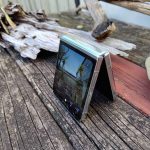 Samsung Galaxy Z Flip5 Review
Device details
Released: August 2023
Device Name: Samsung Galaxy Z Flip5
Chipset: Qualcomm Snapdragon 8 Gen2
Memory: 8GB
Internal Storage: 256GB
Camera: F: 10MP. R: 12MP (main), 12MP (ultra-wide)
Battery: 3700 mAh