Go big, go bold and upsize your tablet experience with Samsung's super thin and mega sized Galaxy Tab S8 Ultra.
Coming in at 14.6 inches Samsung's Tab S8 Ultra is all screen with very small bezelling at its edges.
The two 12 MP front facing cameras are housed in a notch (not pin hole which would have been classier) giving a combined 24 MP.
Perfect for the likes of video conferencing, video calls, flattering selfies and social media queens.
To the back is two more camera's, 13 MP and 6 MP. Both front and back can record video in 4K.
But as mentioned, the Tab S8 Ultra is all screen – and a lot of screen. The AMOLED is super crispy and vibrant with a refresh rate of 120Hz.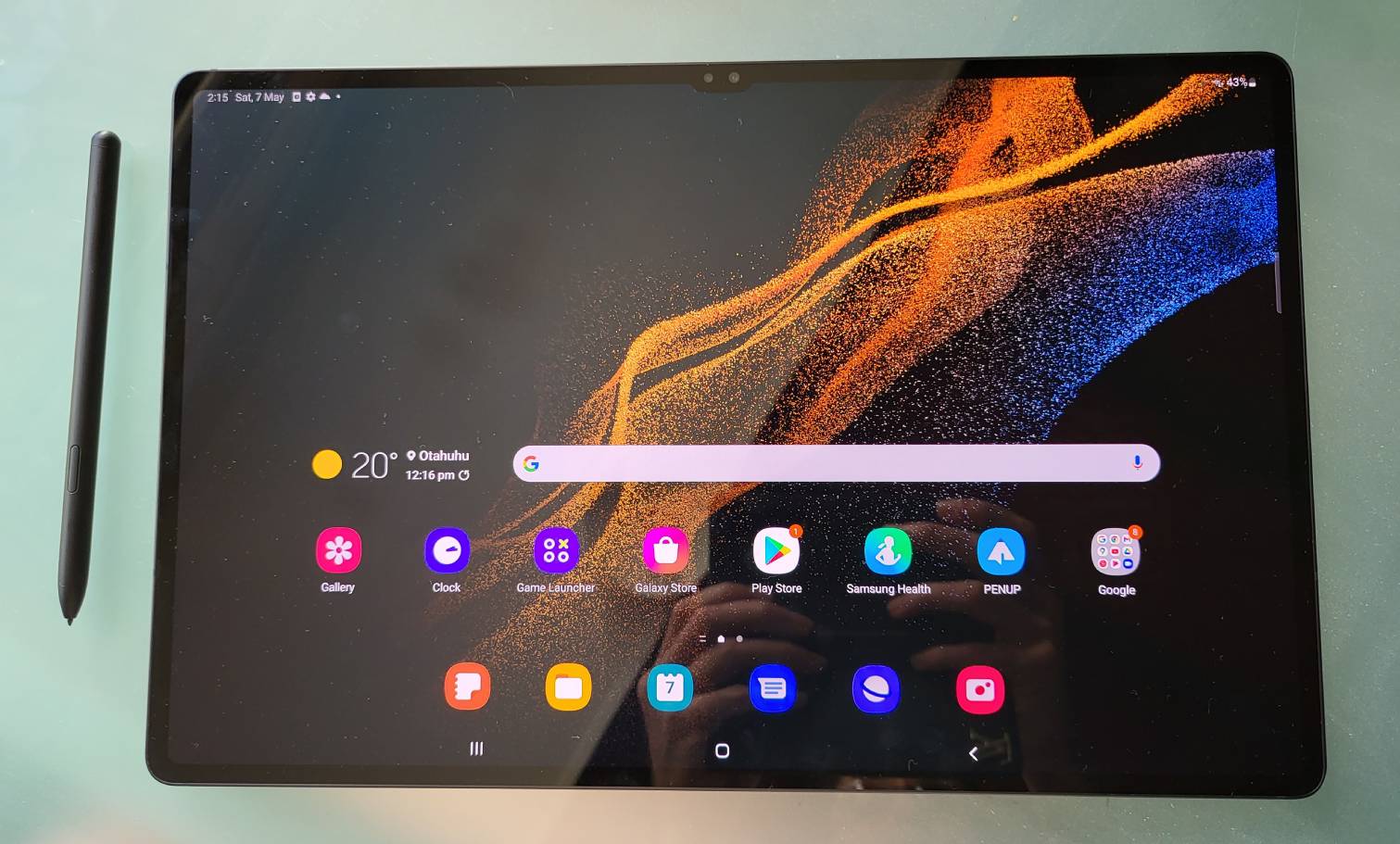 This places the Tab S8 Ultra firmly in the realm for gaming and serious content creators.
The Tab S8 Ultra comes with its own S Pen.
From the digital artist to the note taker, using the S Pen on screen gives a feedback of the real thing.
Written to text auto transformation is spot on, so if you're someone who endures a lot of meetings. So freestyle it on a near endless screen.
The S Pen's placement is at the back of the tablet. It magnetically attaches but does prohibit the Tab from sitting flat on a surface. Not an overly bad thing. I found when reading an eBook that having the Tab S8 Ultra slightly tilted and raised up with the S Pen underneath tended to be the perfect viewing / reading position.
Likewise when streaming media too.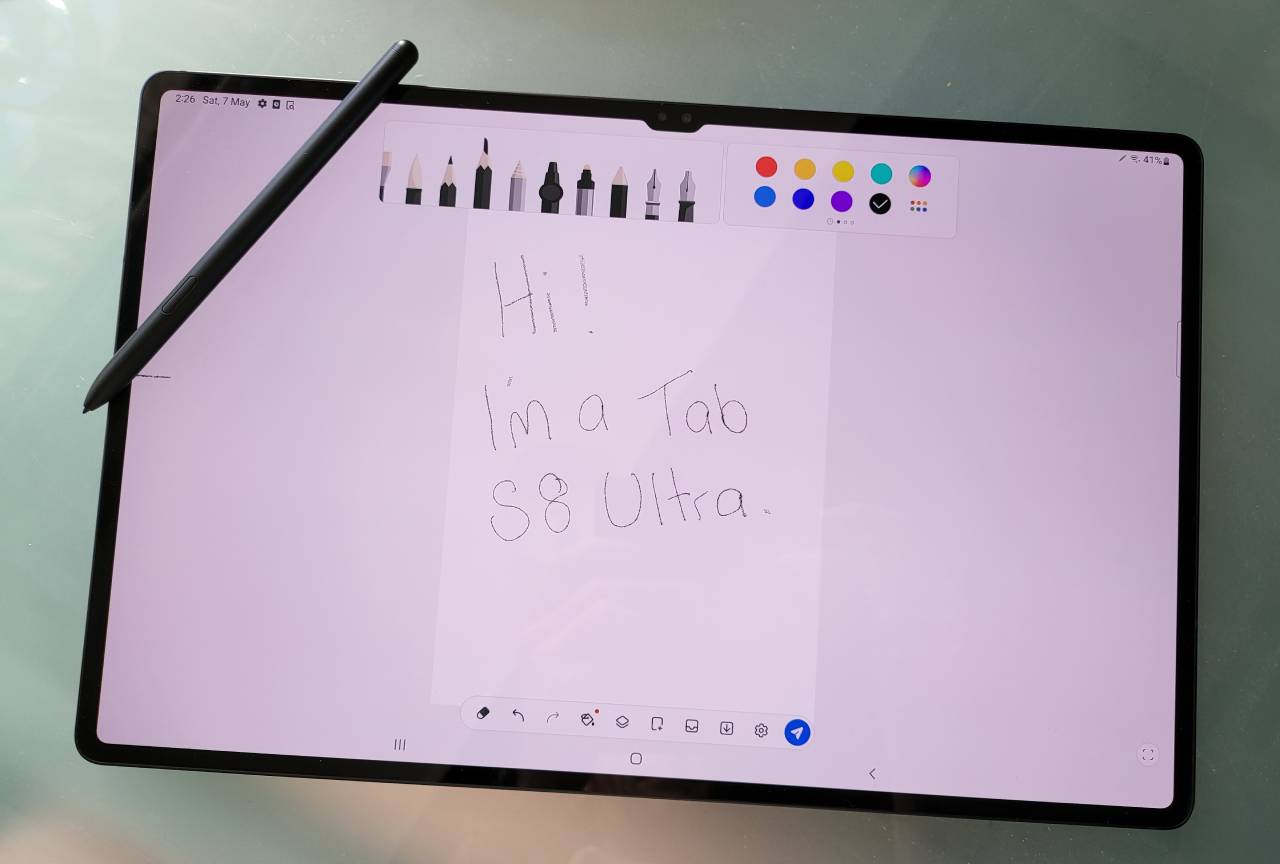 Storage and memory vary on differing models. The review unit I was able to try out was a 256GB with 12GB RAM. There's also an LTE (5G) option. So yes, with the 5G model, you could, technically, take calls on it.
For the data crunching is the same processor in Samsung's top shelf smart phone models, a Snapdragon 8 Gen 1.
From start to stop, full charge to empty the insanely large Li-Po 11200 mAh battery is going to see you right for over a week with light or on stand by use. The large screen of course requires a larger battery.
Heavier usage, such as video creation, gaming and media streaming dropped the battery life considerably, still on average I was able to get more than a full day.
The Tab S8 Ultra has 45 watt fast charging capability… but it's not lightning quick though. Zero to full will take just over an hour.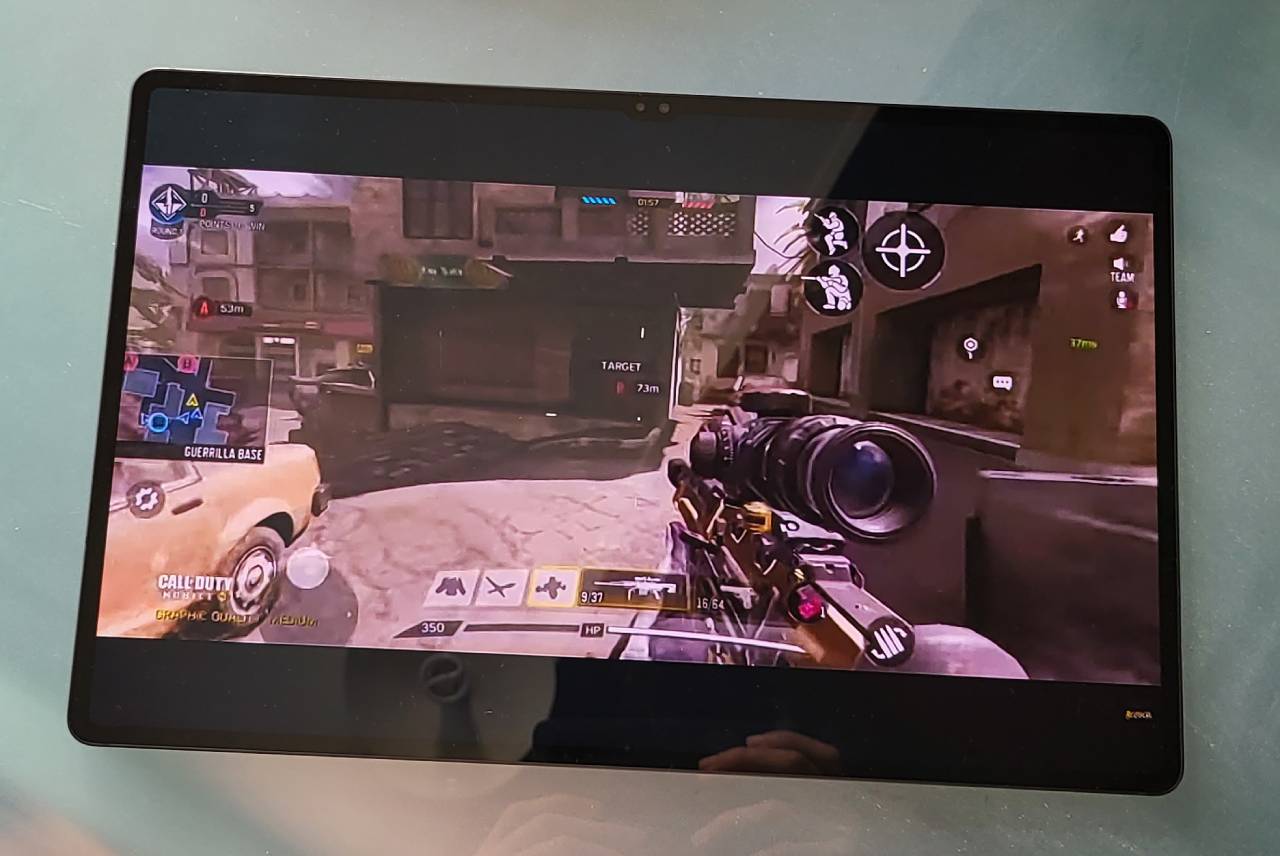 Bigger than its competitors but is comparatively priced (undercutting Apple's largest iPad with similar spec by a few hundred dollars).
Being the size that it is and being super thin I did find myself being extra careful with it at all times. I felt that if i so much as sneezed near it I would break the screen.
Samsung do have a keyboard cover (essentially the turning the tablet in to a Android based laptop)- that would be a must have if you were to own a Tab S8 Ultra, however these covers are very costly.
But the Tab S8 Ultra is the tablet to rule them all. A whole lotta fun to game on, play on and do the serious stuff too.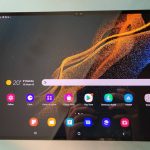 Samsung Galaxy Tab S8 Ultra Review
Device details
Released: April (NZ) 2022
Device Name: Samsung Galaxy Tab S8 Ultra
Chipset: Snapdragon 8 Gen 1
Memory: 12GB
Internal Storage: 256GB
Camera: F: 12MP + 12MP. R: 14MP + 6MP
Price: $2,299.00 (NZD)