A foldie flip phone from OPPO, but where's the centre crease?
A tiny pocket sized powerhouse the OPPO Find N2 Flip brings the best of OPPO's ColorOS laden over top of Android with killer cameras and enough specs under the hood to get you playing, creating and snapping instantly.
Powered by a Mediatek Dimensity 9000+ processor coupled with a modest 8GB RAM, the model I am reviewing has 256GB storage.
When opened the very vivid 6.8 inch foldable AMOLED main screen has 120Hz refresh which is perfect for some serious (or retro) mobile gaming.
Folded OPPO added a front display screen, but not content with the landscape layout as we see in the 'other' flip phone, the Find N2 Flip has their 3.2 inch display in portrait next to the dual 'selfie' camera lenses.
Being in a portrait fit really does work and the screen itself is near-to a fully functional display.
Reply to messages, see your notifications in detail, control media and of course use the front screen as a view for those breath taking superstar selfies.
As for camera's you've got an impressive 32MP at the front and the main rear cameras come in at 50MP for wide and 8MP ultra-wide.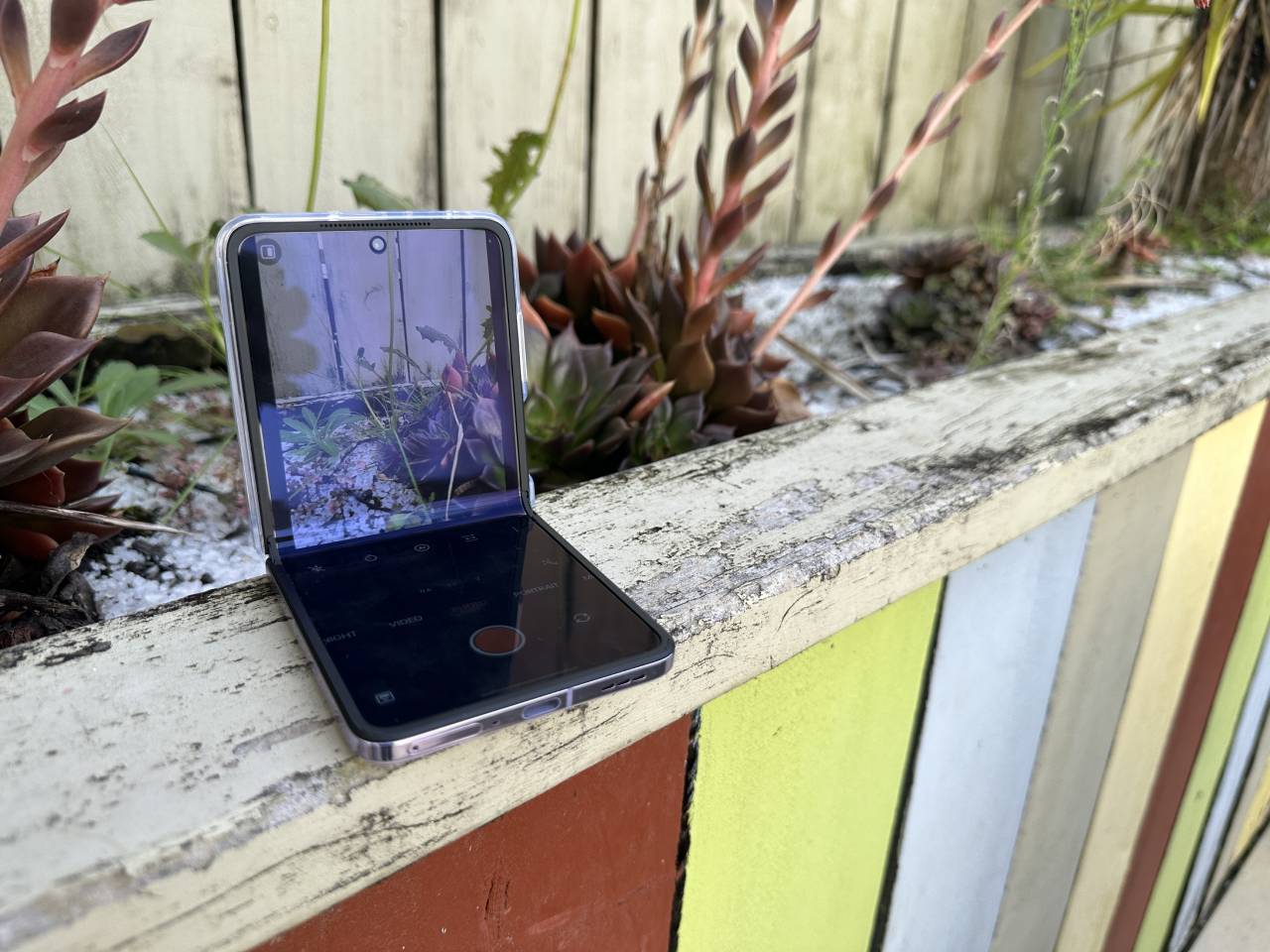 OPPO have the goods when it comes to low light (or no light) photography. I have no clue how or where the camera system pulls light in from. The test night shots I took of an abandoned house on my block were in a near to pitch black environment, yet it looked as though I'd taken the snaps at sunset.
You'll get a low 20x digital zoom. The camera becomes grainy on the main screen when you zoom to full tilt, however, the photo itself still comes out okay but a little bit pixel-laden.
What is missing though is something OPPO phones are known for – Macro. There's no Macro mode and the additional photo modes tend to be limited to only a few. Video records in 4K.
Using the OPPO Find N2 Flip as an everyday driver for a couple of weeks resulted in the small but mighty device never skip a beat.
The battery, a 4300 mAh powercell, was able to keep up getting me through my long days. Also needing a mention is that OPPO are the only major players that still include an A / C  adaptor with their handsets (and case too!).
So, what about that screen crease? OPPO's marketing state their isn't one there. To a point, they're right – but it does have one.
When using the main screen you're not going to see any fold lines whatsoever. The only time you'll notice the lines is if the screen is off.
The OPPO Find N2 Flip is an excellent smart phone and competitively priced so new adopters to the world of foldables can join in to the action.
But this is not without some compromises. There's no wireless charging. To charge the device up you'll need to go old school and plug it in. I also had a bit of trouble with the device's bluetooth every now and then. Game controller and ear buds would randomly disconnect frequently. I suspect that this could e solved by a future OS update though.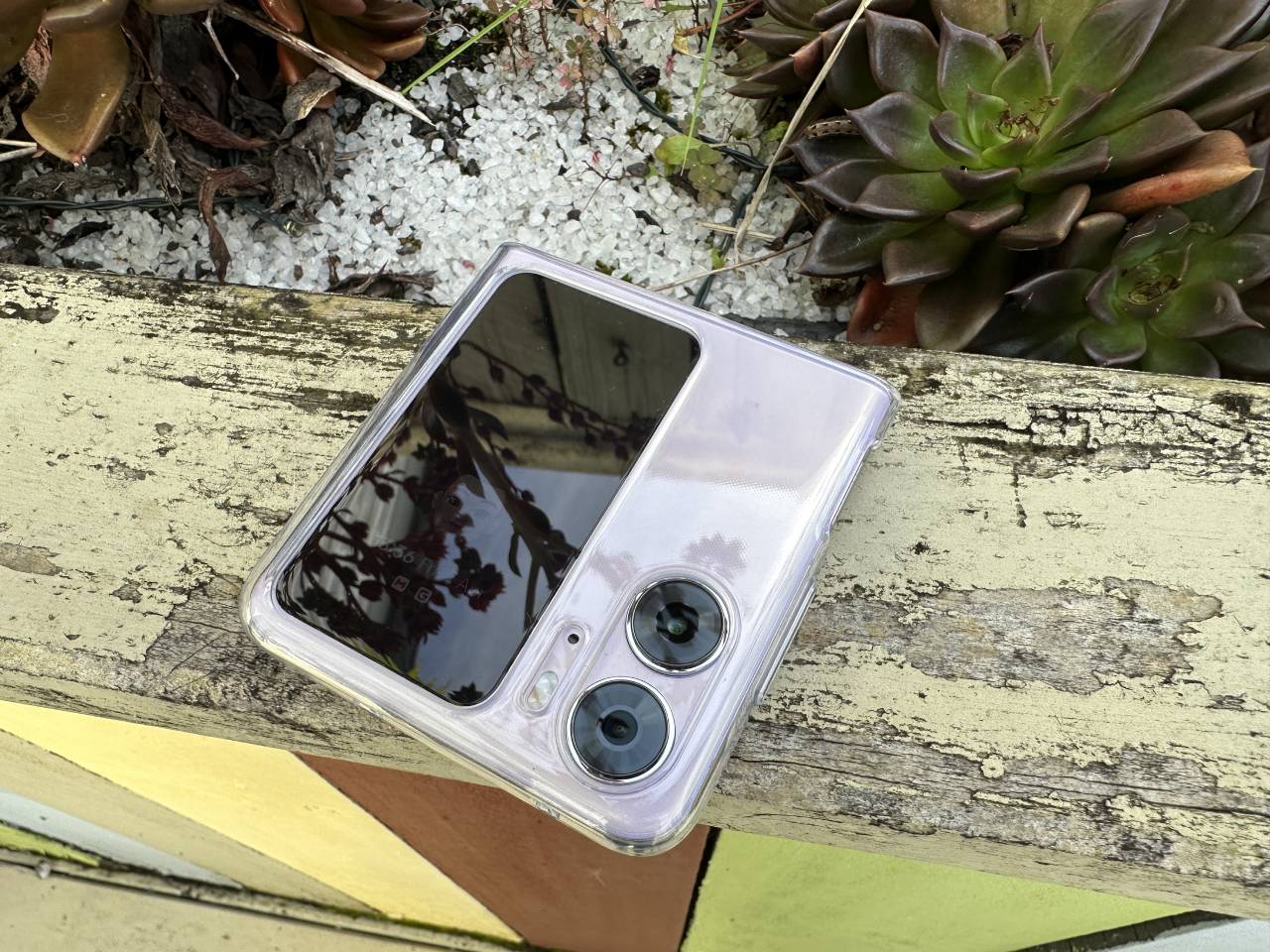 The OPPO Find N2 Flip is a classy foldable, coming in two colour variations, a light purple or black .
Opting for that portrait screen on the front was an excellent design and functionality choice. I am hopeful for the series to continue and maybe add wireless charging in to the mix to make it that one perfect pocket sized smart phone.
If you're looking for something fashionable, tiny yet big at the same time and a device that can keep up with you the OPPO Find N2 Flip would be the one.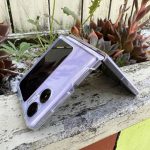 OPPO Find N2 Flip Review
Device details
Released: March 2023
Device Name: OPPO Find N Flip
Chipset: Mediatek Dimensity 9000+
Memory: 8GB
Internal Storage: 256GB
Camera: F: 32MP. R: 50MP wide, 8MP ultra-wide
Battery: 4,300 mAh