Last year's Galaxy Tab S8 Ultra was the premium Android based tablet to own, work and play on.
Now, as expected, Samsung is releasing their newest model the Galaxy Tab S9 Ultra.
And what a beast it is.
Samsung has not held out on anything as far as specs, features and quality screen time.
And what a screen it is.
The Galaxy Tab S9 Ultra has the same sizing as the Tab S8 Ultra coming in at 14.6 inch. It's huge.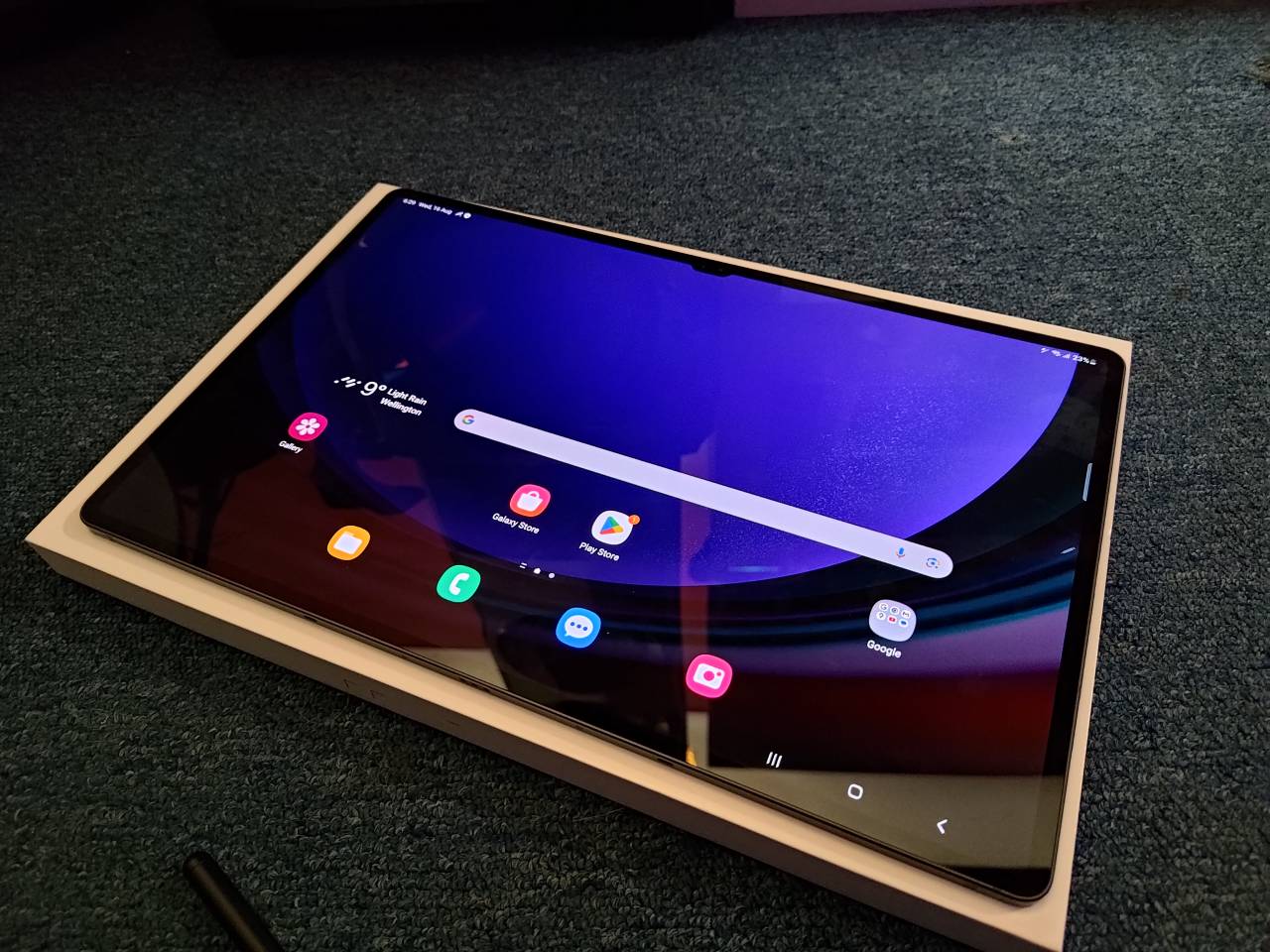 The screen itself is a super crispy sharp Dynamic AMOLED 2X with a 120Hz refresh, especially great for us gamers out there.
The Galaxy Tab S8 Ultra I reviewed in 2022 had 128GB storage and 12GB RAM.
The 128GB for me actually ended up being painfully too small, but there was the microSD card support which beefed up my digital hoarding space.
This year's Galaxy Tab S9 Ultra that STG has received is a 256GB with microSD card expansion.
Twice the storage makes a world of difference.
Along with the double storage, the Galaxy Tab S9 Ultra has the latest and greatest Snapdragon 8 Gen 2 processor. Super quick.
This by contrast to last year's Galaxy Tab S8 Ultra with Gen 1 Snapdragon 8.
Honestly, if you're an everyday, average user you may not even notice the difference in performance. But if you're a pro multi-tasker, mobile gamer or use your tablet for video and photo editing then yep you'll find it to be quicker for sure.
Cameras on a tablet are usually a bit hit and miss. They don't get the same lens love as smart phones. Makes sense, I mean you're not likely to pull out a 14 inch tablet to take holiday snaps. Right?
But, given that the larger Galaxy Tabs can be an effective laptop replacement, you'll need decent camera's for video calls, video meetings or doing a quick selfie for the Insta upload.
The Galaxy Tab S9 Ultra has the same as last year's Tab S8 Ultra's front dual camera array coming in at 12MP + 12MP. And these are more than enough.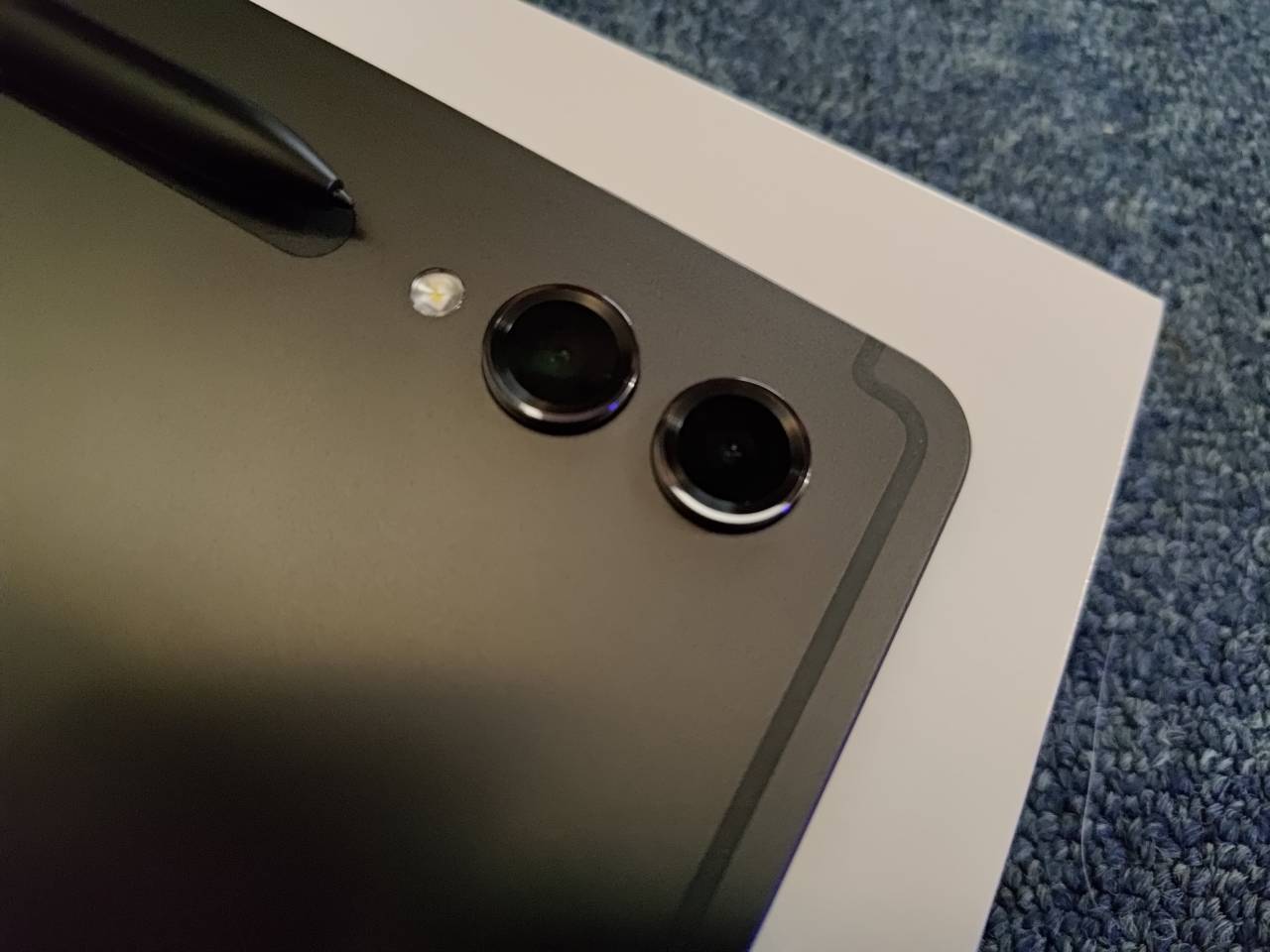 Rear cameras on the new Galaxy Tab S9 Ultra have slightly increased their MPs, with a 13MP wide and a 8MP ultra-wide.
Galaxy Tab S8 Ultra has a 13MP combined with a 6MP.
Unlike Apple who make you fork out hundreds for a stylus separately, Samsung include their stylus, called S Pen with their higher end Galaxy Tabs.
The Galaxy Tab S9 Ultra comes with its very own S Pen. And again it's super smooth to use, fluid on screen like a real pen and enables you to take handwritten notes, that you can have auto-changed to text and more.
The S Pen magnetically attaches itself to the back of the tablet and does not require you to separately charge, as it was with the Galaxy Tab S8 Ultra.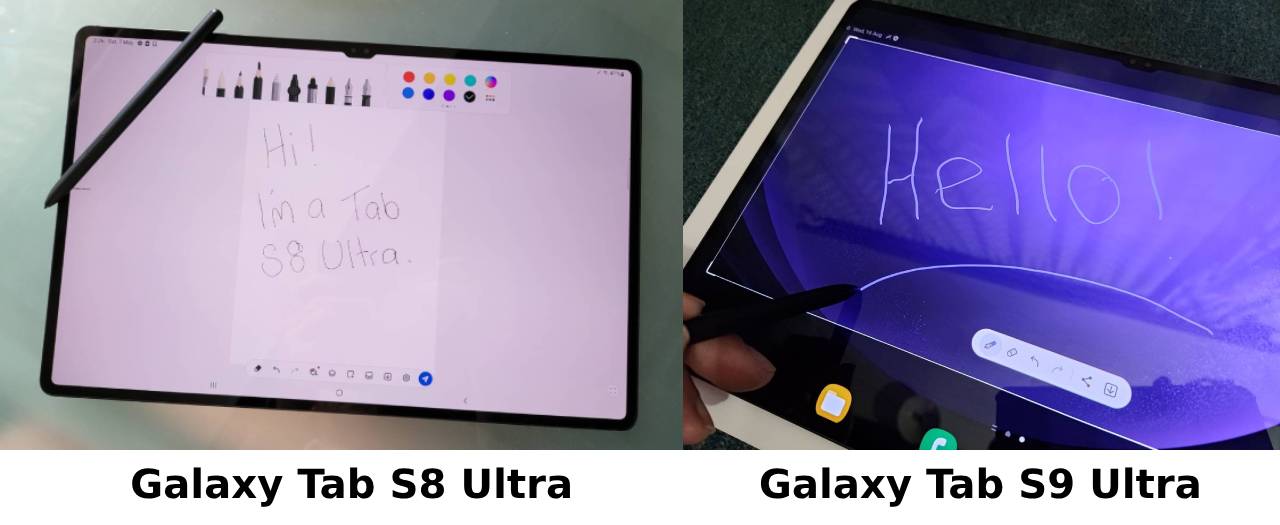 As for power longevity, the Galaxy Tab S9 Ultra has a whopping 11200mAh battery. Likely it needs a giant powercell, as the Galaxy Tab S9 is all screen with small bezels.
Depending on what you use the Tab S9 Ultra for is of course dependent on how much life you get out of it.
For me, a three hour game play of a console quality title made a dent of only 7% from a full charge.
Streaming music and movies for a couple of hours was a bit more of a juice chomper, killing off 30% of a full battery charge.
This was roughly on par with last year's Galaxy Tab S8 Ultra which has the same size battery.
Recharge time is painful, on both tablets, if you're flat or near-to.
It can take a few hours to get you back to full charge again.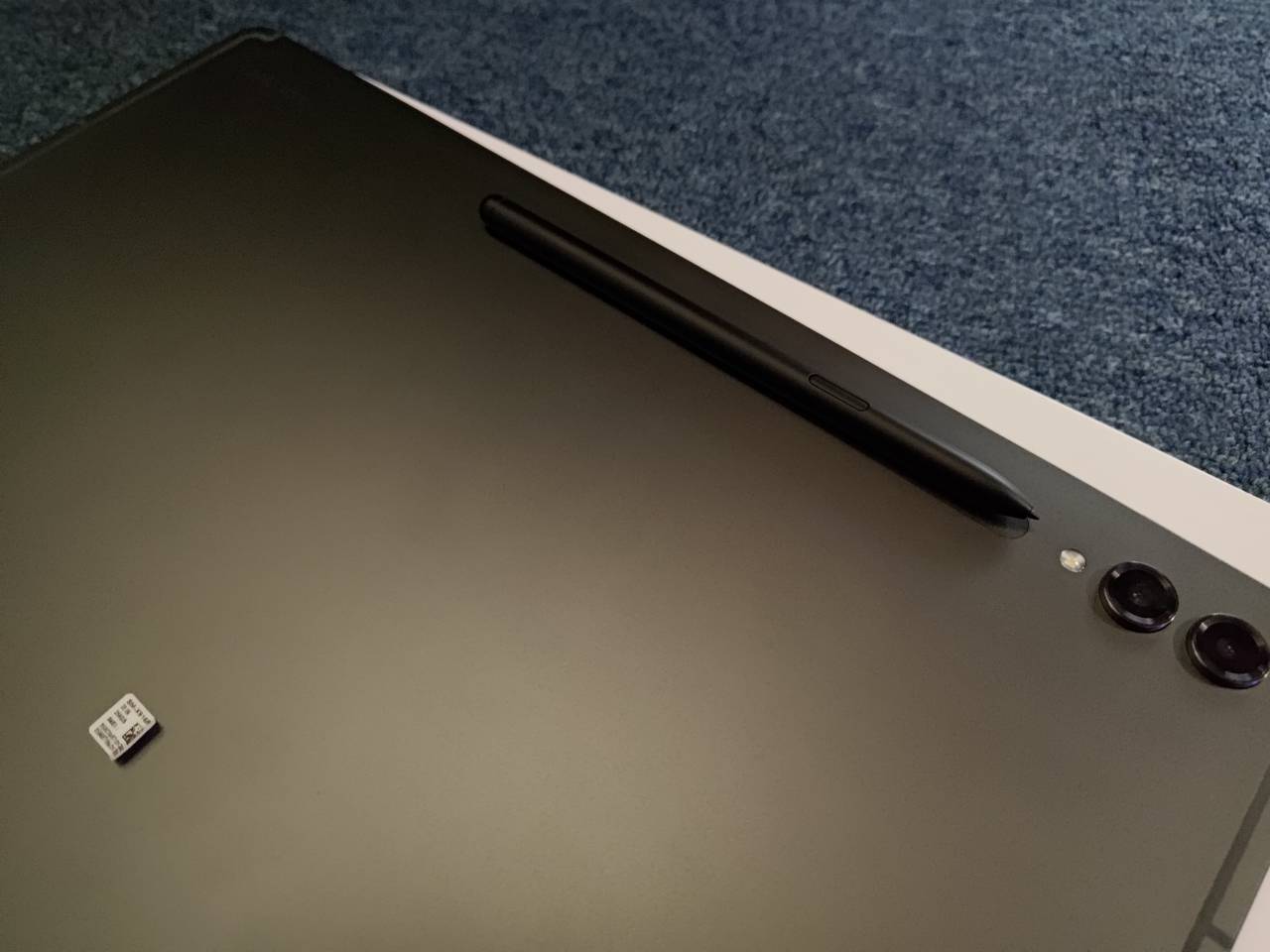 The Galaxy Tab S9 Ultra has shed some weight, but only slightly and is the same slimness as its predecessor – Galaxy Tab S8 Ultra. And for the first time Samsung have made the Galaxy Tab S9 Ultra both dust and water resistant.
So, would you upgrade and why?
You know, that's a hard one. The Galaxy Tab S8 Ultra is a beast and still has a lot of life.
Samsung packed a lot of goodness in to last year's model, so much infact that you're future proofed for a few years, asides from the low internal storage, if you have the entry model.
This year's Galaxy Tab S9 Ultra does have a slightly crisper screen and the entry model comes in at 256GB. It's also a wee bit faster with the latest processor.
So, if you're someone who needs to have the latest and greatest then of course the Galaxy tab S9 Ultra should be yours.
If you're rocking a Galaxy Tab S8 Ultra then it's likely to see you right for a while yet.
The Galaxy Tab S8 Ultra was an effective laptop replacement, which I did earlier this year, putting my main laptop aside for a while and using only the Galaxy Tab S8 Ultra. The Galaxy Tab S9 Ultra will be same – although I was unable to test this as there was no keyboard case received with this year's review model.
There's so much flexibility to Android that, say, iOS doesn't offer and you're super spec'd up, probably more than most users will ever need.
With the new Galaxy Tab model releasing, it is expected that the prior one will drop in price. And it has, a bit.
So this maybe a deciding factor in which of the two you opt for.
Being able to compare both side by side, the difference were a mix of subtle through to obvious. I can't deny that the screen on the Galaxy Tab s9 Ultra was crisper. And it's a huge display.
The Galaxy Tab S9 Ultra is the ultimate in any tablet experience and if you're about jump in to a tablet and looking for a larger size, something that can be an all-rounder, I fully recommend the Galaxy Tab S9 Ultra.
Super sized and ultra in epic-ness.