There's nothing in the tech market right now as easy to use, big bold and beautiful as the 14.6 inch 120Hz AMOLED Galaxy Tab S8 Ultra.
Ready to go and able to keep up with you no matter what you run on it.
With an ever-lasting 11,200 mAh battery and 12GB RAM you can play, work and be that multitasking wizard you always knew you wanted to be.
But I'm not going to go over the inner specs again. I've done that previously in our Samsung Galaxy Tab S8 Ultra review.
What I was interested in was, could this giant sized yet thin and lightweight beast actually be a laptop replacement?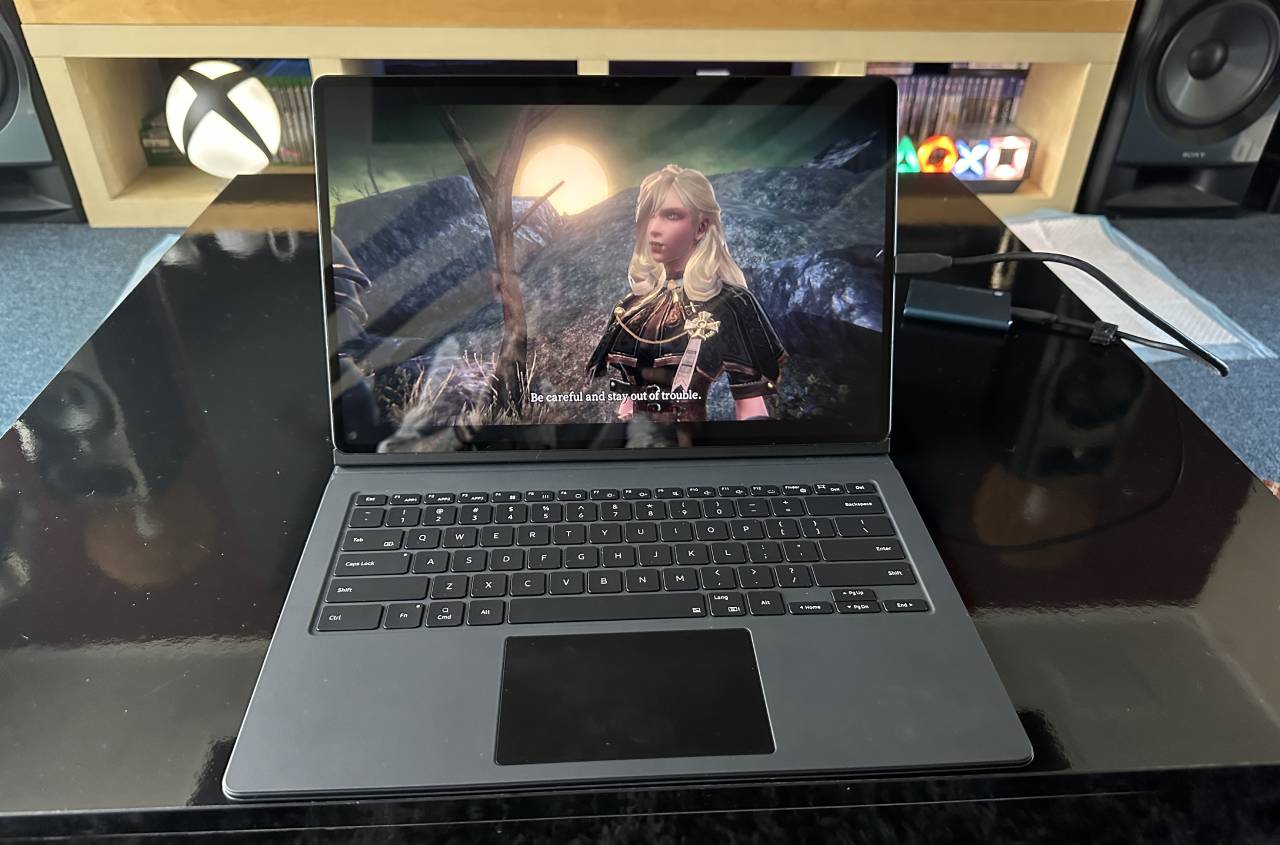 First off you do need to accessorise. The official Samsung keyboard case for the Tab S8 Ultra is a must. It functions as both a full QWERTY keyboard, with a mouse track pad (and yep you do have a on-screen cursor), and a stand to prop up the screen.
Being Android based you have the full suite of Android apps at your disposal and this includes Microsoft Office suite.
Online web-browser apps are a given, they'll work on anything, they only require a browser and internet, and if you're someone who likes to work and play on the go I recommend you look at the LTE model.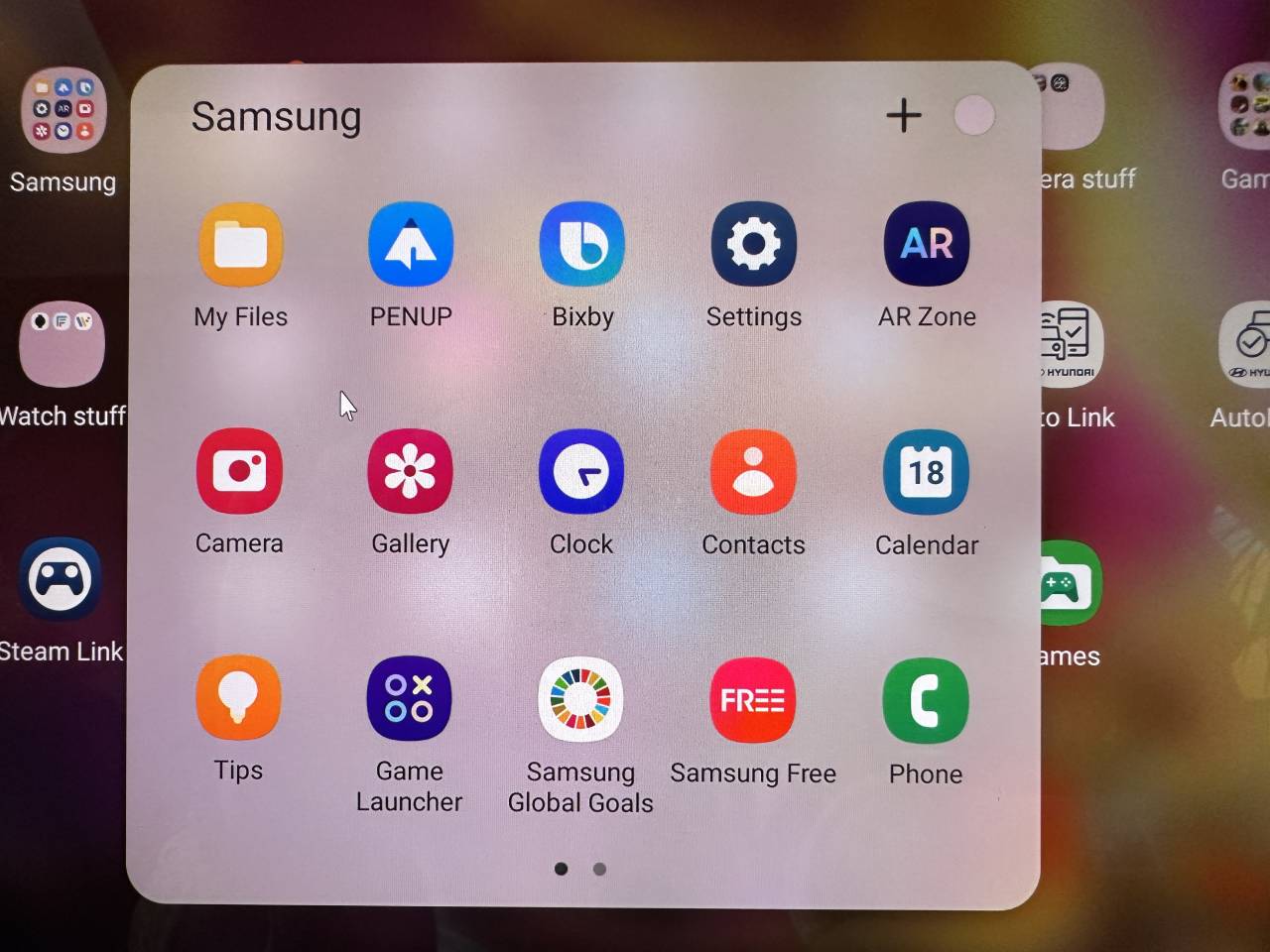 The Tab S8 Ultra that I was loaned for this article had a low 128GB storage.
A good portion of this was gobbled up by Android and Samsung's OneUI OS overlay.
This didn't leave me a lot of space for my digital hoarding, music and games (of course games) but the Tab S8 Ultra is microSD expandable. I used a 256GB microSD and a Samsung SSD portable USB-C drive (512GB).
Thank goodness in this instance.
The challenge for me was to put away my laptop and fully function, if possible, on the Tab S8 Ultra for a couple of weeks.
Was it possible?
Well, actually, yes. But you'll need to cough up a few more dollars for the official keyboard case, which is sold separately, or pair any bluetooth keyboard. (Note that wireless keyboards with a required USB dongle will not work).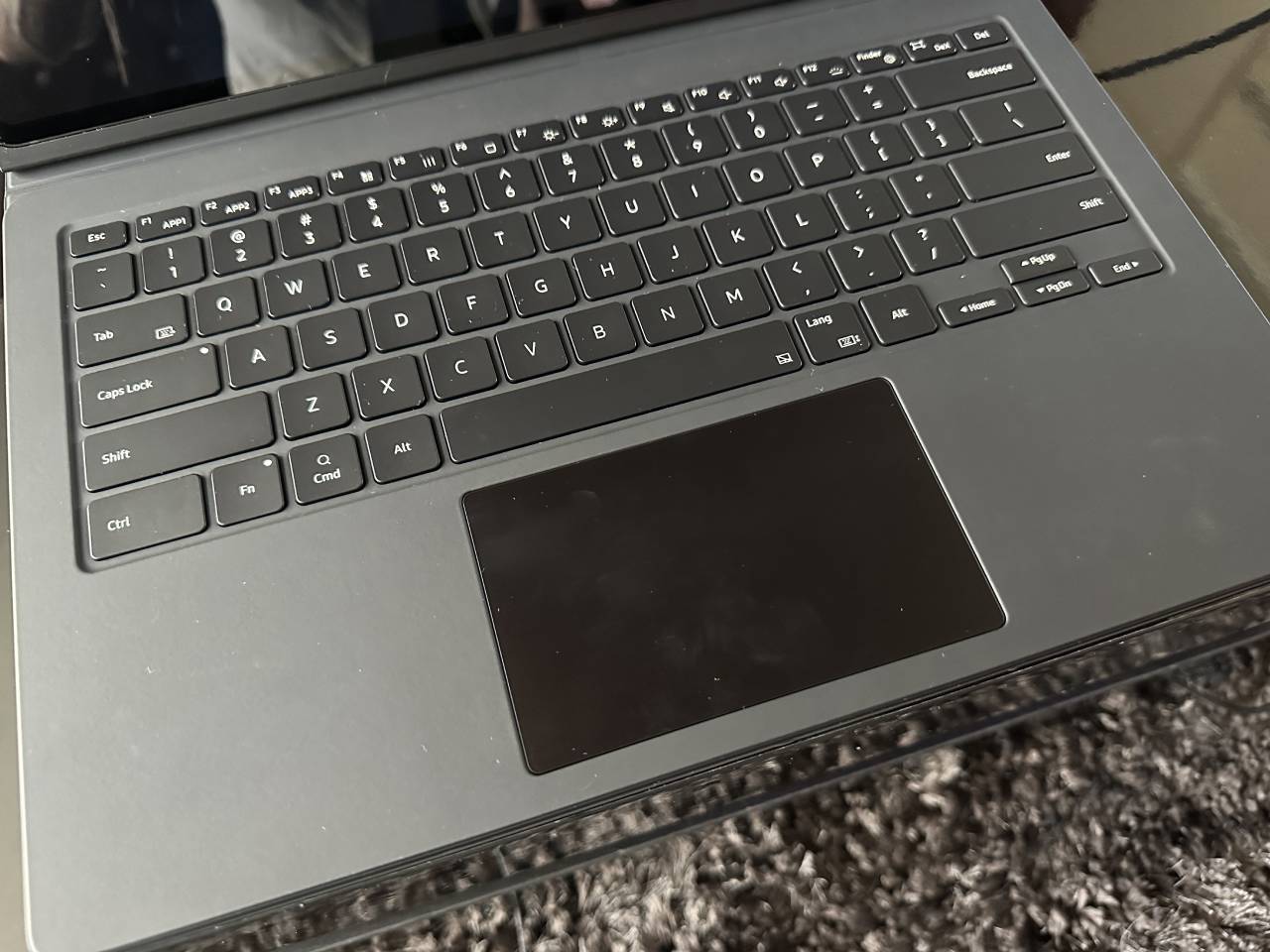 Being that most apps and work I carry out is web based I simply needed a WiFi or 4G connection.
Having the keyboard case as mentioned was a MUST and and being that I work with a few spreadsheets, docs, PDFs, excel sheets, creative software and of course email there was simply no issue to carry on business as usual.
I guess you'd liken the experience to using a Chromebook, but quicker, more power to play with being able to multi window apps on a larger screen and way less clunky. A lot less clunky.
For the digital creatives out there, Tab S8 Ultra has got you sorted. The tablet comes with an S Pen with a fluid life-like on-screen stroke. Write, take notes and design made easy to the most intricate detail.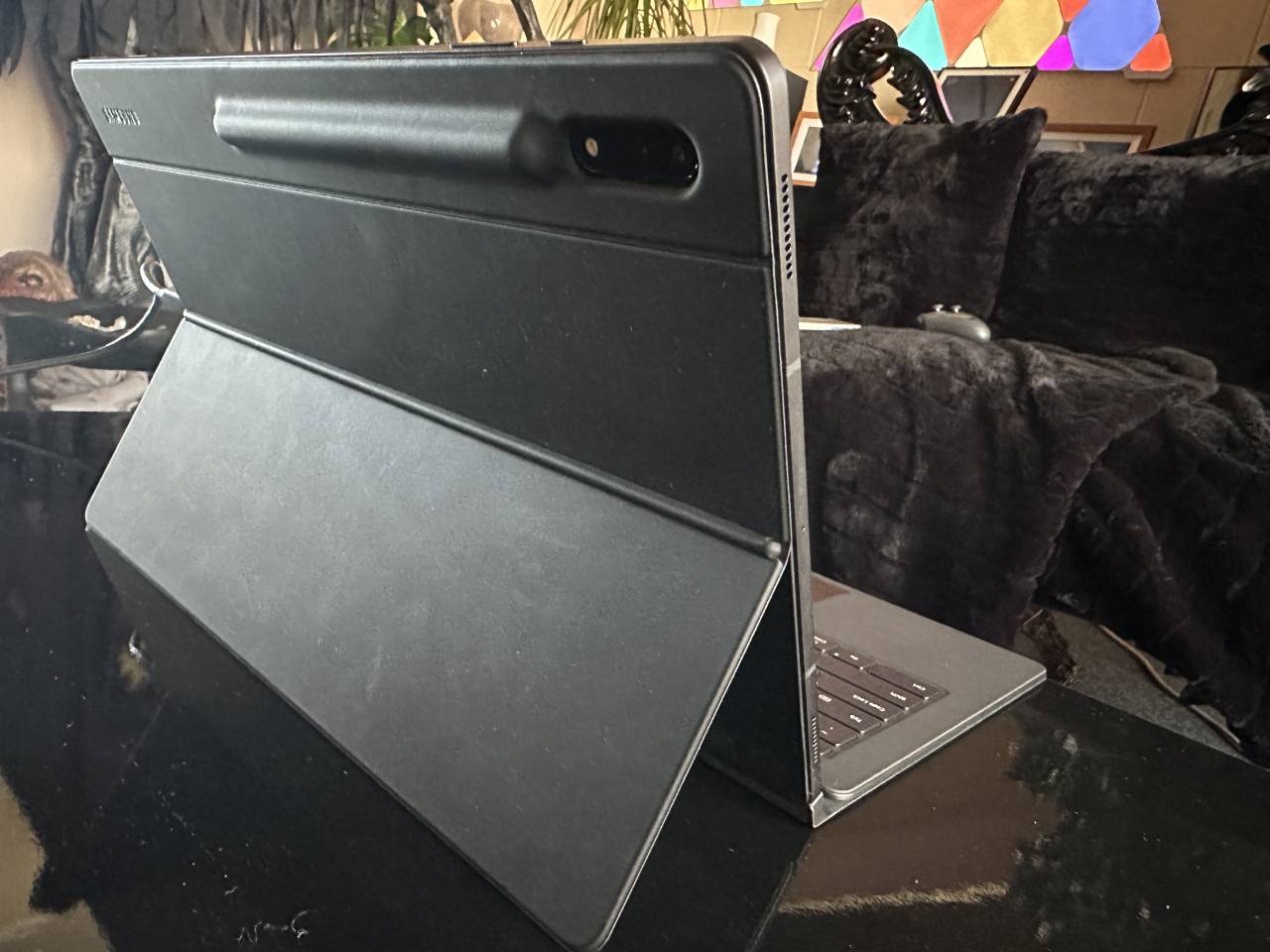 As for gaming – the Tab S8 Ultra is a beast.
Whether it's old skool retro (yep I still play those) through to console quality Play Store games, you can also get your Xbox fix via Cloud Gaming, anywhere. Pair up an Xbox One controller via Bluetooth and you're made.
I'm also a huge music fan. Most genres, very eclectic. This generally means that I have music belting out via Bluetooth speakers or in my ears via buds on a daily basis.
Both Spotify and Apple Music (yes there's an official Android app for Apple Music) are main staples and as they use cloud (unless you opt to download your playlist for offline listening) the footprint is mere MB's for the app itself.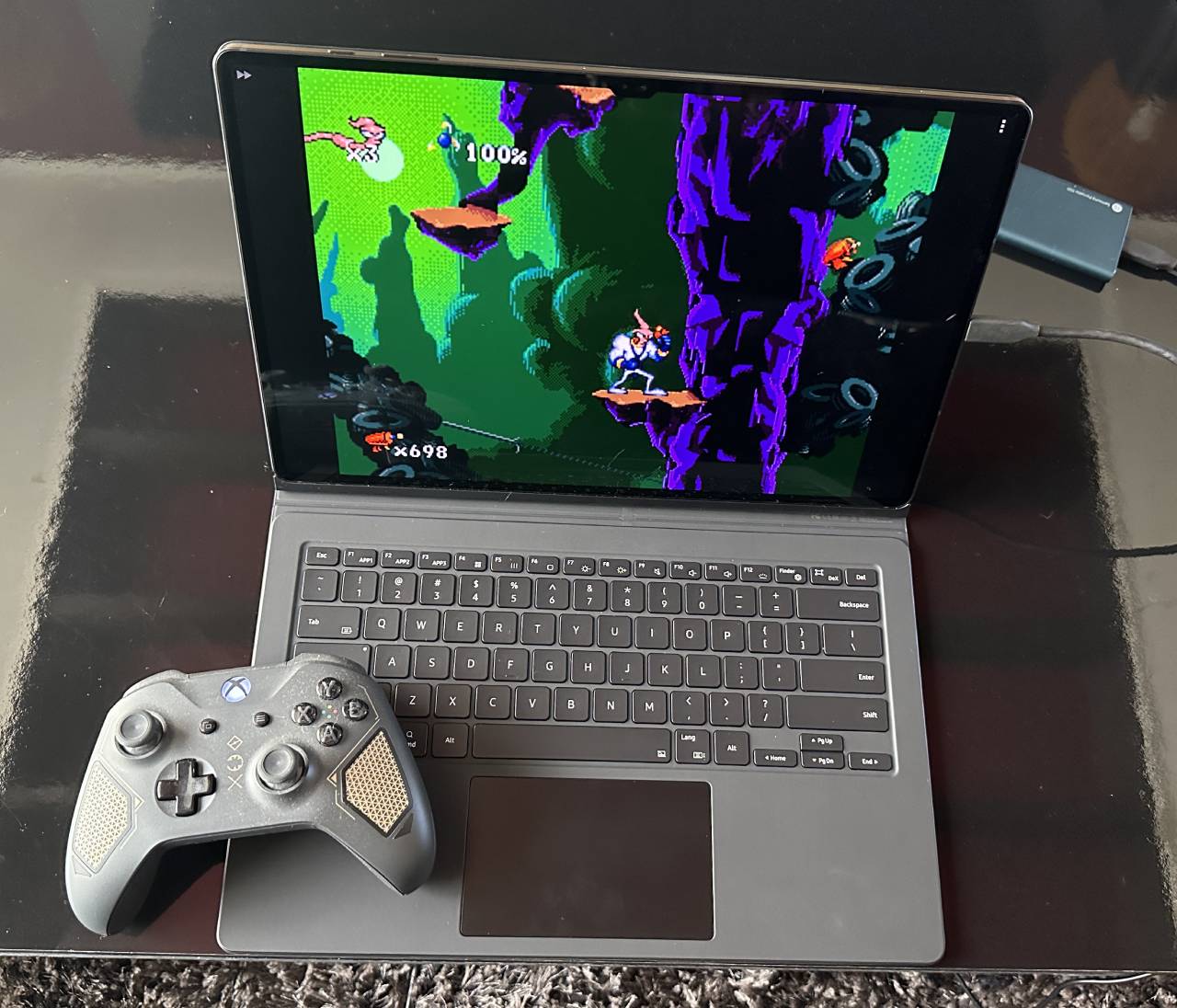 Pairing the Tab S8 Ultra to my usual Bluetooth speakers and buds was no issue, and via inner ear, the music quality was far better from the Tab S8 Ultra than it was from my laptop. Assuming that has something to do with Samsung's AKG audio enhancement built inside OneUI.
The Tab S8 Ultra has a beefy battery, and it needs it. It's powerful and all screen.
In this real world try-out, retiring a laptop and only using the Tab S8 Ultra on a daily basis, I was usually able to get around 30 hours from a full charge. Gaming wore that down a bit to somewhere in the vicinity of 20 or so hours (Xbox Cloud).
My laptop does around 6 hours non-gaming, 2 – 3 hours gaming.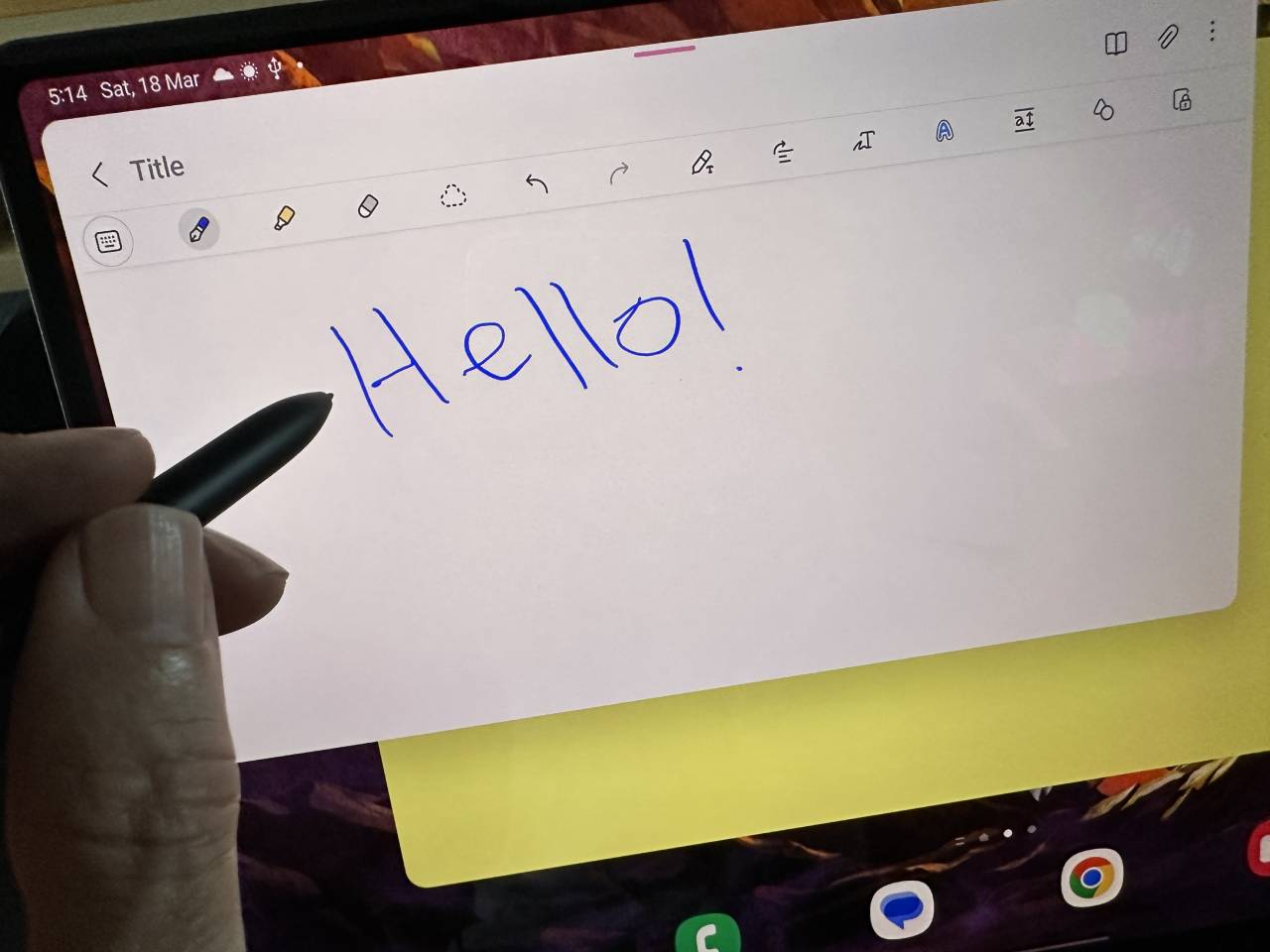 If you use an external monitor the built-in DeX function in settings will detect and enable another screen. Likely you'll need a USB-C to HDMI adaptor, if your monitor is HDMI only. Portable monitors tend to a bit hit snd miss, with the Tab S8 Ultra not able to supply enough power via USB-C.
If you have a portable external monitor with it's own separate power source you'll be good. To be fair, if you use an portable external screen without an additional power source, this is going to seriously drain your battery in the short term.
As my laptop replacement time is coming to an end, I'm sad to see the Tab S8 Ultra go back.
It was different to begin with, especially if you're used to using Windows or MacOS on a daily basis, but within a day or two it was the new norm.
The Samsung Galaxy Tab S8 Ultra can absolutely replace your laptop and offers more freedom than iPad with Apple's official keyboard case as well, as Android gives you a lot more flexibility within it's file structure and overall options.
With the Tab S8 Ultra being a smidge over 14 inches and a vivid detailed screen it's the perfect replacement, or intermediary device for work play and entertainment.