Take That have released 'Out Of Our Heads', the first brand new offering from their forthcoming album Odyssey.
The single is one of three new tracks to appear on the album, which will also include brilliantly 're-imagined' versions of their celebrated back catalogue. The release of Take That's latest album forms part of the band's epic 30th anniversary celebrations, which will see Gary, Mark and Howard embark on a Greatest Hits Tour of the UK.
'Out Of Our Heads' is a high-octane call to the dance floor, which transports the listener back to 1930's swing-era America, whilst retaining a thoroughly current feel through its spotless production. Driven along by an energetic double bass thrum and Barlow's timeless vocals, effortlessly harmonised with Owen and Donald, the track climaxes with a hedonistic crescendo of horns and brass that's sure to get feet moving.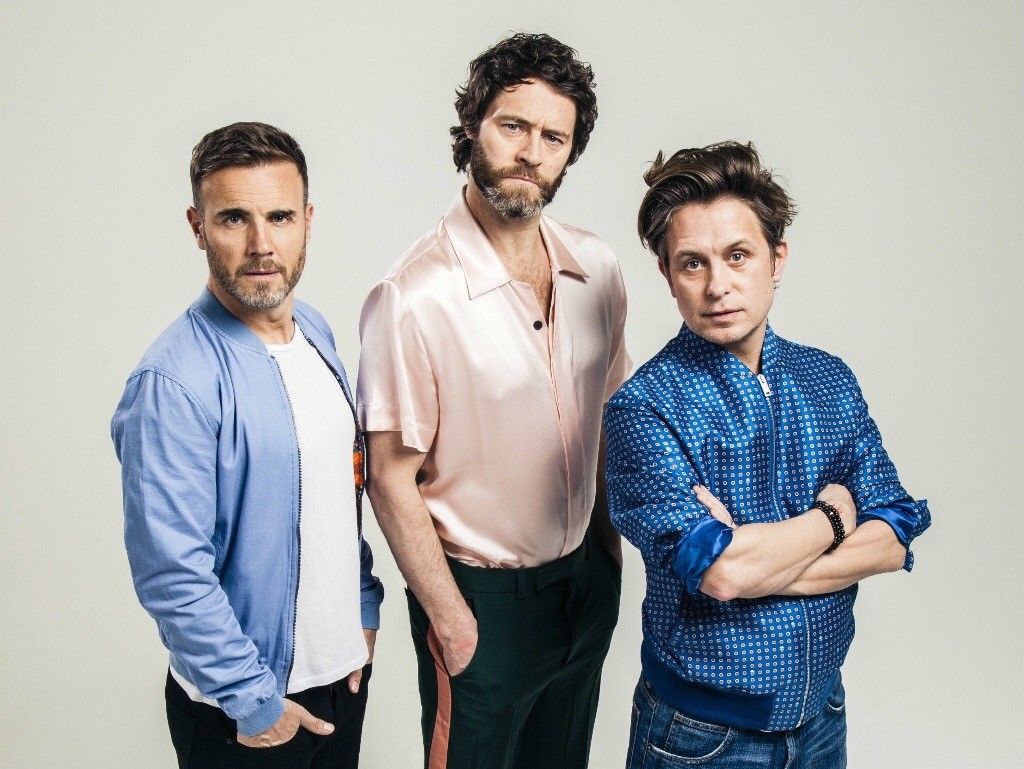 2019 marks 30 years since five likely lads met in Manchester, forming Take That. Odyssey is a chronicling of their journey from humble beginnings to becoming one of the biggest boy bands of all time, before splitting up and then making a remarkable comeback, becoming even more successful in their second incarnation. "The story is, if you think about it, quite mad" says Howard. To use Owen's words: "To tell the tale of the band, the history of what happened to us. If you only ever own one of them, this should be the definitive Take That record."
The 2 CD LP is a mix of their biggest hits from the last three decades, interwoven with personal soundbites from across the years, which help to piece together this richest of musical tapestries. It will also include 'reimagined' versions of their classics, giving fans the chance to hear their favourites in a new light, "but without spoiling what people loved about them in the first place" says Barlow.
Gary Barlow, Howard Donald and Mark Owen are Take That in 2018 and continue the legacy of one of the most successful bands in British chart history.
Formed as a five piece in 1989, they enjoyed immediate success with their first two albums charting at No.2 & No.1 respectively. Third album 'Nobody Else' confirmed their global domination, selling over six million copies and topping the charts in 11 countries. The departure of band member Robbie Williams prompted a break up in 1996 and nine years in the wilderness before the other four members reunited for 2005's The Ultimate Tour. This sparked one of the greatest comebacks in British music history with Take That going on to release three No.1 albums in just four years.
Robbie's return for 2011's 'Progress' saw them break the record for the fastest selling album of the 21st century and fastest selling tour of all time in the UK. Williams' second departure, along with that of Jason Orange left the remaining three members to release 'III' and 2017's 'Wonderland', which were certified platinum and gold respectively. Their longevity and ability to create relevant, timeless pop music has taken Take That to the summit of British pop music and Odyssey will celebrate their place as the one of the world's greatest ever bands.
Odyssey is out 23rd November 2018, via Polydor Records.