Written and directed by New Zealander Jason Lei Howden and mostly filmed in New Zealand, Guns Akimbo is somewhat of a chaotic mess that may be enjoyed by a select few, but overall loses itself in the chaos, failing to form an adequate movie.
Starring Daniel Radcliffe, Guns Akimbo follows Miles, a video game developer that likes to troll the forums in his spare time. Problem is, he annoys those in charge of streaming a real life, video game inspired deathmatch. (How he didn't think this would come back to bite him we'll never know!). Before he knows it, Miles wakes up with guns bolted to his hands and orders to kill the games star Nix, played by Samara Weaving. Although these well-known names headlined Guns Akimbo, a bad script unfortunately took the actors down with it no matter how known their following is.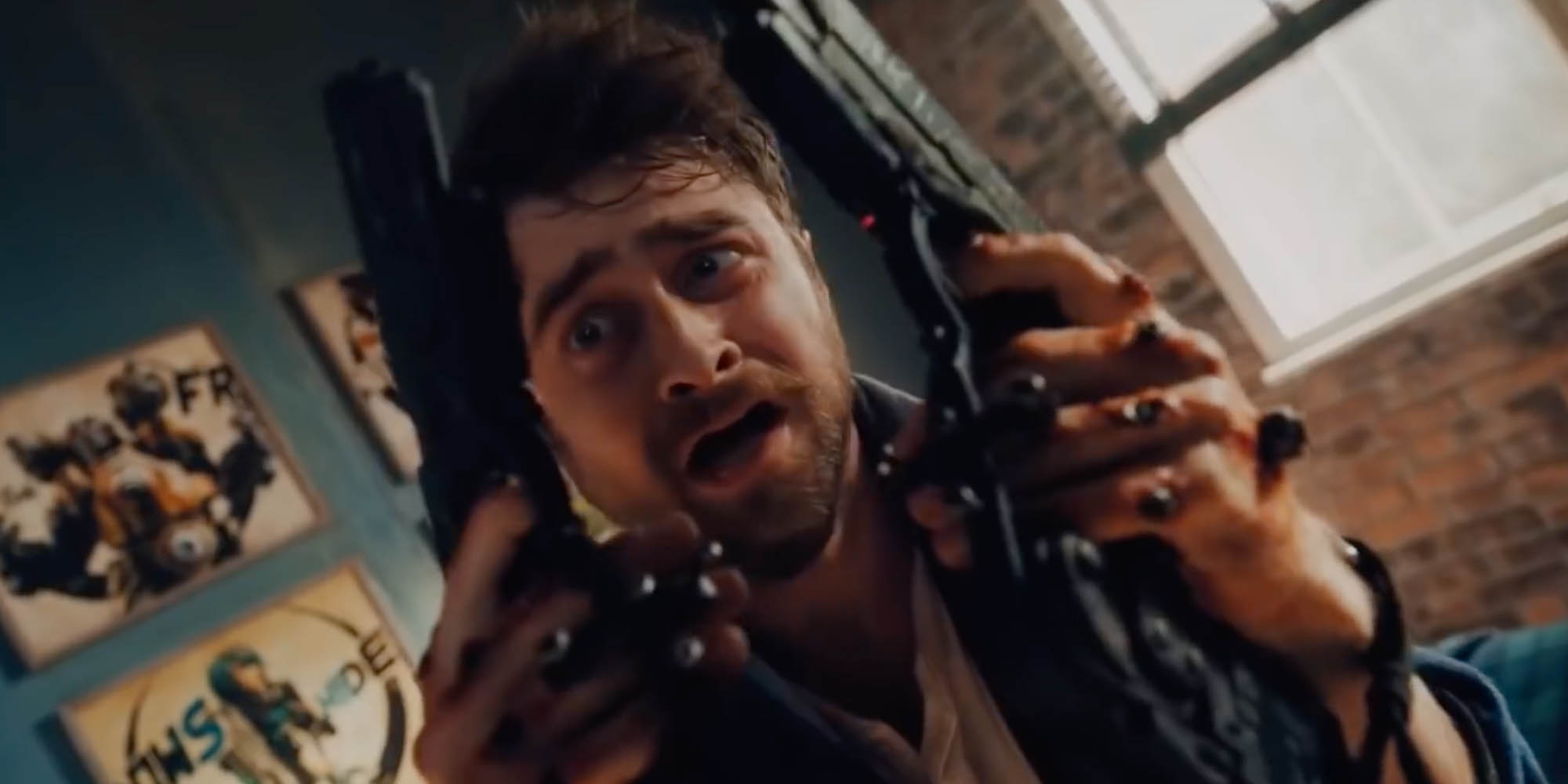 The overall aesthetic of Guns Akimbo seemed like a lot of fun from an outsider's perspective. Who doesn't love some rough and tumble, video games coming to life, action scenes and bright colours?. From a cinematography point of view too, Guns Akimbo challenged the typical angles with 360 degrees to embody the chaos and confusion experienced by Miles. Unfortunately, you can't rely solely on one cool shot to make a movie though and it soon became repetitive and lost its initial effect.
Very early on it became obvious that Guns Akimbo was trying its own approach to the topic of internet / online addiction. Showing nearly every single character absolutely loving the real-life deathmatch streams made you feel uncomfortable but perhaps that's what audiences needed to see to realize how ridiculous our dedication to the online world can be. In terms of the narrative, Guns Akimbo didn't have a lot going for it that you haven't already seen hundreds of times.  Because of this, easy predictions and choices could be made and no emotional connection to the story or characters was established. With no risks taken and relying so heavily on pure action, Guns Akimbo lacked the combination of various cinematic elements required to make the film work and function well.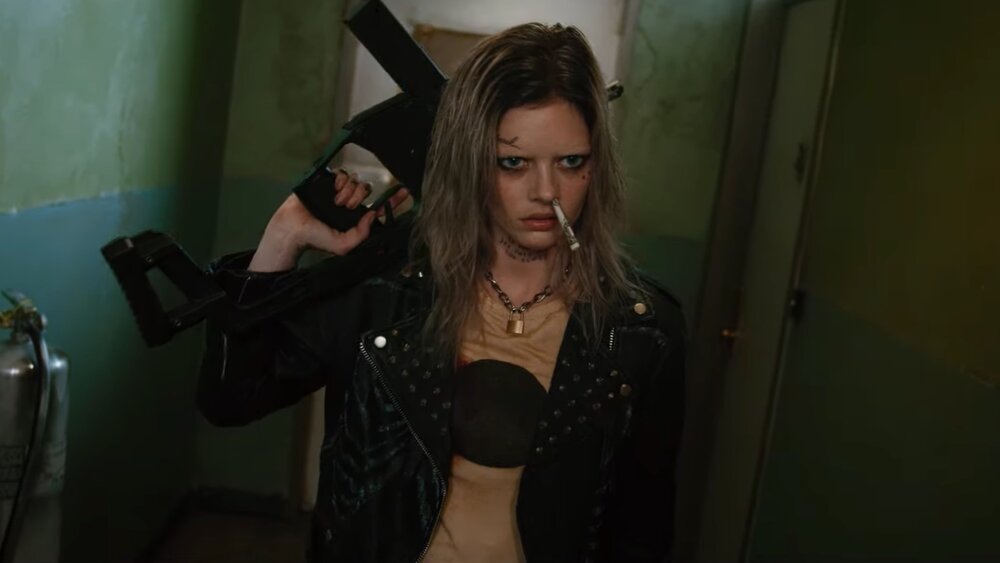 Filming Guns Akimbo in New Zealand came with a bunch of local actors playing side characters. It's always fun when films are made in New Zealand as it doesn't happen often in comparison to the rest of the world but I don't see how hard it is to hire actors that actually have a passable American accent. There's nothing that makes your film more predominantly amateur than when actors aren't 'realistic'. They stand out like a sore thumb and bring forward this idea that not a lot of thought has gone into the pre-production. On the other hand, you have Kiwi actor Rhys Darby who continues to pop up more and more in big productions and always with a strong Kiwi accent. You can't help but start to see Darby being typecast as this overly eccentric, kind of gimmicky, crazy New Zealand character. He's certainly in no way a bad actor, it's just a shame that's all Hollywood seems to think he's good for.
Was Guns Akimbo trying just a little bit too much to be 'cool'? Probably.
With bright colours, gore, shooting and bad American accents, one wonders whether its audience reach was solely for fans of dark comedies. Though I'd be surprised if even they found something positive to hold onto in Guns Akimbo.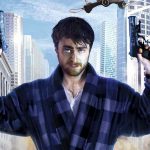 Guns Akimbo (Madman – Bluray) Review
Film details
Year: 2020
Rating: R16+
Running Time: 95 MIN
Genre: Action
Director: Jason Lei Howden
Producer: Tom Hern, Felipe Marino, Joe Neurauter
Starring: Daniel Radcliffe, Samara Weaving, Natasha Liu Bordizzo, Ned Dennehy, Grant Bowler, Edwin Wright, Rhys Darby
Production Studio: Occupant Entertainment, Four Knights Film, Maze Pictures, Cutting Edge, The Electric Shadow Company, Umedia, Ingenious Media, WS Filmproduktion, Deutscher Filmförderfonds, FilmFernsehFonds Bayern, Hyperion Entertainment, New Zealand Film Commission
Distributor: Madman Entertainment, Altitude Film Distribution