NOW CLOSED – Thanks to PlayStation NZ, Shane the Gamer has been given a copy of Sony PlayStation's newest exclusive title The Order: 1886 plus extra's. Hailed as a cinematic masterpiece, this is THE game to have for PlayStation 4.
The Order: 1886 sees you take on the role of a chap called Galahad, who is a part of a select Order tasked with taking out Lycan hybrids and ensuring both the protection and survival of humankind.
Currently the best eye candy you can see within a PS4 game, and it could be yours, along with an Official The Order: 1886 Golden Trinket Box and a The Order: 1886 Moustache Comb (for that handle bar mustache you have always been meaning to grow).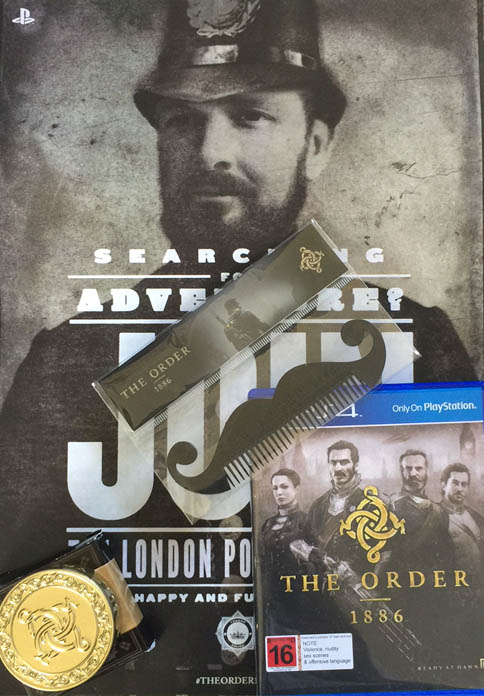 To Enter to Win this Prize Pack you will need to answer the following Question:
The Order: 1886 is played out within a reimagined city. What city is it?
A: Paris
B: Wellington
C: London
If you are not too sure, head over to our REVIEW of The Order: 1886 to see if you can find the answer there.
You can give us your answer by placing a Comment below, hitting us up on Facebook, Tweet to us, or Email Us.
[jwplayer player="1″ mediaid="11456″]
Winner(s) will be randomly selected from those that Comment below / Facebook Comment / Email the correct answer to the above question. Winner will receive a New Copy of The Order: 1886 on PlayStation 4, a The Order: 1886 themed Golden Trinket Box and a The Order: 1886 Mustache Comb . Competition ends the 15th of March 2015. The Order: 1886 is Rated R16 in New Zealand.