HP's specific PC gaming brand Omen has always trumped up with the goods when it comes to getting you in to the game.
Recently they released their HP Omen 16 gaming laptop, a 16.1 inch kit full of muscle and ready to play.
STG received one of the units to test out and see if it's up to grade.
Super sleek in black the HP Omen 16 looks the part and Omen have adopted a full RGB lighting array for their keyboard, not the usual static red, customizable via HP's own Lighting Studio app.
The 16.1 inch screen has a 165hz refresh rate for it's vivid anti-glare micro-edge display. And micro-edge it is with a slimmed down side bezel.
There's no 4K, but you will get FHD (1920 x 1080).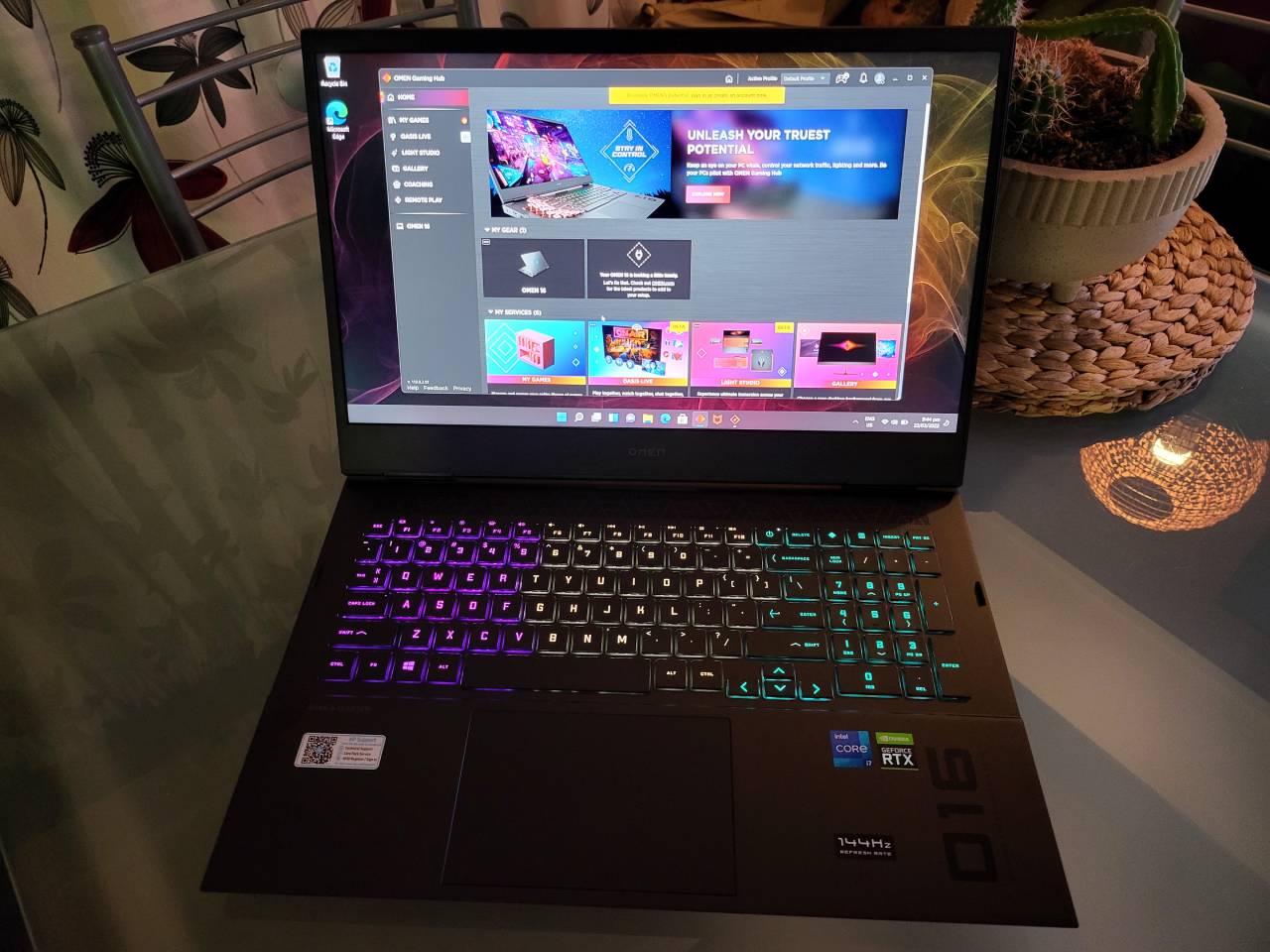 Under the hood there's Intel's 16th gen i7 processors coupled with 32GB RAM and a generous 1TB SSD.
A NVIDIA GEForce RTX 3070 powers the eye candy.
The best innovation HP have added to their HP Omen 16 laptop is the power cell.
The battery is purported to last a full 9 hours with average use.
After setting up the review model it was time to get some gaming in.
Cranking up the likes of Forza Horizon 5 in all of it's glory, with no settings dimmed down the HP Omen 16 handled like a well serviced supercar.
While minimal of screen latency is important when you're on the track, it's critical and can mean life or death in battle.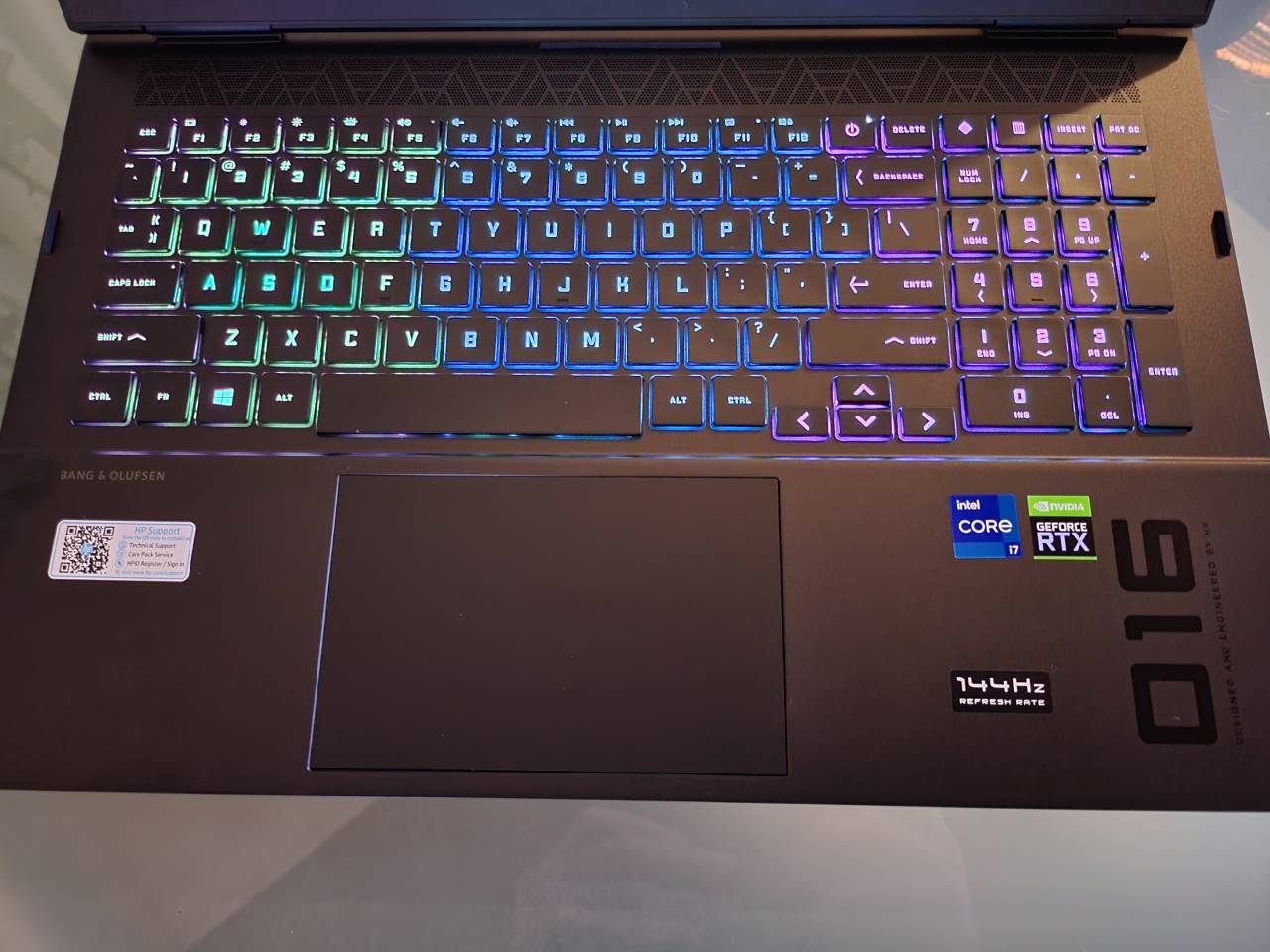 Call of Duty Vanguard had me at my optimal. No screen tearing, blips or drag. Infact I think that the gameplay was more fluid than I've ever experienced.
But if you want something with detailed colour, Borderlands 3. This totally popped and again was a seamless streamlined play, both in visuals and playthrough.
All games I played on battery. Would the HP Omen 16 actually last the distance they said it would?
Yes and no.
From full charge to near dead, Forza was 4 hours of non-stop tarmac simulation. Borderlands 3 surprisingly lasted the longest at around 5 and a half hours and Call of Duty Vanguard draining the battery in just over 3 hours.
All of those are good innings though.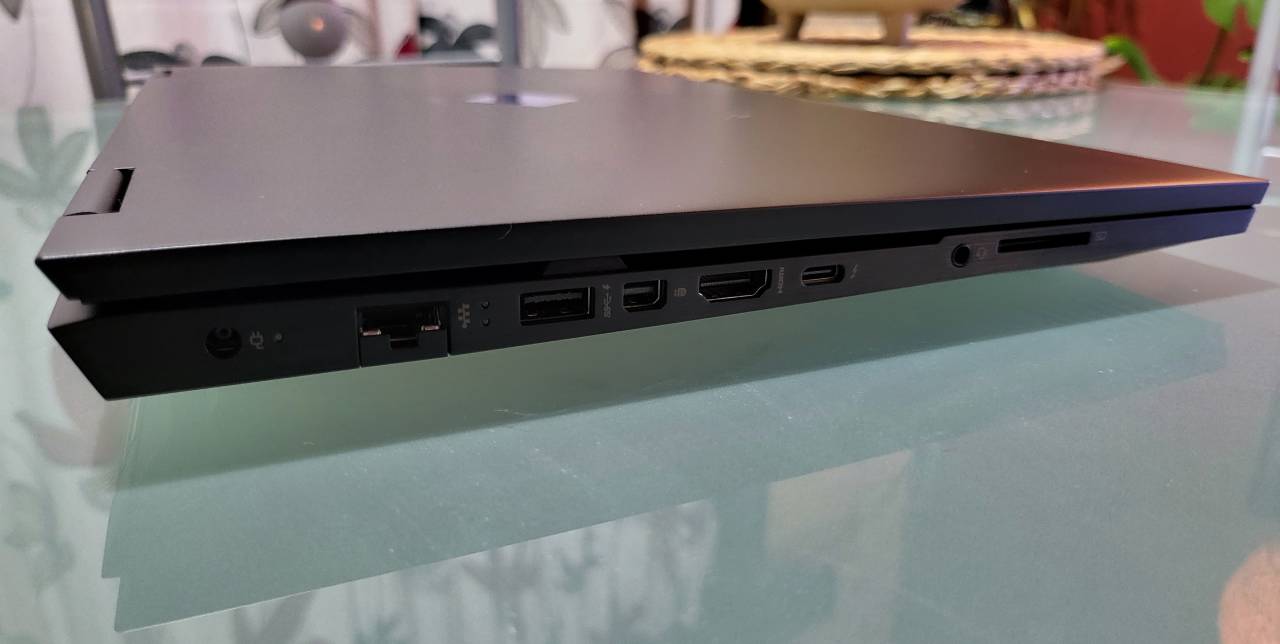 So if you're inclined to pack up your laptop and head over to a mates, or play somewhere where there is A/C adaptor you'll be sweet for a few hours. Excellent for eSports bouts too.
As great as all of this is there was one thing I had a concern over. Build quality.
Moments of utter darkness in games give you that suspenseful even nerve racking moment. Especially in something like one of the later Resident Evils.
The review model I received in to STG had a very noticeable light leak around the edges of the screen.
Darkened areas were ruined by shafts of white light peeking from edges.
Sure, you're only going to notice this if you're playing something onscreen that is rendered in low or zero light. If playing something that's not so dim and foreboding you wont even see it.
The HP Omen 16, like any good gaming laptop has more than enough ports to connect up all of your gear.
Two USB sockets on the right with another on the left side. The left side is where most of your connectors are placed.
Ethernet, HDMI (only one), USB-C, mini-display, headset / mic and an SD reader.
I reckon ditching the SD card reader and placing in another HDMI would have been ideal.
For those of us that play online, HP have added a Network Booster in to their HP Gaming Hub app which is natively installed on the laptop.
This aims to ensure that your network connection, wireless or connected, does not drop, essentially giving it a front-of-the-line status over and above any other apps.
During my time of online play I never encountered any drops or lag.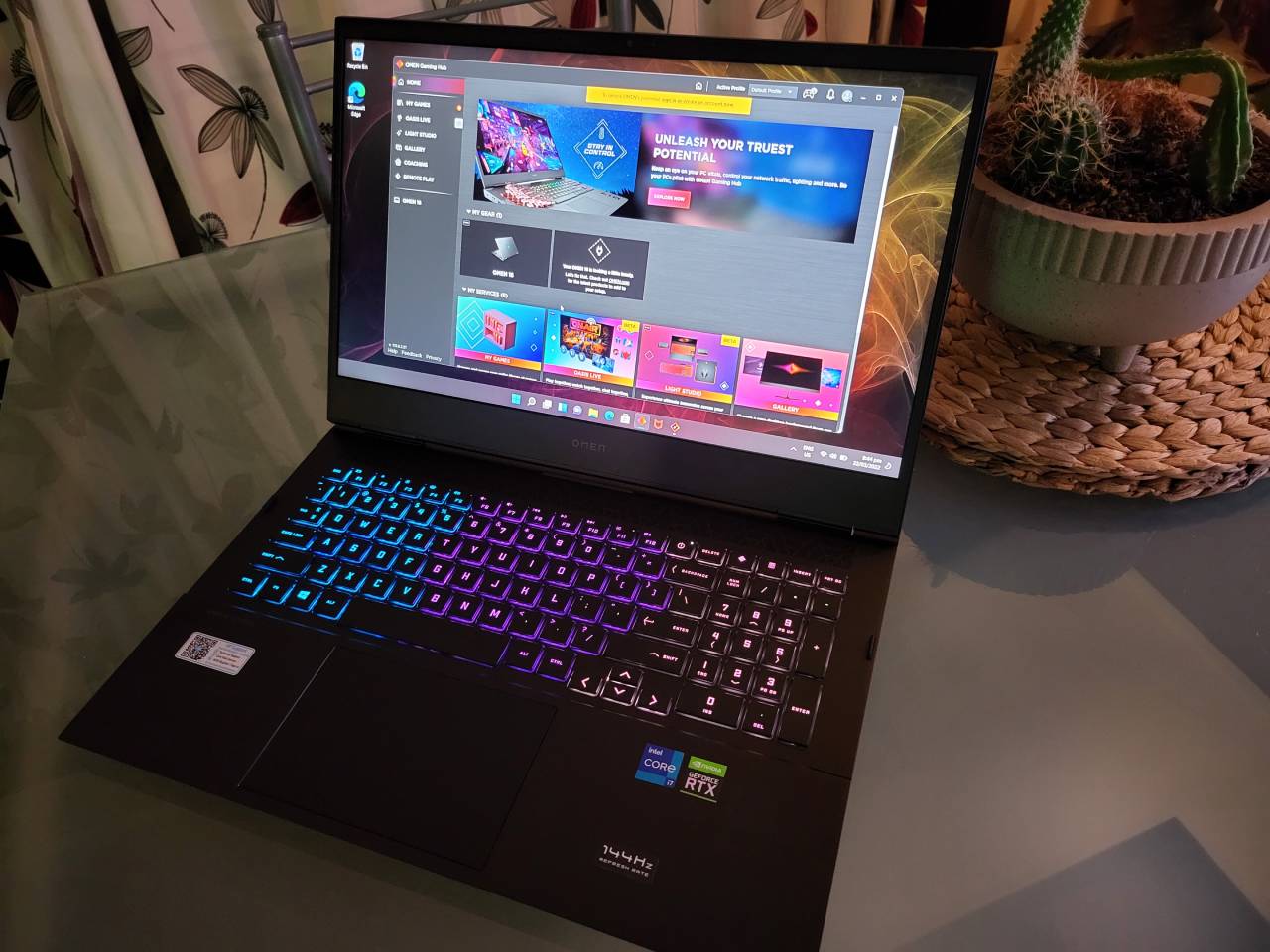 To keep things cool and calm during the heat of the moment HP have their own signature 'Tempest Cooling' setup. This distributes heat from the device outwards venting through two large fans at the base.
There's also additional vents at the back.
I never experienced any heat build up but the laptop did get warm with Call of Duty.
While the size of the HP Omen 16 screams out portability, some may want to keep it on a desk. It's not overly heavy, but it's not a lightweight either.
Coming in at a solid 2.32kg you're not really wanting to go too far with it.
Mention of audio needs to be in here too. HP have sound designed by Bang and Olufsen, with DTX thrown in for good measure.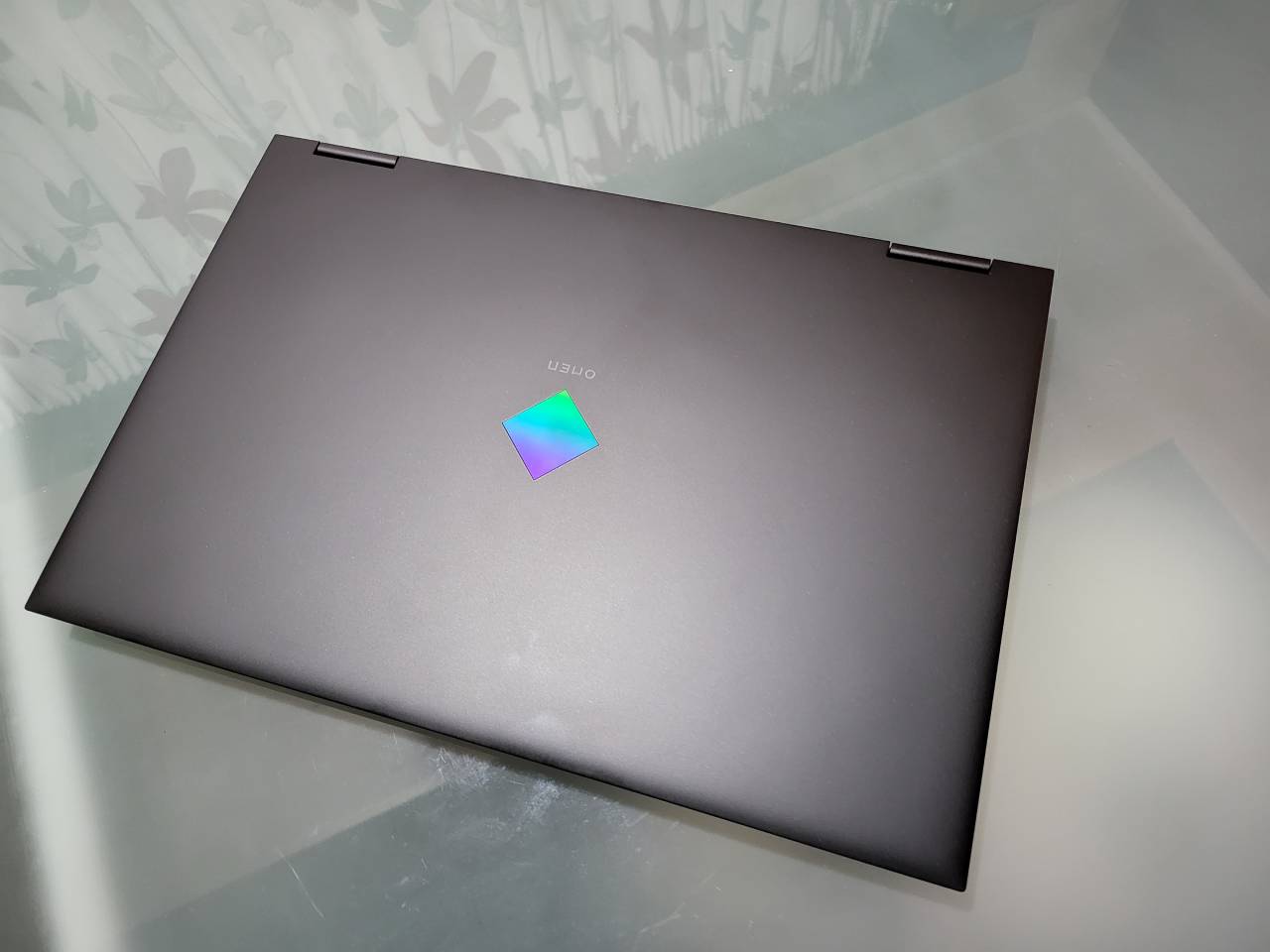 If you game with a high quality headset, you're absolutely going to notice the difference. If to describe it, either in game or streaming quality media it's similar to having a 5.1 surround system clasps to your ears.
Good stuff.
In all the HP Omen 16 is an excellent gaming laptop able to perform without a glitch, but is super pricey at just over $5K (NZD).
Still, if you've got deep pockets and looking for something to get you ahead of your opponents the HP Omen 16 might just be that weapon of choice.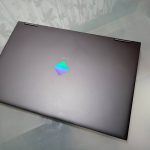 HP Omen 16 Gaming Laptop Review
Device details
Released: February (NZ) 2022
Device Name: HP Omen 16
Chipset: Intel i7 (16th gen)
Memory: 32GB
Internal Storage: 1TB SSD
Graphics Card: NVIDIA GeForce 3070
Price: Around $5,499.00 (NZD)