The current generation of consoles are nearly at an end, and a new generation is on the horizon.
And with that move comes an update to the minimum requirements for many AAA video games, alongside increased expectations of what a PC attempting to call itself contemporary can put out. It's a bit of an awkward time for gaming laptops in particular, with their largely non-upgradeable parts. Buying cheap could mean that you may fall behind the next generation of consoles in just one year but you don't want to overpay either.
The version of the ASUS GX502G that I tested attempts to straddle that fine line. It's a sturdy laptop that stays away from the bulk of a desktop-replacement while still using high-end parts. It features a design that encapsulates the tropes of modern gaming PCs without turning into rainbow RGB vomit, keeping it suitable for a lecture hall or your favourite cafe.
Cooling is always the bane of gaming PCs, and ASUS have tried to make every cooling system as versatile as possible. For example, I liked how I could manually control the fan speed of the device, giving me the option of maximum GPU and CPU clock speeds if I didn't mind the commensurate increase in noise. At full blast the fans make themselves known, but the CPU was able to gain an extra 600MHz on all 6 of its cores, so in certain CPU-bound situations it could just be a lifesaver.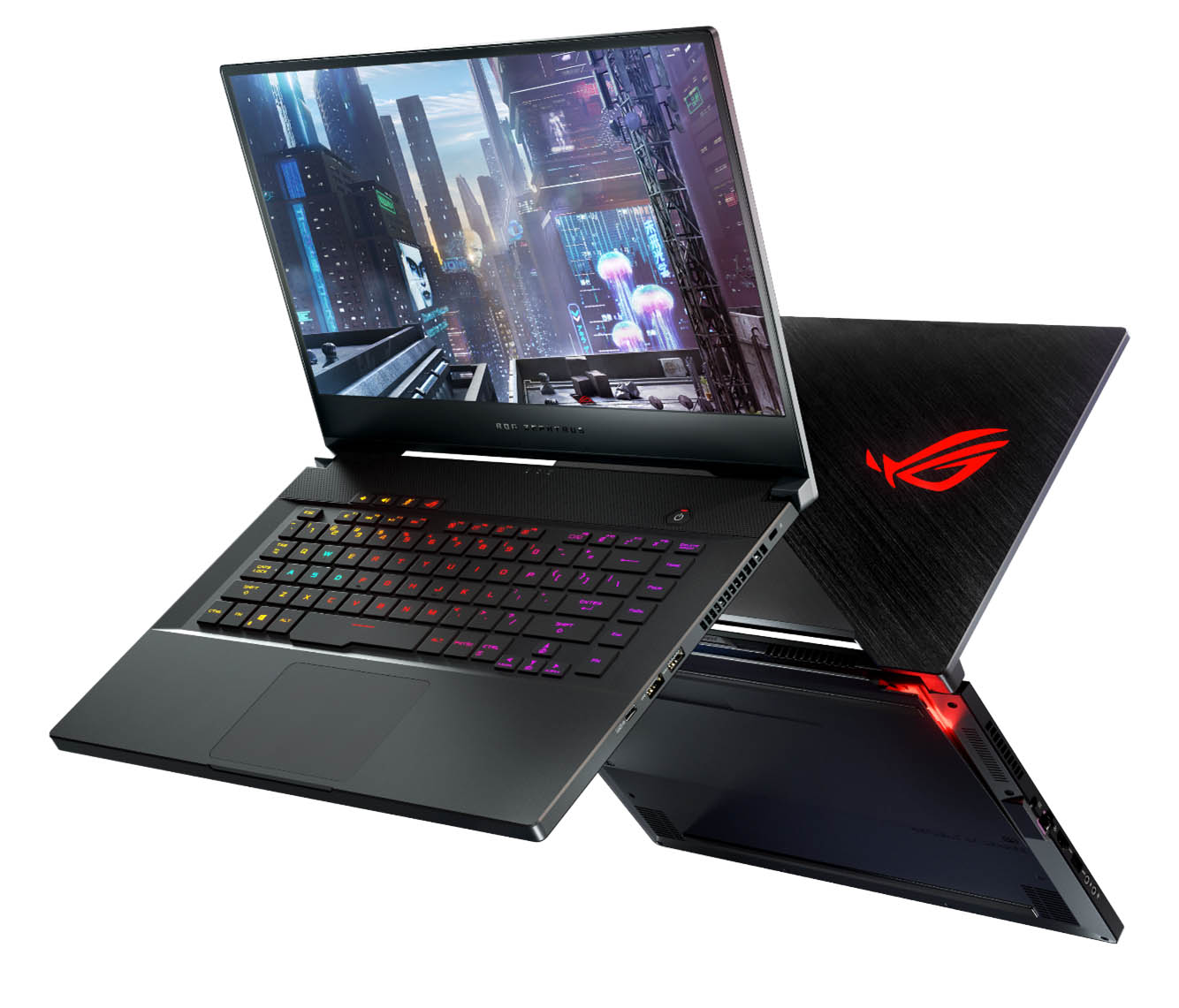 Gaming PCs have had the luxury of weak CPUs in this generation of consoles, and so have been able to get away with lesser requirements. Rumours of an 8 core, 3 GHz Ryzen 2 desktop processor in the PS5 and next generation Xbox may mean current gaming PCs will need to extract every bit of performance they can, and tools like those that ASUS provide will prove their worth over time.
I also liked how the bottom of the laptop's chassis raises up as you open the lid, creating a bit of a gap between the base and the table, leading to better airflow, especially when placed on a hard surface. In testing, the GPU stayed relatively cool, but the CPU was getting up to 85 degrees routinely. Similarly, while GPU clocks were relatively high, CPU faced temperate limiting more frequently, typically setting at 3.2GHz across all six cores and 12 cores in a gaming scenario. In a CPU-heavy workload it was able to get a bit higher.
But beyond the CPU and GPU, there are a number of other areas that make the GX502G stand out. In contrast to the majority of gaming laptops, the keyboard was centred without a numberpad. As such the touchpad was also centred. While some will miss the numberpad, I appreciated the much-improved ergonomics, and not having to twist weirdly just to use the PC.
The GX502G also features a vibrant 1080p screen, which is not only 240Hz capable, but features G-SYNC. Having G-SYNC monitor for my main gaming PC has ruined non-variable refresh rate screens, and it's fantastic to have the same experience on the go.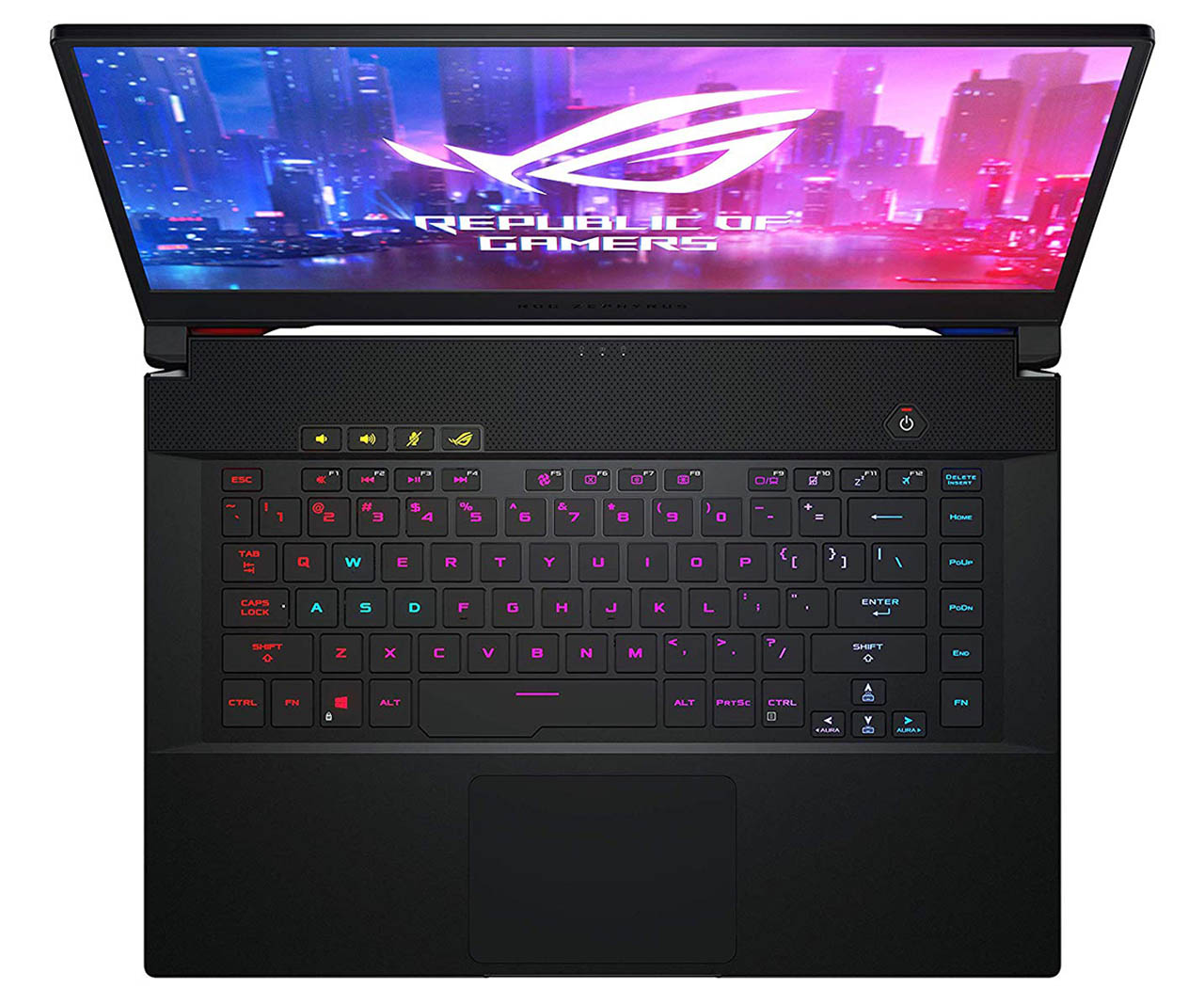 I didn't like that the power adapter plug was halfway down on the left hand side. It is an awkward position that favours keeping the power adapter brick on the left hand side, which won't be as convenient for some people's setups. A port on the back or even nearer to the hinge would have made much more sense. Or at least they could have included a longer power cord.
Connectivity was okay, with USB, HDMI and a small assortment of the usual contenders, but as always I would have liked to see a thunderbolt port or two give the laptop a chance at a longer lease on life once the GPU is eventually outclassed.
Still, it is impressive what they're able to put into such a slim laptop, with the common workhorse Core i7-9750H CPU, which performs very similarly to the last generation equivalent, and a RTX 2070 which works well for 1080p gaming on the built-in screen. As always, on a laptop using the RTX for it's ray-tracing capabilities is not recommended unless you're happy with sub-60FPS gaming (admittedly made more viable by that G-SYNC screen), but DLSS will boost your frame-rates in available titles in a trade for a slightly blurrier game.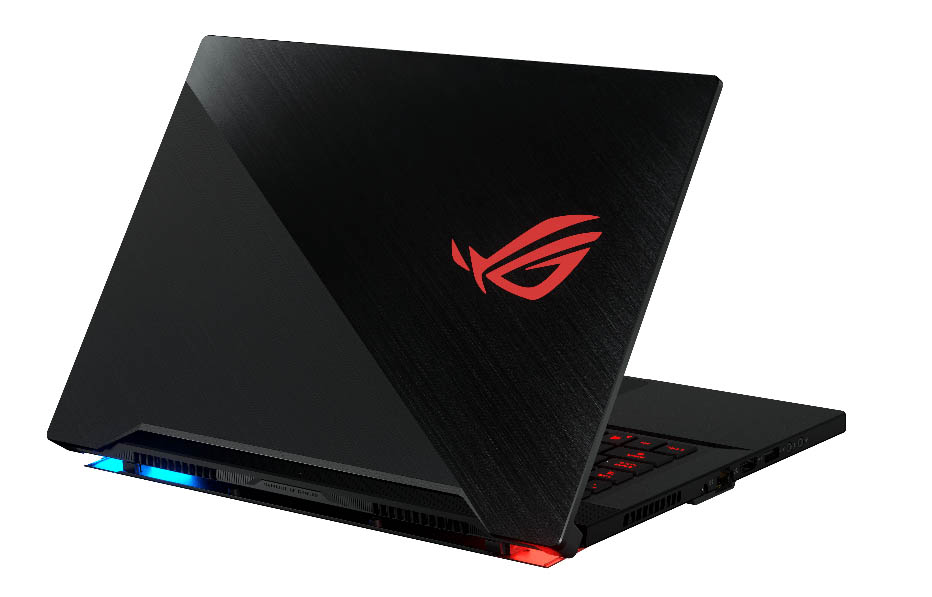 In games, I was able to get acceptable if not overwhelming results, with 64FPS in Far Cry 5 at Ultra, 54FPS in Shadow of the Tomb Raider at Ultra with PureHair set to low, 66FPS in Gears 5 at Ultra, and 42 in the notoriously resource-hungry Assassin's Creed Odyssey. I saw some strangely-low results in the GS:Go Community benchmark map, but given the good performance otherwise I'm not sure what's happening there and am willing to chalk it up to a bug or other issue. 3D Mark, Heaven and Geekbench 4 and 5 results were similarly impressive. All testing was undertaken with the latest Windows 10 updates and the most recent NVIDIA drivers.
After a couple of weeks with the GX502G I was left impressed. It features the latest gaming technology, a restrained gamer aesthetic and some nice touches that gave it a premium feel. The 15" gaming laptop segment is a very competitive market at the moment, with multiple companies simultaneously realising this is where many gamers want to buy. There are some niggles, such as the curious lack of a webcam, and I wasn't too impressed with battery life, but overall it is a solid option in a chassis that is a good compromise between an ultrabook and super-thick desktop replacement laptops without dropping to the less-powerful Max-Q GPU class.
For 1080p, high refresh gaming this is a great choice that has a good chance of lasting well into the next console generation.
[rns_reactions]