Industry computing specialists NetGear has announced to us here at STG that they are launching two new products this week during CES 2018 in Las Vegas that amp up your game play; Nighthawk Pro Gaming WiFi Router (XR500) and Nighthawk Pro Gaming SX10 10G / Multi-Gig LAN Switch (GS810EMX).
Whether you're online gaming, hosting a LAN party, or streaming high-definition content, the new NETGEAR Pro Gaming products will take your network to a whole new level of speed, performance, personalisation and control.
Gamers are looking for every advantage to maximise their ability to thrive in their online multi-player game of choice. Regardless of whether you are a serious or casual gamer on either a console or PC, the Nighthawk Pro Gaming Router XR500 and the Nighthawk Pro Gaming Switch SX10 will give you greater command over who you play with and prevent unwanted interruptions, giving you the ability to level up your gameplay.
This new groundbreaking NETGEAR Nighthawk Pro Gaming WiFi Router (XR500) leverages advanced cutting-edge software to optimise network connections by stabilising ping, reducing lag spikes, and keeping you always-on with reliable wired and wireless connectivity for advanced online game play. The Gaming Dashboard, Geo Filter, Quality of Service (QoS) and Network Monitoring capabilities enable customisation and gaming performance unmatched in the router space. The Nighthawk Pro Gaming WiFi Router includes best-in-class hardware features such as a dual-core 1.7GHz processor, Quad-stream Wave 2 WiFi with MU-MIMO, and four external high-power antennas wrapped up in an aggressive and formidable enclosure.
The NETGEAR Nighthawk Pro Gaming SX10 10G / Multi-Gig LAN Switch (GS810EMX), a 2018 CES Innovation Awards Honoree, succeeds the Nighthawk S8000 and is set to provide you with an advanced 10G switch to prioritise streams with QoS to fine-tune your game play. The Nighthawk Pro Gaming SX10 LAN Switch offers hard-wired speeds for gamers who demand that competitive edge with completely lag-free performance. It has two auto-adaptive 10Gigabit / Multi-Gigabit ports delivering seamless data transfer with five different connectivity speeds providing options for the variety of connected devices: 100Mbps, 1Gbps, 2.5Gbps, 5Gbps or 10Gbps. With link aggregation, the switch will achieve 20Gbps transfer speeds between the Nighthawk Pro Gaming SX10 Switch and your network devices such as networked storage like NETGEAR ReadyNAS. One of the main software features of the switch, the Gaming Dashboard, provides analytics for an overview into all that is happening with your network and what ports need to be prioritised for the best quality of game play.
"All online gamers, whether they are casual, avid or professional, have one thing in common — the need for responsive, reliable, low-lag game play. With the introduction of Nighthawk Pro Gaming, NETGEAR is demonstrating our dedication to gamers to deliver products that enhance gaming performance," says David Henry, senior vice president of Connected Home for NETGEAR.  "We have worked tirelessly with gamers to engineer features that deliver best-in-class performance, customisation and ease-of-use for the ultimate gaming experience. There should not be anything on your network that prevents you from having the ultimate game experience. With Nighthawk Pro Gaming, you will now have the power to win."
Nighthawk Pro Gaming WiFi Router (XR500) Specs:
With the new Nighthawk Pro Gaming WiFi Router, you'll enjoy frustration-free online and network gaming. Its MU-MIMO WiFi streams simultaneously to multiple devices on the same network so you and your pals can smoothly game online at the same time without affecting each other's performance. Here are some of the other key reasons you'll want to make the Nighthawk Pro Gaming Router the centerpiece of your gaming experience:
Gaming Dashboard — On a single screen, view real-time bandwidth utilisation by device, ping delays, and many other parameters.
Geo Filter — Fix your gaming lag by limiting distance to servers or other players, get a guaranteed local connection, and create black/white lists of your preferred servers.
Quality of Service (QoS) — Prioritise gaming devices and allocate bandwidth by device to eliminate lag due to queuing at the ISP network.
Gaming VPN — Protect your network identity, prevent DDoS attack, and use the VPN client to connect to the VPN server.
Network Monitor — Check on bandwidth-hogging devices and identify the applications which could be causing lag.
Gigabit Ethernet Ports — Maximise speed with four (4) GbE LAN ports for wired connections, ideal for fast-paced gaming and high-quality streaming.
802.11ac WiFi — Enjoy Multi-User MIMO (MU-MIMO) for simultaneous streaming, Quad-Stream, and 160MHz for faster speeds.
Dual-Core 1.7GHz Processor — Support more devices for better 4K streaming, VR gaming, surfing, and more with this powerful, faster processor.
AC2600 WiFi — Take advantage of up to 800+1733 Mbps wireless speed, and double the available bandwidth with simultaneous dual-band WiFi.
High-Performance Antennas — Get better WiFi coverage and faster speeds with four (4) external antennas.
Memory — Enjoy plenty of headroom with 256 MB flash and 512 MB RAM.
Beamforming+ — Enjoy more reliable connections for fewer drops, providing jitter-free network performance.
Nighthawk Pro Gaming SX10 10G /M ulti- Gig LAN Switch (GS810EMX) Specs:
The new award-winning Nighthawk Pro Gaming SX10 8-port Switch is versatile, high-performing, and customisable for limitless gaming. It offers close-to-zero latency, a new gaming dashboard, and precision-driven auto-diagnostics for the high demands of the gaming world. It also includes the full set of NETGEAR Smart Managed Plus Switch software features. No wonder it's been honored in the CES Innovation Awards competition for its excellence in design and engineering! If you need more reasons to add a Nighthawk Pro Gaming SX10 switch to your network, keep reading:
Two (2) 5-speed 10Gigabit/Multi-Gig Uplinks — Increase speeds and expand the bandwidth of your network with ports that automatically adapt to deliver 100Mbps, 1Gbps, 2.5Gbps, 5Gbps or 10Gbps.
Gigabit Ethernet LAN Ports — Connect more wired devices for fast action gaming parties though the provided 8 GbE LAN ports.
Gaming Dashboard — Get real-time insight on performance and configuration in a unified view.
Customisable RGB LED Controls — Personalise every light on your switch by color for better visibility, and easily adjust brightness and frequency.
Up to 20Gbps Port-Trunking/Link Aggregation (LAG) — Aggregate Gigabit or Multi-Gigabit ports for even faster speeds.
Advanced VLAN & QoS Configuration — Give your gaming devices the priority they deserve.
Intuitive Interface — Take advantage of a mobile-optimised GUI and "one-click" pre-configured settings for all media needs.
Low Latency — Experience the smoothest gaming and fastest action.
Auto-Diagnostics — Troubleshoot instantly so you get back into the game faster.
Silent/Fan-less operation — Enjoy silent operation, thanks to an aluminum enclosure that dissipates heat so there's no need for vents or a fan.
Integration with Nighthawk — Combine with NETGEAR Nighthawk routers for a top-notch home networking experience perfect for gaming.
Warranty — Enjoy peace of mind with your 3-year hardware warranty and free technical support options.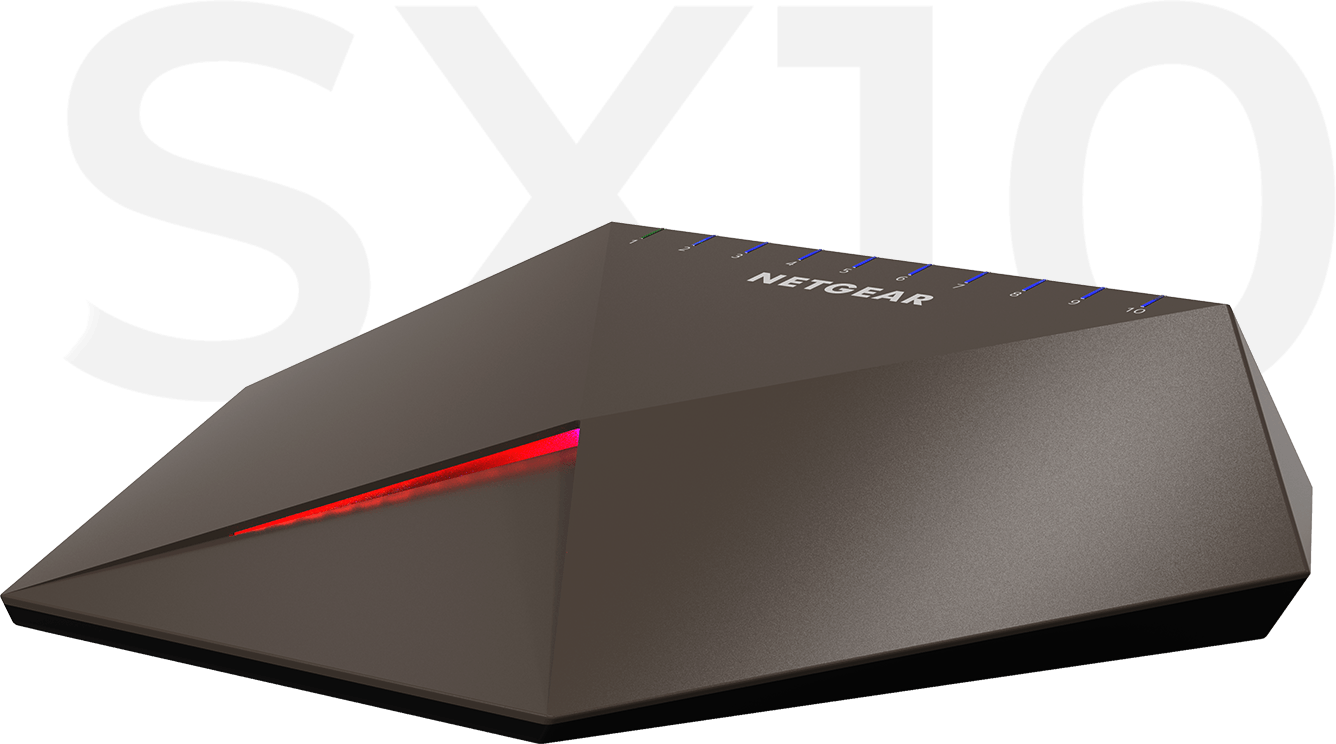 "Designed to meet the specialised needs of the gamer, the new Nighthawk Pro Gaming SX10 10GbE LAN Switch comes equipped with dedicated features designed to eliminate laggy game play," said Richard Jonker, senior vice president of SMB for NETGEAR. "With the Nighthawk Pro Gaming SX10 Switch, we made it easy to offload high-bandwidth applications to reduce congestion for your network. The gaming dashboard offers real-time insights into bandwidth utilisation by device, so you can ensure optimum performance and know where your bandwidth is being used."
Pricing and release date of both NetGear Nighthawk devices is still to be determined in 2018.