ASUS Republic of Gamers (ROG) is proud to announce its new 2023 laptop lineup, complete with new CPUs and GPUs from AMD, Intel, and NVIDIA, as well as significant improvements to the already outstanding Intelligent Cooling Technology.
The 2023 Strix family features new models with drastically improved cooling and enlarged 16- and 18-inch screens, the new Zephyrus M16 arrives with an AniMe Matrix display to take the thin-and-light world by storm, and a redesigned Flow X13 and XG Mobile have both been upgraded to take advantage of the latest hardware.
For 2023, ROG has included the latest hardware from its partners on all of our models. Brand new 13th Gen processors from Intel feature a mix of Performance and Efficient-cores, new AMD Ryzen Zen 4 processors increase core counts to new heights, and the GeForce RTX 40 Series Laptop GPUs from
NVIDIA offer incredible rasterisation performance and a range of additional features like DLSS 3 and AV1 encoding. Paired with the best gaming displays and an incredible cooling solution, ROG continues to push the bar for laptop gaming performance ever higher.
ROG knows that next-level graphics are nothing without beautiful displays. Instead of forcing gamers to wade through technical specifications, ROG created the Nebula badge in 2022, which denotes panels that meet a strict criterion of fast motion, bright backlights, and vivid colours.
This year, ROG is bringing Nebula Displays to even more models, and in more form factors. From a compact 13-inch laptop all the way to an incredibly immersive 18-inch display, gamers won't find Nebula Displays anywhere else.
In addition, ROG has further refined its Intelligent Cooling technology, a complete solution that carefully balances cooling performance with acoustics. Efficient cooling is one of the unsung heroes of gaming laptops, as high-powered hardware with an insufficient cooling capacity means the components won't boost as high or as long as they should.
ROG has brought two key innovations to more laptops in 2023: a larger full-width heatsink and Tri-Fan Technology, both introduced last year on the Flow X16. The upgraded heatsink design now spans the entire rear of the chassis for select devices, drastically increasing surface area compared to traditional designs that only have half-sized fins near the half-sized exhaust vents. This heatsink has been added to this year's redesigned Zephyrus M16, while the Strix 16-inch and 18-inch models have an extra-thick variant of the design, giving these gaming juggernauts even more headroom to push their hardware to the limit.
As the name suggests, Tri-Fan Technology adds a third fan into the thermal design, providing critical airflow to internal components and helping the GPU to more efficiently expel waste heat. When paired with the new full-width heatsinks, this third fan pushes the performance of both ultraportable and esports-focused gaming machines to new heights, all without sacrificing acoustics.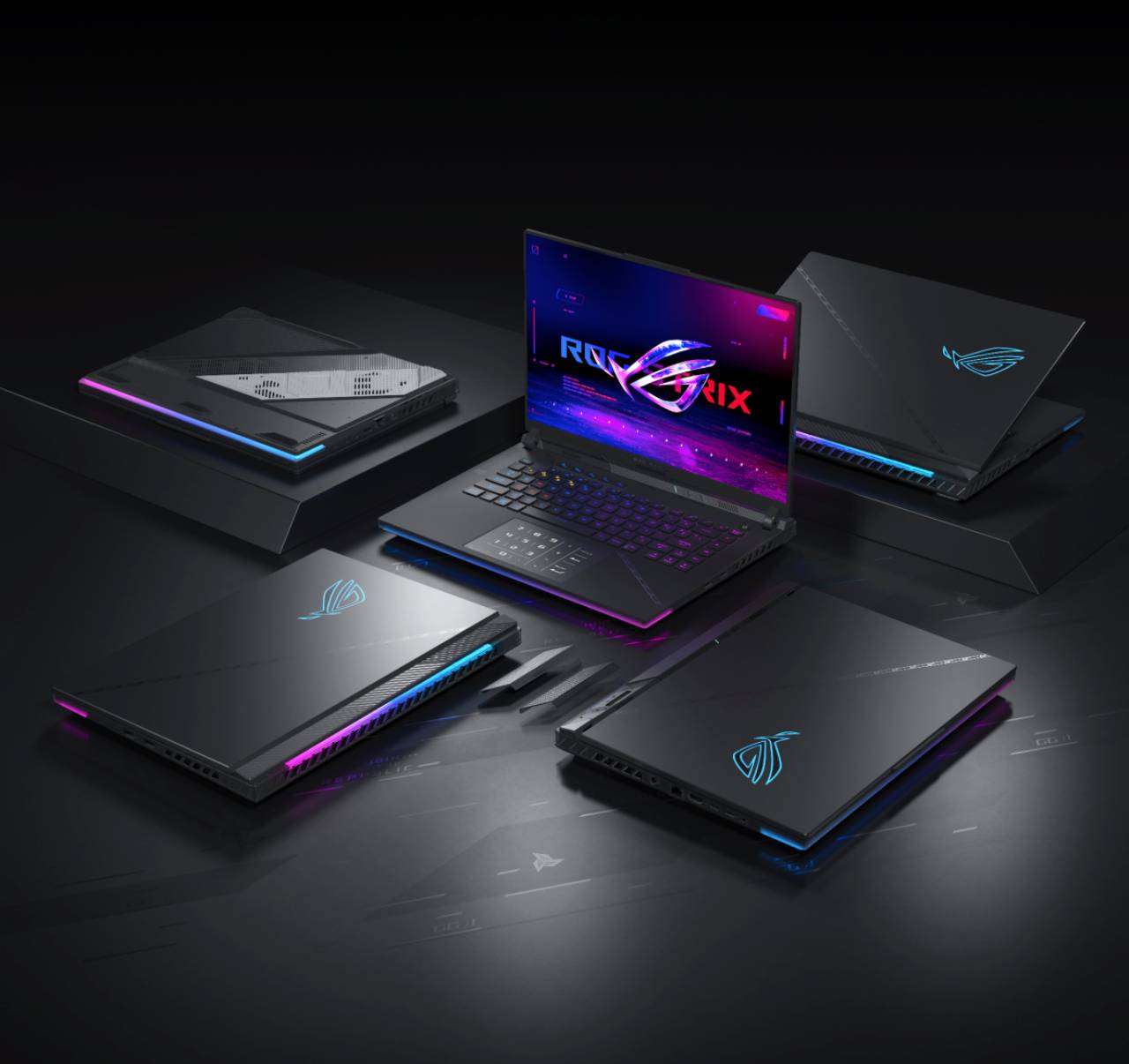 The Strix SCAR lineup has long stood as the performance flagship of ROG's lineup, and 2023 is no
different.
The Strix SCAR 16 and 18 have been renamed, thanks to a chassis redesign that accommodates the larger 16-inch and 18-inch 16:10 aspect-ratio screens. These 16- and 18-inch panels allow gamers to see the enemy more clearly than ever before, and the 16-inch model can even be equipped with ROG's new QHD, 240Hz Nebula HDR display with Mini LED technology. ROG has also amped up the cooling performance of this new chassis, allowing more headroom for the CPU and GPU to boost for maximum framerates.
Now equipped with an extra thick full-width heatsink and Tri-Fan Technology, the new Strix SCAR 16 and 18 allow for much more efficient removal of waste heat. Combined with Thermal Grizzly's Conductonaut Extreme liquid metal, now applied to both the CPU and GPU, ROG has pushed the performance of the SCAR 16 and SCAR 18 even further for the high-end hardware inside.
The Strix SCAR 16 and 18 sport Intel's top-of-the-line 13th Gen Intel CoreTM i9 13980HX processor, with 8 Performance-cores and 16 Efficient-cores for unprecedented gaming prowess. Max out the machine with an NVIDIA GeForce RTX 4090 Laptop GPU at 175 W, with the thermal headroom to allow the silicon to boost higher and longer than ever before.
The 2023 upgrades don't stop with the SCAR family. The new Strix G16 and Strix G18 are equipped with the same 13th Gen Intel Core i9 13980HX processor and can be configured with up to an NVIDIA GeForce RTX 4090 Laptop GPU for excellent esports performance. With up to 16 full-performance cores, AMD's Ryzen Zen 4 processor is an absolute beast for gaming and content creation alike, so the Strix G17 and Strix SCAR 17 have both been refreshed with this monster CPU. Combined with NVIDIA's latest GeForce RTX 4090 Laptop GPU in the top-tier models, the entire 2023 Strix lineup is ready to rain fire down on the competition.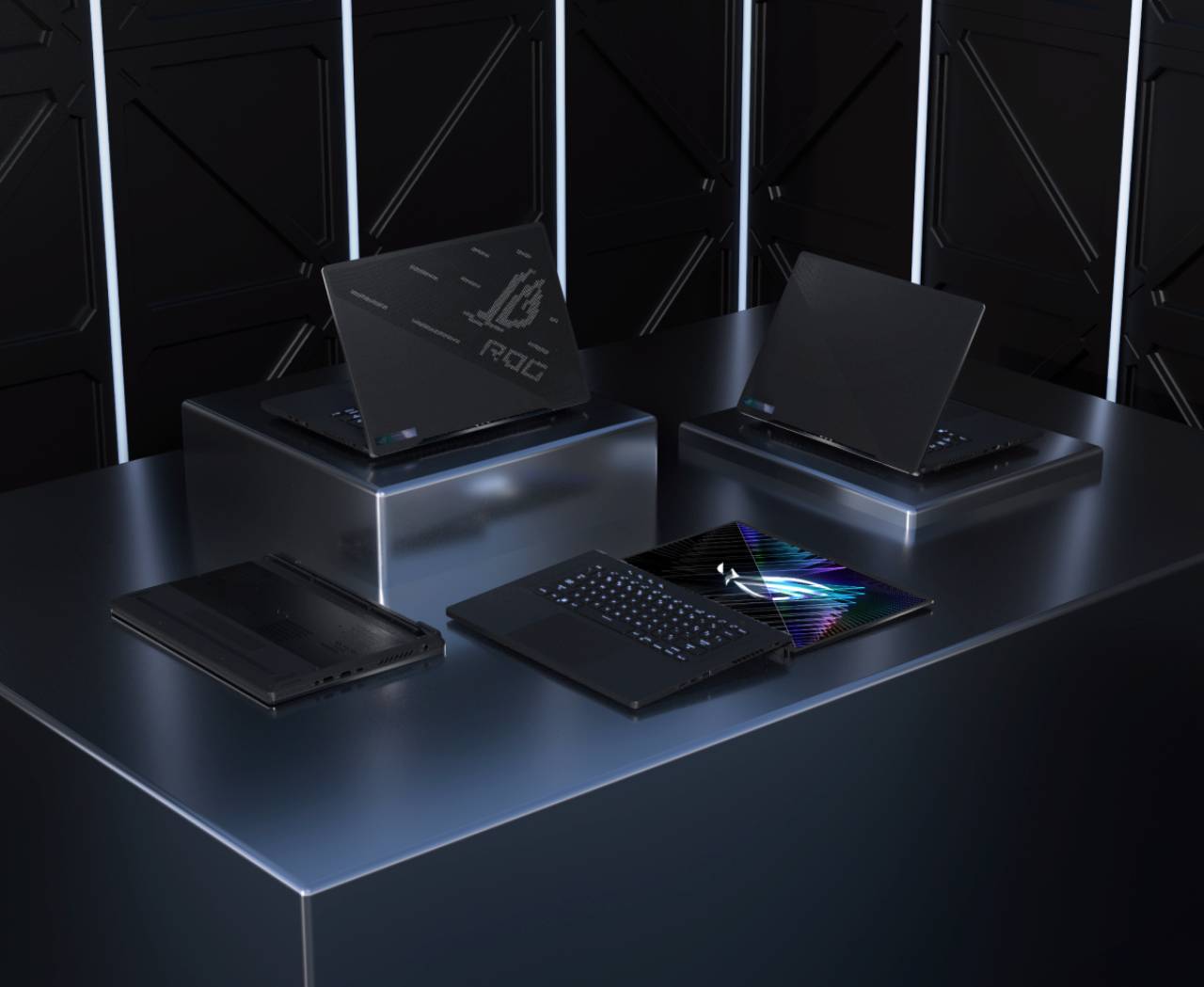 The Zephyrus lineup is all about exceptional performance in thin-and-light form factors that can easily travel anywhere. This year, the entire series has been elevated to new heights, starting with the Zephyrus M16.
Built for gamers and creators alike, the ultra-sleek M16 has been redesigned from the ground up, retaining a thin-and-light design but boasting an improved cooling system featuring Tri-Fan Technology and our full-width heatsink. This allows the 2023 Zephyrus M16 to run 25 watts higher compared to last year's model — providing even more power to the Intel CoreTM i9 13900H CPU and NVIDIA GeForce RTX 4090 Laptop GPU with a MUX Switch and NVIDIA Advanced Optimus in this flagship gaming machine.
The 2023 Zephyrus M16 is also the first 16-inch device equipped with ROG's iconic AniMe Matrix LED lighting array, allowing gamers to show off their creativity and unique flair wherever they are. All those extra frames will look better than ever, since the M16's display has also been upgraded to a 16-inch, QHD Nebula HDR Display with Mini-LED technology. With 1,024 dimming zones, double the amount of last year's panel, stunningly deep blacks stand against 1100 nits of peak brightness for an HDR image that pops right off the screen, with contrast and detail never seen before on a gaming laptop.
With a 240 Hz refresh rate and 100% DCI-P3 coverage, gamers can rest assured that all of their content will look its absolute best with the Zephyrus M16.
The other members of the Zephyrus family have also received upgrades for 2023. The brand-new Zephyrus G16 joins the lineup and boasts an Intel Core i9 13900H CPU and up to an NVIDIA GeForce RTX 4070 Laptop GPU with a MUX Switch and NVIDIA Advanced Optimus. The G16 also comes equipped with its very own Nebula Display, a 16-inch, QHD, 240 Hz panel with dazzling colour and clarity.
The Zephyrus G14 features brand new internals as well, including up to an AMD Ryzen Zen 4 CPU and up to an NVIDIA GeForce RTX 4090 Laptop GPU with a MUX Switch and NVIDIA Advanced Optimus.
Even more impressive, the G14 proudly introduces ROG's first 14-inch Nebula HDR display, with 504 dimming zones, 600 nits of peak brightness and 100% coverage of the DCI-P3 colour space for vivid and immersive content. If HDR isn't a priority, gamers can opt for models with the iconic AniMe Matrix panel to make their laptops truly one of a kind.
Finally, the legendary Zephyrus Duo 16 continues to stand at the apex of our lineup. With a dual display setup comprising of a 16-inch Mini LED panel and a 4K touchscreen that slides to meet it automatically as the laptop is opened, the Duo 16 is a dream machine for gamers and content creators on-the-go. This year, the Duo 16 has been upgraded with even more power, featuring an AMD Ryzen Zen 4 processor with 16 cores and NVIDIA GeForce RTX 4090 Laptop GPU with a MUX Switch. No matter how many tasks gamers are juggling at once, the Zephyrus Duo has all the tools needed to maximise FPS and productivity.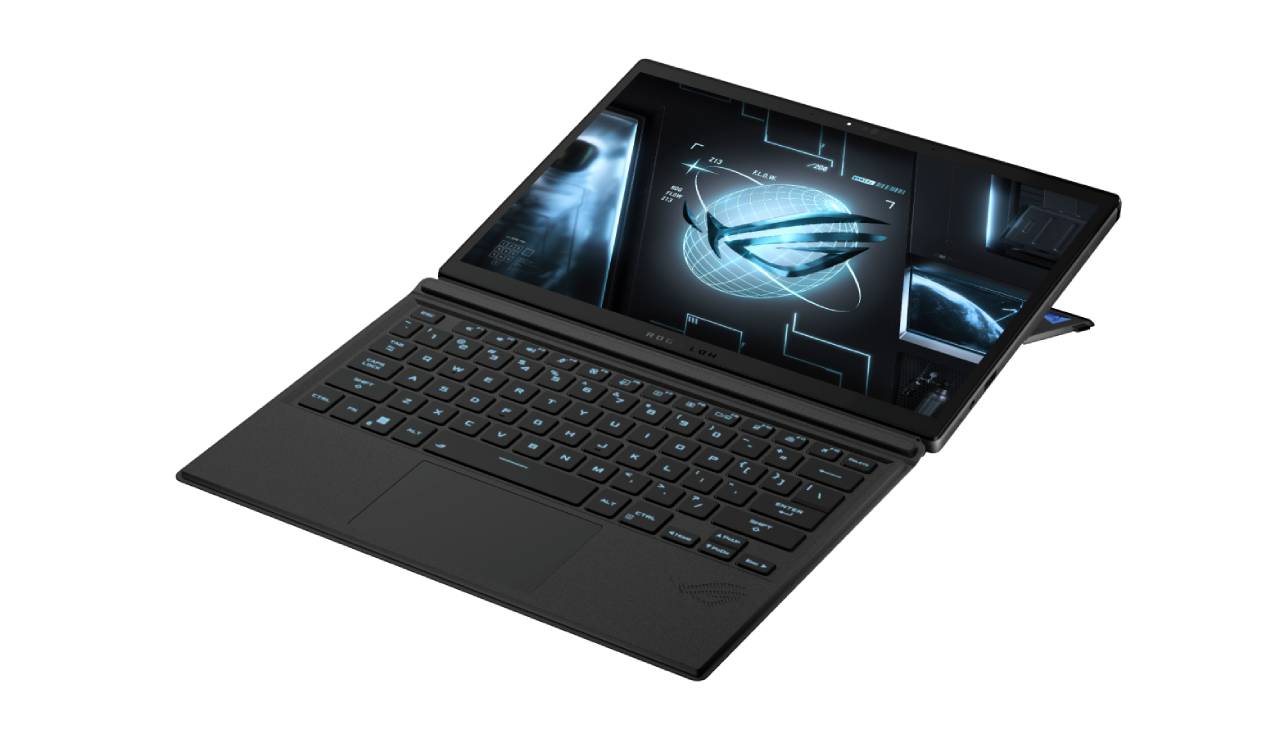 The 2023 Flow X13 now features up to an AMD Ryzen Zen 4 processor and up to an NVIDIA GeForce RTX 4070 Laptop GPU, a huge upgrade over its predecessor.
A dedicated MUX Switch and NVIDIA Advanced Optimus allow the machine to intelligently route the display signal to get the highest performance in-game, and the best battery life for everything else. Liquid metal on the CPU lowers temperatures up to 13° C compared to traditional thermal paste, giving users more headroom for gaming and content creation alike.
The Flow X13 comes equipped with up to 32 GB of ultrafast LPDDR5 RAM, which in addition to boasting a 50% faster data rate than last year's model also uses 18% less power than LPDDR4, helping the X13 last all day. The 2023 Flow X13 chassis has also had a complete redesign, shrinking its footprint by 10 mm while maintaining the 15-inch keyboard layout and increasing battery capacity from 62 to 75 Wh. The hinge was reimagined and now allows for more access to fresh air, in addition to adding a unique texture to the aluminium lid inspired by gravitational waves that adds grip for easy carrying.
An FHD IR camera with Windows Hello support and a larger touchpad make unlocking and navigating the machine effortless.
When combined with the Flow X13's new touchscreen QHD, 165 Hz Nebula Display on a 360° hinge, this incredible convertible device is ready to game anywhere, anytime. The Flow Z13 is equally impressive. This year, the GPU was upgraded with an NVIDIA GeForce RTX 4060 Laptop GPU, with a TGP of up to 65 W — a 62% increase compared to the previous generation Z13. The Z13 also has a dedicated MUX Switch with NVIDIA Advanced Optimus support. Liquid metal and vapour chamber technology make this possible, and the incredible 13-inch QHD 165 Hz refresh rate Nebula Display will make gamers favourite content truly shine.
Finally, the ROG Flow X16 has gotten new internals, with up to a new Intel Core i9 13900H processor and up to an NVIDIA GeForce RTX 4070 Laptop GPU with a MUX Switch and NVIDIA Advanced Optimus.
Its Nebula HDR Mini LED touchscreen display has been improved, with 1100 nits of peak brightness and a blazing 240 Hz refresh rate, offering the best possible HDR experiences available with an ultraportable machine.
All 2023 Flow machines also feature Corning Gorilla Glass DXC, a special coating that increases hardness by 40% while significantly reducing surface reflections, making the Flow family easier than ever to use outdoors and in brighter environments and maintaining industry-leading scratch resistance.
Of course, the 2023 Flow family is joined by a brand-new XG Mobile, this time with the incredible horsepower of the NVIDIA GeForce RTX 4090 Laptop GPU with a maximum TGP of 175 W. Unlike other external graphics solutions, which are big and bulky, the compact XG Mobile provides loads of extra ports as well as a significant boost in graphical horsepower while being easily portable for travel and able to quickly dock and transform a Flow machine into a desktop-class experience anywhere.
The new ASUS ROG products' availability is still to be announced.
Be a supporter of STG