New Zealand's award-winning internationally acclaimed sextet, The Phoenix Foundation are today sharing their breezy new single, 'Landline' which arrives with a magnificently colorful visual directed by Ezra Simons (stream above).
This new single, taken from the new album Friend Ship which is set for release on October 16th, 2020 via Universal NZ, follows the Brooklyn Vegan, The Line of Best Fit and Earmilk-tipped Nadia Reid featured track, 'Hounds of Hell' which was released last month.
In the time since their last record, Give Up Your Dreams, the band have scored the music for Taika Waititi's award-winning film Hunt For The Wilderpeople – as well as contributing further tracks to Waititi's Boy, Eagle versus Shark and What We Do In the Shadows – written, recorded and toured with the New Zealand Symphony Orchestra, built shrines to light, created scores for VR and produced other bands. This fruitful work ethic and willingness to collaborate is something mirrored somewhat in the new album's wide range of prolific guests: the aforementioned Nadia Reid appears, as do the New Zealand Symphony Orchestra, Hollie Fullbrook of Tiny Ruins, Dave Dobbyn and Anita Clark which makes the new record something of a showcase of Kiwi talent.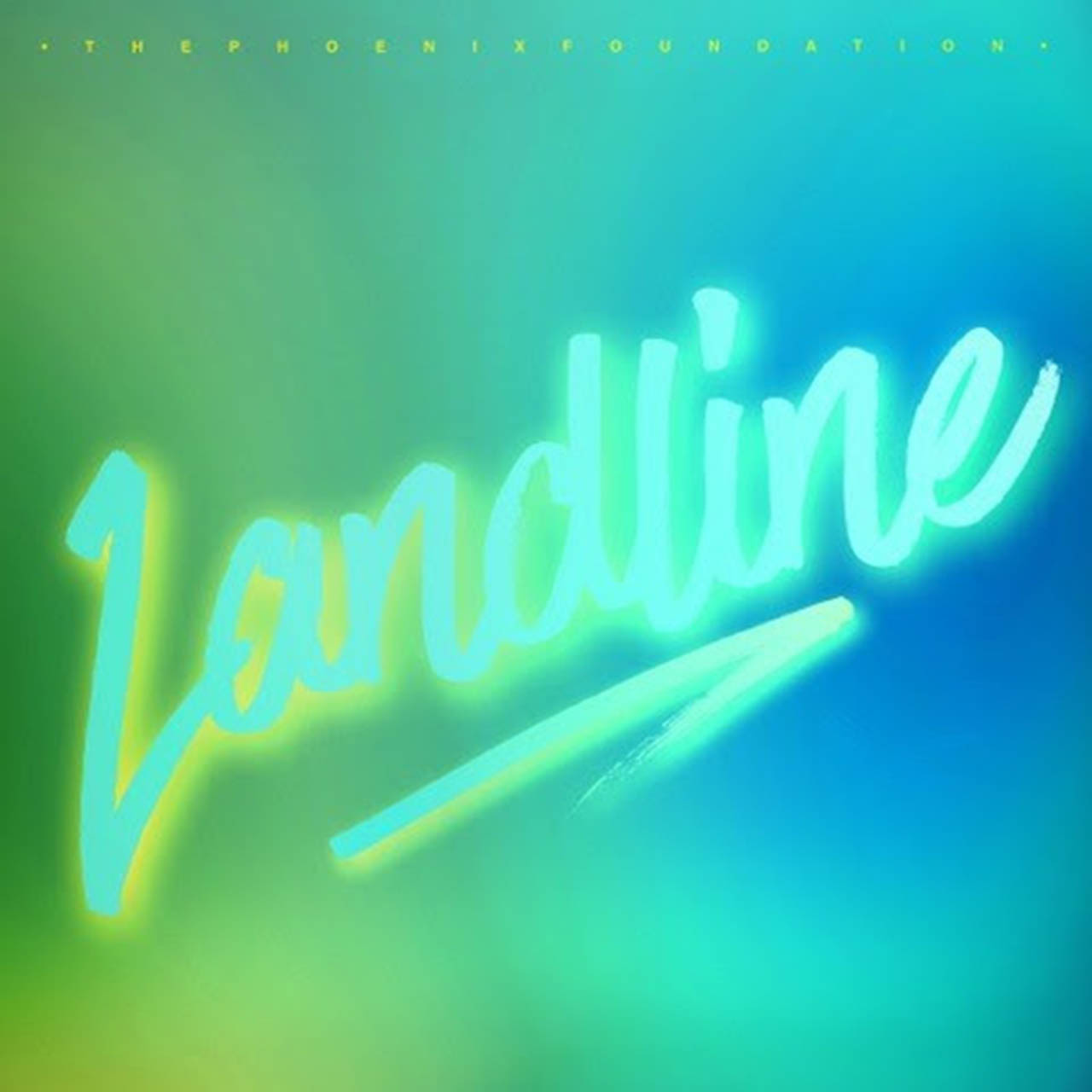 'Landline' positions itself as another fine example of the band's firm grasp on fusing light psychedelia with 80s pop tropes and indie-folk. It's an idea represented in the sound of the track, which nods to the likes of Orange Juice, The Pastels and Aztec Camera, and also in the accompanying surrealist visuals that capture dancing telephones chasing retro-dressed spies – more on this concept below.
"'Landline' is such a ridiculous song," says the band's frontman, Samuel Scott Flynn, "with its archaic imagery and frothing synth hooks, so the video needed to live up to that energy. Working with Ezra and Gussie (Larkin – stylist) was perfect. Ezra did such a great job with the concept, like Magical Mystery Tour meets a Peter Greenaway surrealist short. And shooting it on 16mm film just adds to the timeless creepiness of the whole thing. Gussie's costumes and props are wonderfully bizarre. And together they are Earth Tongue, one of our favourite bands," Scott continues. "The song is about trying to keep real connections with your friends in this bollocks time in human history but in the video I'm a human telephone trying to stab a Spy Vs Spy version of Luke. Makes sense."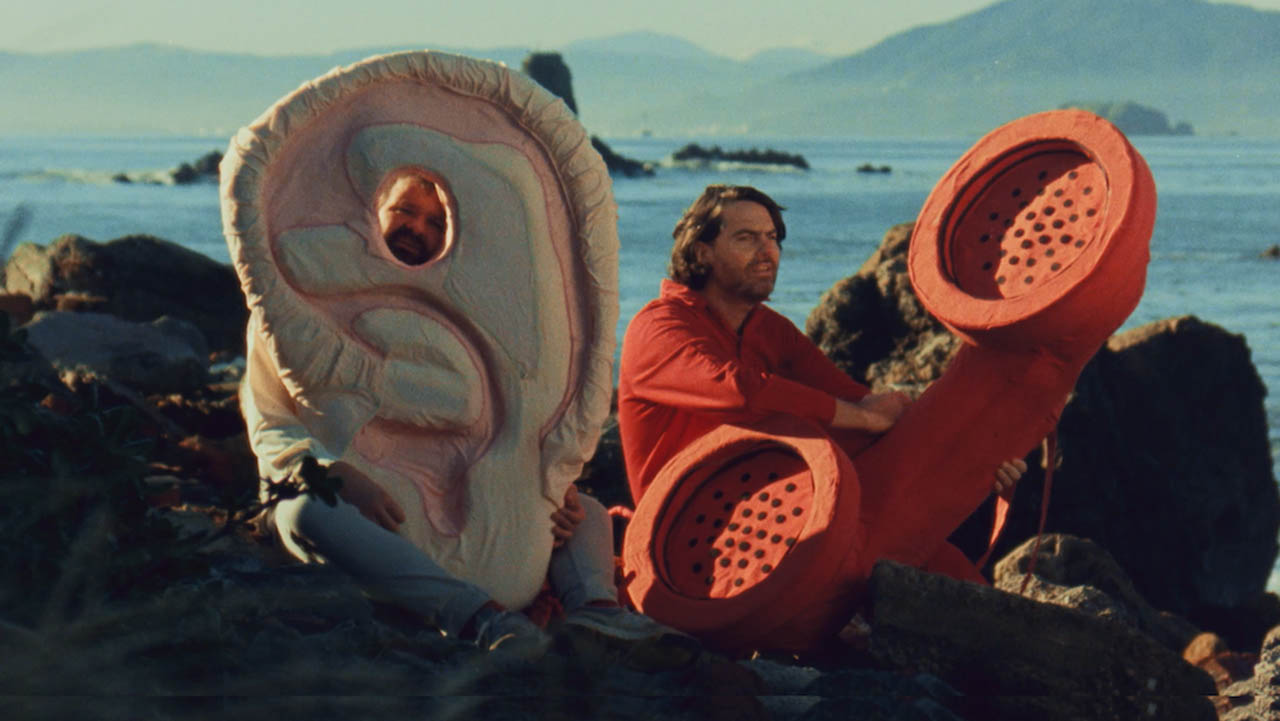 Director, Ezra Simons elaborates on Flynn's statement saying: "The band sent through the song and asked if Gussie and I could create a "super fun dystopian colourful nightmare" – needless to say, we were up for the challenge. The small crew met bright and early on a mid-winter morning in Seatoun to shoot the outdoor scenes – we were expecting a beautiful sunny day but the harbour was covered in an ominous low fog. After shooting a few scenes, the fog lifted to reveal a completely clear afternoon. The strange weather added to the contrast I wanted to create between colourful, bold costumes and something more psychedelic and existential lurking underneath."
The role of collaboration is key to the record, not only because of the weight and character that each brings to their performance but because the album is rooted in friendship. The record is of course named after it. "The title refers to friendships not being these passive social interactions but ever-evolving living vessels which carry us through life," says Scott. "After the mosque attacks in Christchurch, this was something I was thinking about a lot, that sense that in order to move forward as humans we actually need to actively support each other."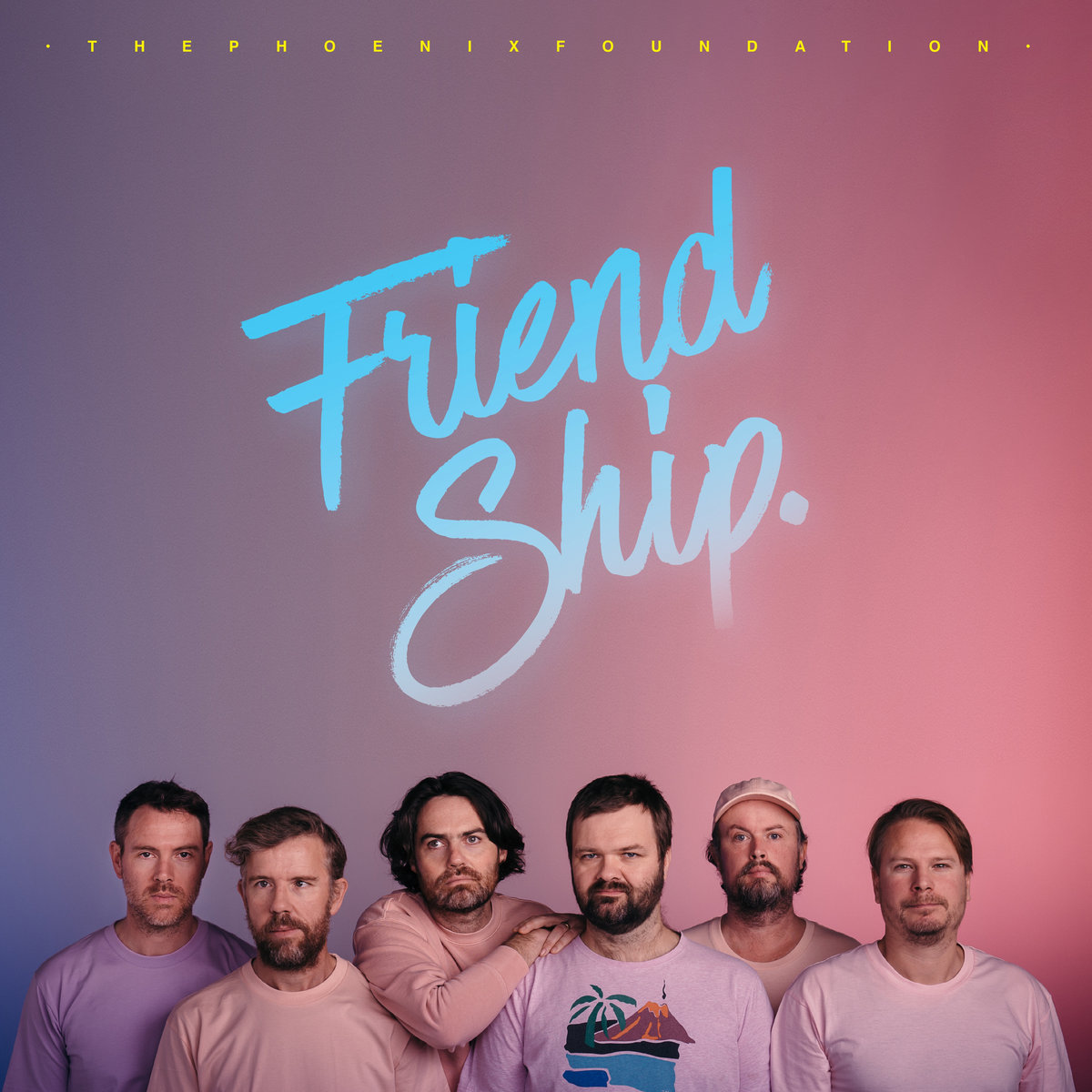 However, whilst the album is a beautiful and often tender one, sometimes rooted in immersive and dreamy ambient soundscapes, it's also one that captures the strangeness of the modern world. "These themes of modern anxiety started to emerge in my songs," says Scott. "The album is sort of a post-apocalyptic love letter from the future to the present. Looking back into the past for that sense of human connection we have lost in our screen-based existence.
Much like many things in the world of Phoenix Foundation, the new record is nuanced, multi-faceted, distinct and idiosyncratic. And it's yet another album in their increasingly expansive cannon that exists on its own terms. "I don't quite know how we pulled this record off," says Scott. "But I love it. For songwriting, I'd place it alongside Buffalo and Pegasus but it also sounds nothing like those albums. It's very much its own thing."
Be a supporter of STG
Everyone that works on STG is a volunteer. If you like the site and it's contents please think about donating. Even a small amount helps keep the servers running.