Samsung's Fold smartphone / tablet hybrid returns, this time with 5G.
Being one of very few smart device manufacturers producing foldable phones including the Z Flip (and soon the Z Flip 5G), Samsung have listened to their customers and made vast improvements with the Z Fold2.
On the face of the device it looks similar to the original, but having added the hideaway hinge (which in itself is a very complex mechanism to produce) the Z Fold2 is more flush when folded with a minimal but even gap between the two screens.
It is still chunky – like two Galaxy's stacked on top of eachother – but for those out there who are wanting to get in to the foldable phone-tablet this is going to be both expected and not a downer.
As time goes on I suspect we will begin to see the Samsung Galaxy Z Fold series slim down.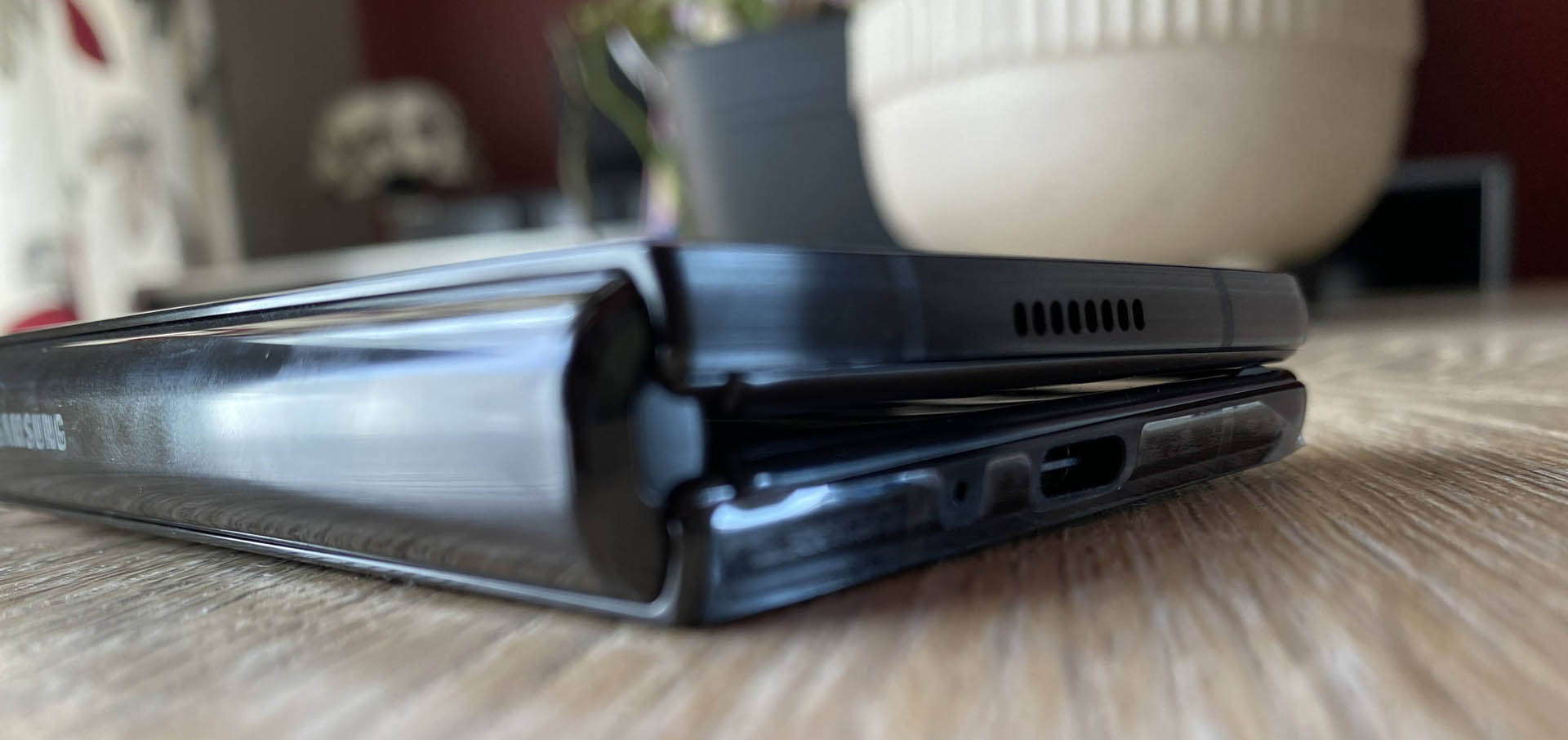 Under the hood the Z Fold2 has the same grunt as their flagship Note20 Ultra 5G.
Powered by two batteries @ 4500mAH is ample enough juice to keep you going for one or even two days (depending on your use) in folded or tablet view.
Storage is not expandable (I place this down to a spatial restriction in a folding device, but the 256GB should be enough for almost everyone and the 12GB RAM ensures you're not going to experience any lag or stutters in using multi-apps, and this is exactly what the Z Fold2 is designed for.
Crunching the data is a Octa-Core processor clocking in at 3.09GHz.
The front screen is now an almost fully functional screen – where you can operate the smartdevice as a 'standard' smartphone without the need to unfold.
But unfolding is where the magic really happens.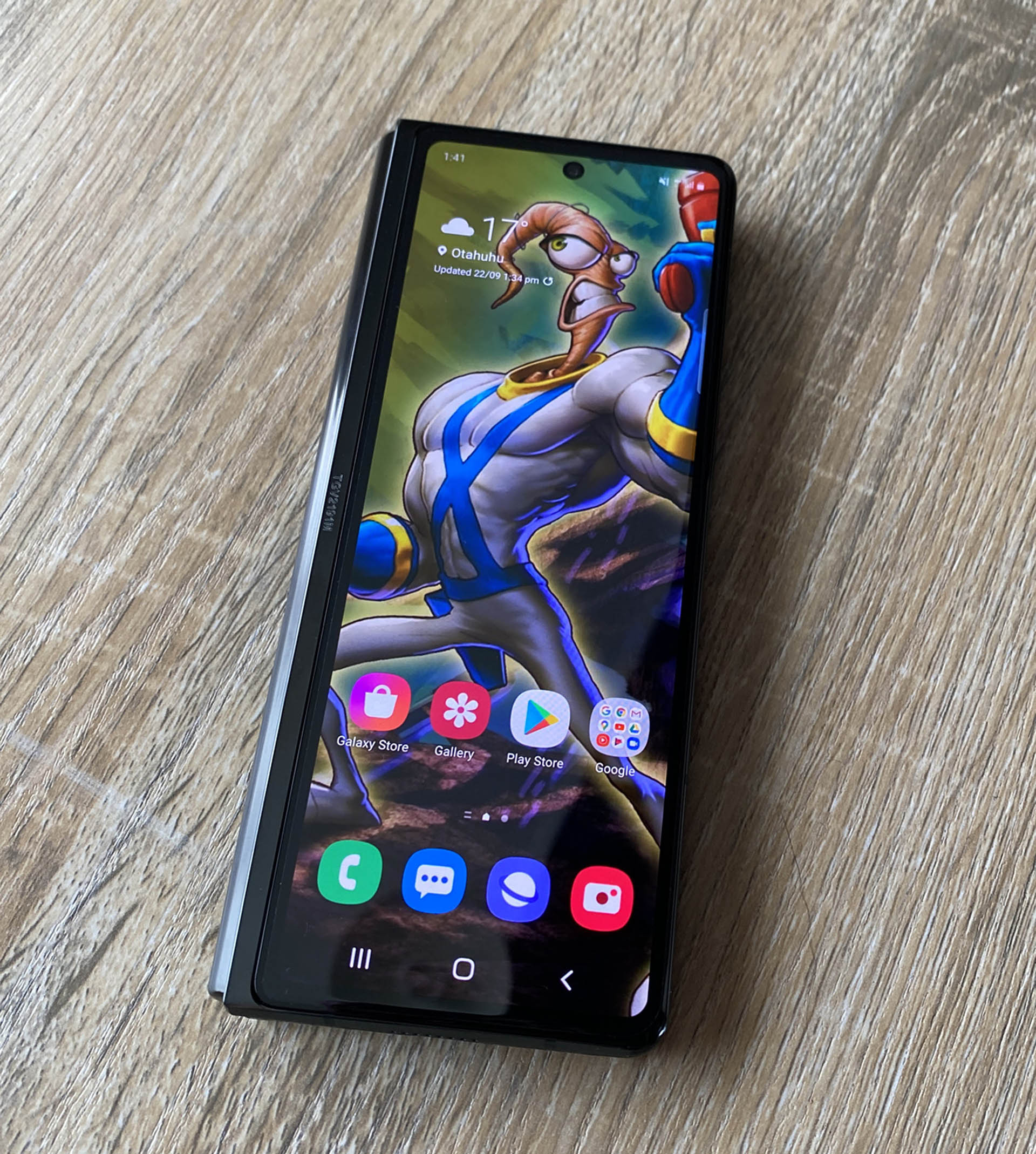 Folded the Z Fold2 has a 6.2 screen size with a bezel to the left side near the hideaway hinge. When unfolded you have a glorious vibrant 7.6 inch full AMOLED display at 2208 x 1768 resolution.
The larger screen real estate enables you to have multiple apps (up to 4) on the screen in one go.
Watch YouTube while replying to emails with your calendar in view and a browser window below.
The Z Fold2 is the perfect device for those super multitaskers (and those that like to keep a zillion apps open at one time.
To do this real quick you can use the edge bar and pin apps together, effectively creating twin app shortcuts to open immediately.
Mobile gaming, there's nothing that the Z Fold2 can't handle, as it's as equally spec'd as the high end Note20 and S20 models. But having that larger screen to play on and knowing that I can fold it and put  in my pocket and go was magical.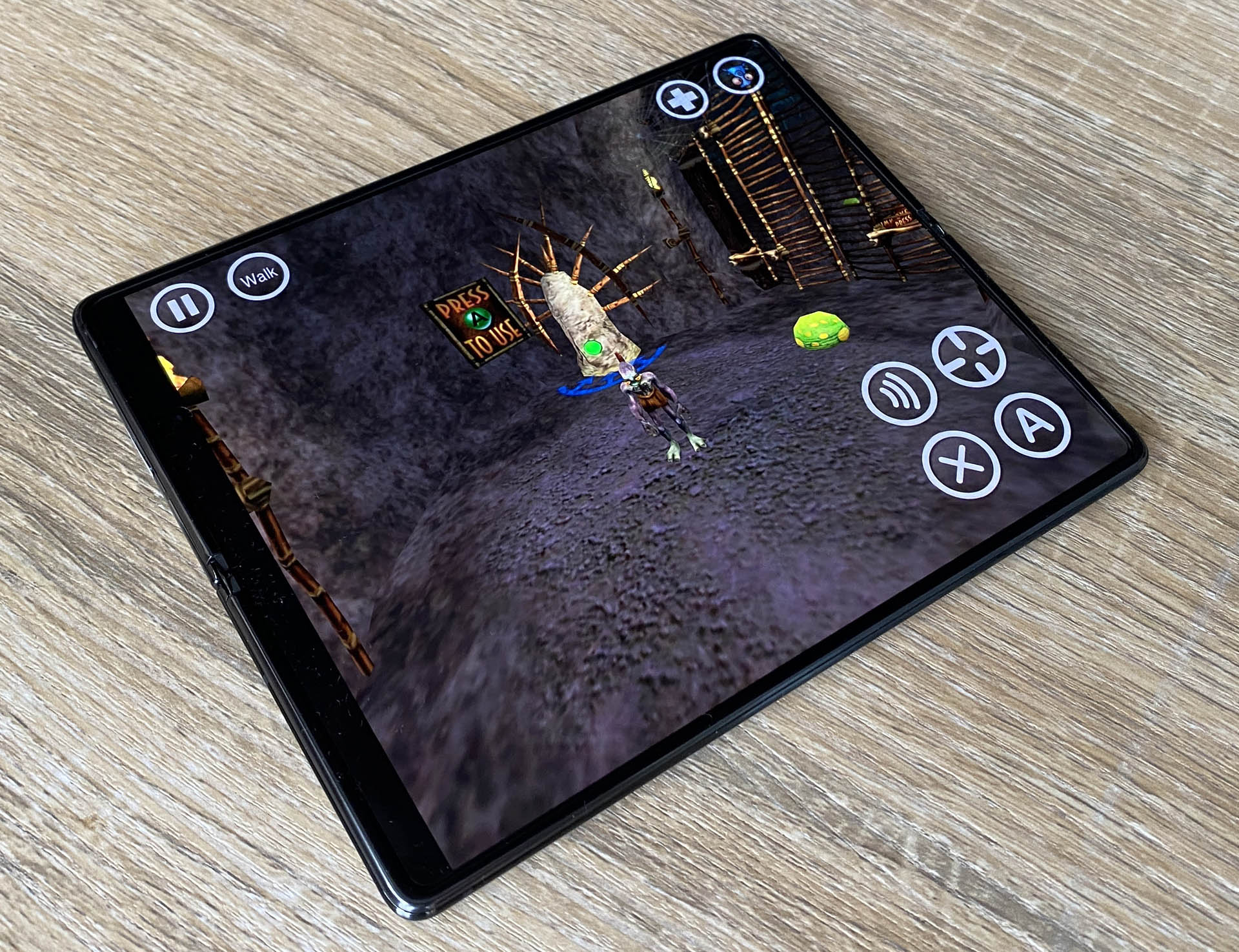 Gaming console quality games on a tablet while away from home is something that all mobile gamers dream of without having to lug about a full sized tablet that can't be pocketed when not in use.
The device does act like a smartphone though – so any Android games immediately go into landscape mode.
But Samsung didn't stop there – the Z Fold2 has a camera setup to rival other flagships, even their own.
Front selfie camera comes in at 10MP… well both of them. There's a pinhole (laser cut) camera at the front when in both folded and unfolded state. Gone is that weird screen taking housing we saw in the first edition of the Z Fold.
The rear features three 12MP cameras (totaling 36MP) and the camera smarts built-in feature Night mode, Single Take and more. As we have seen with the Galaxy S20s.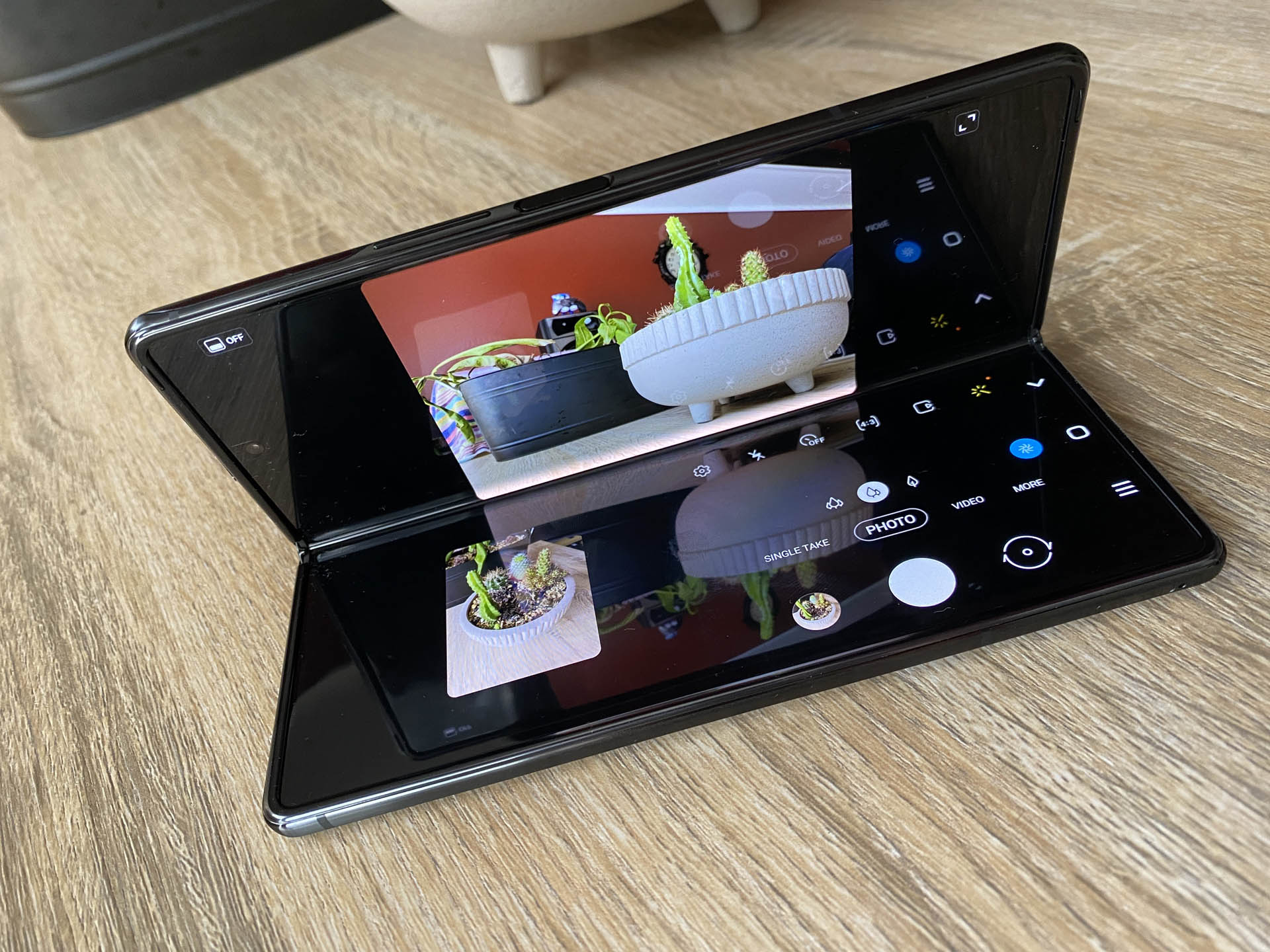 Folding the Z Fold2 in a book like stats and laying on the flat surface places the camera controls on the lower half of the screen and the view finder at the top. Ideal for those that vlog or for social media queens.
A preview of the last pic taken will also appear if you turn the feature on to the left of the screen. Handy to do those touch ups or review pics already taken instantly.
Unfolded and turning that feature off (it's a touch quick selection at the top right of the tablet screen) you can use the entire 7.6 inch screen as a view finder when using either front or rear camera. In this scenario I found it to be a huge benefit for videoing.
The Z Fold2 will record in 4K but no 8K here.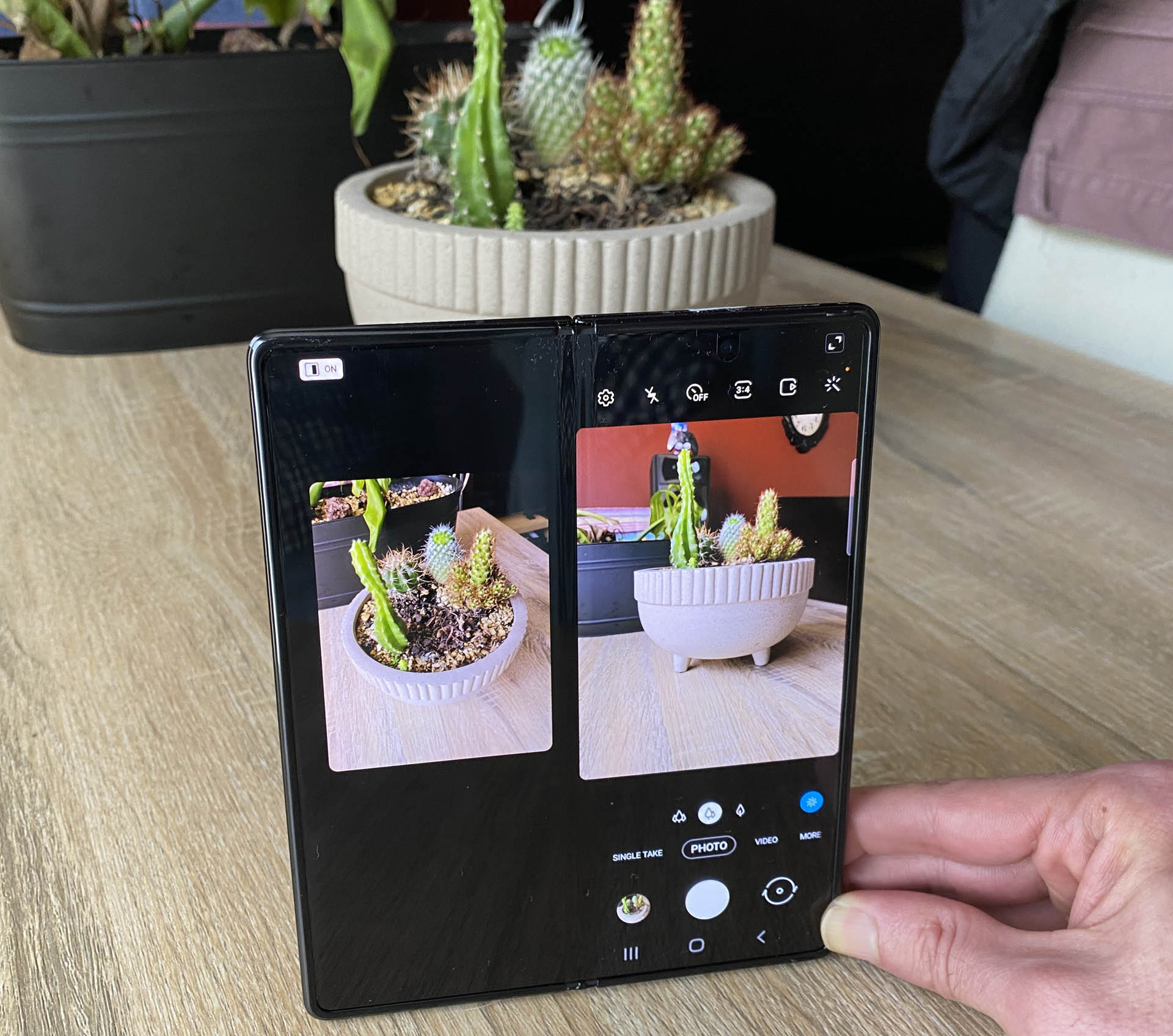 Another initiative that has had some work done is the subject preview.
Unfold the smartdevice and use the rear camera to take a portrait pic of someone, turn on the rear preview and the front screen becomes a mirror or preview screen where the subject can see themselves for those last minutes poses or expressions.
A feature that is included on the Z Flip – but the Z Fold2 has a full 6.2 inch preview screen.
Costly. The Z Fold2 is a high end, almost elitist's smartphone. While I can see a very wide user base for it, from content creators, social influencers, business folk and those that just want to be fancy you're not going to get much change out a few grand.
Still, if you're keen to step in to the foldables and want to aim for the top instantly – the Z Fold2 is the one.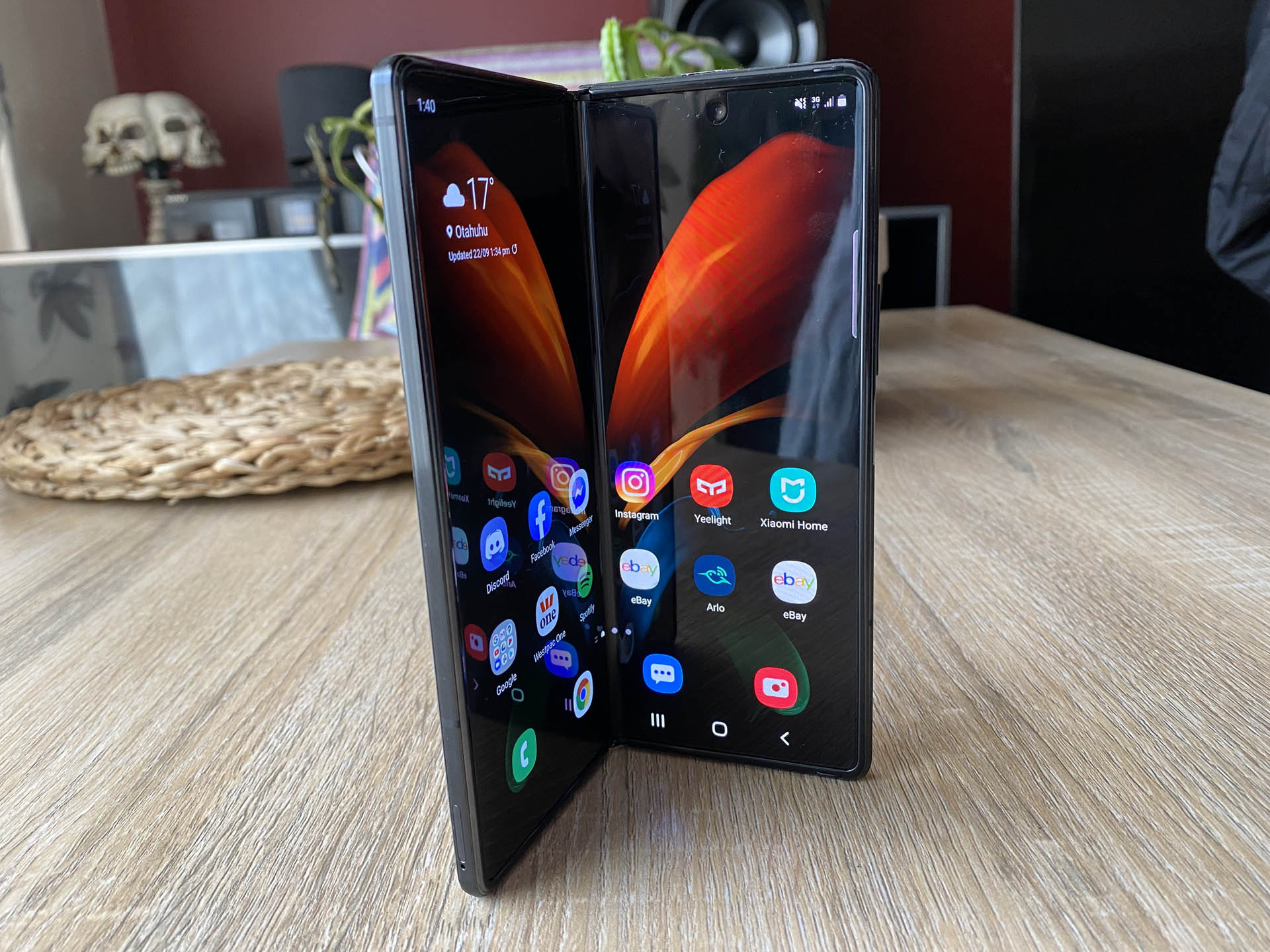 The top shelf device of all foldables out there currently – and myself having had one for a couple of weeks I found that I would use the tablet view more than the 6.2 inch screen.
For a quick glance at notifications I'd check via the front screen but when it came to taking pics, gaming (of course) and replying to emails or organizing myself, not forgetting video calls I'd use the tablet view, more than I thought I would.
The Galaxy Z Fold2 when unfolded is perfectly sized. Not too big and definitely not too small.
The Z Fold2 is the king of foldables.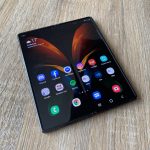 Samsung Galaxy Z Fold2 5G Review
Device details
Released: October 2020
Device Name: Galaxy Z Fold2
Chipset: Octa-core @ 3.09GHz
Memory: 12GB
Internal Storage: 256GB
Camera: F: 10MP. R: 36MP
Price: Around $3,399.00 (NZD)