Bells and whistles at an affordable and realistic price.
Luckily for consumers looking to arm themselves with the newest smartphone – this is where the trend is heading.
Even Apple have, well… tried to gain that affordability monicker with their iPhone XR at a gob smacking $1,399.00.
Forget forking out over 1K for the midrange device when other suppliers can provide more grunt and features at a quarter of the price. Here we have OPPO with the debut of their X Series supplying mobile prowess goods at only $399.00 with their just released AX5.
Now, you must remember that this IS a mid-range, with a 64GB ROM (internal storage) and only 3GB RAM (memory).
Slated at those that aren't super users, the AX5 still packs in enough juice to get you through with it's Octa-Core 1.8 GHz ARM Cortex-A53 processor. It's not going to win a speed race against top shelfers – but in the middle category it's a good contender.
The 6.2 inch HD IPS LCD retains the notch that most smartphones have now adopted and an almost zero bezel. This keeps the large status for your media viewing – and even with only 3GB RAM, gameplaying (yup the AX5 actually handles mobile games really well).
There is no Homescreen button, the AX5 is all screen – and if you are so inclined uses facial recognition to unlock. I did notice, that when compared to the R15 Pro there was a few millisecond delay from raising the phone up to my face to unlock it on the AX5.
OPPO New Zealand sent over a AX5 handset to STG to have a play with.
Knowing that it was lower on specs than it's predecessor R15 Pro and it's mighty cousin the Find X I wanted to see what the device could handle.
So, I installed and loaded up PUBG.
Did it work? Yes it did. Asides from a couple of split moments where the game juttered (hard to tell if it was a data issue or a hardware issue) the online sandbox multiplayer played through a few sessions without a hitch.
The second and third playthrough resulted in no issues. Colour me impressed.

The AX5 has dual lenses on the rear at a pleasing 13MP + 2 MP and the front selfie camera is a medium 8MP. OPPO have kept the A.I. function for shooting pics and while the front selfie snaps will whiten your skin and 'soften your tone – I can see this being a winner for those, um, 'Beauty' shots.
However the features on the AX5's camera have been seriously watered down. The main stays are there – Pano, Video and so forth and all pics are taken in HDR. But there are very little in the way of filtering options and no fun (love them or hate them) A.I. Emoji's.
Camera features are basic though and there is no low light.
Audio via headphones was pretty good. OPPO have Real Sound HD built in to their ColorOS 5 where you can tweak to make your ears happy. My ears were definitely happy.
The AX5 does have a microSD card storage expansion and yep – it is also dual sim.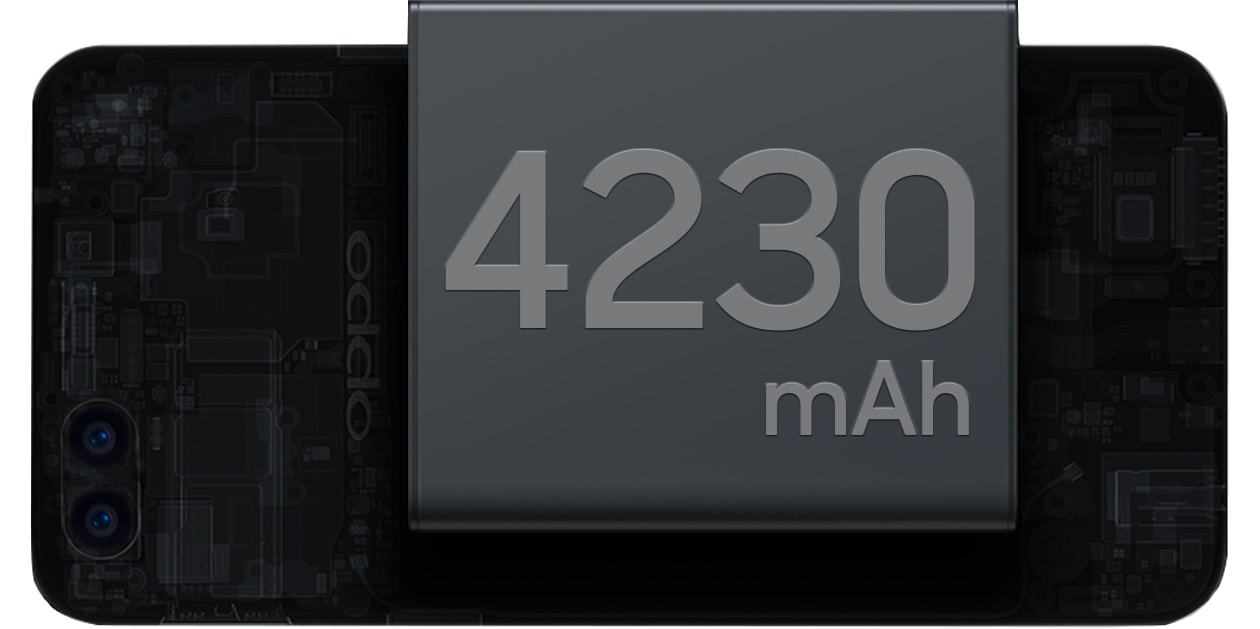 The mind-ranged might that is the AX5 is powered by a mega 4,230mAh Lithium-Polymer battery and this will see you right one a single full charge for around two to three days on moderate use. To full charge the AX5 from zero it will take around an hour or just over – a quick charge of 10 minutes in my test gave me slightly under half capacity and this lasted a full day and one night (it died overnight).
The AX5's appearance does not hold back. It really is a budget priced handset that looks a million dollars with it's stylized diamond casing and next to bezels for the front. I actually found myself admiring the diamond-like back more often than I should ever mention. OPPO supply a clear case in the box – so I'd recommend using that so you can keep your diamond like wonderment.
And a case you should use – as the back is also a glossy finger print magnet.
OPPO are the first in the smartphone industry to offer up a device that pushes the boundaries under $500.00 (NZD).
The AX5 is a triumphant achievement for the mid priced market, a clear winner for those that do not want to take out a mortgage just to have a smartphone that can do the basics and then some.
Device Details
Released: September (NZ) 2017
Device Name: OPPO AX5
Chipset: Octa-Core 1.8 GHz ARM Cortex-A53
Memory: 3GB
Internal Storage: 64GB
Camera: F: 8MP. R: 13+2MP
Price: $399.00(NZD)