FSP, has announced its new stylishly innovative 'T-WINGS' (CMT710) PC chassis.
The new T-WINGS chassis offers users the ability to combine two high-end PC systems into a single chassis.
By housing two high-end systems into a single chassis, the T-WINGS save users space at home or in the office and can greatly speed up productivity. The main system supports up to EATX motherboard sizes for extreme gaming workstations and HEDT systems, while the sub-system supports mini-ITX motherboards that offers a wide range of capabilities.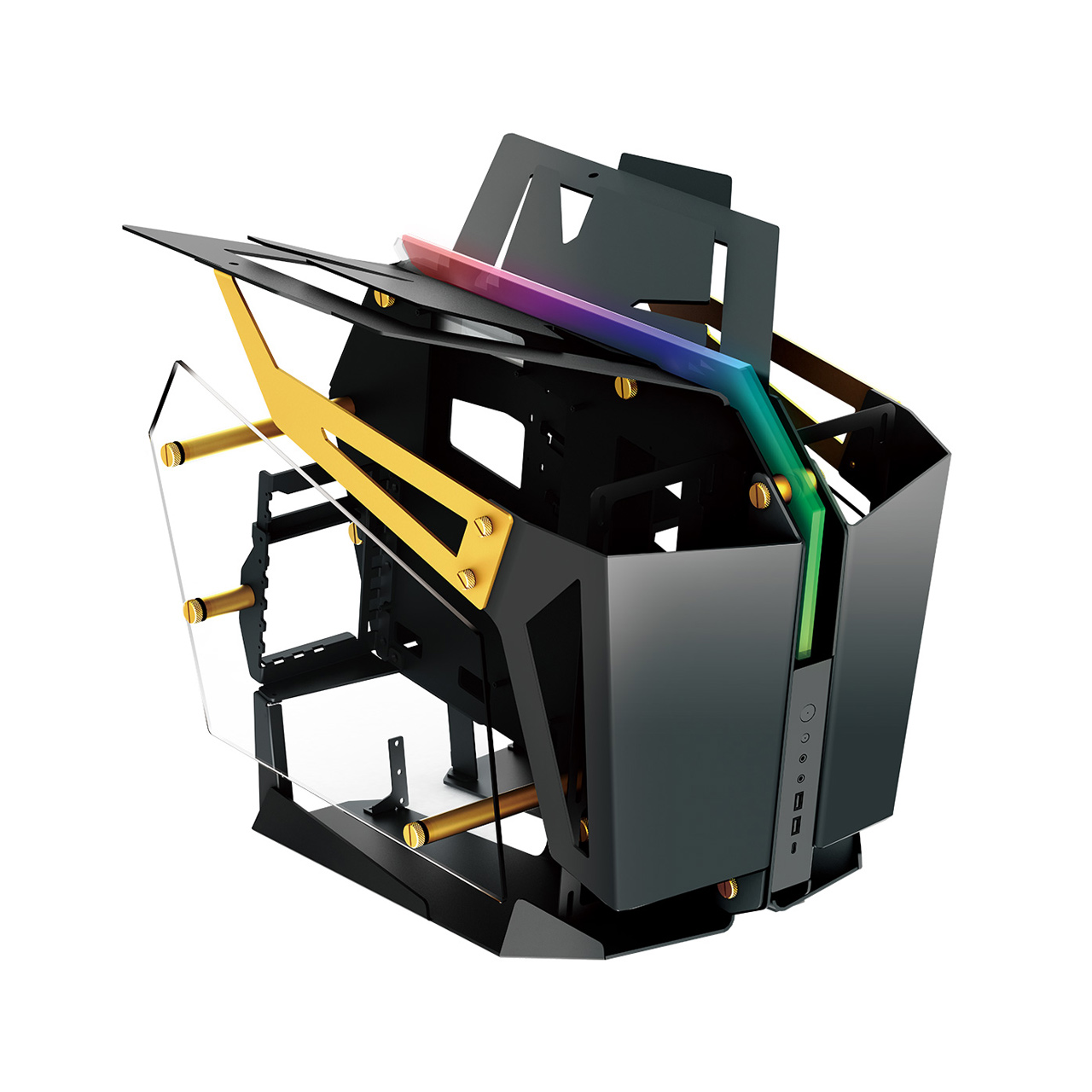 The benefits of this design include running two systems simultaneously, which frees up the systems from any lags, delays, or any excess loads that might cause system crashes. Content creators and streamers will benefit from this setup, which will allow them to record without interruptions, continually monitor and control the status of their recordings, and allow them to interact with their fans with ease.
The FSP T-WINGS showcases a new stylishly innovative semi open-chassis design that will undoubtedly turn heads. The stylish 'T-WINGS' chassis design has a unique wing shaped exterior featuring custom angular shapes with black anodized coating and accented with gold or red trim. The T-WINGS chassis unique design allows custom builders to create visually stunning PC systems.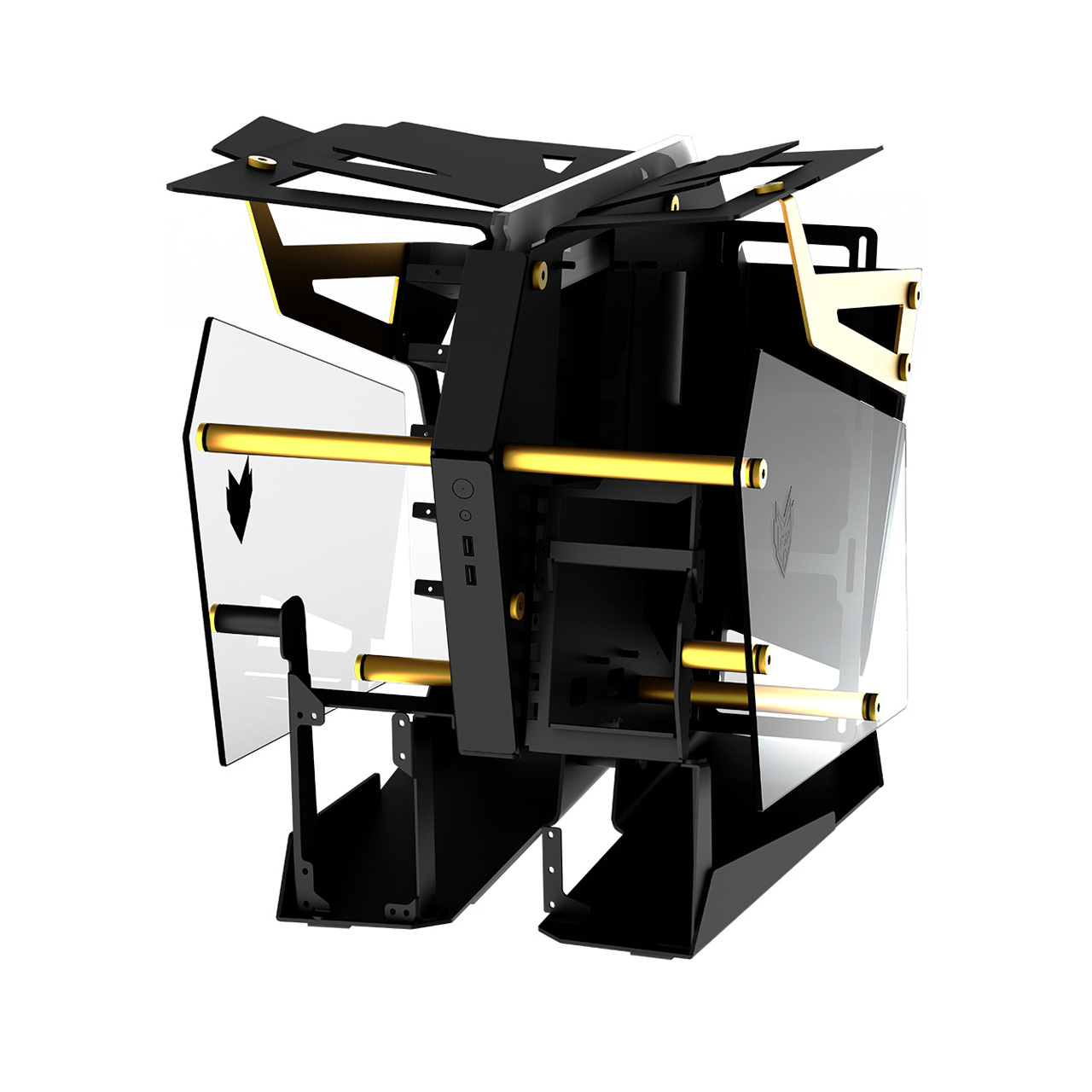 The strong aluminum frame along with its 4mm tempered glass panels will protect valuable components from being exposed to your typical home or office environments while offering maximum heat dissipations through large ventilating gaps. The support for dual liquid cooling systems and dual power supplies ensures that both systems can reach their maximum respective performances with no limitations.
The T-WINGS chassis can house graphic cards mounted both horizontally and vertically to suit many PC build styles. For users who need large local storage capacity, the T-WINGS chassis allows the user to install up to five drives total: two standard 3.5 size drives and three 2.5 size drives.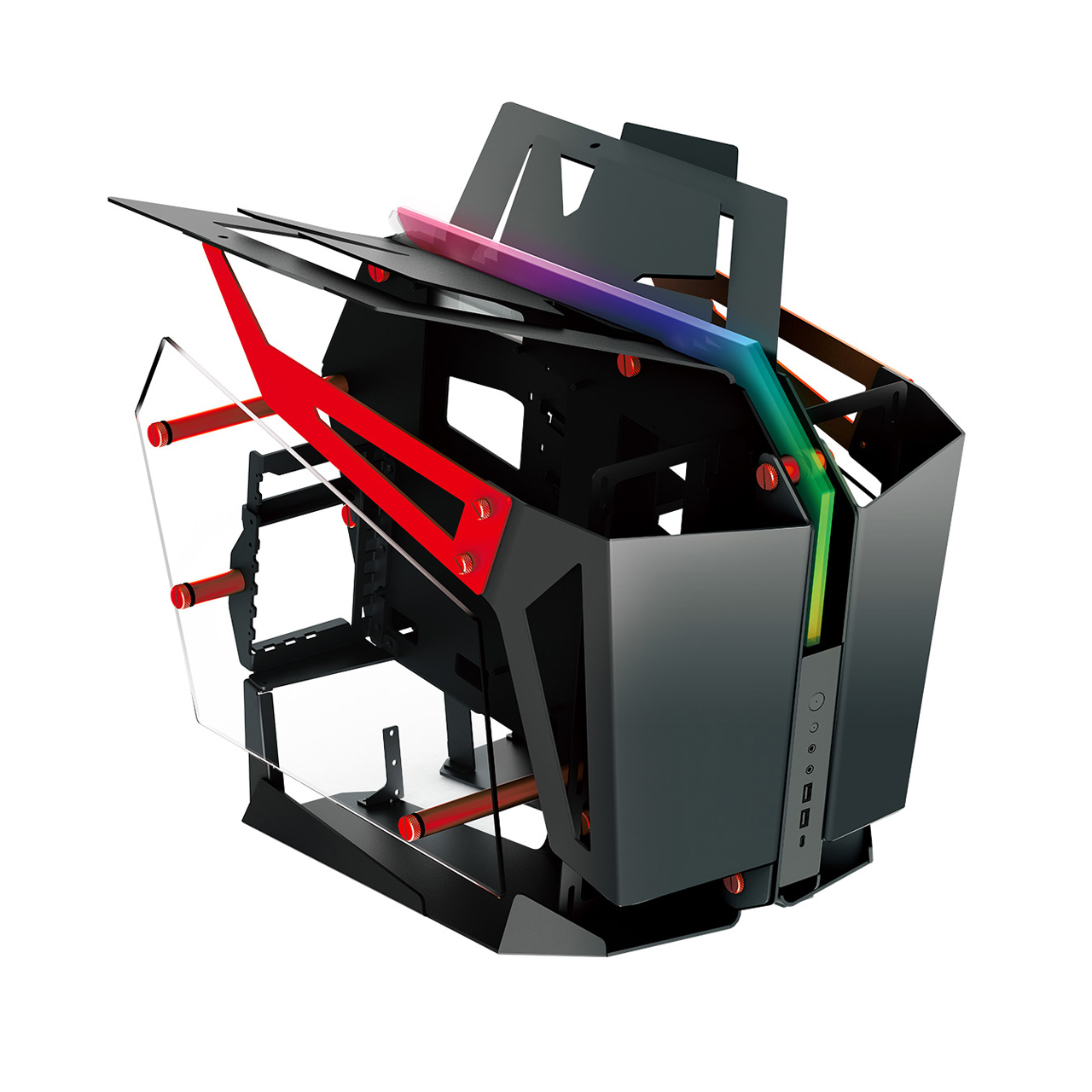 The T-WINGS custom central spine is specifically designed to offer a large 40mm space dedicated for cable management. The custom central cable management system offers a neat and tidy area to manage all of your cables and frees up the main PC area from airflow restrictions. Other special features include an addressable RGB light bar to personalize the look-and-feel of your PC build through ARGB software sync. The light bar is compatible with all major ARGB motherboard control software including ASRock Polychrome Sync, ASUS Aura Sync, Gigabyte RGB Fusion, and MSI Mystic Light Sync.
The front panel features 3.5mm HD audio stereo and microphone inputs, one USB 3.1 2nd Gen Type-C connector, and two USB 3.1 1st Gen Type-A connectors, which should provide a convenient way for users to connect their smartphones, tablets, headsets, and other PC peripherals.
FSP currently have an online event where it's your chance to win a new stylish T-WING chassis (pick your choice of colors) and Steam store vouchers. Simply answer a question on FSP's official site after watching our YouTube video.