Get ready to party like its, well, number 9.
Mario, Wario, Yoshi, Donkey and the rest of the crew are back in a mini game hodge podge of turn based puzzle play.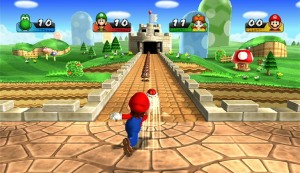 Two to four players join in and select a character from the 12 available (2 Unlockable), then it's off to the playing board.
Within a turn based system and for the first time in this franchise, all players are housed within a singular vehicle and (hopefully) have luck on their side.
Before you is a set number of spaces governed by a roll of a dice-block which allows you to move and will also decide your ultimate fate.
Depending on what square you move to, your individual characters progress can be hampered or turbo boosted.
Minigames also pop up and this is where diversity kicks in. Thankfully Mario Party 9 has a larger focus on the mini-game aspect than previous titles. These are triggered when a players lands on a appropriate space or activates an event that sets a mini-game into motion.
There is a whopping total of over 80 mini-games, these are divvied up by way of number of players etc. For example, Free-for-All boasts 44 mini-games; Buddy Bounce, Skipping Class, Snow Go, Piranha Patch to name a few.
Rivals vs. has a total of around 10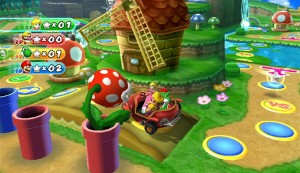 and then there's Bowser Jnr, who has his own selection. The list goes on; there are Boss derived Mini-Games and if you're not sick of them yet, even 'Extra' Mini-games.
All generally cutesy and challenging they add a series of flavouring to the generally repetitiveness of moving from block to block across the themed board(s).
Each Level is themed upon well known Mario World environments.
You are on the quest for acquiring as many Mini-Stars as possible whilst avoiding Ztars, which are the evil twin of these gems. Ztars will cause a deduction in your Mini-Star wealth.
Your collectables are also, kind of, themed per your Level, for example it's Bananas when you are in DK's Jungle Ruins.
These, once tallied up at the end of each round, are used as currency to 'buy' new Levels, Constellations, Vehicles and way more.
Each Level takes about an hour to complete and more often than not there is a Boss Battle halfway through.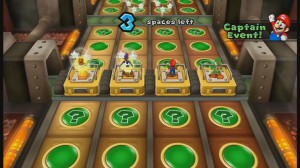 Playing the entire game, solo, right to the end will reward you with goodies including the two previously locked characters.
Mario Party 9 possibly saved itself from incessant yawns and lounge room walkouts by having the onslaught of Mini-Gaming, some of which you wanna play again, and others, of course, you hope to never have to.
I'd say that it's not the best Mario game in the entirety of all Mario titles, but I do know that it has it's following and those that have attended many a Mario Party in the past will love this one.
Myself; well time to move onto something else I think…
[jwplayer config="STG Player" mediaid="133″]
Genre: Puzzle / Platformer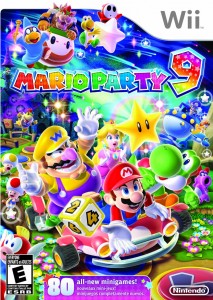 Platform: Nintendo Wii
Publisher: Nintendo
No. of Players: 1 – 4