UPDATED – A very delayed release; Epic Mickey 2 is now available on the PS Vita. Once again the Disney icon Mickey Mouse, re-enters the Wastelands to bring down a force like no other. But this time Mickey is not alone.
The Mad (and usually evil) Doctor warns the civilians of the cartoon world of impending doom (he actually painfully sings it), seemingly changing his past no – good ways, realising that he himself is under the same threat as his Toon companions.
Cityscapes begin getting ripped apart as a mysterious and destructive earthquake hits.
What is the force behind the destruction? Can there be a Hero?
Epic Mickey 2: The Power of 2 resurrects Oswald the Lucky Rabbit, a nostalgic 80 year old Disney character that pre-dates even Mickey himself, into a co-op adventure title where you can change the world with a splash of paint or paint thinner, traversing to areas and dimensions via Magic Mirrors.
Oswald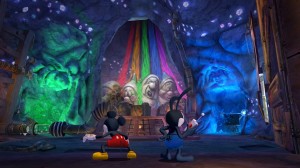 brandishes a universal Remote control which enables him to take the command of electricity.
Single player sees the Rabbit being CPU controlled and you as Mickey.
There are many times where you need to work conjointly with Oswald to achieve a singular goal within a puzzling objective.
Another player can jump in and out of play as the wish and man the gameplay of Oswald.
The way that you play, whether solo or with a friend will affect the entirety of gameplay. Tackling different scenarios in various ways or exploring all possibilities, not just the obvious will dynamically alter the game and soundtrack.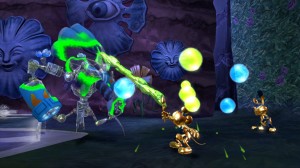 Usually combat is enacted with using Paint Thinner as a weapon, where the evil animates are virtually erased. That said, you also have a spin attack.
Paint itself (as we saw in the first Epic Mickey) will reveal hidden paths, areas and treasures.
Flicking from the two is simplistic, one click of a button during play.
Both Paint and Paint Thinner do not automatically restore. These can be picked up throughout the Level's and as you progress further into the game they get harder and harder to find, so you find yourself becoming extra cautious with your usage of both reserves.
There are collectables in abundance; Mickey Mouse currency which can be used on Art, to mini-movies and such the like, that are kept within the Extra's area.
Very nostalgic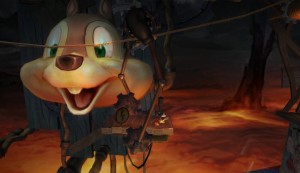 as eight decades of history with Disney's characters mark a much overdue comeback and mix in with the characters we know today.
Officially voiced by the Disney voice characters and story penned by renowned comic book creator; Marv Wolfman.
Epic Mickey 2 is no cheap re-hash of the first game. It retains the magic the first one had on Nintendo Wii (exclusive) and successfully ports this over to Wii – U, Xbox 360 and the PlayStation 3. Also the 3DS version is a complete standalone title and the newly released PS Vita version makes full use of touch compatibility.
The PS3 version is PS Move compatible in which you wave the Move controller around to splash paint and either a controller (standard) of the Nav to move Mickey in third person, 3D and 2D Levels.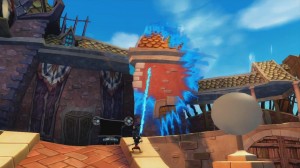 If you don't have a Move, don't stress. The second joystick on the standard controllers has a two tiered controlling system.
A light movement, will move the Paint cursor about your environment. A more firmer swish of the secondary stick (L3) rotates the games' camera.
Although I'm not a huge fan of PS Move, using one gives a much better playing experience.
Also, the PlayStation version can be played in stereoscopic 3D.
I was a huge fan of the first Epic Mickey.
When I learned of a sequel being released, that Disney obsessed child within me began to get excited.
Still, alot of the time 'Part 2' titles tend to be abit watery and lack the magic and uniqueness of the first game.
This is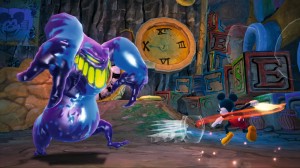 definitely not so with Epic Mickey 2: The Power of Two.
This game could be a stand alone in its own right. Richly animated and styled like a classic Disney Movie that we are all familiar with.
Although having characters suddenly burst out into song within a game was a new experience for me.
A full personal recommendation for gamers of every age and every creed. Mickey has never been this good.
[jwplayer config="STG Player" mediaid="2465″]