In just over three weeks, form a legendary trio with your friends and tackle dungeons and boss battles together in The Legend of Zelda: Tri Force Heroes, coming toNintendo 3DS on October 24th, 2015. Presented in the same top-down style as the critically-acclaimed The Legend of Zelda: A Link Between Worlds, prepare to solve inventive puzzles as a team and kit out Link in a range of outfits to enable new abilities that enhance your adventure.
In the Kingdom of Hytopia, a fashion-obsessed realm where sartorial elegance is celebrated, an evil witch has placed a mysterious curse upon Princess Styla, casting the realm into disarray. With citizens calling for the return of a legendary trio of "Totem Heroes" to protect them, and King Tuft offering a unique reward for whosoever lifts the curse, venture into the Drablands to hunt down the witch and restore peace and stylishness to the land.
Buddy up with two similarly heroic friends via online or local multiplayer, and co-operatively solve puzzles in environments ranging from lava-strewn volcanoes to icy caverns.
In online play, you can also choose to play alongside unknown heroes not on your friend list. Only by working as a team will you be able to progress through the various hazards lying in wait, but for those who master an area, bonus challenges can be unlocked for access to more valuable rewards.
In order to communicate with friends during gameplay, you can send instructions using in-game emoticons, such as asking for their urgent assistance in taking down an enemy, or even in helping form a Totem, a new gameplay mechanic whereby all three Links can stack up on top of one another, making it possible to reach new locations.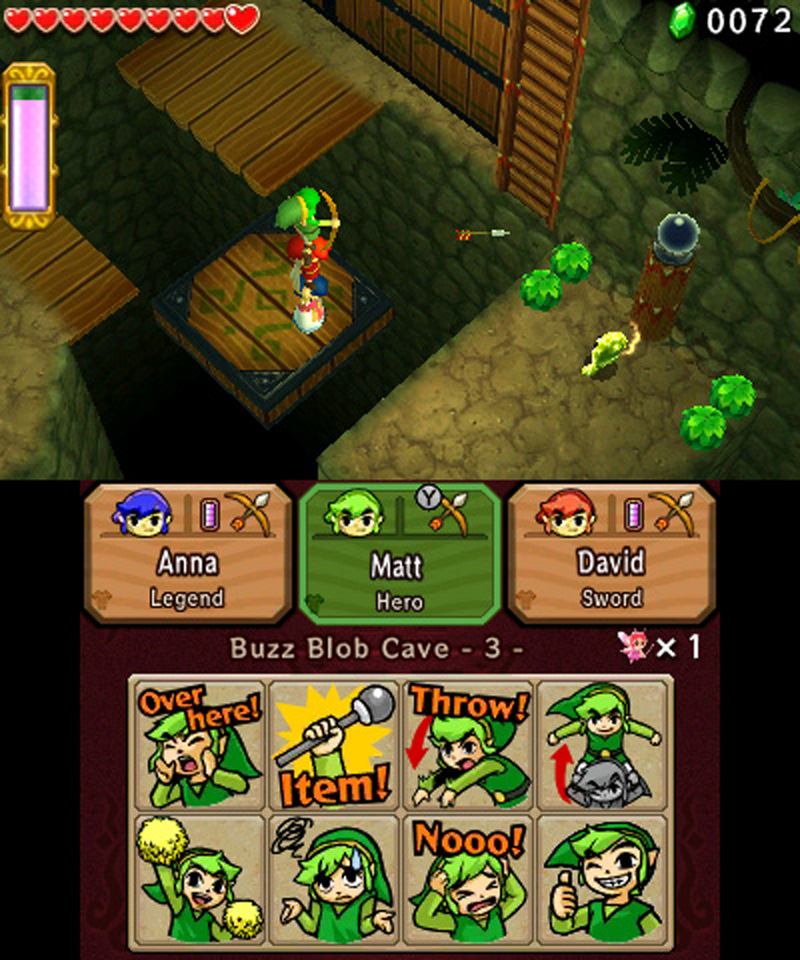 Solo adventurers can choose to take on the perils of the Drablands in single-player format, equipped with a pair of replica Link figures called "doppels" that come to life on command, allowing you to control each one in turn.
However, with Download Play functionality, players can always link up with two other Nintendo 3DS system-owning friends to take on the action, even if they don't have a copy of the game.
To fit the fashion-focused world of Hytopia, meanwhile, collecting in-game materials lets you order stylish outfits at Madame Couture's shop for Link to wear, with each one giving special abilities to help tackle the action.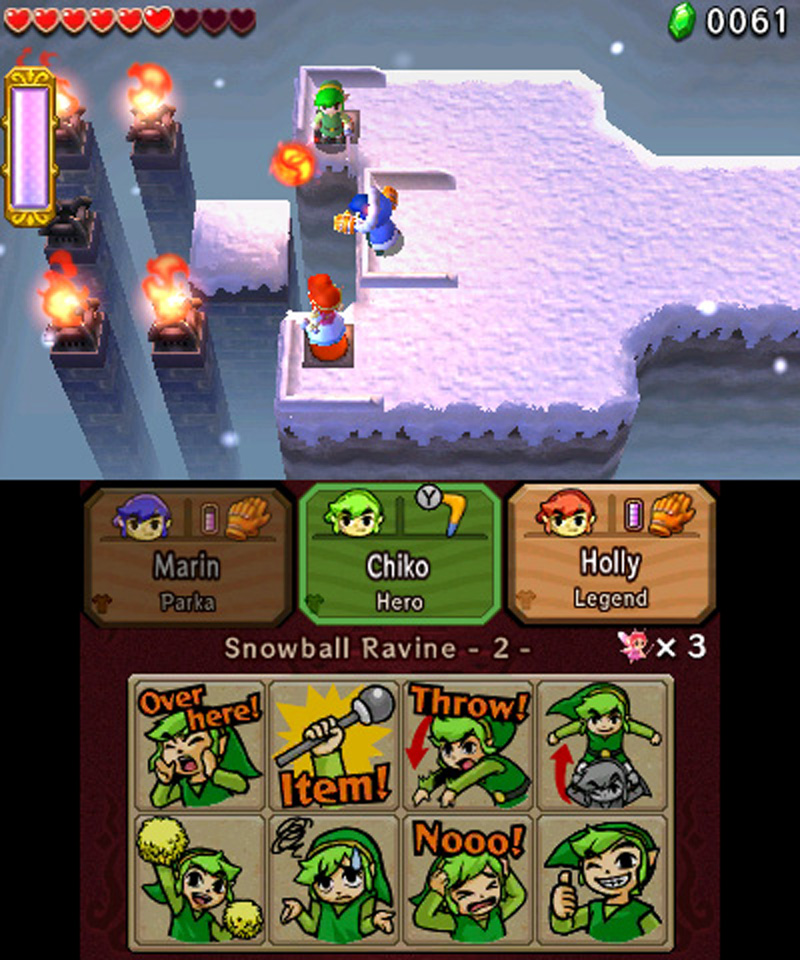 While fans of The Legend of Zelda series will recognise certain pieces, such as a "Goron Garb" outfit that allows you to swim in lava, or a "Zora Costume" that lets you swim with greater speed, with 36 outfits to acquire, you can experiment with different looks in order to best tackle each of the 32 stages that lie in wait.
Finally, to share your great acts of teamwork and skill with others, secure a camera from the Photo Bro character managing the in-game Miiverse Gallery and snap away whilst out exploring the wilds of the Drablands. As well as posting these snaps to Miiverse*, you can even unlock Miiverse stamps for each outfit you unlock in-game, which you can apply exclusively to your hand-drawn creations.
Assemble two of your most heroic friends and solve challenging puzzles together as the saviours of Hytopia in The Legend of Zelda: Tri Force Heroes.