NOW CLOSED – New Zealand, support your local and get out there and back to the cinemas.
Dawn of the Deep Soul continues the epic adventures of young explorers Riko and Reg, who are joined by their new friend Nanachi as they descend into the Abyss' treacherous fifth layer, the Sea of Corpses. There they encounter the mysterious Bondrewd, a legendary White Whistle whose shadow looms over Nanachi's troubled past. Although Bondrewd is ingratiatingly hospitable and the trio soon becomes fast friends with his gregarious daughter, Prushka, the brave adventurers know things are not always as they seem in the enigmatic Abyss…
A Kinema Citrus (MADE IN ABYSS) production, series' director Masayuki Kojima (Revue Starlight) returns to direct Dawn of the Deep Soul with scriptwriting from Hideyuki Kurata (The Fruit of Grisaia). Miyu Tomita (The Magnificent KOTOBUKI), Mariya Ise (The Promised Neverland) and Shiori Izawa (Sword Art Online) reprise their roles as Riko, Reg and Nanachi, respectively. In addition, Australian composer Kevin Penkin (Norn9) returns to craft the film's all-new, critically lauded score.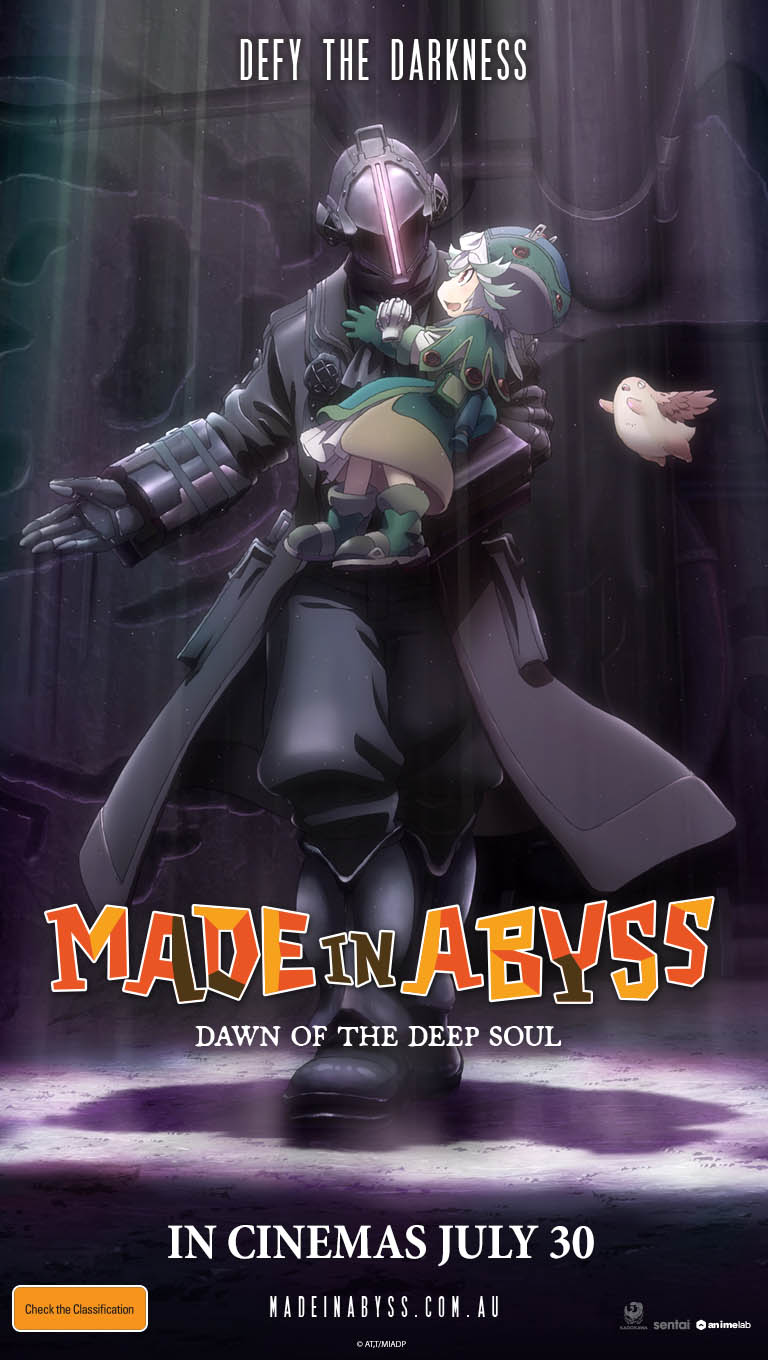 Thanks to our good mates at Madman New Zealand we have FOUR Double Passes to see the anime film, which releases at cinemas across the nation on July 30th.
To Enter our Made in Abyss: Dawn of the Deep Soul Giveaway you must answer this question correctly:
What is the name of the other 'Made in Abyss' film that released in 2019?
A: Made in Abyss: Journey's Dawn
B: Made in Abyss: Riko's Struggle
C: Made in the Abyss: Reg Goes Wild
You can give us your Answer by placing a Comment below, hitting us up on Facebook, Tweet to us, or Email Us.
* Winner(s) will be randomly selected from those that Comment below / Facebook Comment / Email in accordance to the above Question. Winner(s) will receive a Double Pass ticket redeemable for Made in Abyss: Dawn of the Deep Soul. Made in Abyss: Dawn of the Deep Soul is rated R13+ in New Zealand. You must be over the age of 13 years in order to enter this promotion – STG may request age verification. Winner(s) must adhere to the conditions on the Double Pass ticket. Tickets are not transferable. Competition ends on the 5th of August 2020. Competition entrants must be from New Zealand. 
Be a supporter of STG
Everyone that works on STG is a volunteer. If you like the site and it's contents please think about donating. Even a small amount helps keep the servers running.