One of the crossovers that always feels so wrong is seeing Mario and Sonic in a game together.
I am of that right age where these two mascots seemed like mortal enemies that would fight until one was bitterly left in a mess on the side of the road praying for the sweet relief of… well that got dark quickly. Yet in 2007 the two competed side by side in the Wii game Mario & Sonic at Beijing Olympics, and since then they have been brought side by side at the Olympics many more times. As with many other Nintendo exclusives, the Switch release was my first dabbling with this series, and I certainly enjoyed it enough.
At its core Mario & Sonic at the Olympic Games Tokyo 2020 is a huge collection of mini games for each of the upcoming events at next years Olympics. What this means is there is a huge variety in games, and as you may expect this means that none of them are perfect. Each game tends to be based on simple mechanics so you can jump in and have a blast because trying to master that many games if they were complicated would be near impossible which wouldn't work when it comes to a party game. This means games like the Rugby 7s you basically pass and run with the ball. As a rugby game this isn't complicated, but as a fun party game it works because it only takes minutes to understand how to play.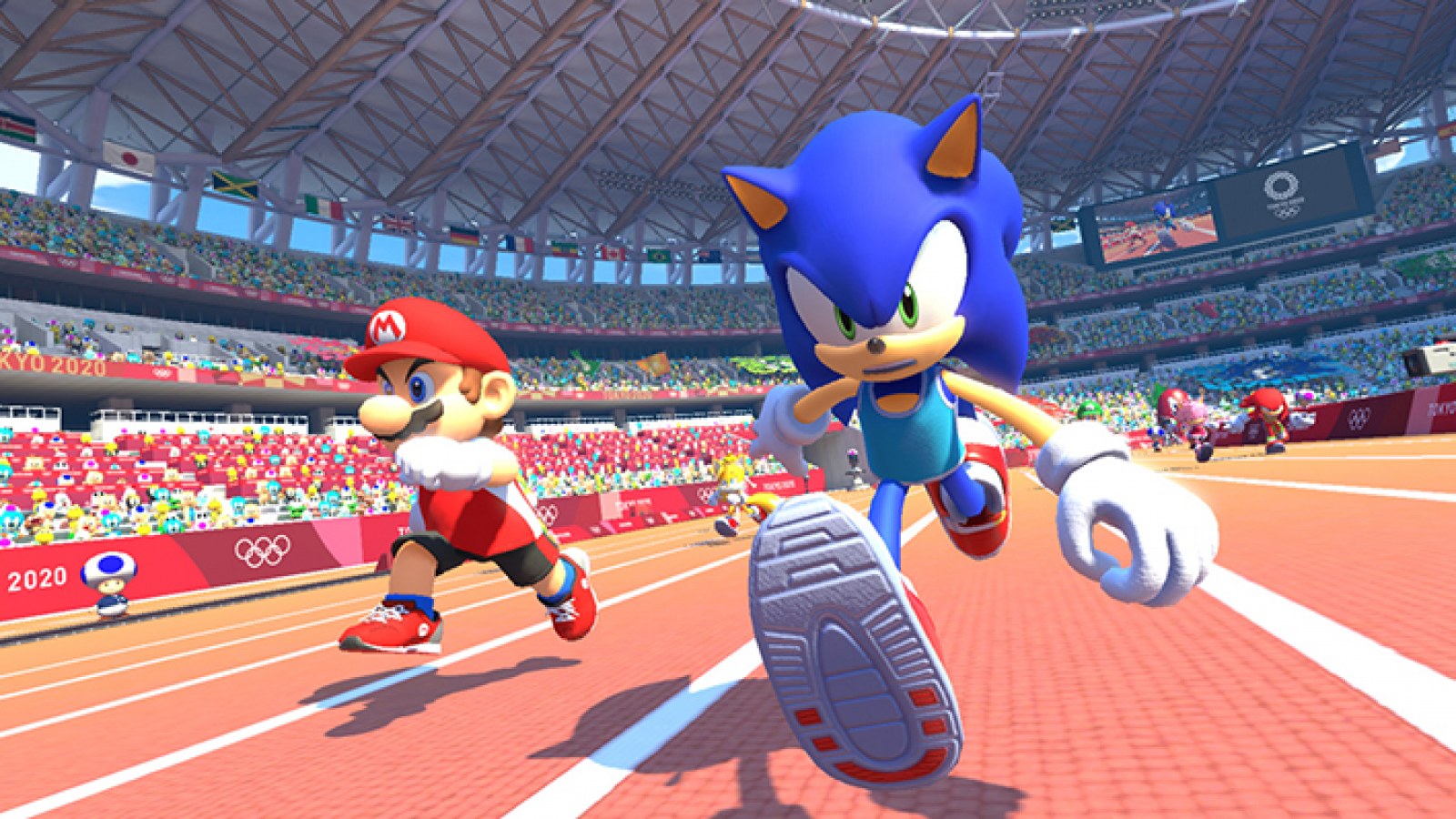 Skateboarding, because that's apparently an Olympic game too now, is the same where you basically aim the skateboard around the park, time jumping and landing to boost your speed while slightly varying tricks. Like with the Rugby 7s it's simple but in the context of playing a party game it needs to be. that You are likely going to switch between events regularly and the last thing you want is a 20-minute tutorial with a few hours to get the hand of it.
The games that work the best are the simpler sport such as long jump, running and the javelin throw. Where running requires mashing a button faster or swinging in the joy-con if using the movement controls. Javelin and long jump do the same with a quick moment of timing required to execute the final move. These are especially entertaining when it comes to a group of people because again, it's easy to explain, easy to get the hang of, and fun as hell when you fail with a group of family or friends. The huge variety of games means that even when I played with the family for a few hours we didn't even come close to playing every minigame on offer.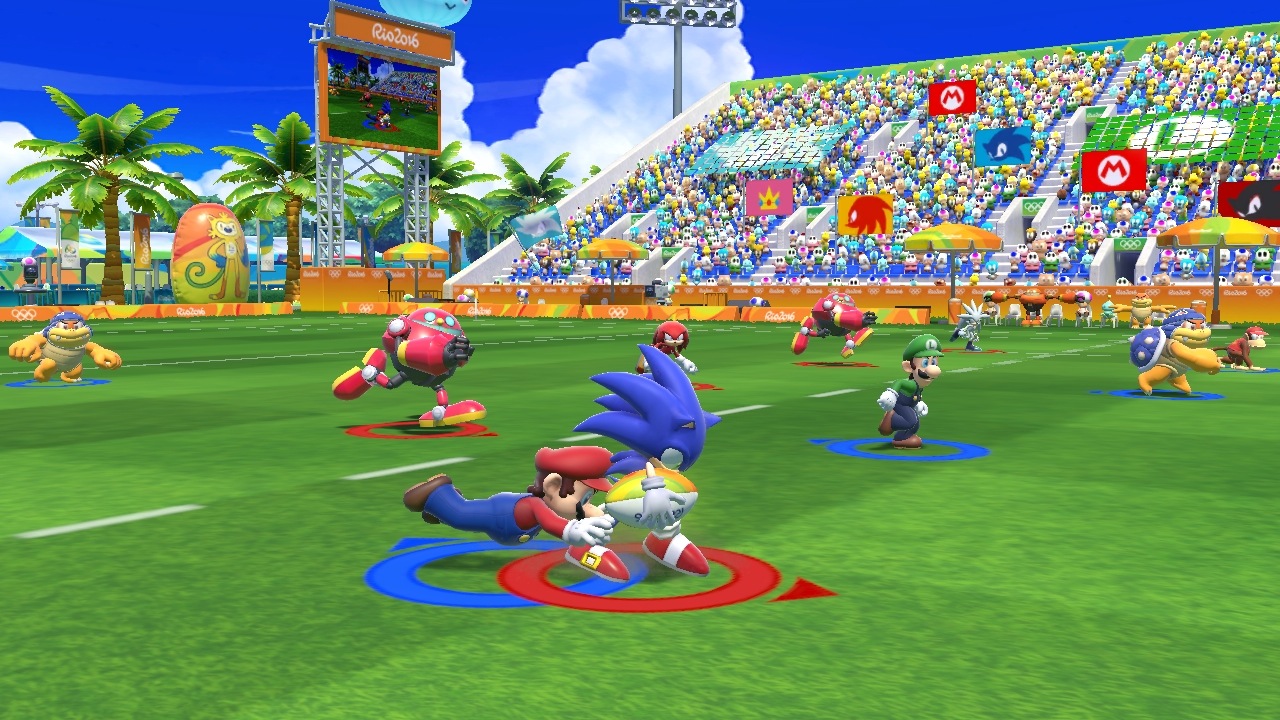 Because these are the second Olympics held in Tokyo, there is even a 1964 Olympic games option. This has a handful of games where the characters are using their original designs and the games themselves looking like they belong of that era, that's the 80s / 90s era when these games kicked off, not 1964 before they all existed. It's a fun throwback that couldn't feel more appropriate for the two icons leading this game and a welcome addition to the collection.
There is a story mode which was far from my favourite bit. Basically Mario, Sonic, Bowser and Robotnik get sucked into a gaming machine where they go into classic mode to compete in the 1964 games activities while they try to get out. On the outside the other characters try to get them out and must compete in the 2020 activities as they get other characters to join them on their quest. There is an overworld which was tedious to travel around and a lot of the dialogue, especially in the 1964 stages which take far too long with little to offer. I got especially bored in a scene where Sonic was pacing and pausing in many moments looking for Robotnik behind a tree. The story mode would have been greatly enhanced by it having chapters in a list with the dialogue popping up before and after an event.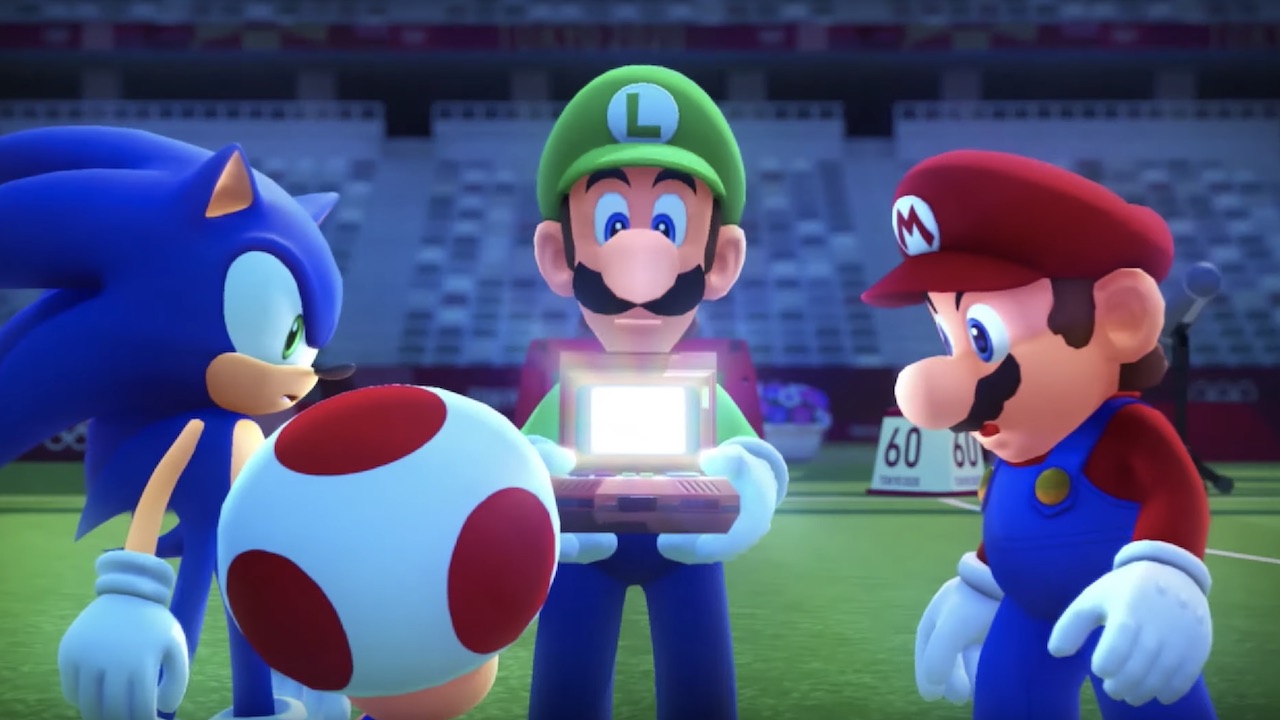 Mario & Sonic at the Olympic Games Tokyo 2020 is an excellent collection of mini games that would absolutely suit a party session, or a fun rainy Sunday for the family. Some of the harder modes like Gymnastics which requires fast button prompting take a while to get any good at, while running is super easy to jump in and win at. The Joy-con options are the best way to play some modes but using the controls will still provide plenty of value for anyone looking to fill that silly mini game void in their hearts.
Don't expect the story mode to blow you away, though.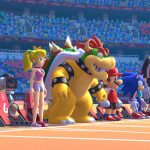 Mario & Sonic at the Olympic Games Tokyo 2020 (Switch) Review
Game Details
Released: October 2019
Rating: G
Platforms: Nintendo Switch
Genre: Sports
Developer: Nintendo
Publisher: Nintendo