Shane the Gamer was invited to this years Microsoft Ignite event in Auckland, New Zealand. Among the techy overload showcasing everything from software securities, PC peripherals and more was New Zealand's own GEO AR Games.
Utilising Augmented Reality, GEO AR Games turns public parks in to a virtual playland for kids. We got the chance to have a sit down and chat to one of the company's founders Melanie Langlotz about the GEO AR App for smart devices which gets kids out and about to experience a day at the park like never before.
Shane: Hi Melanie, thanks for taking the time to chat with us today. Can you tell us what Geo AR Games is about and how it all began.
Melanie: Well, before Pokemon Go we had this idea in mind but got feedback from people that no one in their right mind would run around with a device in front of their face. And then Pokemon Go launched and everything changed for us. Overnight it seemed that everyone was now an augmented reality expert. So then Investors came back to us and said 'yeah, tell us we were wrong…' So the first question that we get is Tell Us How You Are Different From Pokemon Go. First thing about us is that we are targeting a different demographic. At this point we are targeting kids 6 – 11 years old and we are quite proud that we are a safe game and we are focused on being a clean and ethical brand. Kids safety always comes first. Our games can only be played in Parks and the Parks are chosen for their safety. So they are geo-fenced, on top of that we do not allow any data mining or advertising in the games.
The Mission statement of the games is that we get kids off the couch and active outside.
You start up the App, you go to the park – we have two products; Magical Park and Sharks in the Park. Magical Park is our main product which we sell to Councils and which is geo-fenced. Each park becomes a fenced digital playground. If a child leaves the boundaries of the park the App will tell them that they are leaving the play area.
We are the worlds first – no one has ever done something like this.
When the child opens the App they are within a virtual landscape, they can walk through it and play within it.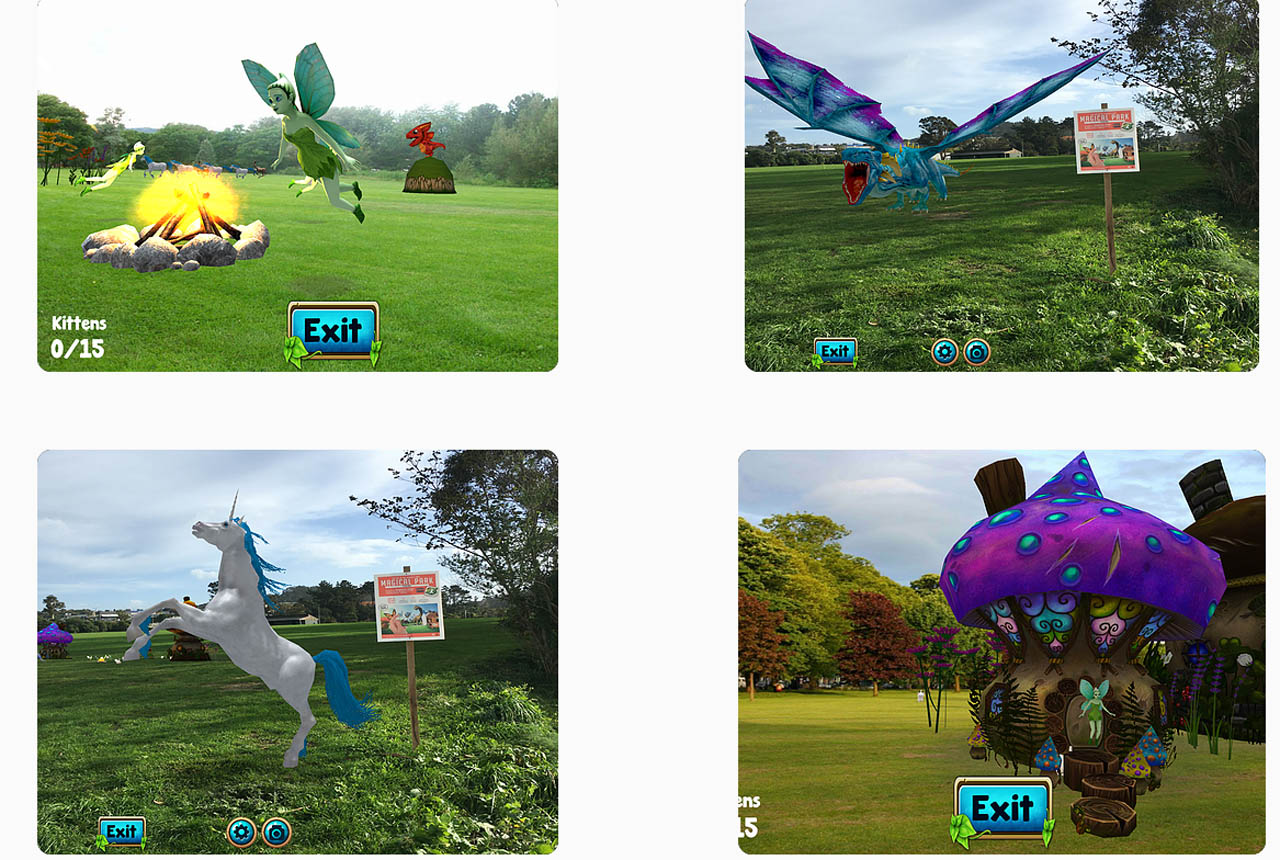 Shane: Your AR Game; Sharks in the Park, is a free download on both Google Play and Apple App Store. Can you tell us about the game and what makes it awesome?
Melanie: It's the game mechanics, they can only be played in Parks, so again it's all about kids safety. So we use Google Maps to create safe boundaries. If a child runs towards the road a Stop Sign will come up tand advise the child that they cannot play there. We also use very minimal mobile data and it is used for the child's safety, but that's it. Sharks in the Park was our first product. Amy, my co-founder  developed it as her very first App. We started programming in December (2015) and launched a BETA version in April (2016). We used Kickstarter and the funds gained from that allowed us to create another 10 Levels and we released a Premium version. But then that was placed on hold as Magical Park took off.
In May (2016) we started a trial with Auckland and Wellington councils for Magical Park and we launched 13 Magical Parks throughout New Zealand. So this is a completely new gaming model where it's free for the community to play and supported by the Councils.
At this time Sharks in the Park is the only game that is globally available for everyone and we may look at future integration between Sharks in the Park and Magical Park. Magical Park is currently receiving orders from Councils throughout New Zealand and overseas.
Shane: We are meeting here at Microsoft Ignite 2016. Has Microsoft been a big supporter of GEO AR Games?
Melanie: Actually one of our main supporters; Lightning Lab was from Microsoft. A guy called Terry acted as a mentor and he was actually someone who suggested that we talk to yourselves aswell. One point is that we are only available on Android and Apple and not on Microsoft devices. Terry did try to see if Microsoft would be interest and fund us to port everything across. At that stage the company was probably too young but in general, now, if you look at how many people have a Microsoft device as opposed to iOS and Android it's like 3% Microsoft. We are going for the majority of the market.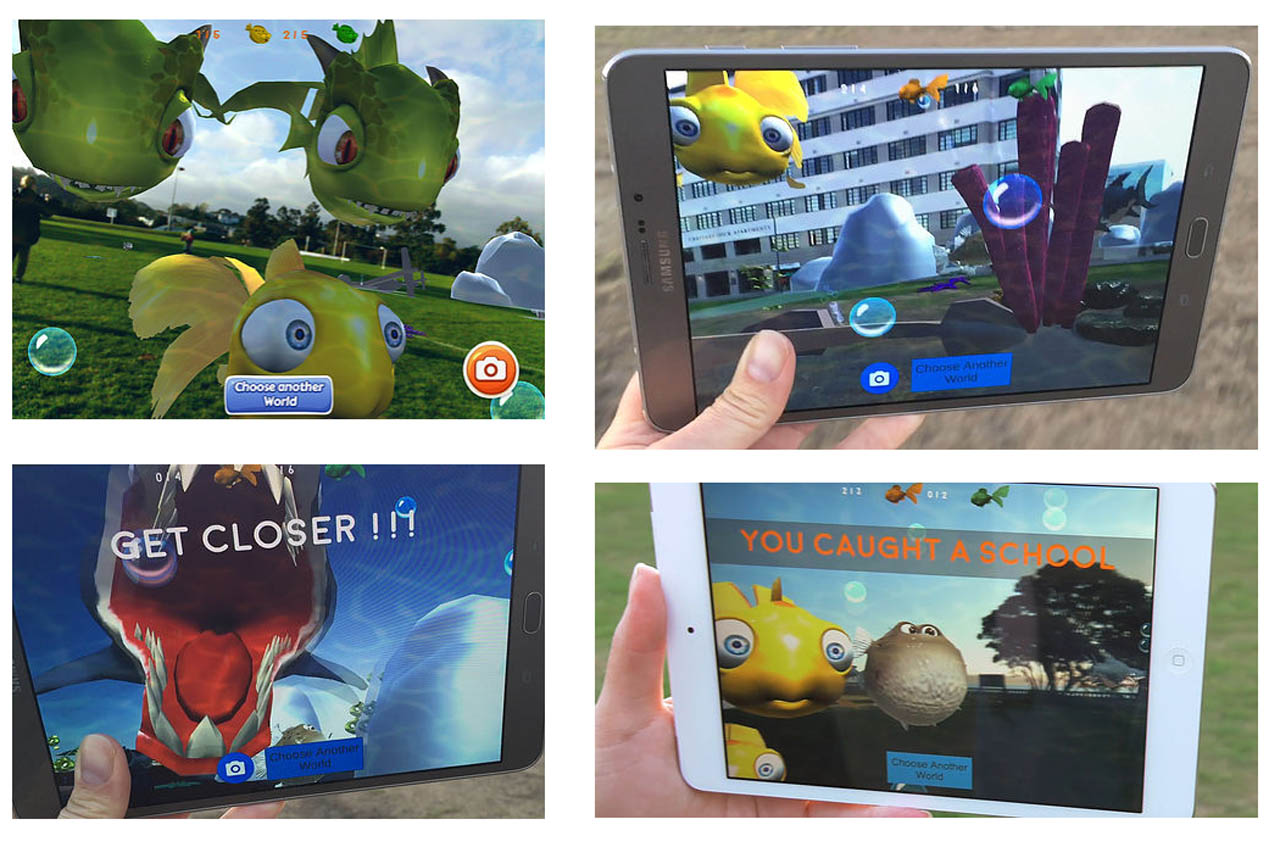 Shane: Why was AR the choice for gaming for kids, as opposed to the current trend towards VR?
Melanie: This goes back to 2011 where I signed up for an Entrepreneurship post grad Diploma. In Entrepreneurships they always ask you to think of a problem and find the solution. I have a background in Film and Television and the audience was shifting, we weren't getting the numbers anymore and budgets were going down. So I was very aware that audiences were not consuming entertainment in the same way. So I was looking at differing forms of Entertainment and one of those was Augmented Reality. And then I looked back at finding the problem that I needed. I found that my (then) 7 year old step daughter just wouldn't go outside. Everytime I asked her to go outside she would say its boring, she was happier to stay inside and play her \mobile games and video games. that's when it clicked with me. I also knew that no 7 year old is going to run about outside with a [VR] headset on. It's too expensive and there's also safety reasons. Wearing a [VR] headset when outside she can't see whats in front of her.
It was a better idea to make use of accessible devices and with a Mobile phone she would also have the peripheral vision to see beyond the device, whether there were any obstacles or dangers in her path.
Also with VR there are instances with people getting motion sickness, I am one of them, but with AR you don't get motion sickness because you still have that reality overlay.
Shane: The future of GEO Games is headed where? What is the vision for the future and are there any projects on the go that you can talk about?
Melanie: We are going to be partnering with big entertainment brands which we are working very closely with right now. We have also just been introduced and shown to Google who were very impressed. So we are looking at featuring known kids brands in the Magical Park worlds. Magical Park is like a gaming channel where kids can swipe through differing AR Worlds that they want to play in. And this also helps with retention. More content on offer means more retention and focus. We also have learned that it is not only Councils that are interested in Magical Park but other businesses for differing purposes, both Educational and Productivity reasons so we can adapt the current platform for other purposes.
For us right now, its growing quickly .
Shane: Bonus Question which I have asked everyone that I interview… What was your favourite Toy or Gadget when you were a kid?
Melanie: Oh gosh… I have to think… It was Lego. Clearly, definitely. Yeah Lego.
Shane: Awesome, thanks so much for chatting with us at StG today. Really appreciate it and both Magical Park and Sharks in the Park are astounding products of innovation. We hope to hear more about them and any other projects that GEO AR Games have in the future.
If you wish to play Magical Parks please contact your local Council, or hit up GEO AR Games at their Official website for more info. Sharks in the Park is freely available now for iOS and Android devices.