Intel's 12th Generation Alder Lake CPUs are here. What's not here, though is the fancy new DDR5 memory to go with the new chips, unless you want to spend a fortune on the hard-to-find modules.
ASUS, have a solution.
Enter the ASUS TUF Gaming Z690-PLUS WIFI D4 motherboard designed for the new Intel CPUs. Instead of DDR5, this is an LGA 1700 socket motherboard that supports a maximum of 128GB (4xDIMM) of DDR4 memory modules running the way up to 5333 Mhz.
I can't tell you just how much performance improvement you are going to get from using DDR5 with your new Intel CPUs. I'd say, at this juncture, any (likely small) improvements over the DDR4 modules in your current machine will be offset by the inflated price that you are going to be paying.
An upgrade to Alder Lake is expensive, enough.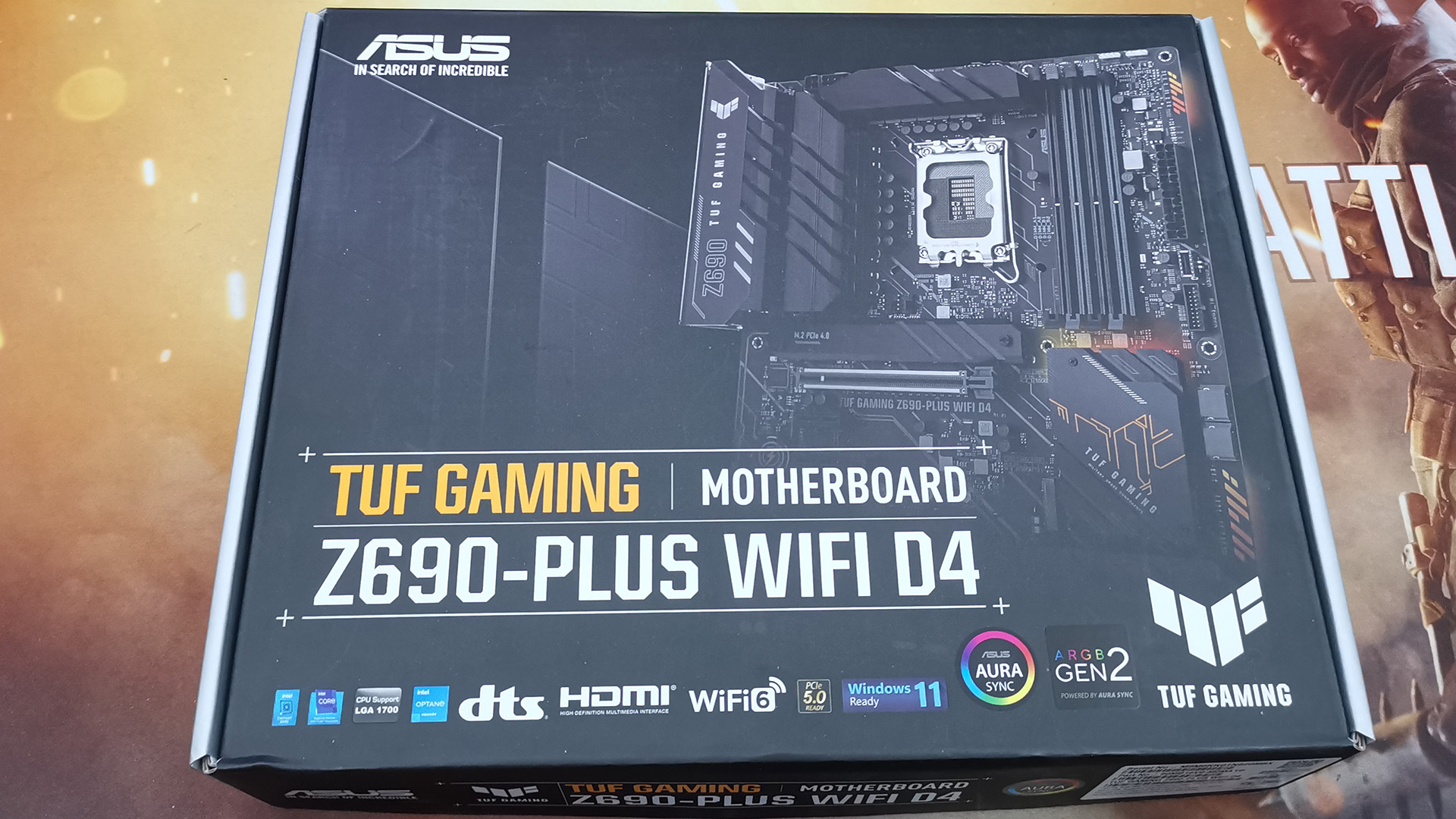 Unlike your 12th Gen Intel CPUs, you are not going to get away with shoveling these new CPUs into your existing motherboard until you've saved up some more cash for a new one. Intel's 12th Gen CPUs use a new socket with 1700 pins as opposed to the 1200 pins for the last few generations. This new LGA 1700 socket means a new motherboard and perhaps even a new cooler (or just some new standoffs if you are lucky).
Asus's TUF (The Ultimate Force) line is touted as high-quality and rigorously tested equipment aimed at gamers. The Z690-PLUS WIFI D4 motherboard even comes with a certificate of reliability listing the independent testing apparently carried out of the board.
Compared to Asus's Strix and Maximus components, TUF is regarded as at the budget end of the company's gaming gear. I can assure you that there is nothing budget in the build quality of the ASUS TUF Gaming Z690-PLUS WIFI D4. With the price of Z690 motherboards being a few hundred dollars more expensive than the Z590 boards, it's still a sizable investment, but it delivers a lot of bang for its buck.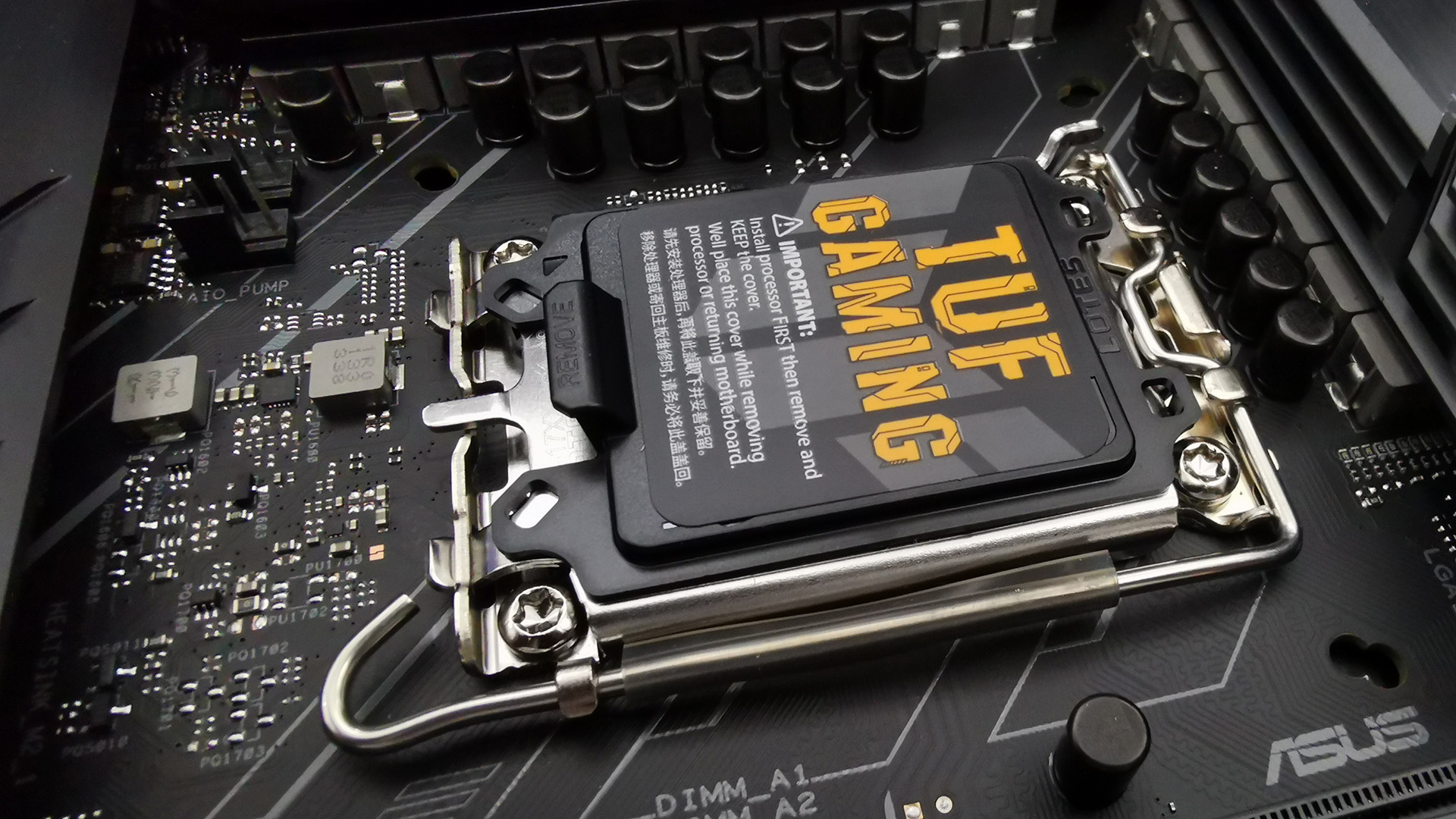 The box comes with the motherboard nicely packaged in its anti-static bag, a magnetic Wi-Fi antenna, little bags with M.2 drive standoffs and pads, a sheet of stickers, a comprehensive user manual, driver DVD, and the aforementioned certificate of reliability.
Asus manuals are easy-to-follow and packed with all the information that you need, be you a veteran PC system builder or a novice. The front of the manual lists the board's specs and includes a labelled diagram of the layout.
The ASUS TUF Gaming Z690-PLUS WIFI D4 is an ATX board so it will fit in a quite small case. For the test build, I paired the motherboard with a Corsair 7000D Airflow mid-tower case, only because I'm over squeezing review components in a tiny case.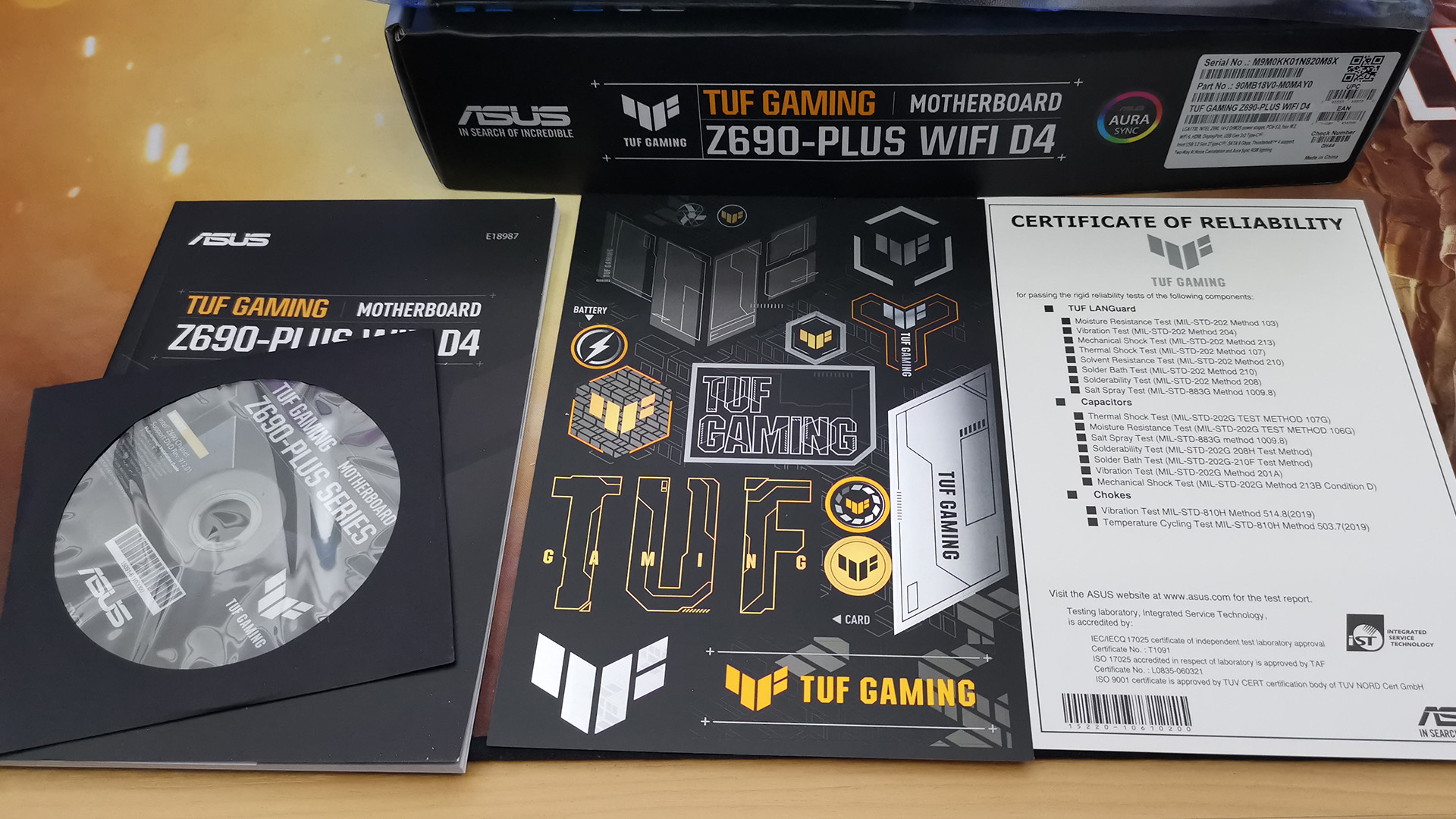 The Corsair 7000D Airflow is a well-built chassis with lots of cooling options and plenty of space to work. The board has an LGA 1700 socket which is a different configuration than boards for Intel's previous CPUs. This means that you need to be careful that your cooler fits the different height of the CPU when in the socket.
Many cooler manufacturers are selling revised standoffs to ensure compatibility with older coolers. I used a Corsair H150i Elite LCD all-in-one cooler as these come with the new LGA 1700 standoffs. What's particularly good is that the RGB lighting on the TUF board is compatible with Corsair's iCUE RGB software, ensuring a coordinated RGB colour scheme.
Looking at the motherboard itself, it is packed with features. The amount of expansion ports and sockets is on par with those found on boards that are a lot more expensive.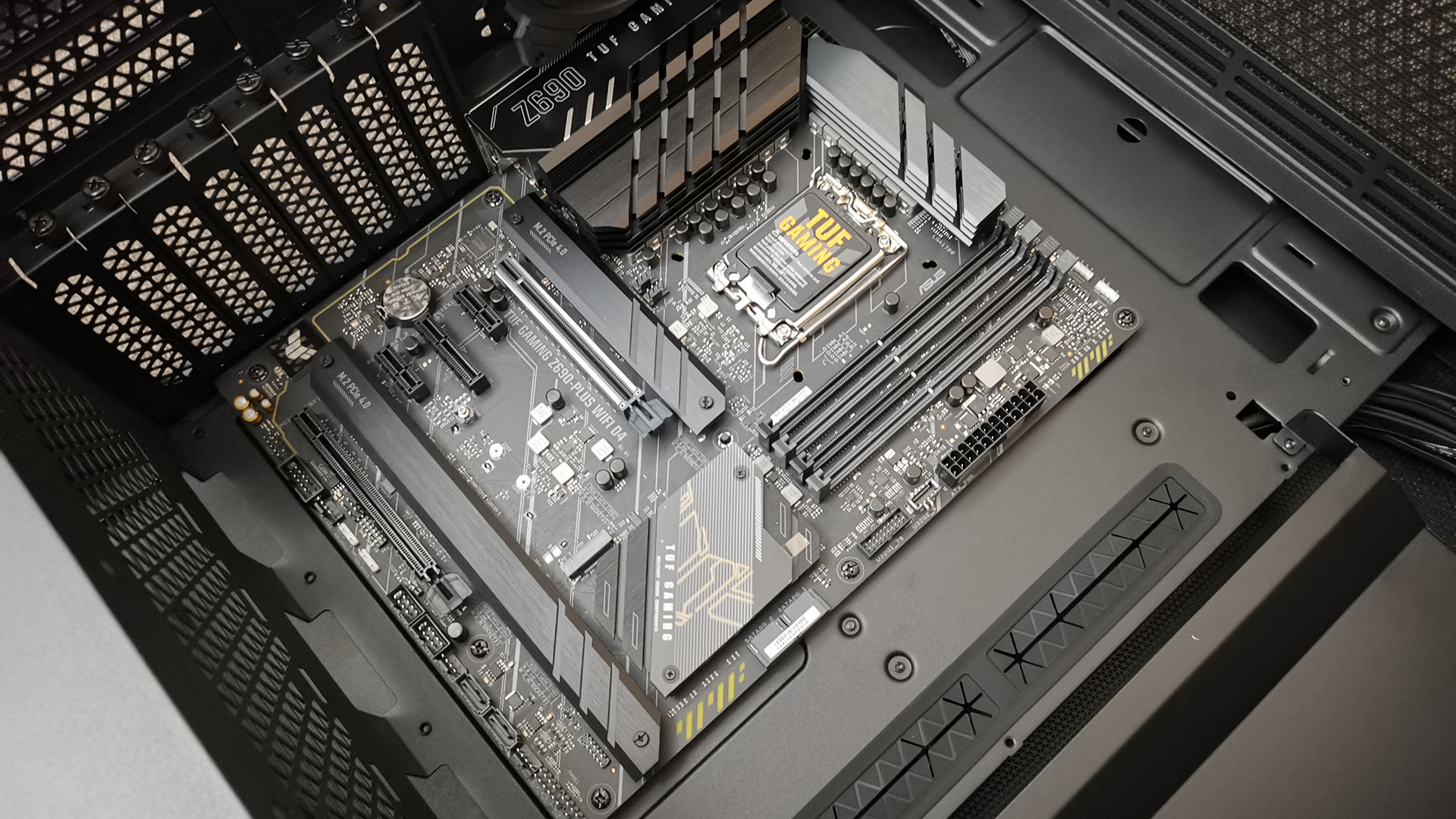 There are five PCIe slots, 1x PCIe 5.0 x16 (with a protected slot with a metal surround for jumbo GPUs), 1x PCIe 3.0 x16, 1x PCI 3.0 x4and 2x PCIe 3.0 x1. That's plenty of expansion slots if you want to add extra SATA sockets or a Thunderbolt card (via the Thunderbolt header).
The rear of the board has eight USB ports. There's a USB 3.2 Gen 2×2 Type-C port, 2x USB 3.2 Gen 2 Type-A ports and 5x USB 3.2 Gen 1 ports (4x Type-A and 1x Type-C). The USB 3.2 Gen 2×2 (or SuperSpeed USB 20Gbps) was a bit of a surprise, allowing for some blistering data transfer speeds via portable NVMe SDDs.
The board has USB headers supporting up to seven front USB ports. That's 1x USB Gen 2 connector (for USB Type-C), 1x USB 3.2 Gen 1 header that supports 2x USB 3.2 Gen 1 Type-A ports, and 2x USB 2.0 headers that support up to 4 USB 2.0 ports (one of which I used for the Corsair cooler and fan control).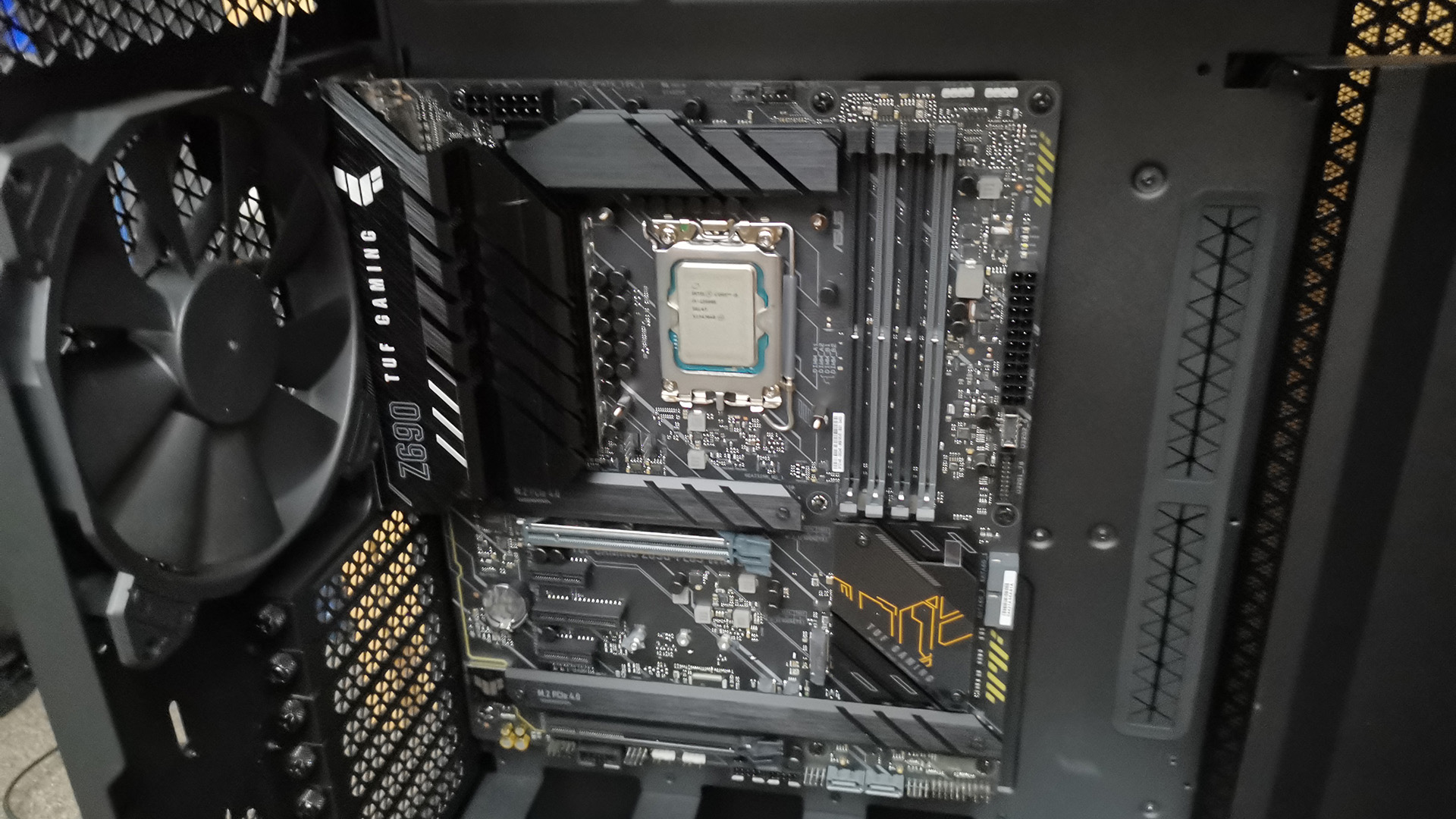 There are 4x M.2 (Key M) 2242 / 2260 / 2280 sockets making them compatible with the latest storage solutions. They all support NVMe SSDs in PCIe 4.0 x4 mode with one also supporting SATA as well. Three of the M.2 sockets are covered by heatsinks, with one (the SATA-capable socket) uncovered. This one is suitable for NVMe SDDs with factory-fitted heatsinks, such as the WD_Black SN850. Rather than using screws, the M.2 drives are held in place using plastic latches- it's a pretty good design and a lot less fiddly. For old-school storage aficionados, there are four SATA 6GB/s sockets for traditional hard drives.
Users wanting to make use of the Intel integrated UHD graphics on the CPU will find the board's HDMI 2.1 and DisplayPort 1.4 (which both support 4K @60Hz) useful.
As well as the M.2 sockets, the VRMs are also accommodated with heatsinks. The board has four 4-pin fan headers and an AIO cooler header.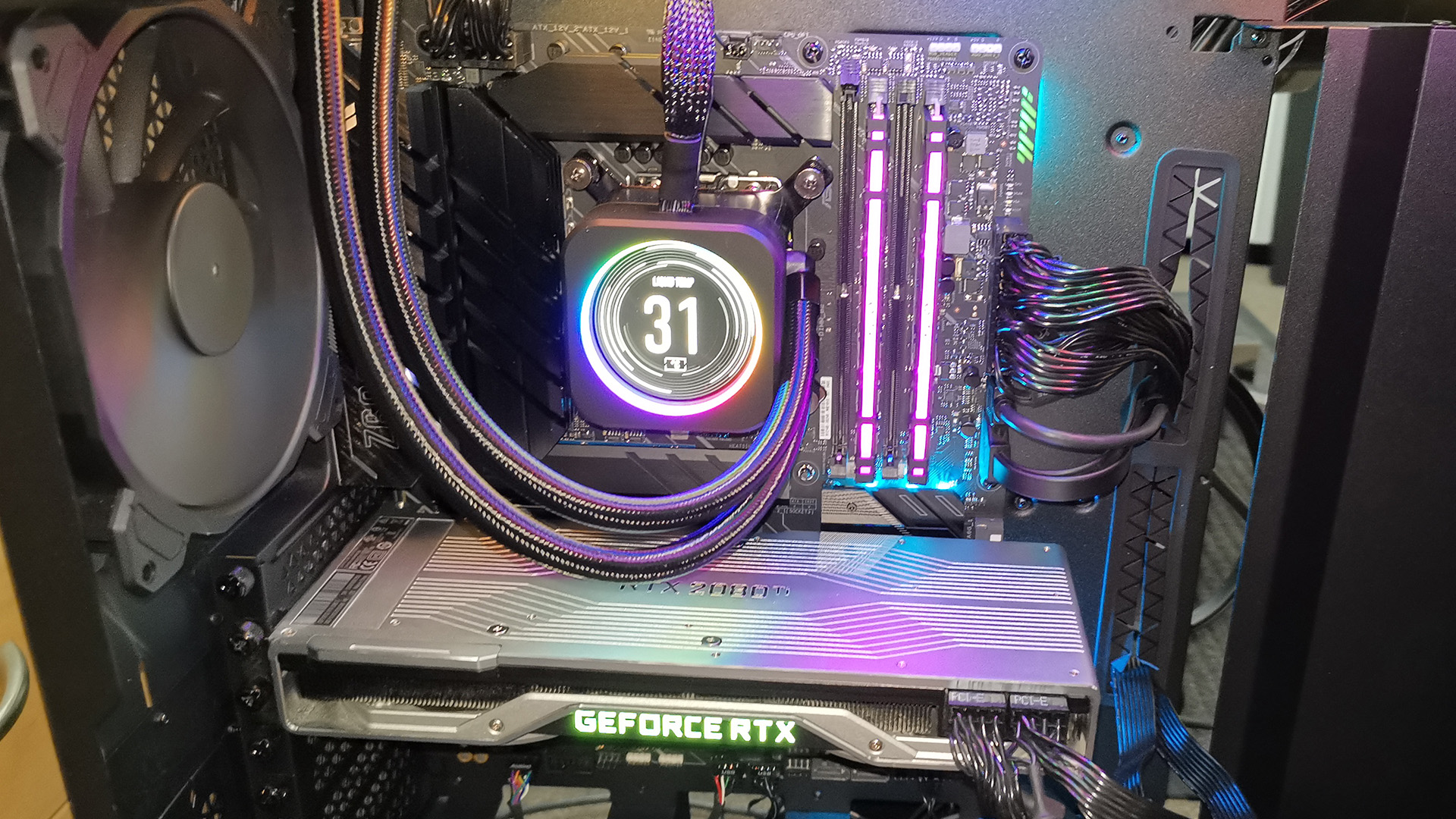 For connectivity the board has built-in Wi-Fi 6 (802.11 a/b/g/n/ac/ax) and supports Bluetooth v5.2. For wired networking, the board has an Intel 2.5Gb Ethernet port.
Onboard audio is provided by Realtek. The rear panel has audio jacks for up to 7.1 surround sound, line-in, and mic in as well as an optical S/PDIF output. The audio features 2-way AI noise cancellation.
Installation was easy. I did have an issue with the seating of a memory module, but the board has LED lights to highlight issues such as this, making troubleshooting easy. The LEDs point out issues with the CPU, DRAM, VGA, and boot. A quick blast of air and reseating module had everything booting up properly.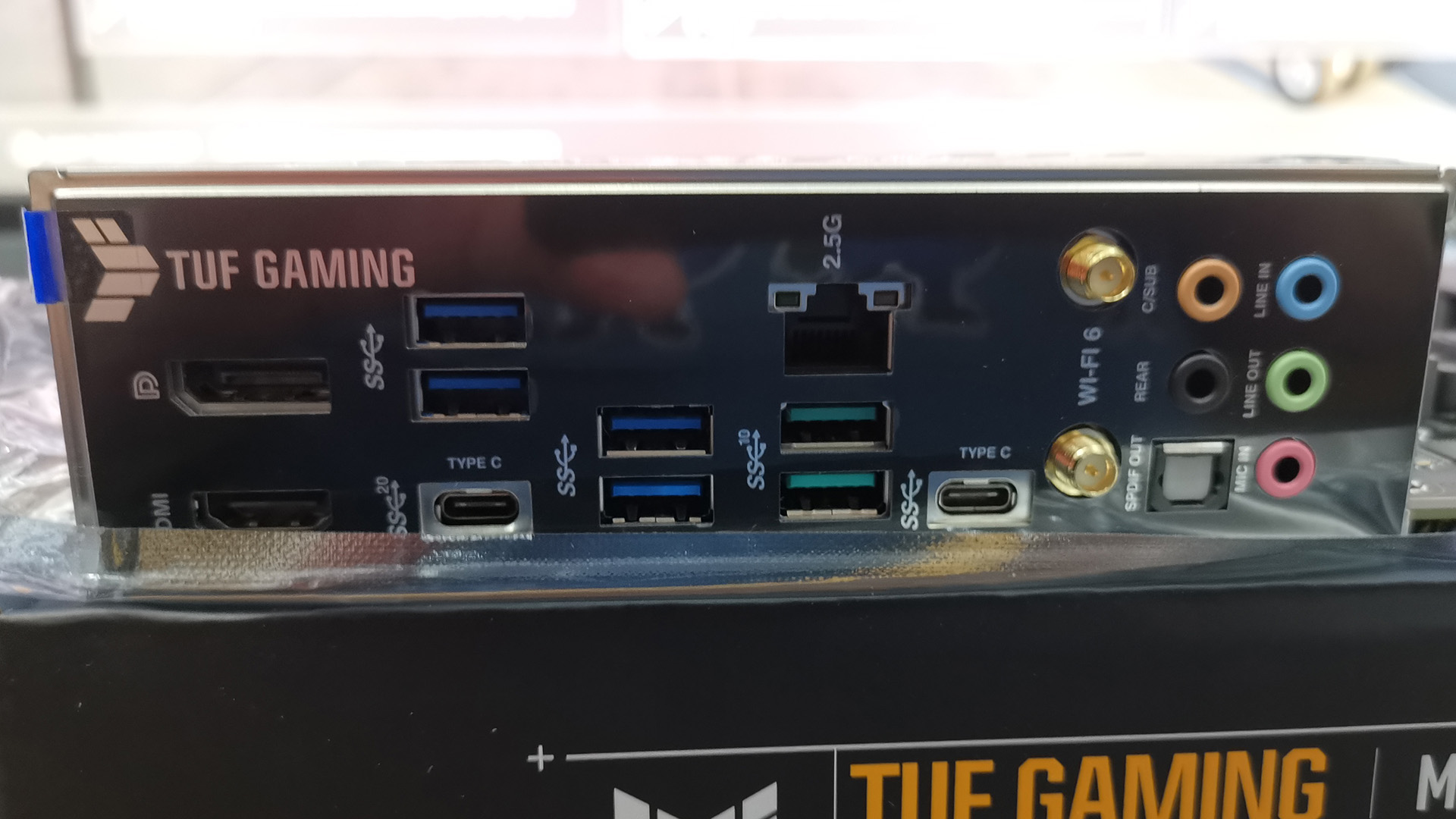 On first boot, the board took me straight to the Asus UEFI BIOS setup. I'm a great fan of Asus BIOS menus. They are so easy to navigate, which is useful for novices and experienced builders, alike. I was pleased to see that, whilst this board is not an Asus Republic of Gamers board, the BIOS retains much of the same functionally as the more expensive offerings.
For the first proper boot, I used the default setting to see what happened. The PC immediately started installing Windows without changing anything in the BIOS. This is just as I'd expect, as the BIOS settings can be tuned later.
Scanning the default BIOS settings, I saw a few things that needed setting straight away. First, the Intel XMP memory setting needs to be switched on to get the most out of the memory. I also wanted to switch on Resizable BAR to improve the efficiency of the GPU. All these initial settings are on the front page of the BIOS, so you don't need to go searching for settings.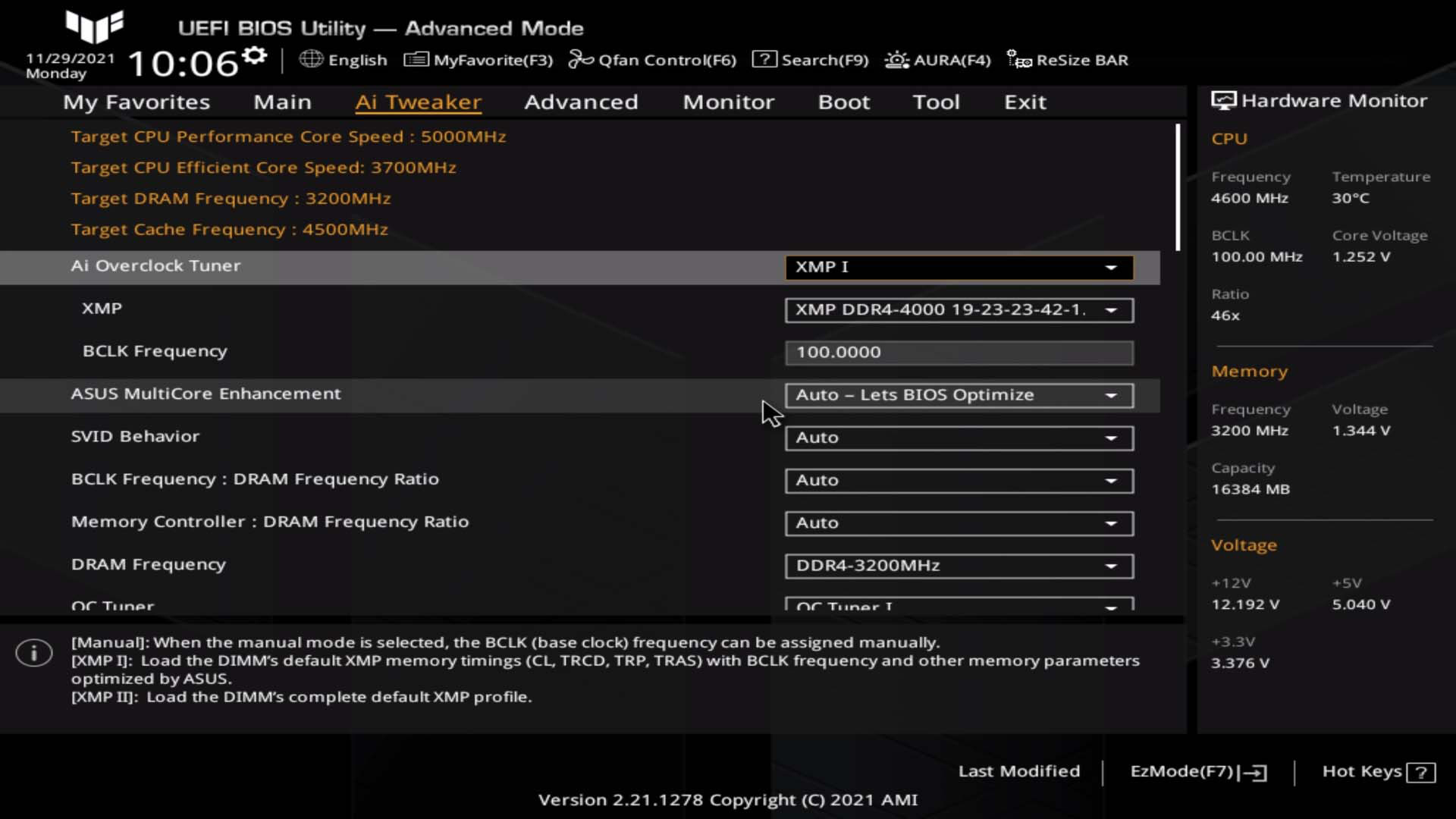 Another thing that's great about Asus BIOS settings is the one-touch overclocking capabilities. The front screen of the BIOS allows users to select fast tuning or extreme tuning for AI overclocking. This setting allows the board to monitor performance and adjust the CPU overclock accordingly. This will only work with Intel's unlocked 12th-Gen CPUs, those with the "K" suffix (i.e. i9-12900K. i5-12600K, etc.). You also need a decent cooler to get the most out of this function, but it's very easy to use.
The TUF Gaming Z690-PLUS WIFI D4 overclocking settings allow even the most novice users to get a little more out of their CPUs.
As I'm using a Corsair H150i cooler with a 400mm radiator and three 120mm fans, I was able to switch to the Extreme tuning mode with little change in the CPU temperature under load. This one change boosted CPU performance in the 3D Mark Timespy test by 8.7%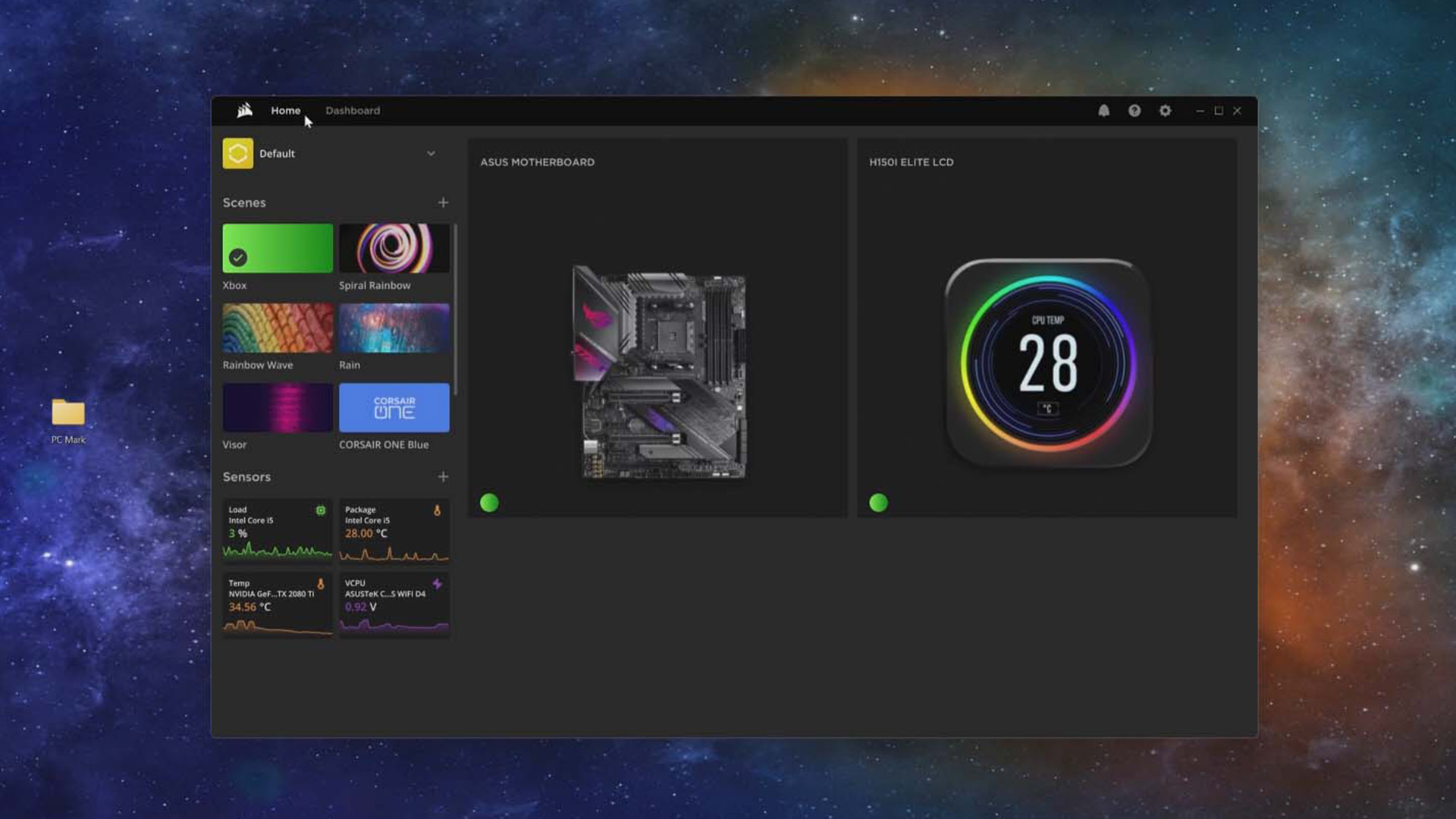 If you want to tweak the board even more, the advanced settings allow for some fine-tuning. I was not expecting a lower-end board like this one to have so many advanced options, to be honest, almost putting it on par with a Maximus board. You are not likely to get the same level of overclocking performance from the board compared to its more expensive brethren, but, the tools are there, nevertheless.
The BIOS also has tools for easily updating the firmware, with the opportunity to roll back the BIOS to an earlier version if anything untoward happened. You just download the new BIOS firmware from the Asus website, install it on a USB and use the Asus EZ Flash 3 utility upgrade.
The board also features Asus Crashfree BIOS 3 allowing the board to automatically recover from a BIOS download from the Asus website from a USB memory stick without having to access the motherboard settings.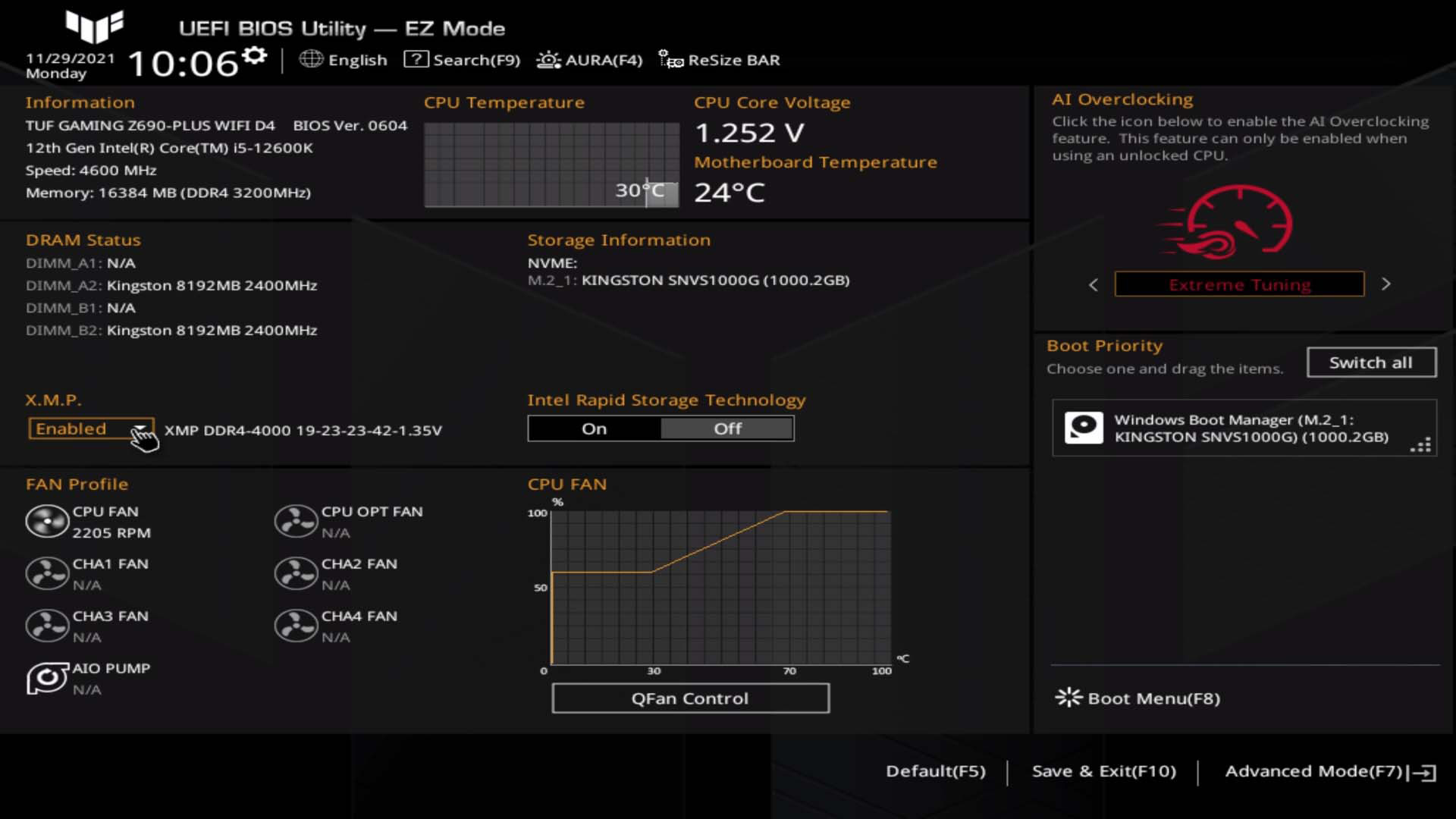 The board also comes with a driver DVD that also includes some utilities and the motherboard manual. All this is also available from the Asus website if you don't have access to a DVD drive (when are they going to start just putting this stuff on a USB stick?). Of note is the Asus AI Suite 3 that allows users to monitor CPU performance, temperatures, and fan speeds as well as tweak performance from the desktop rather than in the BIOS.
The Asus TUF Gaming Z690-PLUS WIFI D4 is a surprisingly fully-featured motherboard for Intel's 12th Gen CPUs.
Its uncompromising features make it a very attractive alternative to some of the more expensive Z690 boards. The DDR4 compatibility makes for a more affordable upgrade without having to fork out a fortune for DDR5 memory. I've used both Strix and Maximus Asus boards in the past and there's nothing that would stop me from using this TUF board in a high-end gaming rig.
The safety features built-in make it the perfect board for users new to tweaking PC performance and upgrading firmware. It's a robust board with a good pedigree behind it that's suitable for novice builders and veterans wanting to squeeze a bit more out of their 12th Gen Intel CPUs.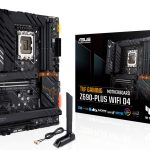 ASUS TUF Gaming Z690-PLUS WIFI D4 Motherboard Review