If you are a audiophile, like myself, then you want to have rich, highly detailed sound not only in your home but also as you're out and about.
AKG, owned by Harmon / Kardon, have always been synonymous with top shelf audio gear. With their 2018 Award Winning N5005 inner earphones they aim to raise the bar even higher.
Now, all the way back in 2008 I shelled out a small fortune on a pair of Ultimate Ears TripleFi. These were the UE top of the line at the time (and still are). At the price tag, I hoped I was making a sound (pun intended) investment. It turns out that I did. To this day I have not come across a set of inner ears that even skims the surface of the audio quality the TripleFi have.
A decade on, and having had to replace two cables and one entire ear-piece the UE TripleFi are still my wired go to's.
When I first met with the New Zealand AKG team and was shown the N5005s my eyes lit up. I HAD to give them a go. I had to see if they could trump the aging but still killer UE's.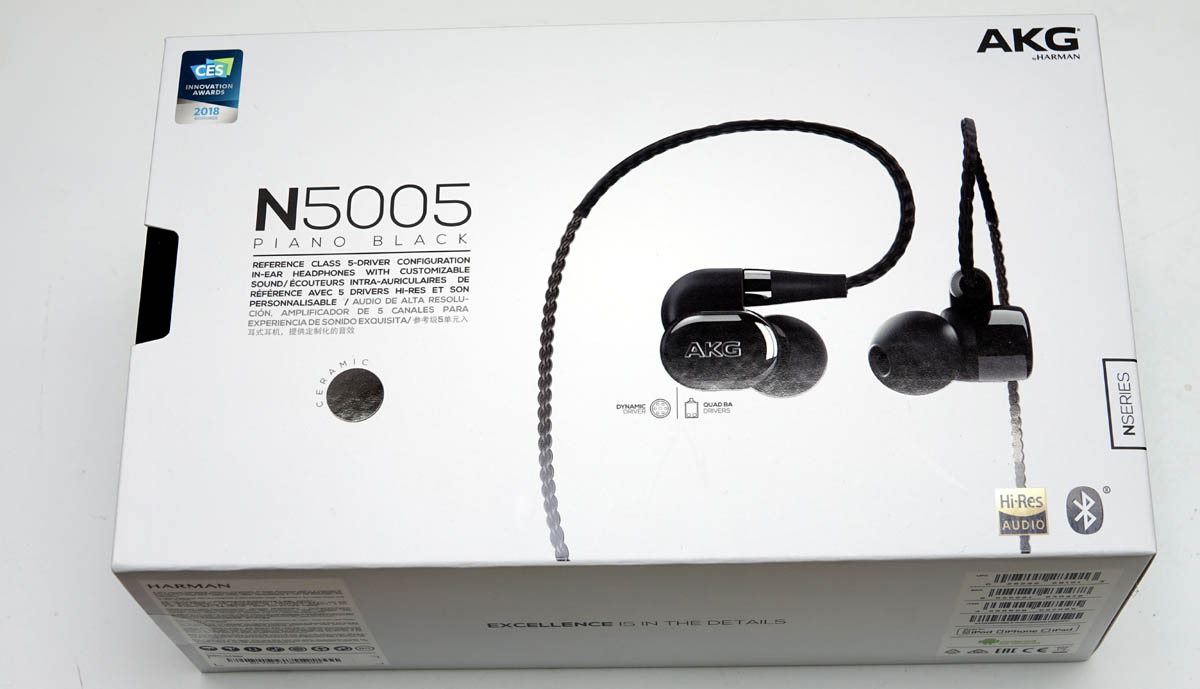 Proving that AKG are serious about sound and user experience, the N5005 come with three interchangeable cables. Two of these being braided, one for 3.5mm, 2.5mm and one enabling you to go wireless with Bluetooth connectivity.
All cables have both audio controls and handsfree functions. Each small ceramic encapsulated earpiece clips on to its colour coded wire, then all cables are designed to twist around your ear, having the earpieces sit snug and flat inside the ear opening.
For those that have not had a high end set, or sports earplugs before, wrapping them around the shape of your ear will take a bit of getting used to. Generally though, it ensures that the earpieces do not come loose while walking, running or jogging.
Also in the box is a set of four swap-able frequency filters to fine tune your audio to your preferences or the type of audio that you're listening to.
For my time with the N5005's I predominantly used the Bass Boost, but trying out the other frequency filters did add a more clearer or stadium like enhancement. Always though it depends on the type of audio and also the device used for playing audio.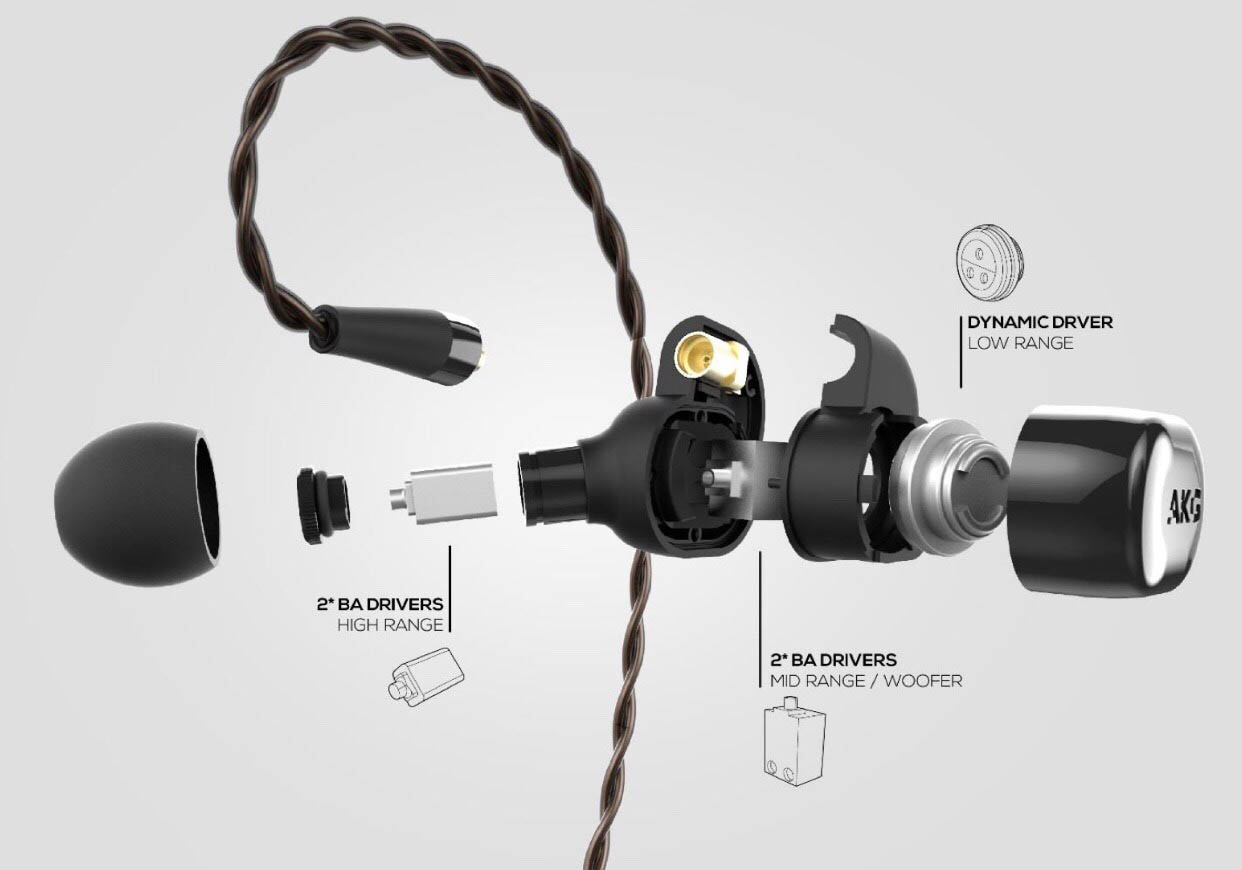 Each singular earpiece has 5 drivers (x2 High Range, x2 Mid Range, x1 Low Pass) powering and pumping music or media into your ears, separating out the highs from the lows.
The best experience I got while using these was from gaming, which gave an almost home theater like experience.
Watching Netflix was also pleasing as you could feel the audio separation there too, music not so much.
This wasn't to say that music did not produce it's own signature AKG quality.
Primarily used on my Galaxy Note8 (which has a AKG enhancement) music, whether from microSd or Spotify gave a clear and crisp reproduction, but I felt that I never gained a full 'Bass Boost' experience.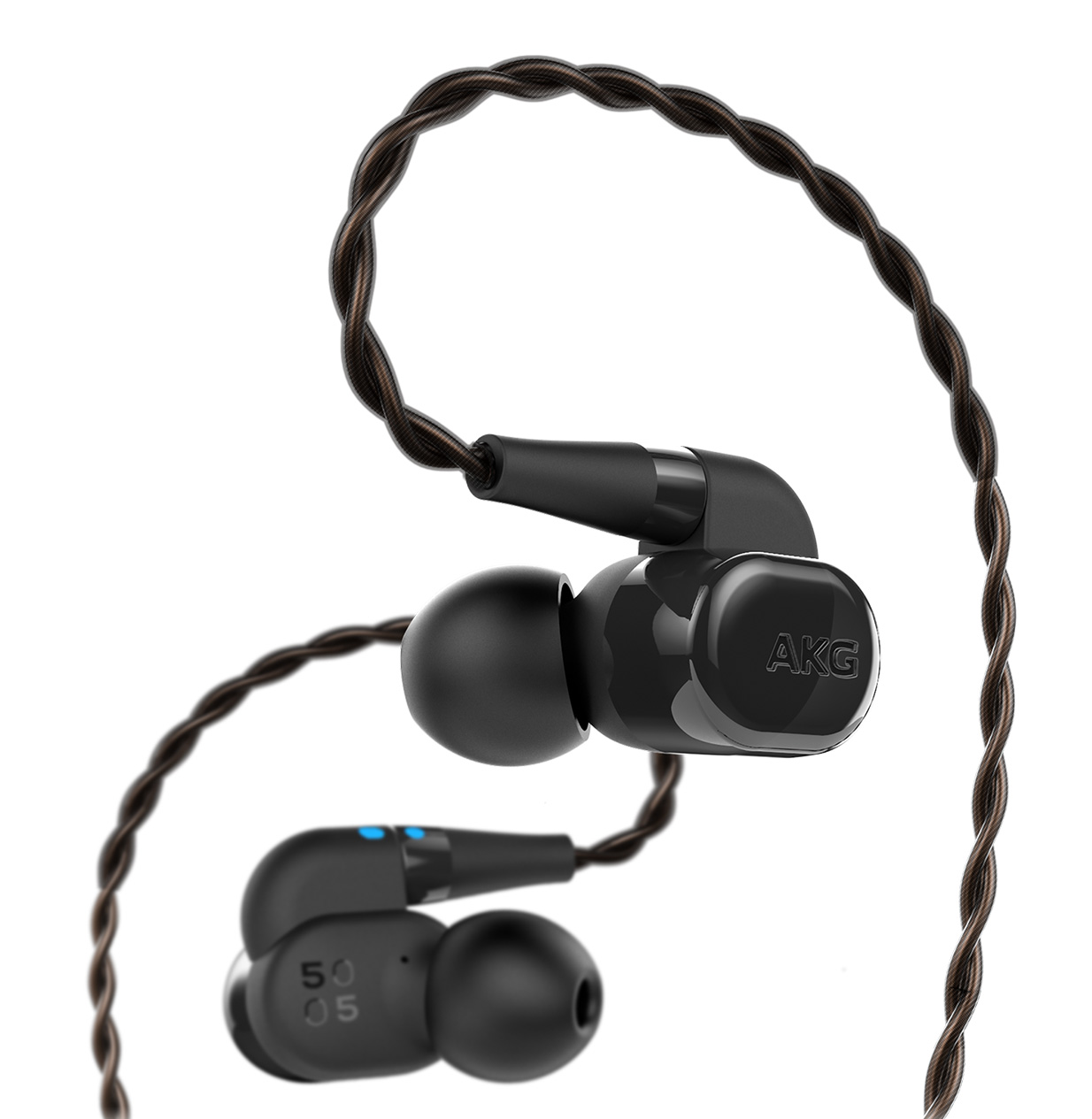 The N5005's surprisingly use silicon inner-ear buds. For a supreme set such as these I had expected to find foam buds. Usually high end inner ear headphones utilise foam buds to not only ensure that the buds stay in your ear, but also for outside noise cancellation.
When the audio device was at full volume, naturally all outside intereference was blocked out. But at a mid volume, walking around the city, there was still outside noise creeping in.
Within the box you will find a mix of silicon ear buds, to cater for aesthetics and sizing.
There is only one benefit to silicon earbuds over foam and that is that they take a very long time to deteriorate. Maybe this is why they are a staple for the N5005s.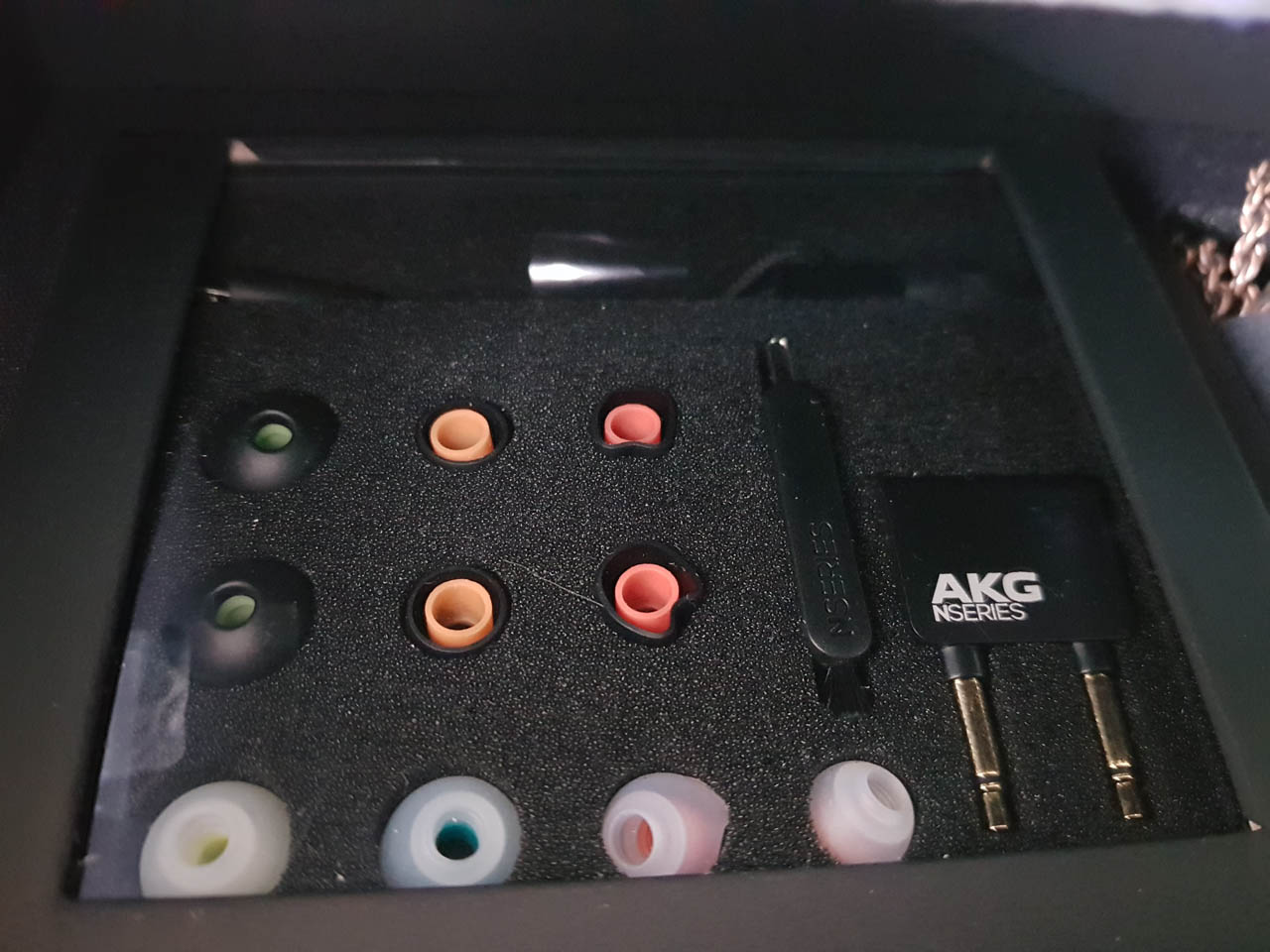 There's a lot of extras that come with the AKG N5005, more than you may likely ever need. The inclusion for three differing cables included braided was a huge plus for me (who has had to replace high end cables before).
Audio quality is outstanding even via mixed media devices, from Android to Apple through to PC / Laptop. The N5005's are pricey though. You will not get any change from around $1K USD.
But, did they overshadow my decade old UE's?
No.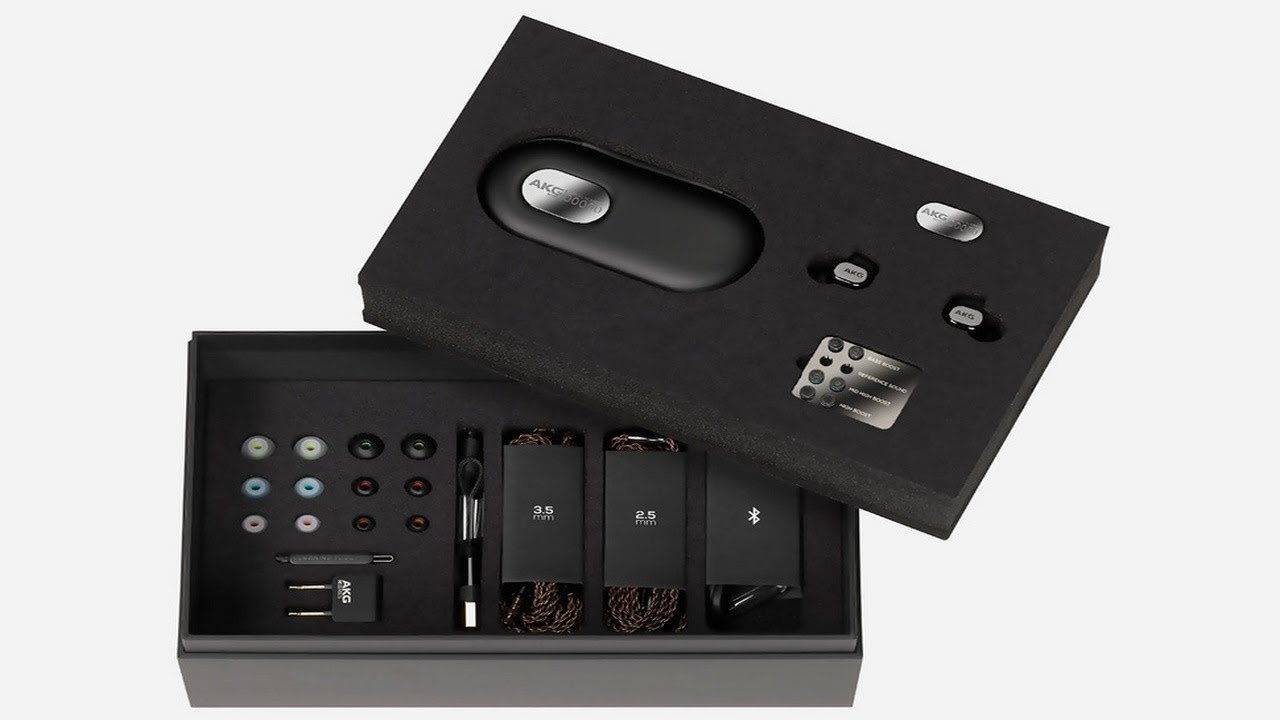 But they got real close. The closest any high end earplugs have got to in comparison. The shortfall being the lack of being able to 'feel' the bass, even with the Bass Boost filters on. Also opting for silicon buds instead of foam.
Trivial for some, maybe, but to get that fuller audio experienceyou need to ensure that all outside intereference is blocked and even while audio can be fully detailed and crystal clear, there is something to be said for feeling that rumbling bass in your ears.
Despite these two factors, I would still seriously consider owning a set of these. What the N5005's aim to do they do and exceed at. Top quality build, hard wearing and packaged with enough extras to ensure years upon years of trouble-free usage aswell as the option to go from wired to wireless in an instant.
[rns_reactions]
AKG N5005 Earplugs Review