Hisense Australia recently unveiled its 100-inch 4K Ultra HD Smart Dual Colour Laser TV with HDR
One of the only televisions of its kind available in the Australian market, Hisense's new Laser TV boasts a raft of features including a built-in TV tuner and streaming services that set it apart from ordinary projector set-ups, while still offering value for money. Combining cinema-grade technology, sophisticated smarts and a seamless set-up, the Hisense 4K Dual Colour Laser TV is designed to create an immersive entertainment experience in any home.
Head of Marketing for Hisense Australia, Andre Iannuzzi said: "To date, Australians have never been offered a television of this calibre. This extra-large, 100-inch offering reimagines the TV experience and delivers a new type of cinema at-home with its breathtaking resolution, stunning detail and incredible vibrancy. 
"Globally, Hisense has invested heavily in the research and development of its proprietary laser technology, and the result is a truly innovative and exceptional premium TV – one that provides an unparalleled at-home cinema experience, and, of course, more screen than ever before.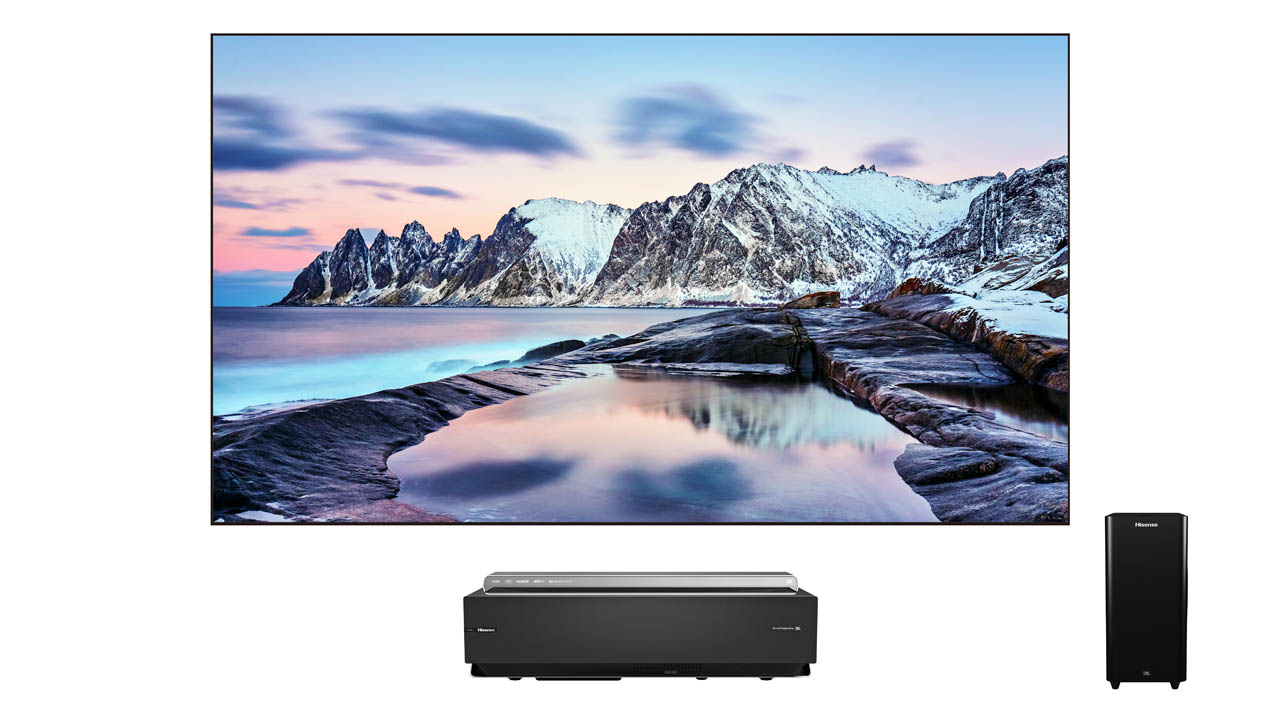 Leveraging Hisense's proprietary X-Fusion Laser Light Engine, the 100-inch 4K Dual Colour Laser TV uses two independent lasers to display a wide array of colours and hues with impressive accuracy, high purity and saturation to set a new standard in home cinema. 
Vibrant and impactful, the unit is supported by High Dynamic Range (HDR10). Together with the TV's MEMC and Smooth Motion Plus technology, viewers can enjoy super-smooth, clear images, making it a perfect choice for enthusiasts of high-action movies and sports.
The TV's sound is as bold as it is big thanks to its award-winning dbx-tv technology and wireless subwoofer. All powered by JBL Cinema Sound, the TV enables viewers to feel the full power and depth of sound, resulting in an unmatched cinematic experience when compared with typical projector set-ups.
Unlike ordinary projectors on the market, the 4K Dual Colour Laser TV not only offers size and scale, it has a built-in digital TV tuner. This, combined with the TV's fast, simple and customisable access to hundreds of applications via a beautiful interface, means users can easily switch between free-to-air TV and popular streaming platforms such as Netflix, Stan and YouTube without having to utilise third-party consoles and devices.

The display itself is inobtrusive with a thin and lightweight 100-inch screen that hangs effortlessly without cables needing to be run through the wall, while the TV's console weights just one-tenth of a comparably sized LED TV and can project image from a distance of only 20-30 centimetres from the wall.
A conventional LED TV of the same size would typically require the viewer to sit approximately 9 metres from the screen. However, with its indirect light source, customers of the Hisense 100-inch Laser TV can comfortably sit just 4 metres from the screen with lower viewer fatigue.
Further, being anti-reflective to external light sources, the Laser TV display is extremely versatile and can suit an array of home theatre setups, without the need for a specially darkened room.
Hisense's new 4K Dual Colour Laser TV will be available from JB Hi-Fi, Harvey Norman and The Good Guys for $19,999.00 (AUD).
[rns_reactions]