Disruptive innovation often begins with bold dreams.
During IFA Berlin, Huawei Consumer Business Group introduced its first AI mobile chipset, the Kirin 970. At the same time today in Munich, Huawei announced the HUAWEI Mate 10 Series, which will open the door to new AI mobile applications. The HUAWEI Mate 10, HUAWEI Mate 10 Pro, and Porsche Design HUAWEI Mate 10 are breakthrough AI devices that combine innovative hardware, the Kirin 970 chipset and EMUI 8.0. The HUAWEI Mate 10 Series continues its legacy of superior product performance and long-lasting battery life, while integrating New Leica Dual Camera technology.
"As we enter the age of intelligence, AI is no longer a virtual concept but something that intertwines with our daily life. AI can enhance user experience, provide valuable services and improve product performance," said Richard Yu, CEO, Huawei Consumer Business Group. "The HUAWEI Mate 10 Series introduces the first mobile AI-specific Neural Network Processing Unit, launching a new era of intelligent smartphones."
The Kirin 970, is currently the world's first AI processor for smartphones with a dedicated Neural Network Processing Unit (NPU). Not only is the Mate 10 equipped with this chipset, it also features a 3D Glass Body featuring a barely-there-bezel, HUAWEI FullView Display and HDR10 supported technology for intensely vivid and brighter colors. Whatsmore, TÜV Fast-Charge Safety Certified HUAWEI SuperCharge and 4000 mAh battery with AI-powered Battery Management and new Leica Dual Camera with SUMMILUX-H lenses, with both featuring an aperture of f/1.6, and intelligent photography including AI-powered Real-Time Scene and Object Recognition and AI-powered Bokeh Effect. This is all neatly wrapped up in the easy to use signature interface; an all-new EMUI 8.0 based on Android 8.0.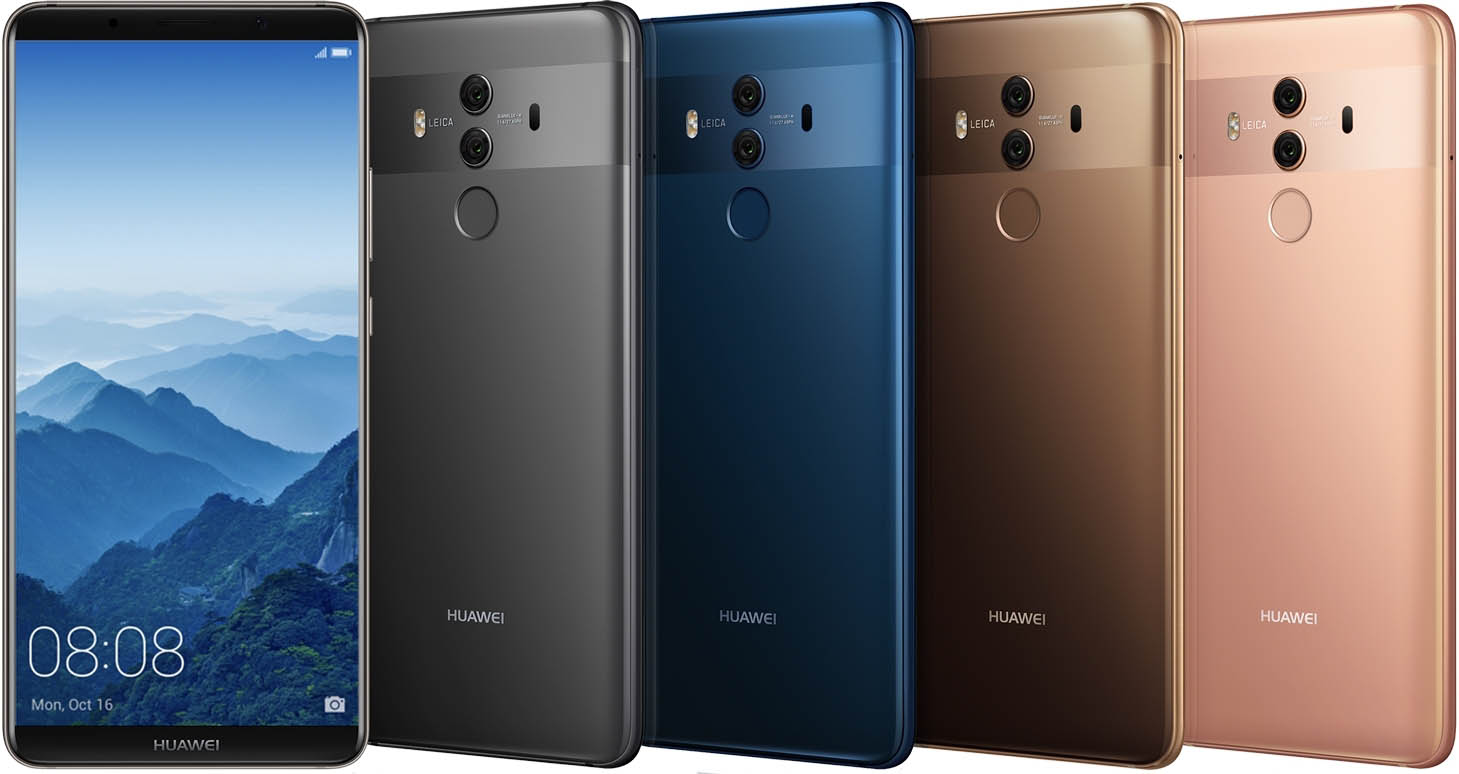 The HUAWEI Mate 10 and HUAWEI Mate 10 Pro are the first devices powered by the new Kirin 970 processor and deliver AI enhancements for a faster, more customized mobile experience. The Kirin 970 features an octa-core ARM Cortex CPU, a first-to-market Mali-G72 12-core GPU and the first NPU designed specifically for a mobile device.
The specialized NPU, combined with Huawei's HiAI mobile computing platform, means the Kirin 970 delivers 25x better performance and 50x greater energy efficiency for AI-related tasks, compared to four Cortex-A73 cores.
With an all-new HUAWEI FullView Display, the HUAWEI Mate 10 features a stunning 5.9-inch screen with a 16:9 display, the already mentioned barely-there-bezel and HDR10 to support vivid colors. The 6-inch HUAWEI Mate 10 Pro features an 18:9 OLED display, high screen-to-body ratio and HDR10 for dynamic video viewing.
Huawei has partnered with Leica to co-engineer the dual-lens camera for the HUAWEI Mate 10 Series. They combine 12-megapixel RGB + 20-megapixel monochrome sensors, Optical Image Stabilization (OIS), dual lenses with a large aperture of f/1.6, AI-powered Bokeh Effect and AI-powered Digital Zoom.
The HUAWEI Mate 10 and HUAWEI Mate 10 Pro pack a 4000 mAh high-density battery featuring a smart battery management system that understands user behaviour and intelligently allocates resources to maximize battery life.