Acer has just announced major updates to their gaming laptop line-up, with new designs and support for industry-leading technology, including 13th Gen Intel Core processors and NVIDIA GeForce RTX 40 Series GPUs.
The new Predator Triton 17 X and Predator Helios Neo 16 are made for gamers and creators alike, due to their powerful components and premium display options. The thin and powerful Predator Triton 14 is designed for work or play, while its sleek, understated design makes it ideal for any environment.
Lastly, the Predator Helios 3D 15 SpatialLabs Edition brings glasses-free, stereoscopic 3D to the world of gaming, infusing new life into more than 70 modern and classic titles, with more being continually added.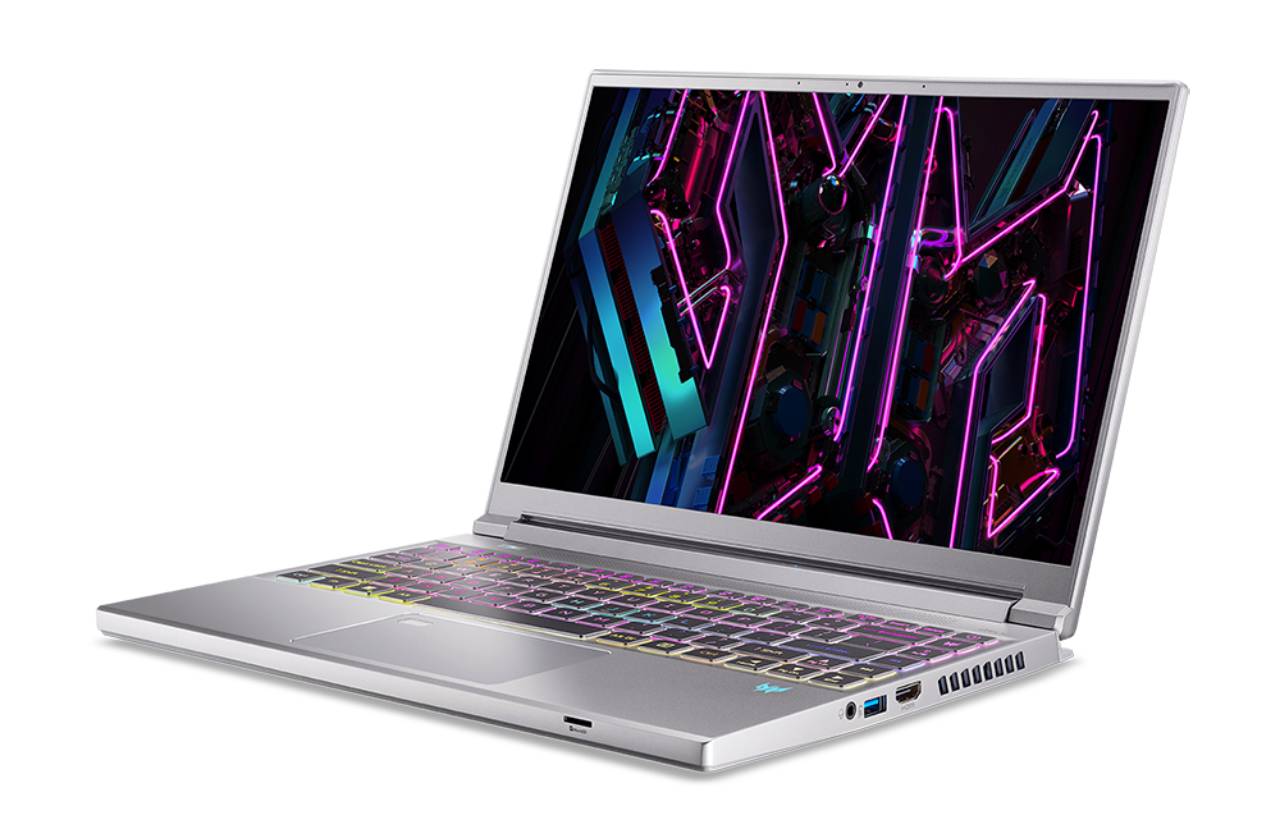 The all-new sleek and powerful Predator Triton 17 X (PTX17-71) pairs a sophisticated minimalist design with game-ready hardware. It appeals to gamers and professionals who want a thin mobile workhorse that can handle graphic-intensive AAA games and resource-intensive work apps, all while having enough battery life to use throughout the day. Less than an inch in height, the slim Triton 17 X is meticulously crafted and highly portable.
It includes a polished, sandblasted texture on the solid metal CNC unibody chassis, a delicate micro-etched RGB Predator logo, stainless-steel speaker mesh, diamond-cut highlights, and strategically placed vents. The artistic yet minimalist design makes it a subtle standout in any environment. Housed inside its sleek metal chassis are some of the most powerful components available, placing the Predator Triton 17 X among the fastest laptops for gamers and creators.
It can be configured with up to a 13th Gen Intel Core i9-13900HX processor and NVIDIA GeForce RTX 4090 GPU.
The 13th Gen Intel Core i9 processor with new performance hybrid architecture features up to 24 cores at a 5.4 GHz max turbo frequency, delivering the ultimate mobile gaming experience. The NVIDIA GeForce RTX 4090 Laptop GPU is built with the ultra-efficient NVIDIA Ada Lovelace architecture, which delivers a quantum leap in performance with AIpowered DLSS 3 that enables lifelike virtual worlds with full ray tracing. Its Max-Q suite of technologies optimises system performance, power, battery life, and acoustics for peak efficiency.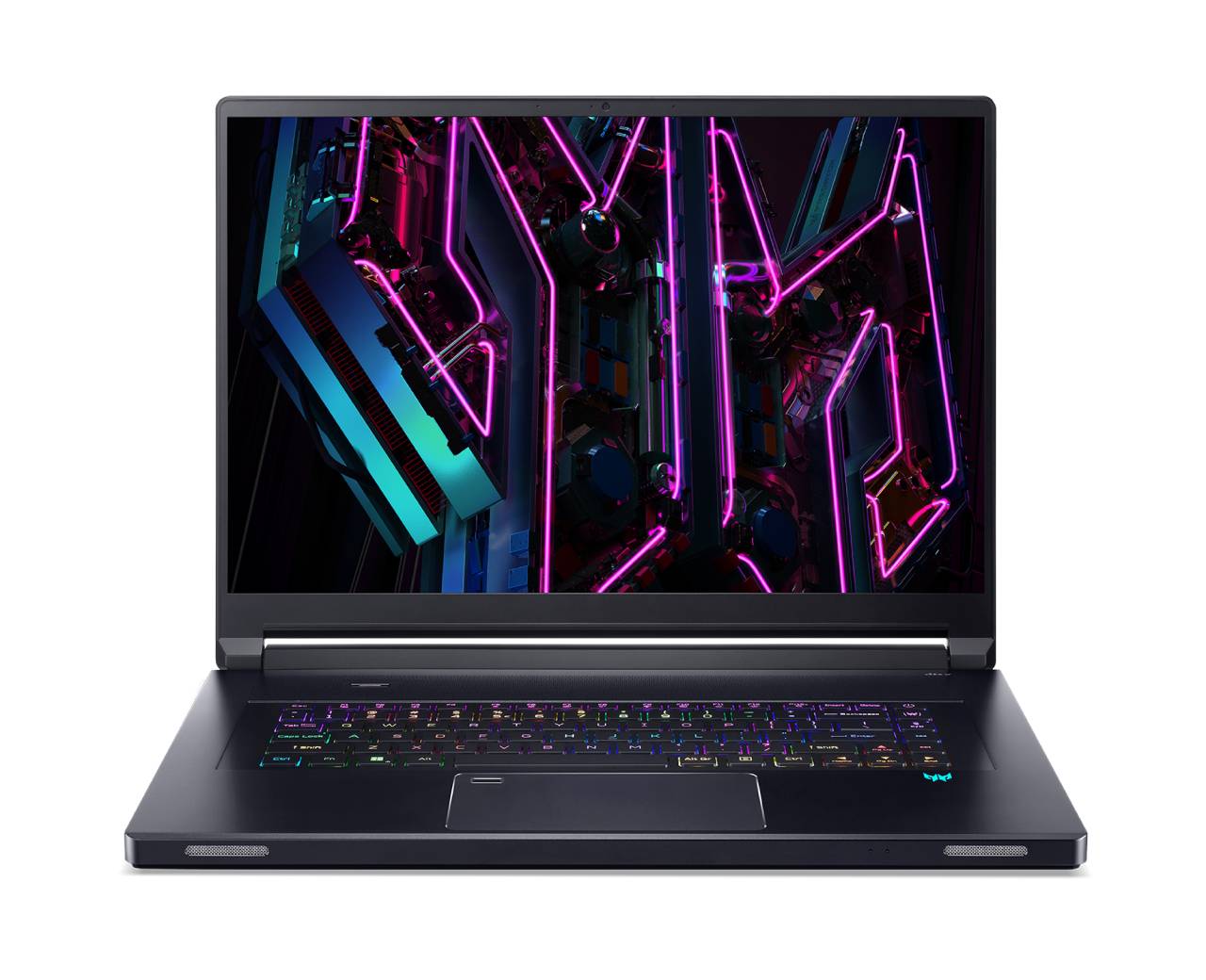 For those who seek upgraded performance, it can be configured with up to 64 GB DDR5 5600 Hz memory and up to 4 TB PCIe solid state drives in RAID 0. Delivering some of the most immersive visuals available, the Predator Triton 17 X includes a clear and bright 17-inch (16:10) display.
Two panel configurations are made available, including a WQXGA mini-LED (AmLED) display that clocks a blazing 250 Hz refresh rate, has a peak brightness of over 1,000 nits to meet DisplayHDR requirements and a 1,000,000:1 high contrast ratio. It also offers a DCI-P3 100% wide colour gamut for vibrant, rich colours and is Eyesafe Certified as a low blue light display, reducing 80% of harmful blue light. NVIDIA® Advanced Optimus and NVIDIA G-SYNC solidify frames for all-out, tear-free fun.
The Predator Triton 17 X pairs its powerful components with Acer's state-of-the-art thermal solutions to keep the thin gaming laptop's components cool under pressure. Its thermal design features a vapor chamber that houses its compressed cooling system, allowing it to handle the most demanding games within its sleek form. Acer's Vortex Flow technology is highlighted by a triple-fan cooling system, which includes two custom engineered 5th Gen AeroBlade 3D fans with wind-guiding structures to help achieve a 10% increase in airflow as compared to the previous generation of AeroBlade 3D fans.
The laptop also utilises dedicated heat pipes for the processors and strategically placed intake and exhaust vents, further supported by liquid metal thermal grease on the CPU to provide efficient heat transfer and optimised performance.
The Predator Triton X 17 comes packed with other premium features including a per-key RGB keyboard, fingerprint reader, and glass touchpad. It also possesses a powerful DTS:X Ultra surround sound six-speaker system that provides stunning sound regeneration to elevate gaming, film, and music experiences. Intel Killer E3100G+ Ethernet and Intel Killer Wi-Fi 6E AX1690i provides lag-free connectivity, while a full range of ports make it easy to connect various peripherals and accessories.
Lightning-fast connectivity is delivered via Thunderbolt 4, capable of supporting dual 4K displays or a single 8K display, with maximum data transfer speeds of 40 Gb/s and the ability to charge your laptop at up to 100W. Massive amounts of data can be quickly transferred with the SD 7.0 card reader, which delivers speeds of up to 985 MB/s.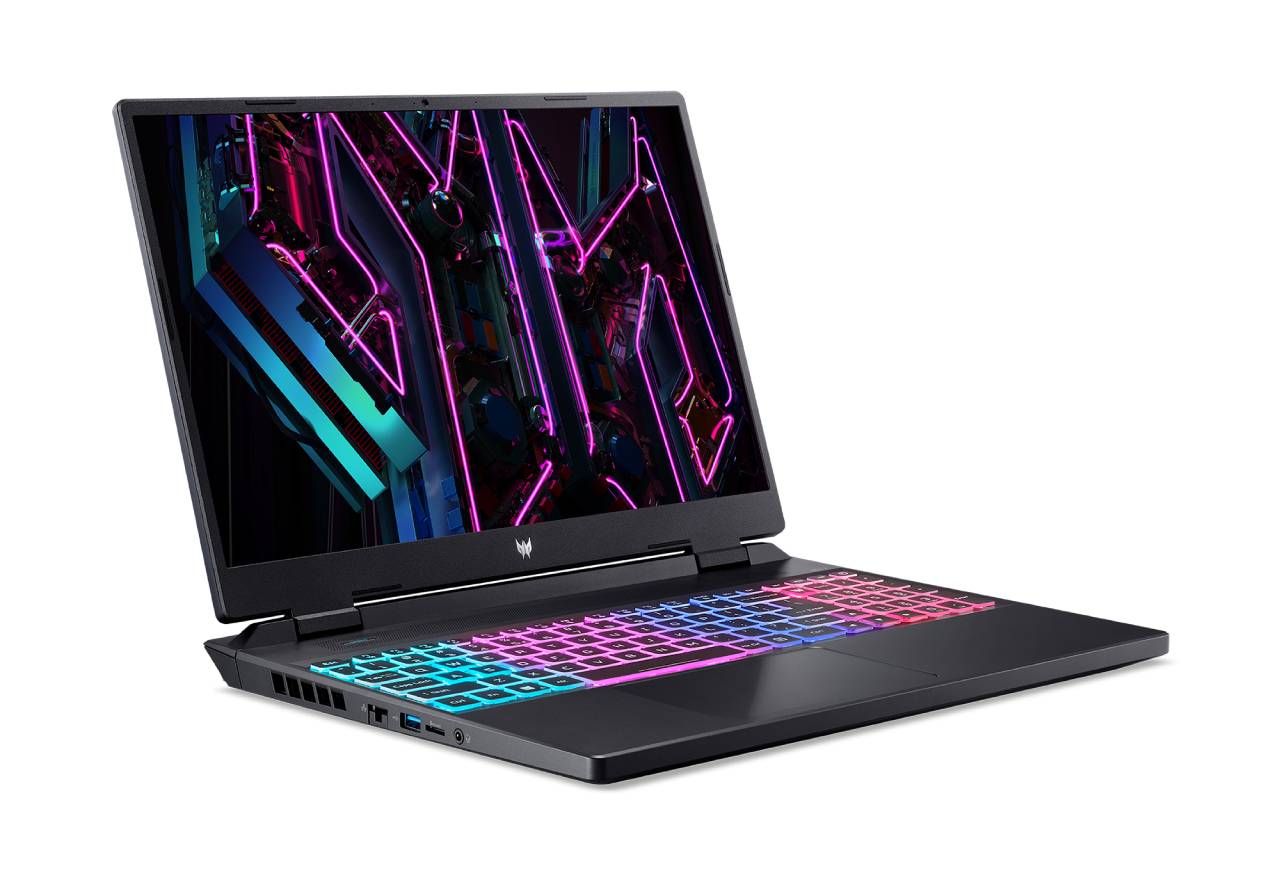 The all-new Predator Helios Neo 16 (PHN16-71) includes the powerful components the Helios line is known for but offers a more affordable price point.
In addition to the latest top-line components, the Predator Helios Neo 16 adds some fun as it features laser etched encrypted codes on its abyssal-black anodised cover, inviting gamers to take on the challenge of deciphering the message.
The Predator Helios Neo 16 will offer models with the high-performance 13th Gen Intel Core HX processors paired with up to an NVIDIA GeForce RTX 4070 Laptop GPU with a Maximum Graphics Power (MGP) of 140W. Up to 32 GB of dual-channel DDR5-4800 MHz RAM and up to a 4 2TB PCIe NVMe SSD in RAID 0 deliver lightning-fast load times in the most demanding games.
To keep all this power cool, the Helios Neo also includes Acer's advanced cooling system, featuring a custom engineered all-metal AeroBlade fan technology and liquid metal thermal grease on the CPU to push performance to its maximum potential.
In addition to delivering first-rate performance, stunning visuals are at the heart of the Predator Helios Neo 16.
The line offers several different panel options including a WQXGA (2560×1600) IPS display at 165 Hz and 3 ms response time and a WUXGA (1920×1200) display with a 165 Hz refresh rate covering 100% of the sRGB colour range.
Both stellar display options include NVIDIA Advanced Optimus and G-SYNC, ensuring the smoothest and most vivid visuals during fast-moving gameplay scenes.
Acer Predator's small but powerful Triton 14 includes up to a 13th Gen Intel Core i7-13700H Processor and an NVIDIA GeForce RTXTM 4070 or 4050 Laptop GPU.
In addition, gamers and creators alike will appreciate the new panel option that delivers vivid levels of contrast and a wide range of colours. The brilliant 14-inch (16:10 aspect ratio) with up to a WQXGA (2560 x 1600) Mini LED display also includes a blazing fast 250 Hz refresh rate, is DisplayHDR 600 certified and covers 100% of the DCI-P3 colour range.
It also supports up to 32 GB of 6000 MHz LPDDR5 RAM and a M.2 SSD slot for plenty of high-speed storage and includes the latest network solution: Intel Killer Wi-Fi 6E AX1675i for unfettered speeds, and a full range of ports including a MicroSD card reader for quickly offloading photos and videos. Its advanced cooling system includes custom-engineered 5th Gen AeroBlade 3D Fan Technology, Vortex Flow airflow optimisation, and liquid metal thermal grease on the CPU.
At just 18.9-19.9 mm (0.74-0.78 inches) thin, it's easy to take on the road for work or play, while its sleek, portable design makes it ideal for an office or an academic environment.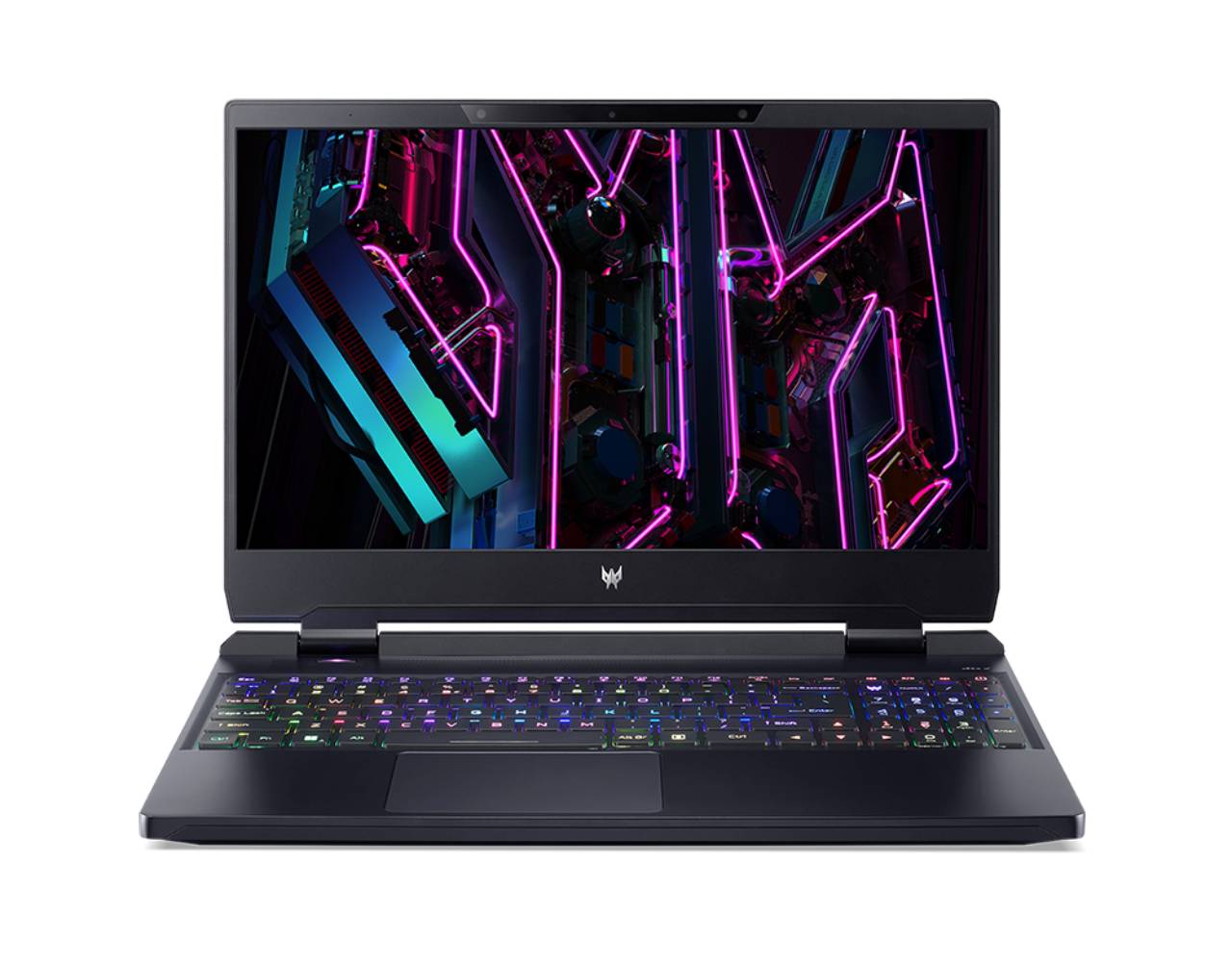 The next-generation Predator Helios 3D 15 gaming laptop now supports the powerful 13th Gen Intel Core i9-13900HX Processor and NVIDIA GeForce RTXTM 4080 Laptop GPU.
It also includes up to 32 GB of faster DDR5-5600 MHz memory.
A discrete GPU only option, enabled in PredatorSense 4.0, allows gamers to maximise performance. The back vents have also been streamlined and include subtle RGB lighting along the back edge for a soft, ambient glow of lights. The Predator Helios 3D 15 utilises the combination of the SpatialLabs eye-tracking solution, stereoscopic 3D display, and real-time scene rendering technologies to bring eye-popping 3D scenes, objects, and characters to life in its 15.6-inch display.
Access to the latest version of the TrueGame application lets gamers experience elevated, glasses-free 3D gaming, with details and game scenes presented in their ultimate 3D forms. It also provides different 3D gaming modes with 3D+ and 3D Ultra settings for over 70 titles, with more being added on a continuous basis.
The 3D gaming laptop is further supported by Intel Killer E2600 Ethernet Controller, Intel Killer Wi-Fi 6E AX1675i, and Acer's next-generation cooling technology. It also comes with a full range of ports including two USB 3.2 Gen2 ports (one supporting offline charging), two Thunderbolt 4 that supports DisplayPort functionality and Power Delivery, and a micro SD card reader.
The Predator Triton 17 X (PTX17-71) will be available in June 2023, the Predator Helios Neo 16 (PHN16-71) is available now, Predator Triton 14 (PT14-51) will be available in May 2023, and the Predator Helios 3D 15 SpatialLabs Edition will be available in June 2023.
Be a supporter of STG