Light'em up.
JBL are proving to be serious players in gaming audio with their previously released Quantum 400 and ONE headsets.
To cover all bases the premium audio giant has released a set of PC speakers to really get you in to the game.
The JBL Quantum Duo Speakers are connectable via USB or Bluetooth to your Windows or Mac based gaming PC or laptop aswell as home gaming consoles and have preset customizable RGB lighting surrounding the dual speakers and sides of each of the traditional styled casing towers.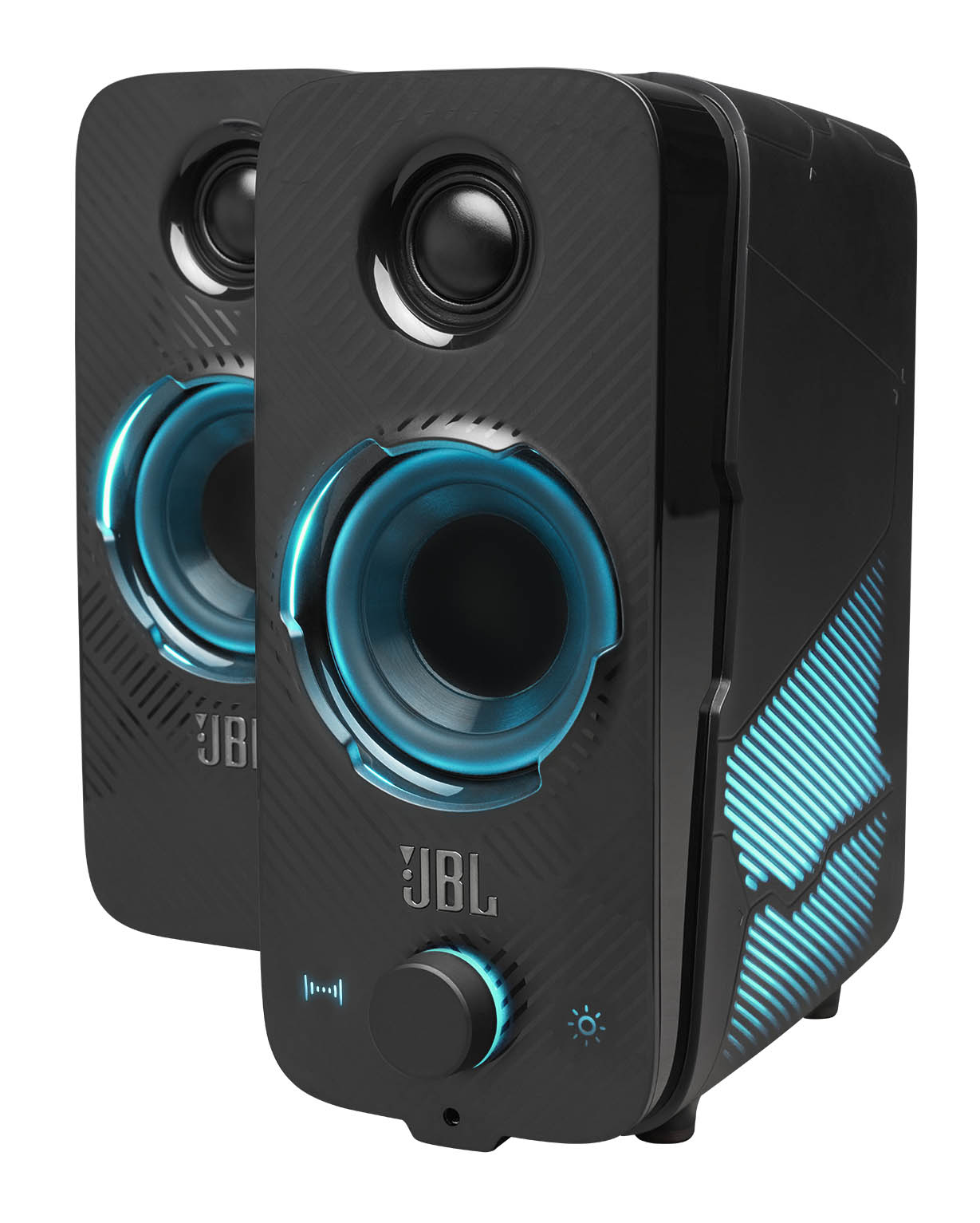 This is managed by the main speaker (where the A/C cable plugs in to) via a tactile push button at the top.
Speakers are connected via a 2 meter USB-C cable to eachother, compensating for large monitor and desk set ups.
Smaller than I imagined them to be they measure at 89 x 210 x 176 mm and are weighted at a hefty 2.8 kg.
The left to right speakers do not have a separate sub – as a few others units similar to this do. Instead it handles everything, from highs to lows and deep bass via the 2.5 inch internal woofer and 0.75 inch tweeter per speaker.
Surprisingly it does this extremely well.
They are not the most powerful I've experienced at 20W RMS but absolutely more than enough for any small to mid sized room.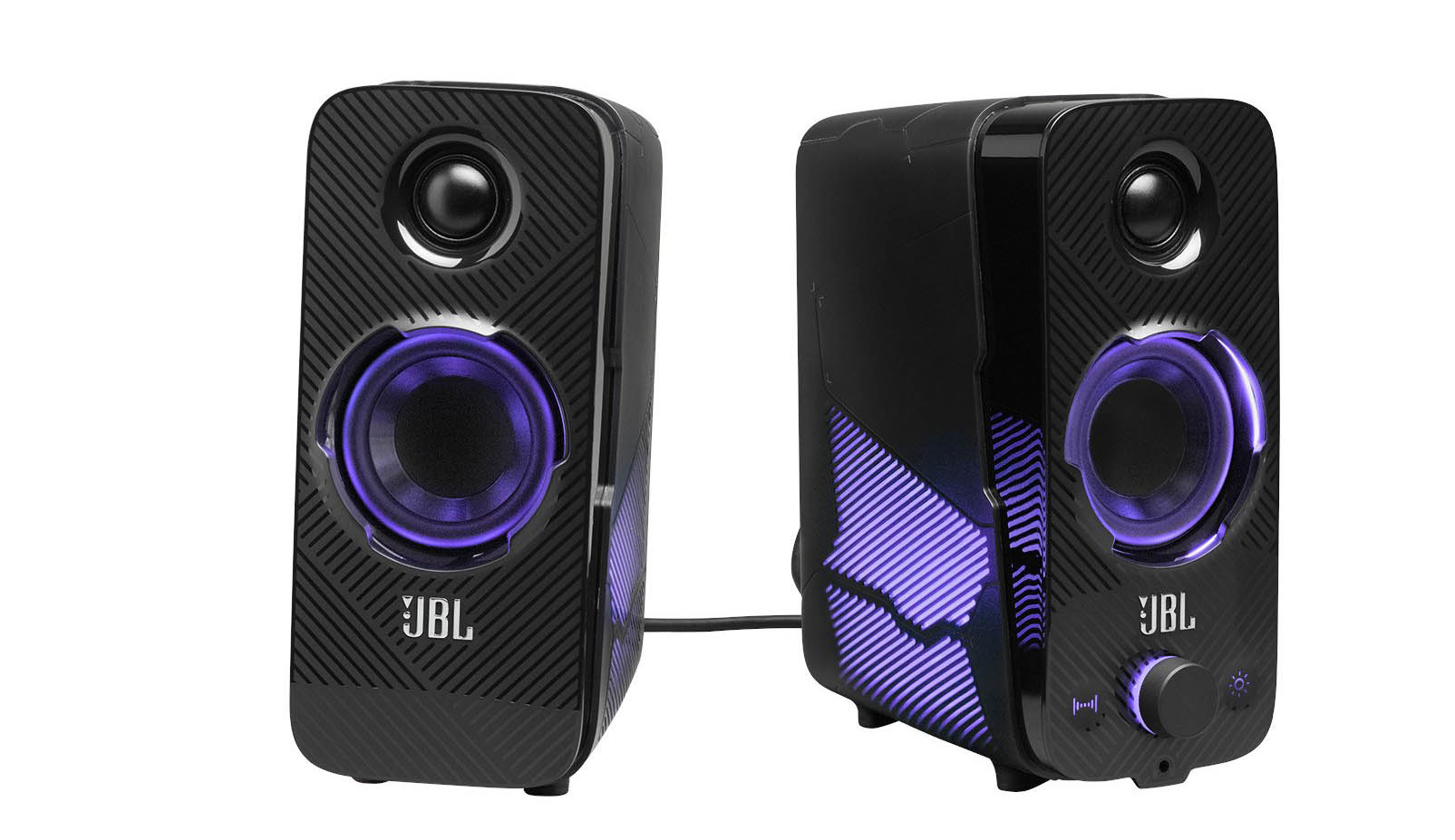 Testing out on PC first, connection was plug and play via USB. Using Bluetooth was just as easy on Windows 10 – but cabled gave a much better, clearer audio experience.
From media streaming to music playlists (Spotify and iTunes) the JBL Quantum Duo's can utilise audio sync turning your desk in to a mini nightclub as the RGB flashes and pulses to the beat.
Android and iOS smartdevices can obviously connect aswell via Bluetooth. I tried both out getting a better audio experience via iOS using iTunes – but really, these are gaming speakers, tuned by JBL themselves for this specific purpose. Being a single stereo set up the output is fantastic.
As an alternative you do still have the option of good ole timey 3.5mm cable for audio connection.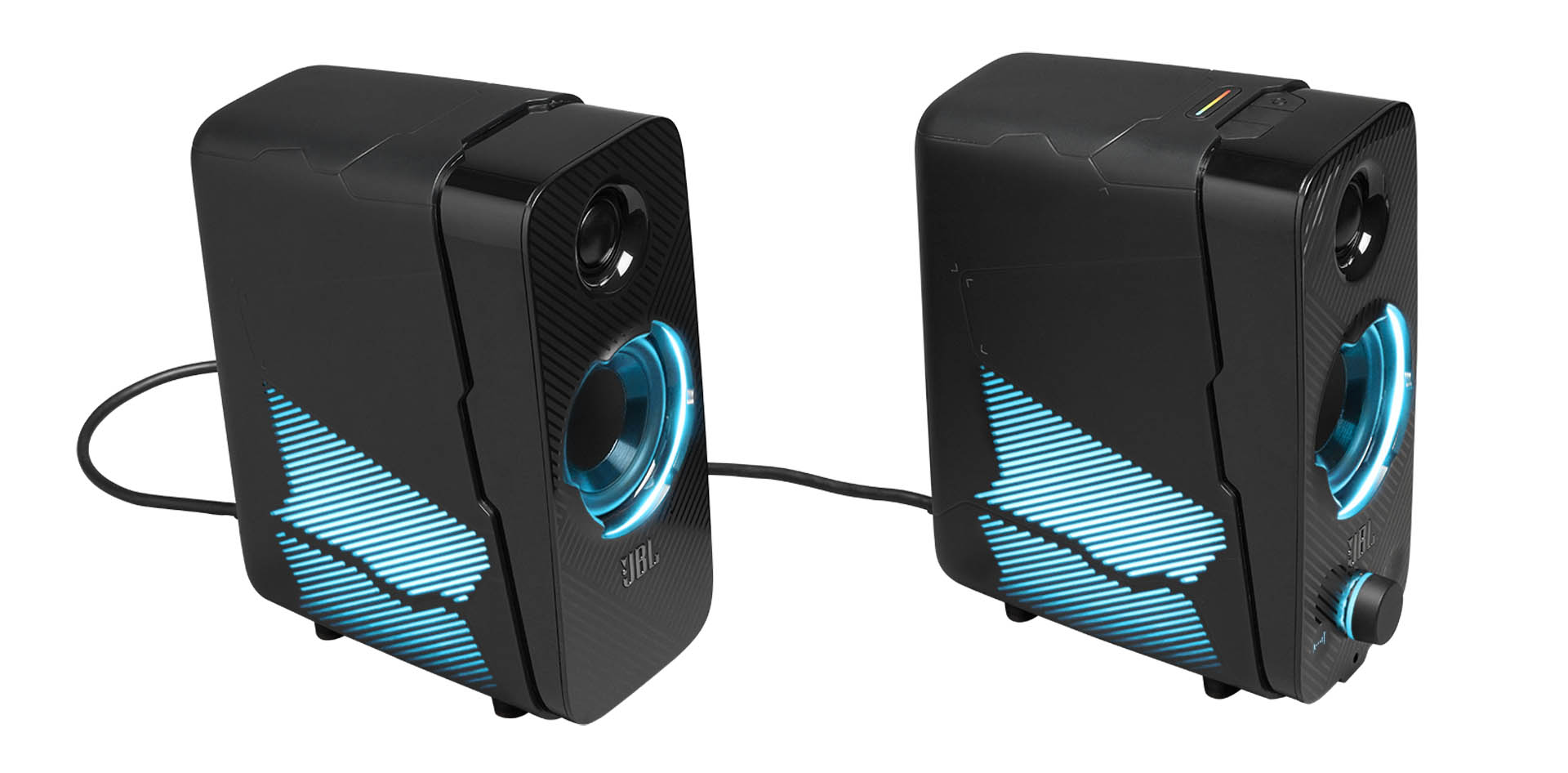 JBL state that the Quantum Duo's have an up to 80db max – and yeah that's well loud, but to hear these little speakers tweet, boom and rumble while lit up like a carnival makes them a must have to complete or upgrade your gaming set up.
Pricing comes in at just over $200, a fraction of the cost of other dedicated gaming audio you're getting elite sound while not losing desk space or selling off a kidney.
JBL Quantum Duo Speakers are literally lit.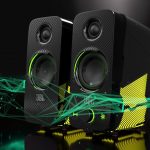 JBL Quantum Duo PC RGB Speakers Review