It's time to upgrade the review rig with an Asus Republic of Gamers STRIX Z390-E Gaming motherboard and a top-of-the range Intel Core i9 9900K CPU.
There is nothing more rewarding for a gamer than building your own PC. It's the only way that you can get exactly what you want for the budget that have. Also, there are no warranty problems should you choose to open your PC up and make adjustments.
Of course, there are good reasons why everybody doesn't build their own PCs. Whilst these days it is difficult to actually destroy a component whilst putting a PC together, there are still plenty that can go wrong if you don't know wat you are doing. Things have improved in the last ten years or so, with better socket designs and colour-coding making PC building less like a complex Meccano set and more like Duplo.
Choosing good components is important. For the last few years I've been using Asus Republic of Gamers STRIX motherboards in our review PC. Whilst not Republic of Gamer's top-end motherboards, Asus's STRIX boards are excellent feature-rich bits of kit. They offer great value for money that satisfying the needs of both the novice PC builder and those wanting to really push their components to the max.
Intel enthusiasts have been enjoying the benefits of motherboard cross-compatibility between the 8th generation of Intel Core CPUs and the 9th generation, making upgrades a little less expensive. Aimed with a shiny Intel Core i9 9900K it was time to retire the admirable i7 8700K and see what I could get out of one of Intel's 8-core CPUs.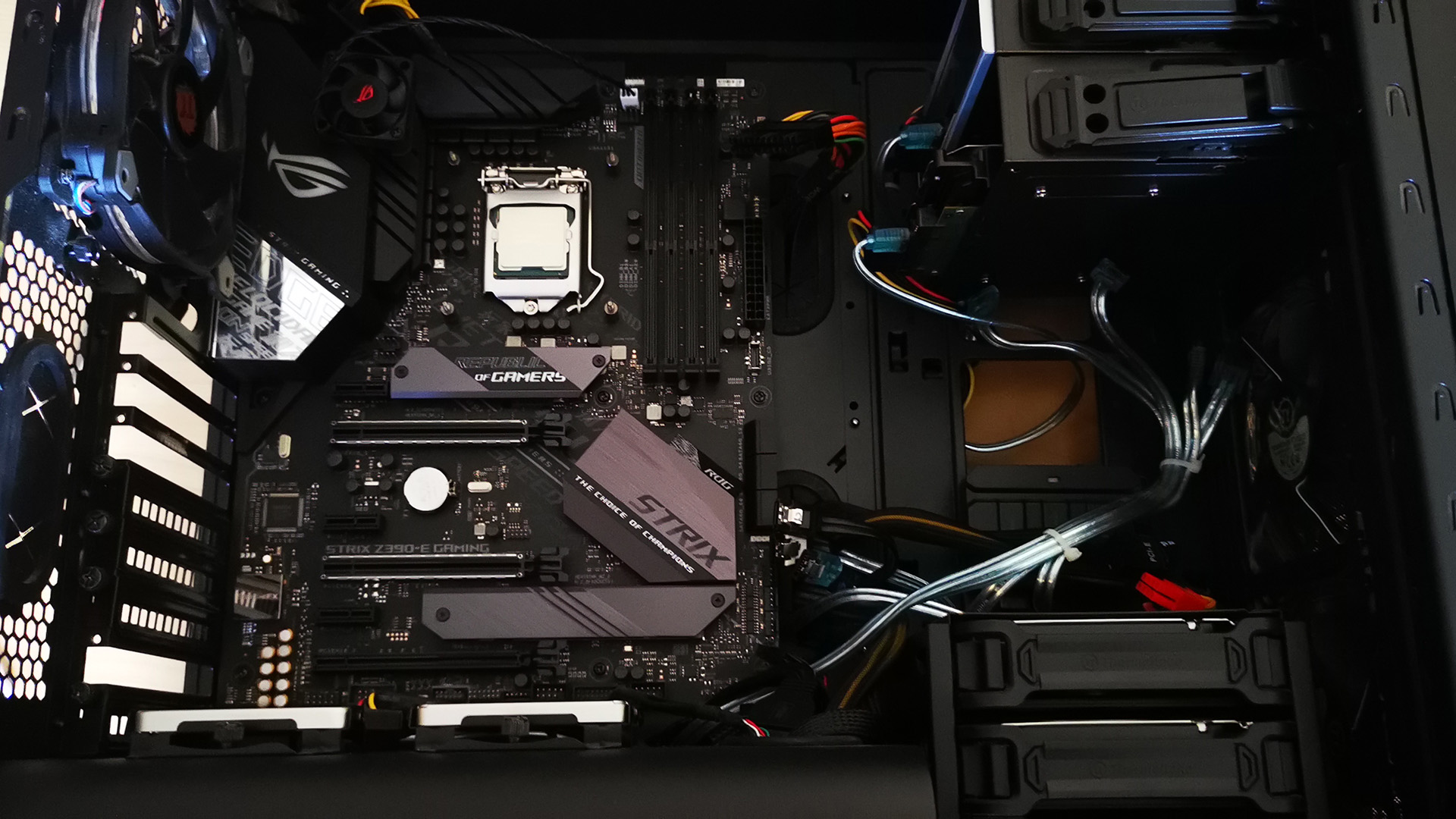 Because both chips use the same 1151 socket, all it needed was a bios update to get the i9 9900K running in the old ROG STRIX Z370-F Gaming-based review rig. It's amazing to think I could just stuff an Intel 9th generation Core i9 9900K into a year-and-a-half old motherboard, designed for 8th generation Intel chips, without issue. It really is a credit to the quality of the components that Asus use in their kit.
To get the most out of an Intel 9th generation CPU, however, a motherboard based on the Intel Z390 chipset, is what you need.  With the Z390 chipset Intel has built on the features of its predecessors to include on-chip 802.11ac Wi-Fi and 6x USB 3.1 support. Quality motherboards that utilise the Z390 chipset are also built with the additional demands of overclocking Intel's top-end 9th generation CPUs.
The Asus Republic of Gamers STRIX Z390-E Gaming is one of those quality motherboards, and the board that I've chosen to house the Intel Core i9 9900K CPU for the review rig upgrade. It's an ATX form factor board with an LGA 1151 socket for Intel's Coffee Lake CPUs.    
At first glance, the STRIX Z390-E Gaming is very similar to the STRIX Z370-F board it's replacing. The CPU and memory locations are in the same location, allowing easy, independent access to both the memory modules and the CPU – essential for swapping out components for testing and reviewing.
The board supports up to 128GB of RAM across up to four DDR4 DIMM modules at a max speed of 4133MHz. It has full support for Intel's Extreme Memory Profiles (XMP).
As with the Z370-F, the STRIX Z390-E has two M.2 sockets, one that supports the newer, super-fast PCIe 3.0 solid-state drives as well as the legacy SATA M.2 (type 2242,2260 and 2280) SSDs and the other just the PCIe 3.0 M.2 (type 2242,2260, 2280 and 22110) SSDs. The Z390-E includes heatsinks for both M.2 sockets.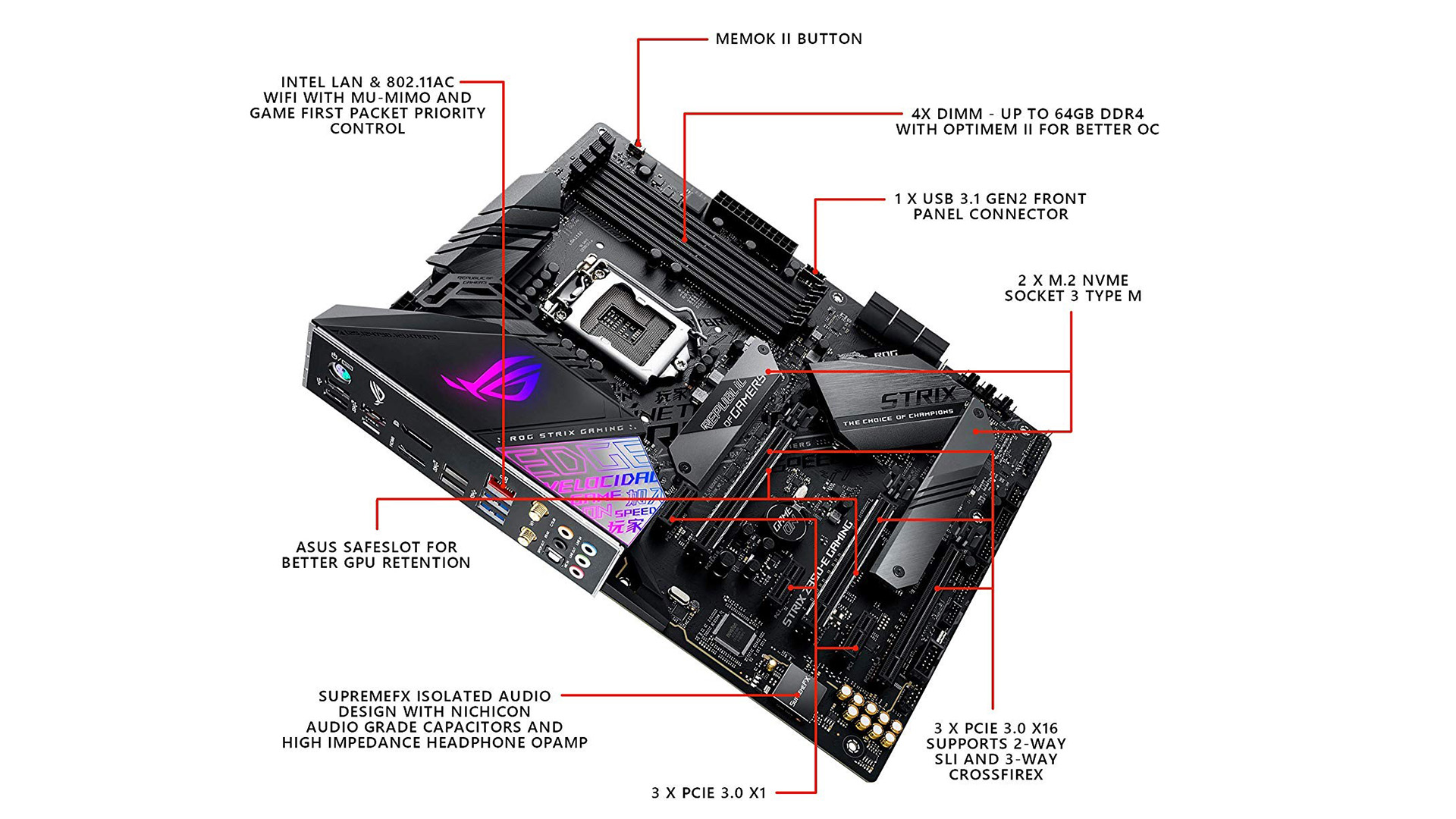 Keeping me on my toes, the Z390-E has swapped the numbering of the two M.2 sockets around since the Z370, the M.2_1 socket now being on the top. As I swapped out the components from one board to another, I didn't notice this. The fatal error reported by the BIOS pointed straight to the offending issue. Thank goodness for modern, intuitive BIOS programming.
There are 3 PCIe 3.0 x16 slots supporting Nvidia 2-way SLI and AMD 3-way CrossfireX graphics card set-ups. Whilst we have two RTX 2080ti cards available, thermal considerations due to the vapour chamber (rather than exhaust fan) design of the Nvidia Founders Editions and the lack of practical need means that only one card will be installed, but it's good to have the option of SLI.
I have a USB 3.1 riser card, that's certified for the HTC Vive VR kit, that I stuffed in one the three PCIe 3.0 x1 slots and a SATA expansion card that I use with in the PCIe 3.0 x16 slot that is shared with the SATA 6Gb/s ports for a few extra hard drives.
The board has 6x 6Gb/s SATA ports for connecting up hard drives. But, if you are using a SATA M.2 drive in the M.2_1 port, you will lose the use of the SATA6G_2 port. But, with transfer speed up to 3470MB/s from the latest NVMe M.2 SSDs, you've be a fool not to take advantage of this and stick one of these in the board rather than an M.2 SATA drive.
It also has some great USB connectivity. There's 1x USB 3.1 Gen 2 front panel connector, 4x USB 3.1 Gen 2 port (that's three Type A and one Type C), 4x USB 3.1 Gen 1 ports and 6x USB 2.0 ports.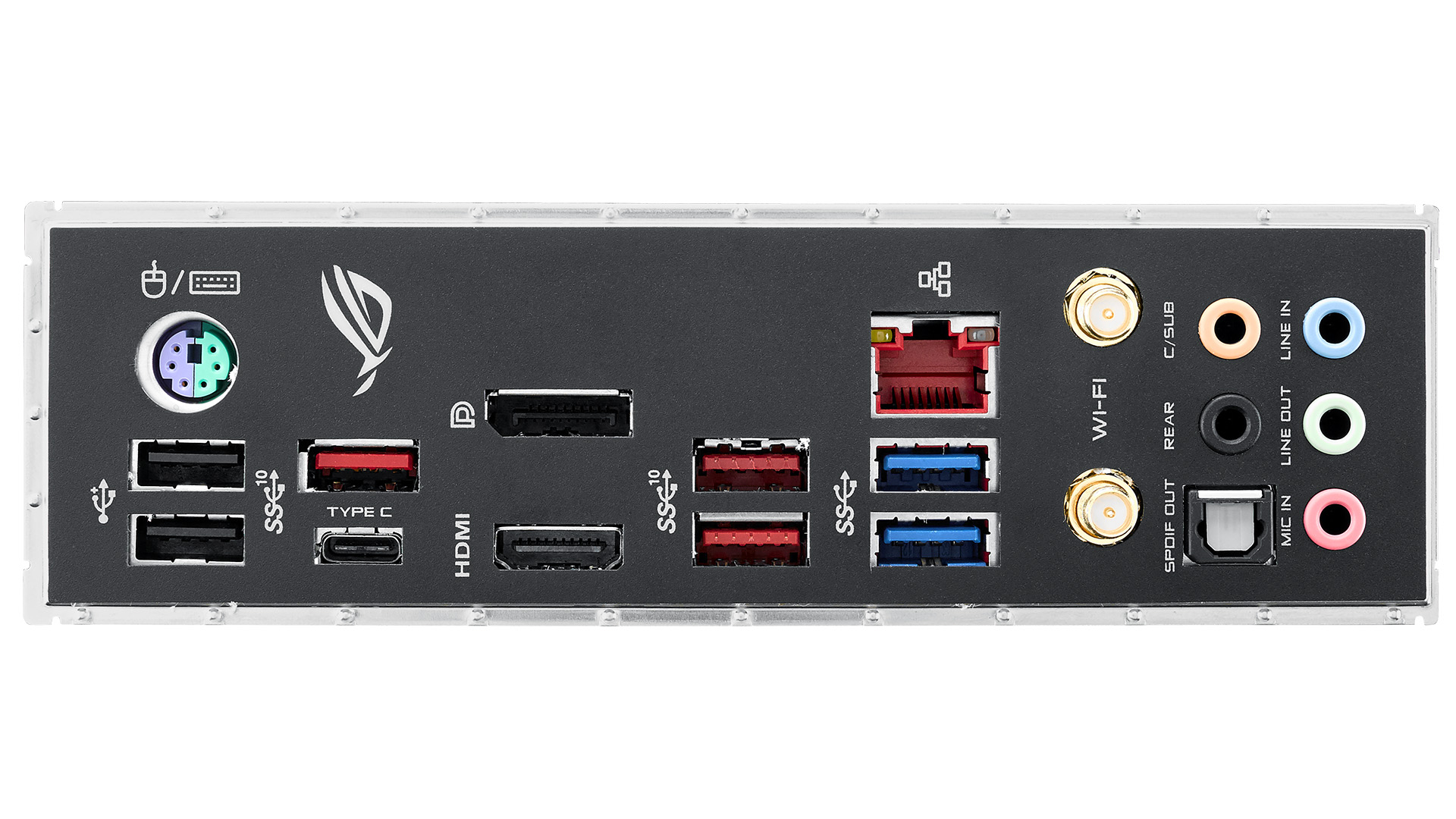 The STRIX Z390-E Gaming features an integrated input/output panel that effortlessly pushes into the back slot of your case. No more trying to mate up the connectors on the back of the motherboard with the corresponding holes on the IO plate that you've pressed in to the case. It's a minor improvement, but one that takes a bit of hassle out of the build.
Whilst ASUS previous STRIX motherboards have included a bracket for an optional fan, the Z390-E Gaming includes a 40mm fan that can be positioned over the VRMs to help with overclocking. This is particularly useful in PCs that have water-cooled CPUs, as little or no air is blown over the board unlike when using traditional CPU air-cooling.
With all the components in place on first boot the board's UEFI BIOS Utility correctly configured itself, identifying both the CPU and memory, adjusting the settings accordingly. ASUS UEFI BIOS options are some of the most comprehensive I've seen. It has two modes, an EZ mode for newcomers that need a little help adjusting their set-up and a more advance mode for in-depth tweaking.
The BIOS has all the all the tools to maximise your PC performance from memory timings to fan scheduling. As long as you make sure to connect your chassis and CPU fans to the right connectors on the board, the BIOS will allow you to tune your fans to get the best out of your cooling set-up.
The BIOS does have an AI-driven overclocking mode, which I've successfully used with previous iterations of this motherboard, but I didn't have any success in getting the computer stable with the i9 9900K.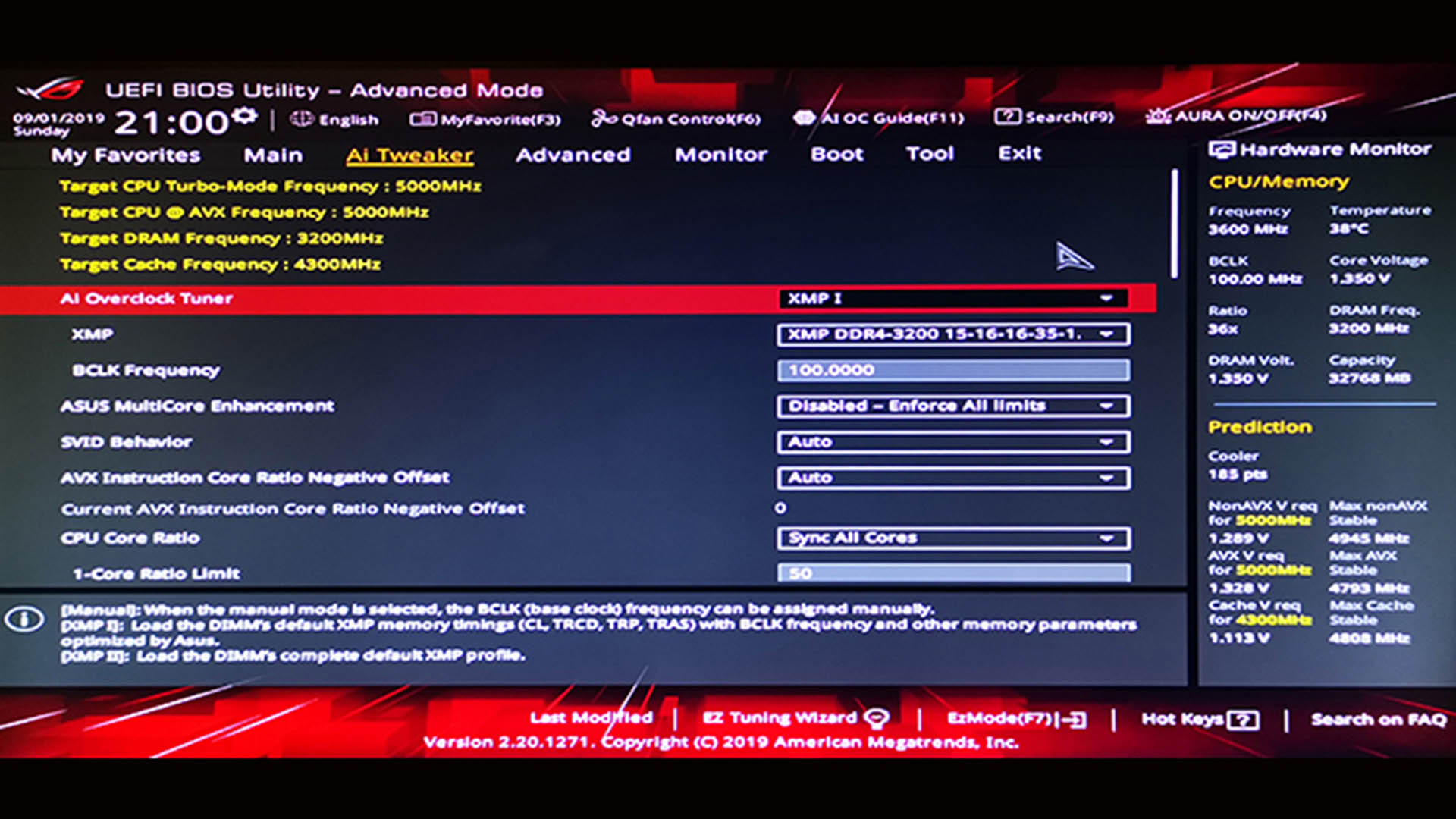 The i9 9900K has a base frequency of 3.6GHz, but boasts 5GHz turbo. This is, however, only on the first two cores, after that the turbo speed starts descending to 4.8GHz for cores 3 and 4, with the rest hitting a, still none too shabby, turbo of 4.7GHz. Tweaking the BIOS setting manually I've managed to easily achieve what seems to be a stable 5GHz across all eight cores. With more time, I'm sure I could push it a bit more, but come-on do I really need cores running faster than 5GHz right now?
If tweaking the BIOS is not your cup of tea, the board comes with a full suite of ASUS software that allows you to reconfigure many overclocking settings form the relative safety on the Windows OS environment. Whilst seasoned overclockers will advise against the use of software overclocking solutions (and to a point they are right), ASUS's easy-to-use AI Suite 3 does allow novice overclockers access to many of the settings that would otherwise be unavailable save for tinkering with the BIOS, itself.
A number of different performance applications are included with AI Suite 3. Duel Intelligent Processors 5 features AI Optimization and 5-Way Optimization which can both be used to improve CPU performance. TPU Insight allows things like CPU clock multipliers to be adjusted on the fly, whereby Fan Xpert 4 can tune your fans to get the optimal speeds.
Also included is RAMCAHCE III, an application that can optimise program loading speed by caching files to your system memory. Gamefirst V, prioritises network traffic and combines both Wi-Fi and Ethernet traffic to create one phat pipe for your gaming traffic. Great if you want to play competitively. If you want to control the onboard lighting scheme, you'll need to use The Asus Aura RGB application.
Asus Republic of Gamers STRIX Z390-E Gaming motherboard is a highly configurable, easy to setup and easy to use motherboard. It is fully-featured and very stable, but without eating into your PC build's budget. The component layout is well designed and, overall, the board is very easy to install. As motherboards go, I'd highly recommend it to both novices and overclocking enthusiasts.
[rns_reactions]
Asus ROG STRIX Z390-E Gaming Motherboard Review