Global leader in lighting Signify has announced the release of the new Philips Hue Play.
The Philips Hue Play is a small and discreet LED lighting system designed to enhance the experience of PC gamers, movie enthusiasts and create the perfect ambience for music listening. By using the Hue Play with the Hue Sync desktop app, users can extend the effects of their computer screen to their Philips Hue Play and transform their entire room into a personal entertainment area!
Playing a PC game with the Hue Play, explosions light up the room. Firing effects result in bright strobing stabs of colourful illumination. The gloom of spooky monster-ridden wastelands extend beyond the screen drowning the room in atmospheric greens and blues until a magical exchange of fire and wizardry sees the room awash in vivid pinks and whites. 
An exciting addition to the Philips Hue ecosystem of smart lighting products, the Hue Play consists of elegantly housed LED light bars that are flexible as well as easy to install with a full accessory kit included to help you set up your Hue play the way you want. 
Log into the Hue app on your mobile phone or tablet, and the Hue Play can be added to your existing Philips Hue Smart lighting ecosystem.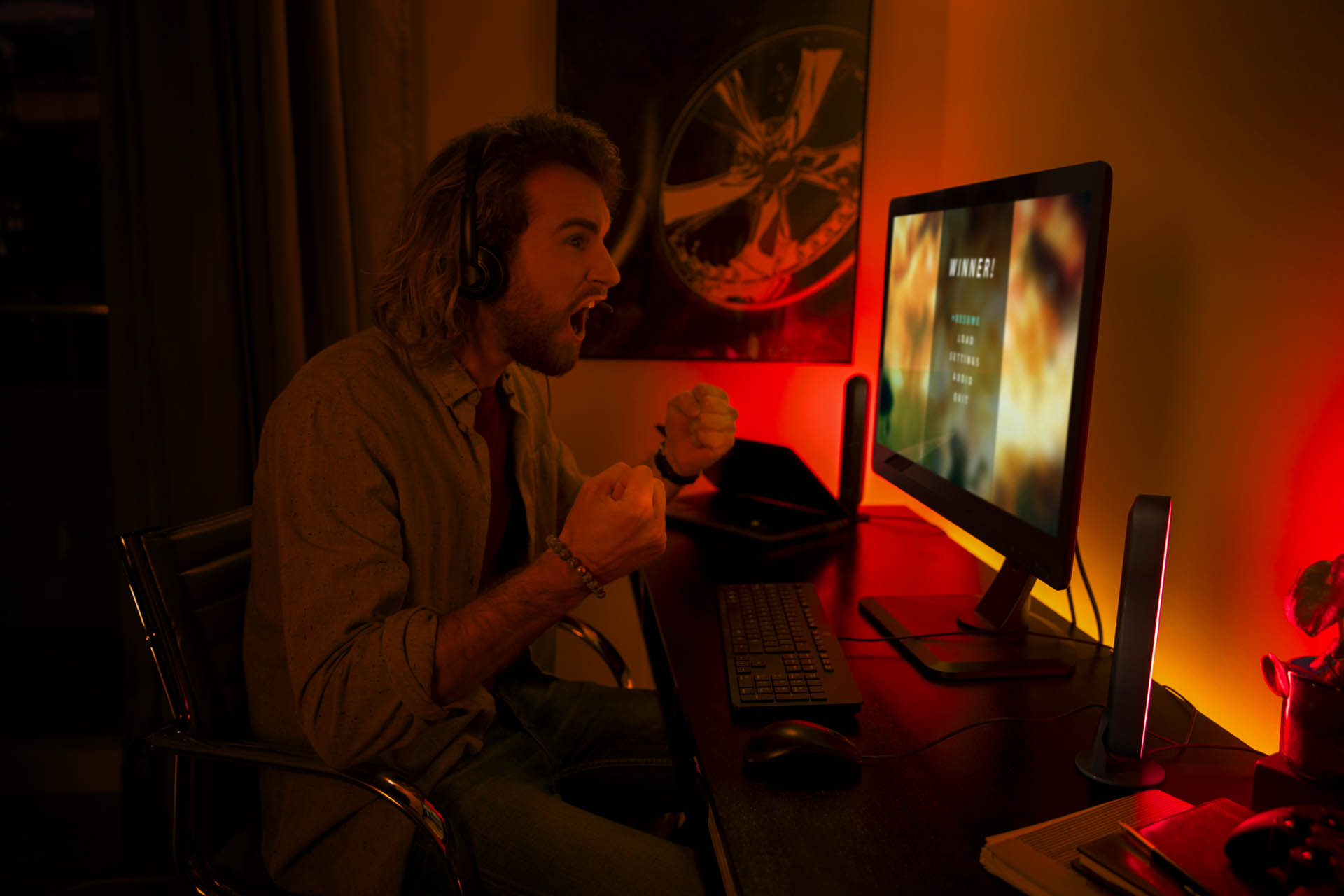 Users can choose from 16 million colours to craft their own unique lighting recipes or alternatively, select from a range of pre-created scenes to produce the look and feel they desire. The lighting effects of the Hue Play are made all the more impressive by mounting to the rear of your TV or monitor so that the lights reflect off walls and surrounds. You can use it to create a TV backlight feature, create the perfect ambience for a relaxed evening or dive even deeper into your games with synchronized lighting effects using the PC based Hue Sync app. 
Whether you are having friends over for dinner or relaxing with a book Philips Hue Play can add to your existing Hue ecosystem and help create the right atmosphere to suit every mood. Either laid flat or stood upright, the Philips Hue Play gives users the flexibility to be creative with their room design. 
With Philips Hue Play, you can now bring the mood of your favourite movie into your living room or bring the football stadium atmosphere to your sofa. Philips Hue Play visually lengthens the playing field making users feel like they're in the stands.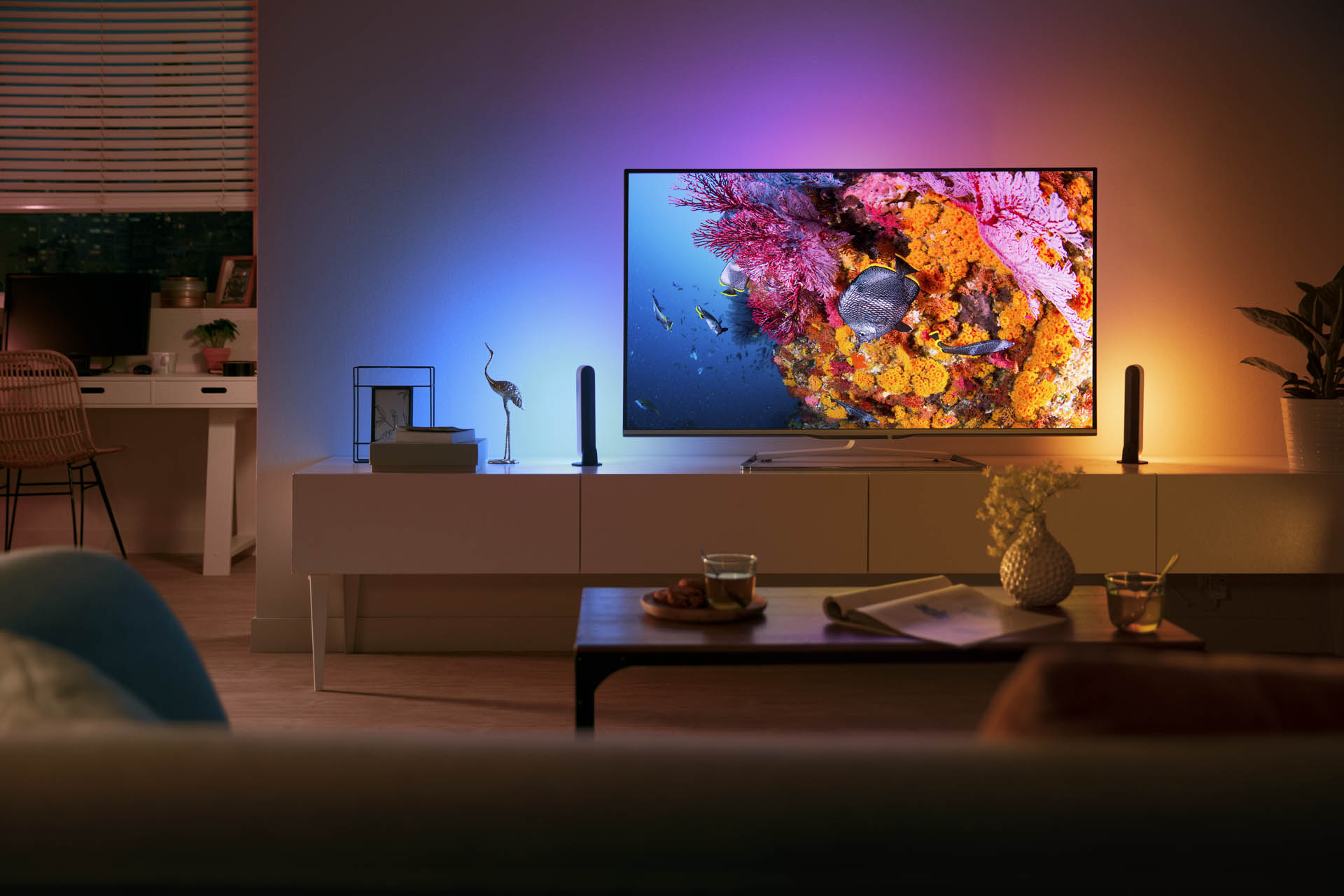 Hard core PC gaming enthusiasts will embrace the Philips Hue Play; connected via the Philips Hue Sync app, the in-game effects of PC or Mac games are translated into an immediate light script. No matter what game you're playing, the gaming experience is deepened. Action packed FPS games benefit from the rapid-fire LED visuals responding to in-game fire control, explosions and ambient effects which bring the entire gaming area alive. 
Gamers will find further enhancements for those using Razer's range of Chroma equipped peripherals such as gaming mice, keyboards and pads. Integration between the Hue lighting system to Razer's Synapse 3 software gives gamers the power to immerse themselves in effects designed by the game developers themselves.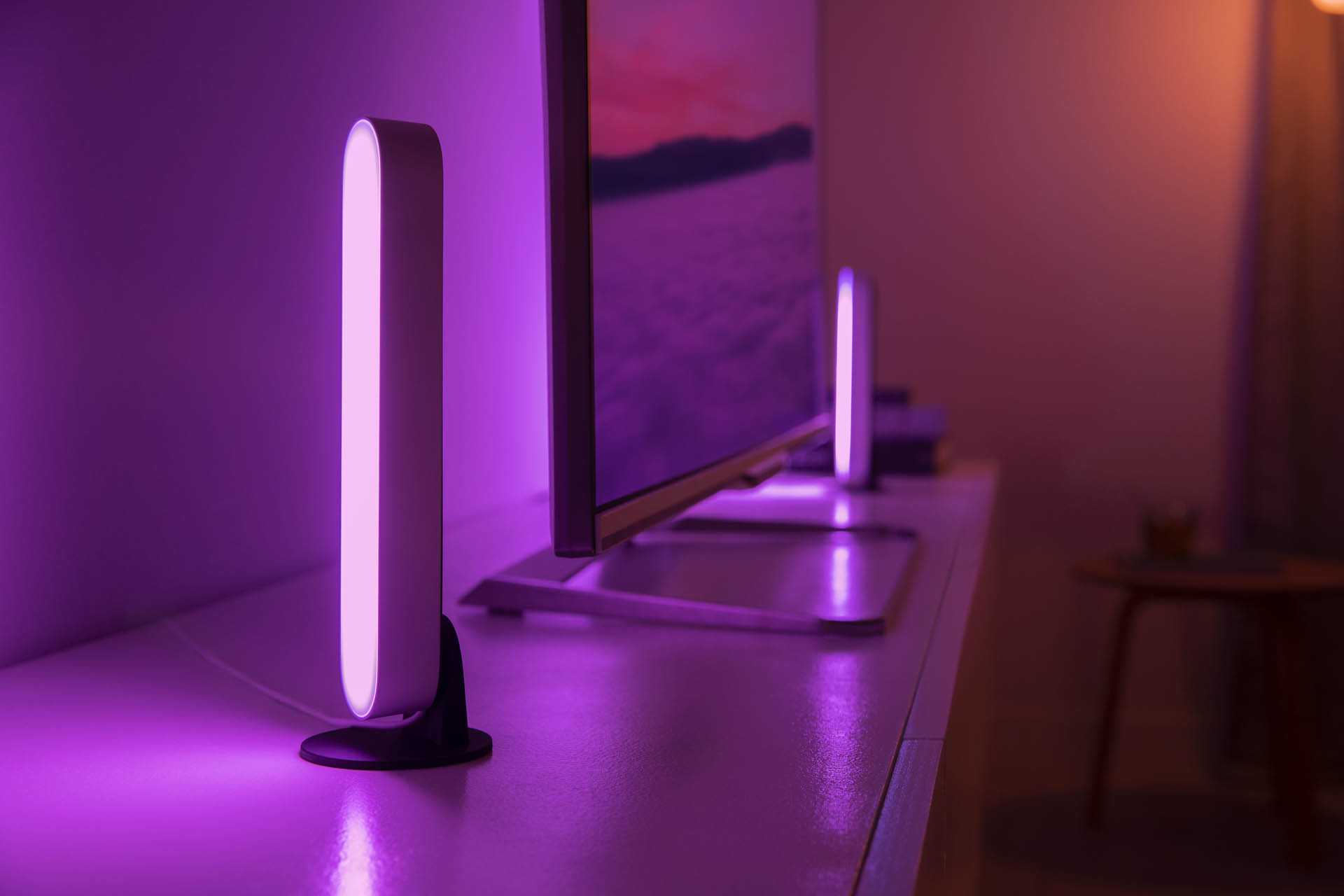 The Philips Hue Play is available as either a single or double pack, the latter featuring two LED light bars. An additional extension pack adds another light bar and connection cable to further expand your lighting system. The kits come with 240V power supply as well as an accessory pack that gives users multiple options for non-destructive mounting of the product to a TV or other furniture as well as bases that facilitate each light bar to be freestanding.
Each 6W Hue Play bar delivers 530 lumen output at 2000-6500 CCT depending on setting used and measures 253.3mm long by 44.3mm deep x 35.8mm width. You'll find the Philips Hue Play in the lighting, tech or smart home section of your nearest major retailer or consumer electronics stores.
Keep a lookout for a product review coming real soon!
[rns_reactions]