The tale of the three Baudelaire orphans is a familiar story to hear. After Violet, Klaus and Sunny's parents perished in a fire, they are left under the care of Count Olaf. The only problem is, he's out for their fortune and will do anything to get his hands on it (murder very much included).
Although I had seen the books in the library growing up, I never managed to get my hands on them. Because of this, Lemony Snicket's A Series of Unfortunate Events is fairly fresh to my eyes a part from a viewing of the 2004 film many years ago. Brushing the film aside, A Series of Unfortunate Events is ultimately a book series and a pretty famous one at that. As mentioned earlier, the story follows Violet, a 14 year old inventor, Klaus, a 12 year old researcher, and Sunny, the inquisitive baby that loves to bite things.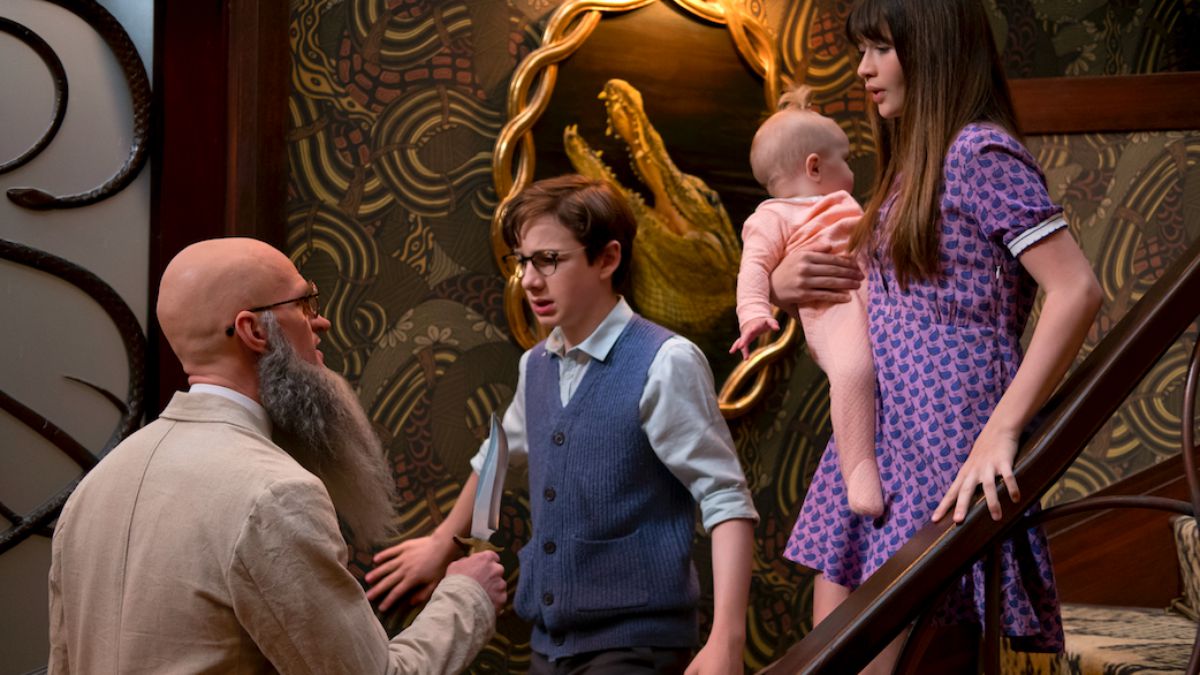 I was incredibly excited to hear that Netflix had created a television series based on the books. Television is a different media form to convey storytelling in as opposed to film. It allows a better pace, time for character development and more content to be shown if based on a book for example. From the get go, I knew I was in for quality television. As the opening credits chimed in and I recognized Neil Patrick Harris' voice, I couldn't wait to get started.
In spite of the story being shaped around the unfortunate events for the Baudelaire orphans (they just can't seem to catch a break can they?), the overall mise-en-scene and cinematography crafted a beautiful set that was aesthetically pleasing to the eye. The wardrobe department deserves praise too. One of my favourite costume pieces were the three raincoats Violet, Klaus and Sunny obtained when they had to reach Curdled Cave. The bright red, blue and yellow coats were striking in a way that both contrasted them in the setting but also portrayed the spark of the children's innocence, still glowing bright even though their circumstances were glum.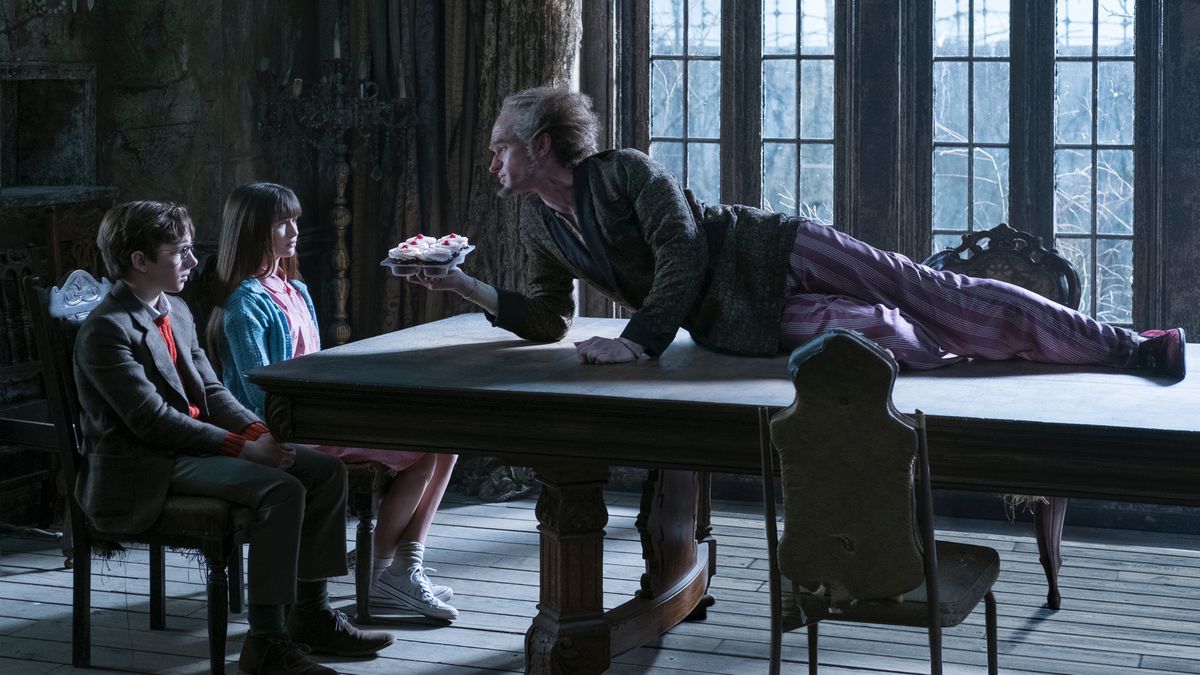 The three kids portraying Violet, Klaus and Sunny were brilliant and the chemistry was there from the get go. Of course, you can't get Violet, Klaus and Sunny without Count Olaf though. Neil Patrick Harris was made to play the part of Count Olaf. The way he embodied the essence of Count Olaf and his many counterparts was admirable of a great actor. Other roles that need to be commended are Patrick Warburton as Lemony Snicket and K. Todd Freeman as Mr. Poe. Mr. Poe was an oddly hilarious character that frustratingly couldn't see what the Baudelaire's could often see, that 'so and so' was really Count Olaf. Lemony Snicket on the other hand, narrated the more serious side of the story. After reading an article, I discovered that Lemony Snicket did not feature nearly as much in the books as he did in the television series. I'm very pleased to see that they did decide to feature him more because it aided greatly in the narrative structure. His presence throughout the show was never jolting but rather a comfort as he helped shed light on the mystery of fire and the Baudelaire parents.
If you think you can bear the unfortunate events of the Baudelaire children, then get that Netflix subscription and start the series. Before you know it, you'll be singing along to the opening credits or perhaps feeling melancholic tendencies. But don't let that put you off.
*Check out my personal Blog for more Movie and TV goodness HERE.
Help to Support Shane the Gamer
Everyone that works on StG is a volunteer. Keep StG Independent and (mostly) Advertising Free with a Donation
Thank You for being AWESOME
Lemony Snicket's A Series of Unfortunate Events (Netflix - 2017) Review
Year: 2016 / 2017
Rating: PG
Running Time: 42 - 64 MIN (per Episode)
Genre: Drama, Comedy
Producer: Neil Patrick Harris
Starring: Neil Patrick Harris, Patrick Warburton, Malina Weissman, Louis Hynes, K. Todd Freeman, Presley Smith
Production Studio: Paramount Television, What is the Question?, Sonnenfeld Productions, Inc.
Distributor: Netflix