Move over Avengers, there's a new squad of Superheroes in town! Step into the ring with AXS TV as the Network's hit original series WOW – Women Of Wrestling slams into San Diego Comic-Con, joining forces with acclaimed comics creator Michael Kingston's Headlocked Comics for a unique tag-team event on Saturday, July 20th and Sunday, July 21st 2019.
All the action will be going down near the main entrance at booth number 1901 at the only wrestling-themed comics booth at the convention. Comic-Con attendees can come face-to-face with two of WOW's most popular Superheroes and meet the people responsible for bringing WOW to life.
The weekend of WOW kicks off on Saturday, July 20th, 2019 from 1pm to 3pm, with a free signing event where fans can meet WOW and Los Angeles Lakers Owner Jeanie Buss; WOW visionary, commentator, founder, and matchmaker David McLane; and the brutal force of nature The Beast (Twana Ferguson). Additionally, while supplies last, attendees will be able to collect an all-new WOW limited edition art print featuring Buss with some of WOW's brightest stars commissioned specially for Comic-Con by Michael Kingston. Then, on Sunday, July 21st, 2019 from 12pm to 2pm, fans can go toe-to-toe with the WOW Champion herself Tessa Blanchard, and take pictures with her legendary WOW World Championship belt in a free signing event that also includes McLane.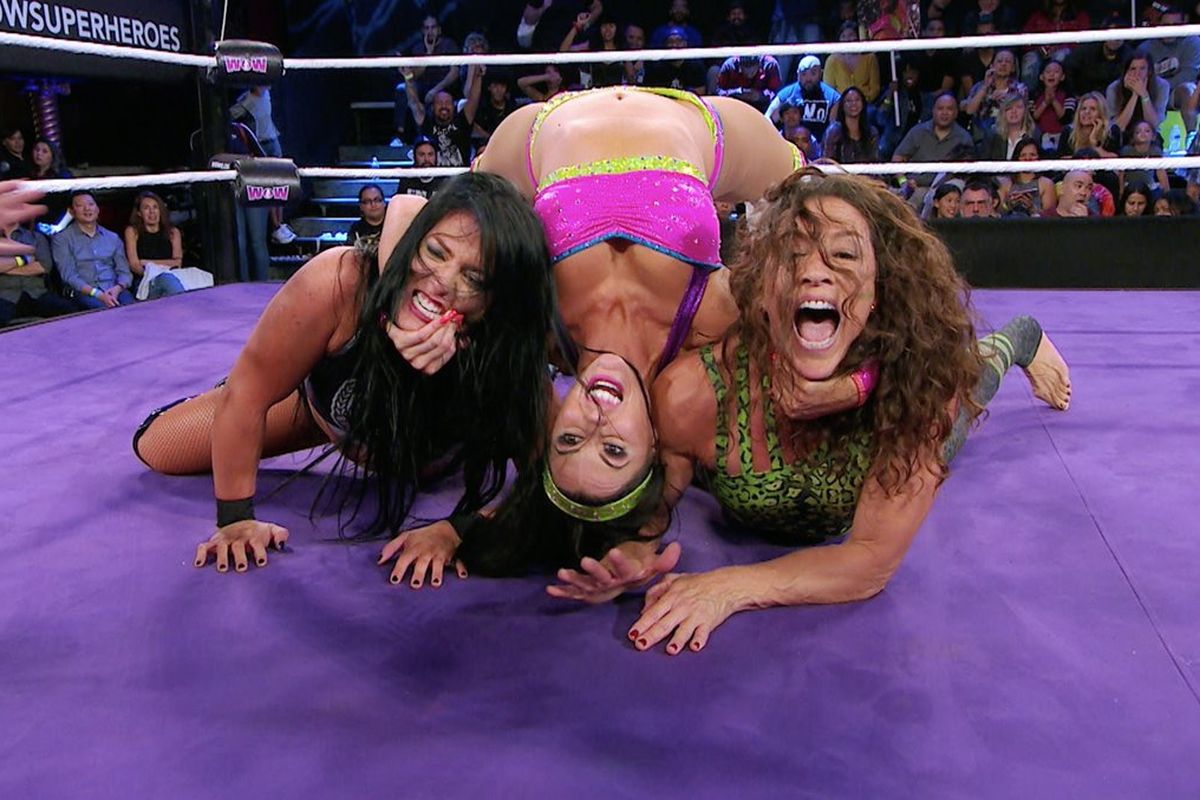 Frustrated by professional wrestling's lack of representation in comic books and conventions, Kingston created Headlocked Comics in 2007 to tell hard-hitting stories that showcased wrestling as the art form that it is and to provide a positive experience for wrestling fans at comic and pop culture conventions. Boasting an impressive roster of guest collaborators that reads like a Wrestling Hall Of Fame lineup with industry icons such as Ric Flair, Jerry "The King" Lawler, Mick Foley, AJ Styles, Samoa Joe and Kenny Omega, Headlocked Comics is a true celebration of all things wrestling—making it the perfect partner for  WOW's stunning Comic-Con crossover.
The one-of-a-kind event coincides with WOW – Women Of Wrestling 's move to a new night and time on Saturday, July 13th, 2019 at 8pE, launching with an eight-week block re-capping the series' entire first season —allowing fans to relive unforgettable moments such as Jungle Grrrl, Tessa Blanchard and Santana Garrett's three-way Championship brawl, while giving new viewers a chance to catch up on the blockbuster drama and larger-than-life personas that made WOW one of the most-watched same-day series in AXS TV's history. It all leads up to the Season Two premiere on September 7th, 2019 at 8pE, when the trailblazing promotion makes its triumphant return with 12 all-new episodes fueled by a stacked show packed with even more championship bouts, bitter feuds, and a single elimination tournament to crown new WOW Tag-Team Champions. 
WOW innovator McLane and Steven Dickey will once again provide analysis and commentary, as a slate of new Superheroes and returning superstars vie to pry WOW's prized crown from reigning champion Tessa Blanchard.
Be there and get WOW'd.
[rns_reactions]