The future of mankind hangs in the balance as humans and dinosaurs coexist following the destruction of Isla Nublar.
Current and past favourite characters return in this new Jurassic franchise chapter, releasing this coming June.
We have a chat with Jeff Goldblum who reprises his role as scientist Dr. Ian Malcolm.
STG: After Jurassic World: Fallen Kingdom, were you looking forward to coming back to the final movie of the saga?
Jeff: You bet I was! Being a part of all things Jurassic has been a stone gas from start to finish! Wild horses couldn't have kept me away! Ian Malcolm is a fascinating character.
You're tellin' me! How lucky a dog am I to get to wear those brainy / wise / heroic / funny / cool / chaotician boots?!
STG: Where is he in his life when we meet him again now?
Jeff: Having looked death in the face on more than one occasion, he has become, shall we say, transformed somewhat – and his favorite quotation is now by George Bernard Shaw – it goes like this: "This is the true joy in life, being used for a purpose recognized by yourself as a mighty one. Being a force of nature instead of a feverish, selfish little clod of ailments and grievances, complaining that the world will not devote itself to making you happy.
I am of the opinion that my life belongs to the whole community and as long as I live, it is my privilege to do for it what I can. I want to be thoroughly used up when I die, for the harder I work, the more I live.
I rejoice in life for its own sake. Life is no brief candle to me. It is a sort of splendid torch which I have got hold of for the moment and I want to make it burn as brightly as possible before handing it on to future generations."
And so he aspires to be the best father that he can be (he has several children whom he adores unboundedly), is currently involved with a brilliant woman with him he shares a towering / blistering romance, has been working collaboratively on the pioneering shores of cutting edge science and mathematics, has written several highly respected and awarded books (albeit somewhat esoteric), plays progressive / funky jazz saxophone as a hobby, and is deeply / intrepidly engaged in fighting the good fight to resist the unintelligent or profit oriented misuse of a variety of powerful technologies (that's how we find him in our story – having infiltrated a volatile center of corruption and having hatched a subversive plan that involves his old friend Ellie Sattler.)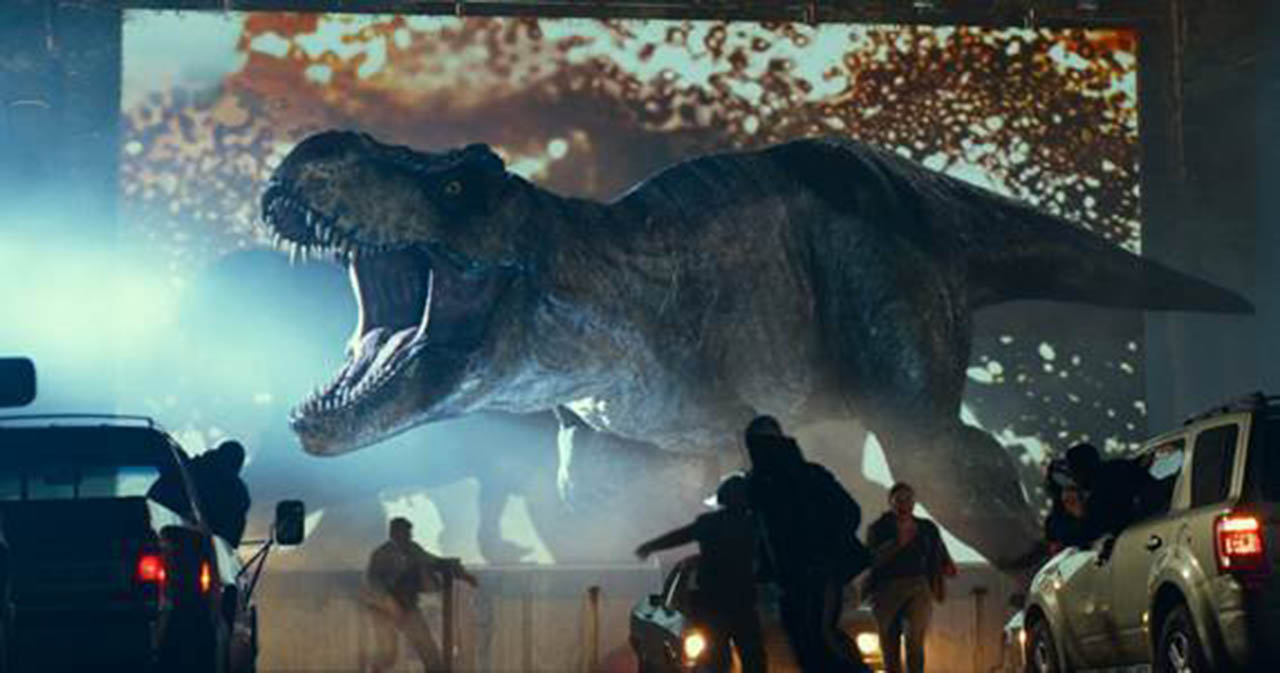 STG: In Malcolm's words: "We not only lack dominion over nature, we are subordinate to it." There is a powerful message there about respecting nature that feels very relevant today.
Jeff: You said a mouthful! When has it ever felt more urgent to upgrade our stewardship of this glorious and abundant planet and to contribute as much as we're able to a world that works for every single living creature?! PEACE NOW!
STG: These movies are a lot of fun to watch, but also challenging to make, due to the scope. How was this experience?
Jeff: Unforgettable! Phantasmogorically transmogrifying! I mean, what a team – spectacular from the tippity top down – first of all, the Jurassic Godfather lo these three decades – the amazing Mr. Steven Spielberg – and of course the legendary producer Frank Marshall – and that's just to name two!
STG: And how was it to get together with Sam Neill and Laura Dern again after all these years.
Jeff: It was mind blowing and out of this world – they are certainly two of our greatest screen artists and the most sterling human beings that you'd ever hope to meet. We laughed, we cried, we improvised!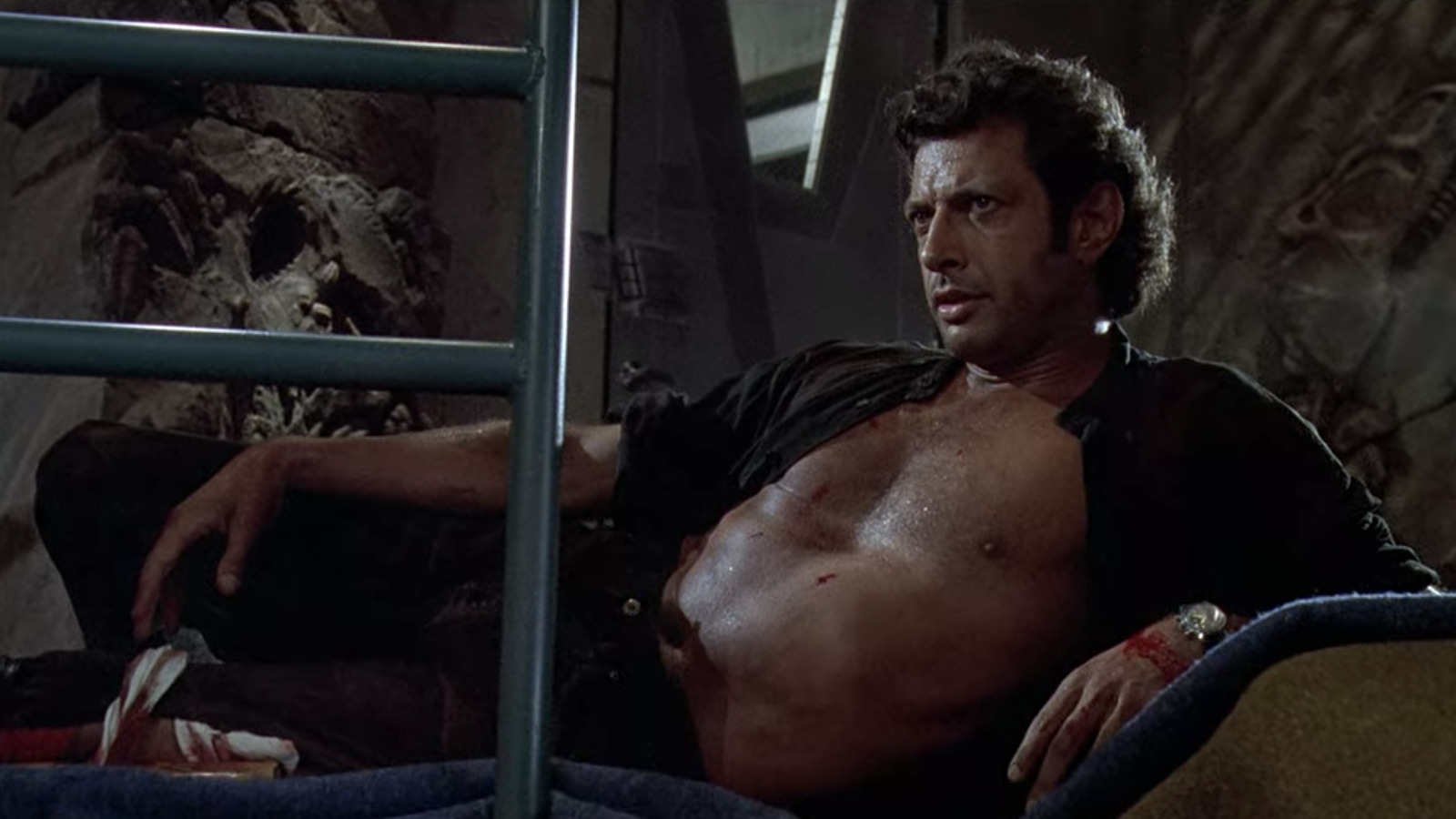 STG: What can you say of filmmaker Colin Trevorrow, who produced, co-wrote, and directed Jurassic World Dominion?
Jeff: Well like you say, he wears many beautiful hats – I call him Bartholomew Cubbins! (The other writer on the script was the very brilliant and powerful Emily Carmichael.) But Colin Trevorrow is so kind – so generous – so collaborative! He always welcomed all of the actors' ideas – he's sweet and unflappable – an inspiration of focus and taste – never took a day off! He's got the Herculean strength of 10 blockbuster directors!
STG: You shot this movie during the height of the Covid-19 pandemic. How was it?
Jeff: I'm glad that you asked – executive producer Alexandra Derbyshire and producer Pat Crowley pioneered and spearheaded all of the Covid protective protocols that allowed us to even attempt this picture and then brought it across the finish line – these dear, dear linchpins! I award them 10 Goldblum's out of a possible 10 Goldblum's (that's my highest rating)!
STG: And now that the film will be coming out, how do you look back at the whole experience of having been a part of the Jurassic franchise?
Jeff: I feel like I've revealed myself to myself and have been utterly drenched and purged!
STG: So, what did you feel when you saw Jurassic World Dominion completed?
Jeff: I fell more deeply in love with life than ever before! Suffice it to say that you can color me day-glow grateful!
Jurassic World Dominion releases to cinemas on the 10th of June 2022.
Be a supporter of STG