NOW CLOSED – This month Steelseries are celebrating their inception, innovation and incredible gamer gear peripherals.
Here at STG we will be showcasing some of their most recently released and upcoming gear that any serious gamer should equip in to their arsenal.
Oh, and in partnership with Steelseries, we have some gamer gear up for grabs!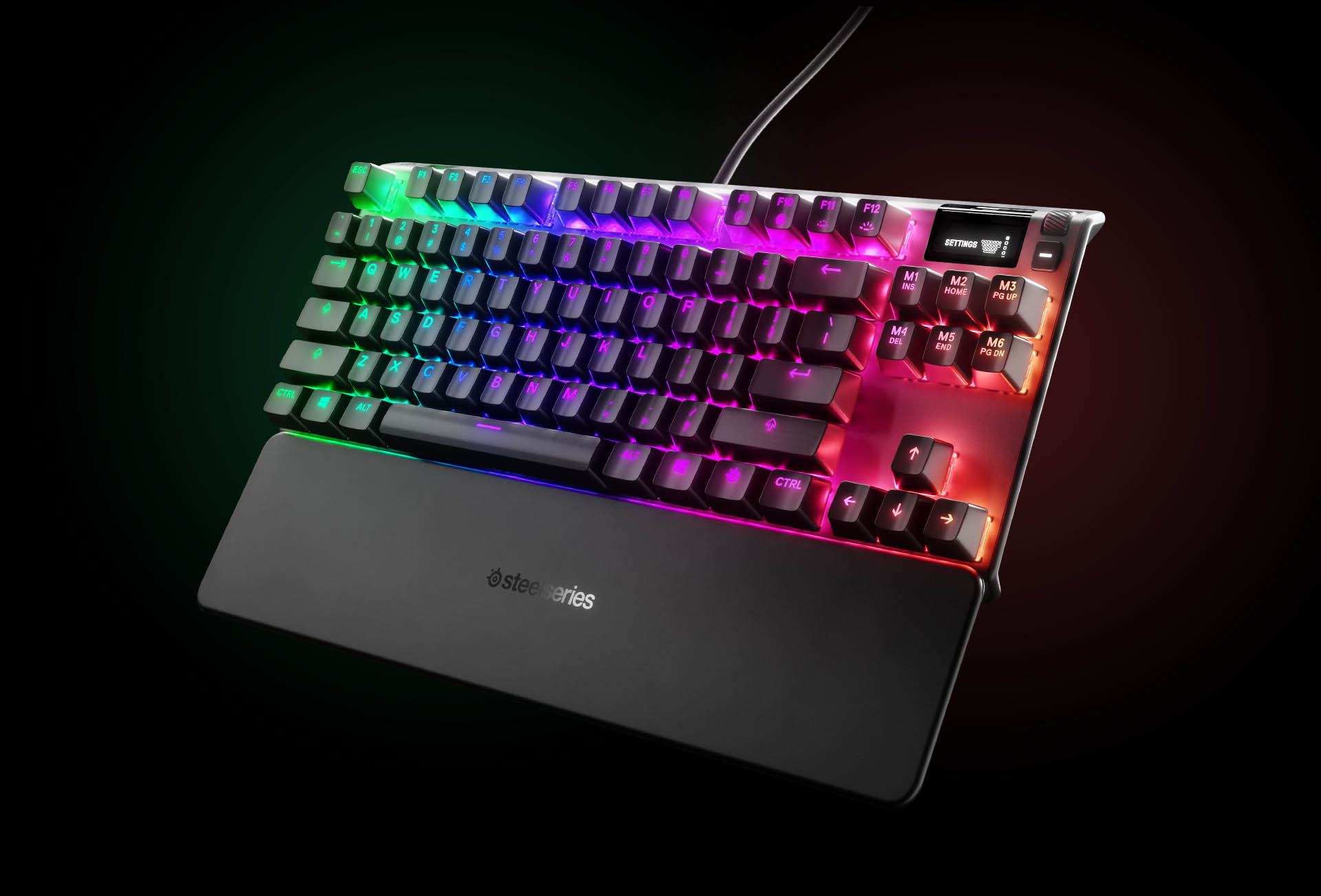 For the fourth and final week of Steelseries' 20th Anniversary Steelseries and STG are putting the spotlight on the Apex 7 TKL Mechanical Gaming Keyboard.
A keyboard designed to cut the desk clutter. It is not a full width keyboard, giving a smaller footprint and less width for you to hammer the keys during your play.
Having received one of these in to STG I was taken by the small form factor and just how much of a difference it actually makes.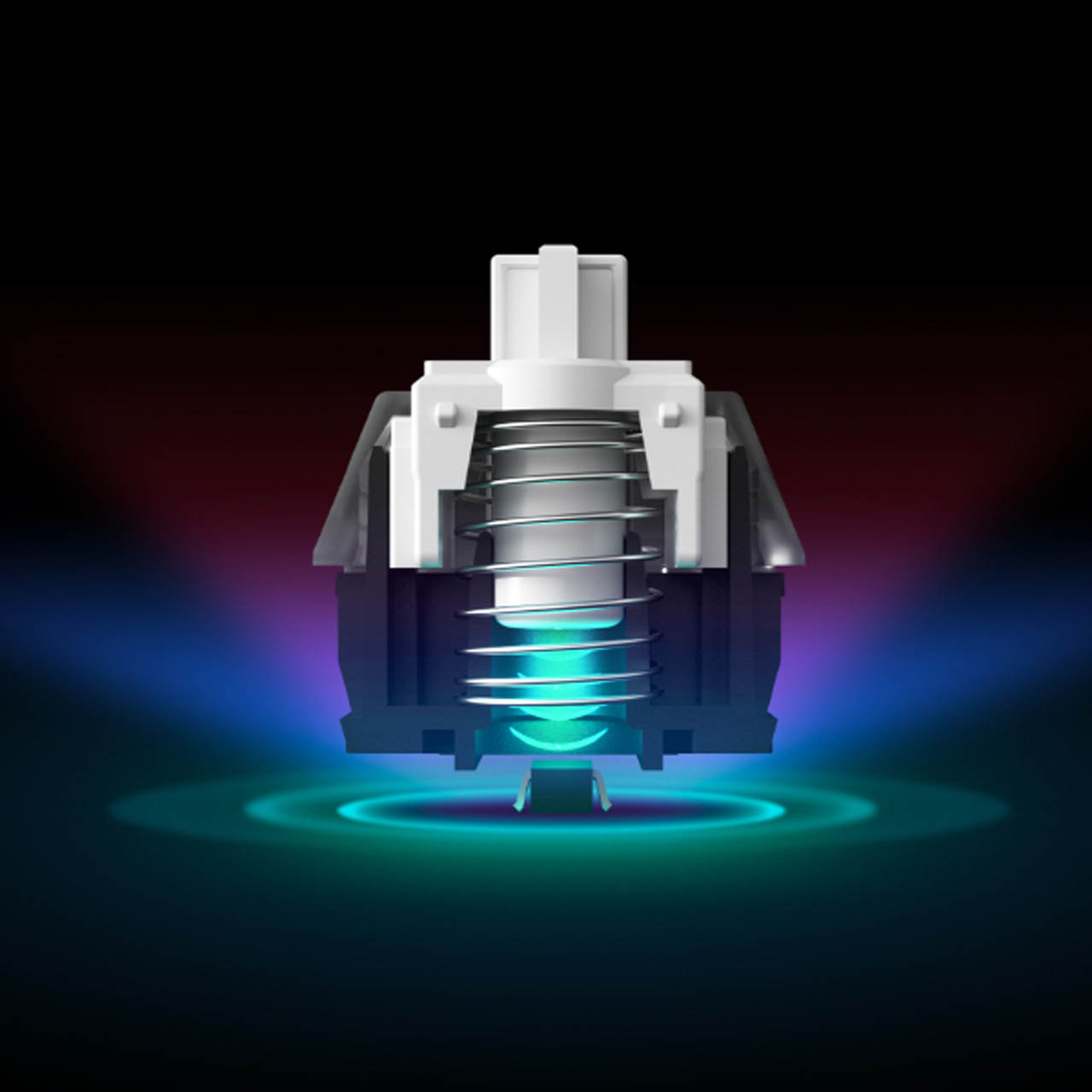 Each key has a spring loaded switch with a 2mm switch actuation and before you start your customization, the RGB lighting will signify each key press via illumination.
once you get in to the RGB customization you can set the lighting and response how you like.
Guaranteed for 50 million keypresses using whichever ultra-fast switch type you prefer: red, blue, or brown.
On board is a media controller via the right top roller that we have seen on some of the other latest gen Steelseries keyboards. Designed to be used for your media, crank up the volume, pause, play and skip. More handy that you'd realise when gaming. Set the roller to PC audio and while wearing a gaming headset I'd turn down the gaming audio via keyboard and turn up the chatter on the headset without needing to fiddle about in Windows audio settings.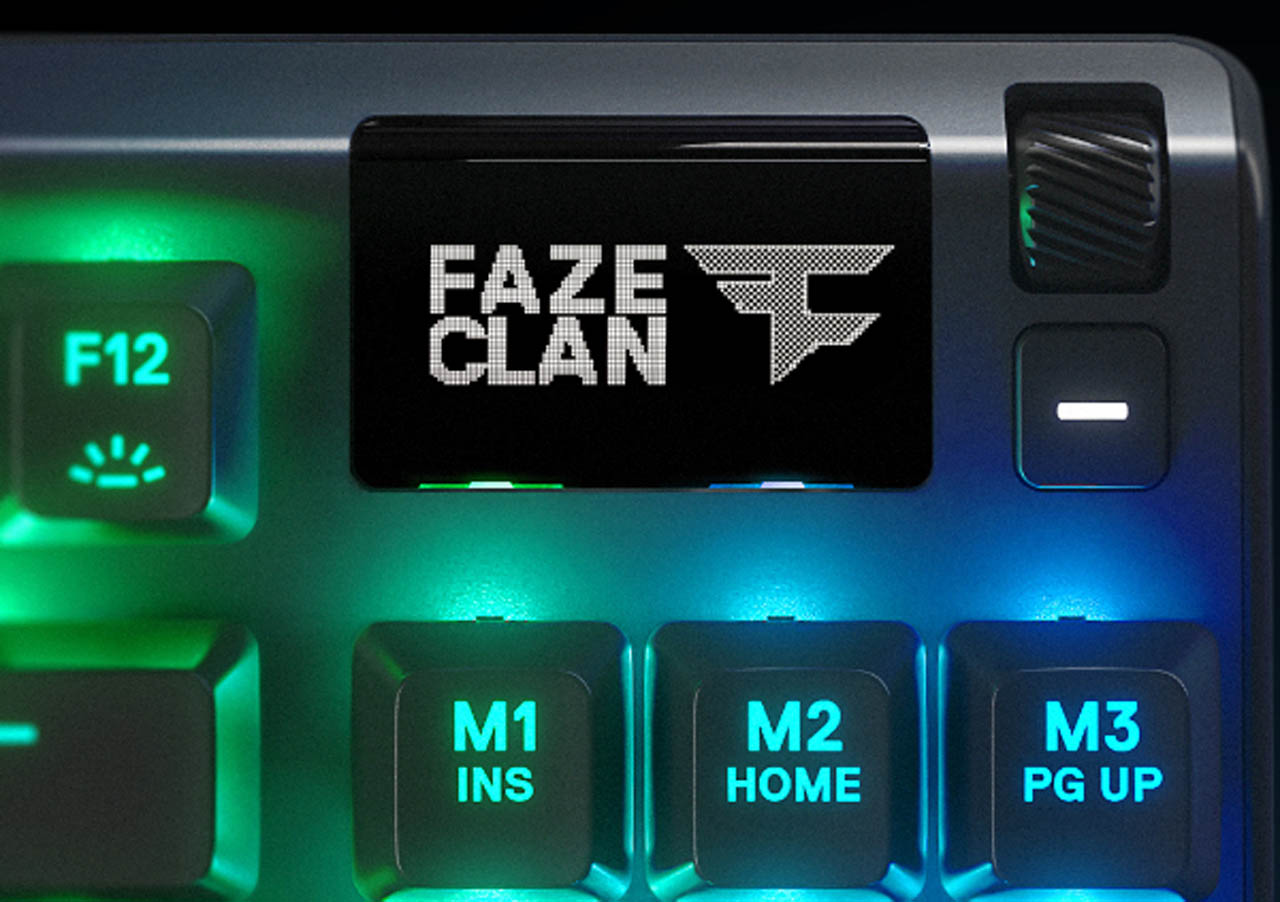 The Apex 7 TKL even has a small info screen, known as the 'command center' – that can tell you what is going on or simply be used for settings (also found on the full-sized Apex Pro).
Within the settings of the keyboard (you'll need the Steelseries Engine app for your PC) you can customise this to display clan or gaming info, notifications for Discord and more.
When you're head down in to a game and focusing on keyboard buttons having that screen there to check goings-on in Discord was excellent, I didn't need to flick through windows or open up Discord from the minimize tray.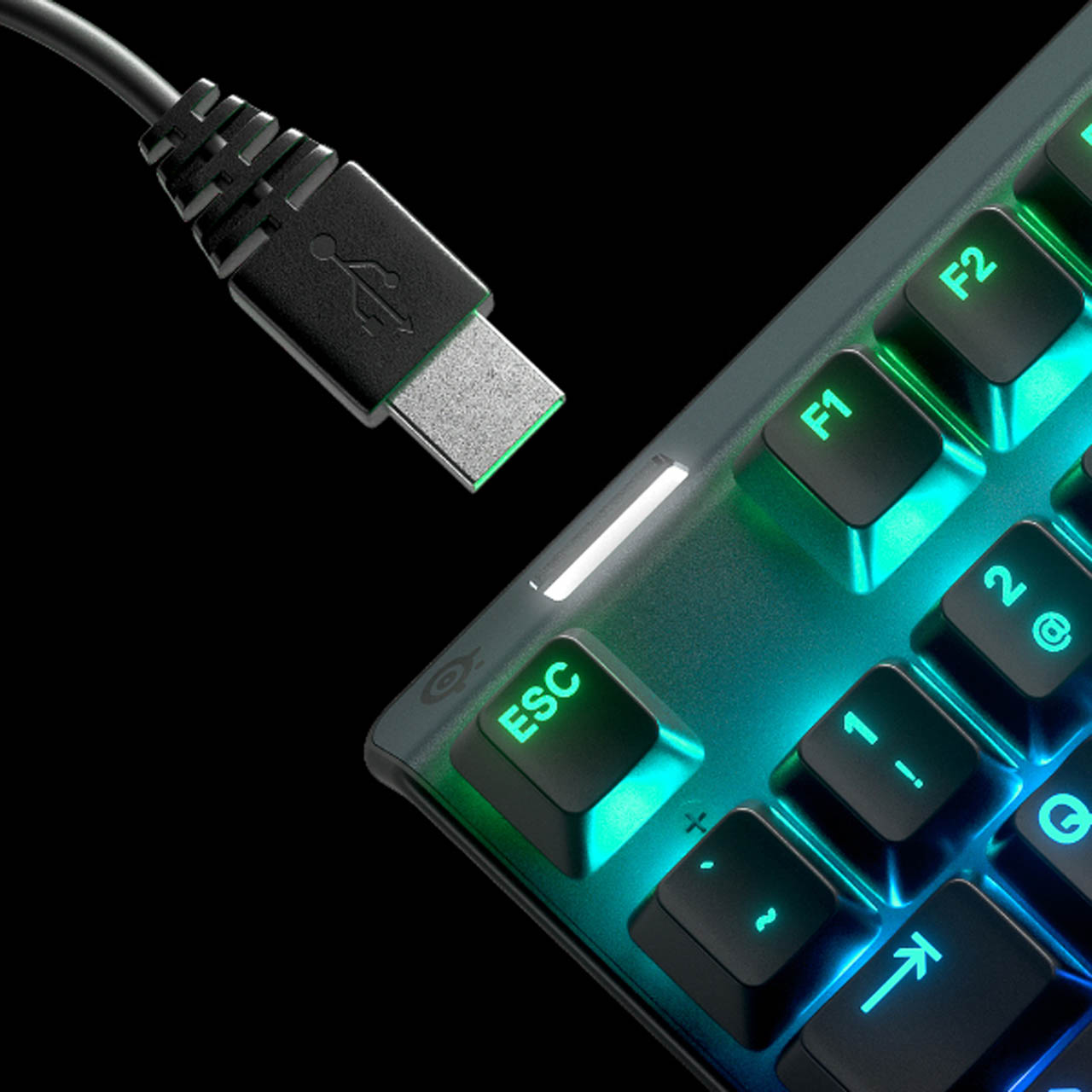 The Apex 7 TKL Mechanical Gaming Keyboard is going to need two USB inputs to fully function.
Made from aircraft industry standard alloy this gaming keyboard has rear side cable management – and it needs it, there are two USB cables.
Steelseries realise that on some gaming devices, such as laptops, USB ports can be at a minimum, so to compensate, they have placed a USB passthrough input at the rear top of the Apex 7 TKL.
Your headset should work (but I recommend using a wireless one so that the cable doesn't curl itself about your keyboard), the Aerox 3 wireless mouse worked with a USB adaptor. Even charging my phone (Android) worked too from the onboard USB port.
Actually found this to be super beneficial keeping my phone alive when using the WatchDogs companion app while playing the game on PC.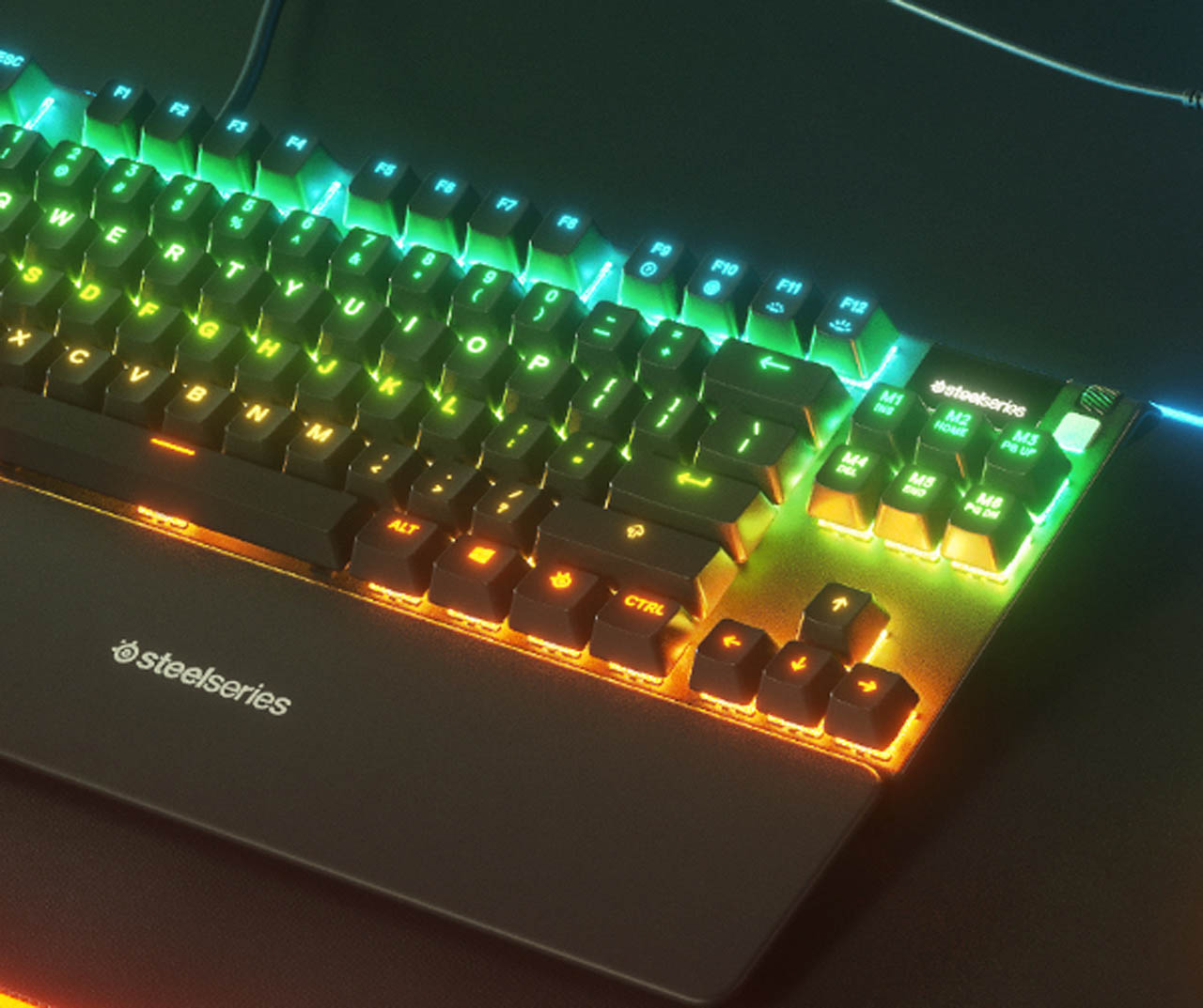 The Steelseries APEX 7 TKL Mechanical Keyboard is a small form factor weapon ideal for your setup. Built for gamers and lengthy gaming periods (as with the later models of Steelseries keyboards the Apex 7 TKL also comes with the magnetic wrist rest).
If you're using a full-sized gaming keyboard, then yeah it may take some getting used to not having a number pad to the right (it did for me), but it's a small change for big gains not only on your desk space but on the battlefield.
If you're keen to score a Apex 7 TKL Gaming Keyboard through Steelseries x STG click the giant banner below and get in.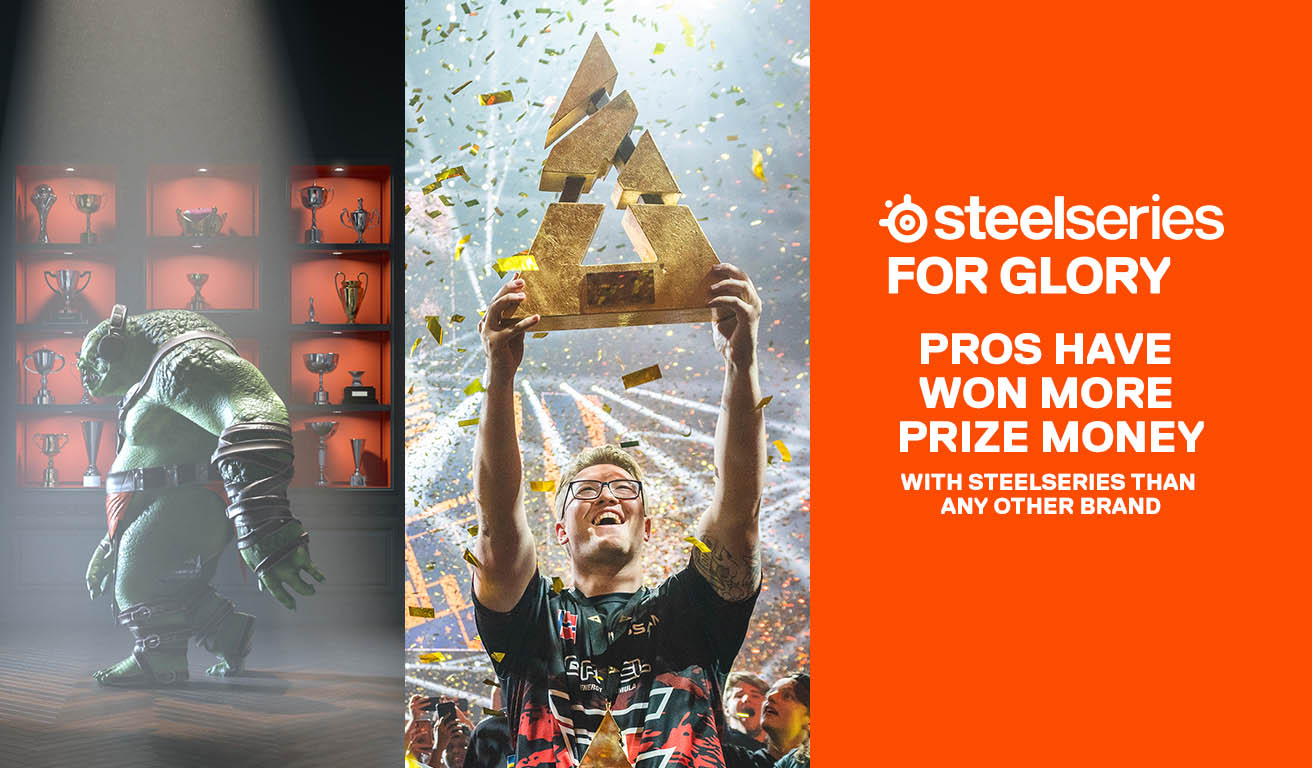 Support STG by donating