NOW CLOSED – FATE stay night: Heaven's Feel The Movie is releasing to cinemas across New Zealand from the 22nd of November 2017 and thanks to Madman Entertainment NZ, STG has THREE Double Passes up for grabs!
Directed by Tomonori Sudô the English subtitled epic anime film sees the boy who wished to protect the girl. That was his thought.
Ten years after the Holy Grail War – a battle waged by Masters and Servants over the wish-granting container, the Holy Grail results in another war breaking out in Fuyuki City.
Shirou Emiya—the adopted son of Kiritsugu Emiya, a participant of the previous Holy Grail War—resolves to fight, carrying out Kiritsugu's dying wish.
There's a young girl by Shirou's side who's in love with him—Sakura Matou. Every morning, she goes to Shirou's house to make breakfast and dinner for him, bringing kindness into the life of a boy utterly alone in the world. But once the Holy Grail War starts, there's a change in the air in Fuyuki City. Murders abound across the city, and the atmosphere grows ominous.
Shirou decides to shelter Sakura in his home. Along with Saber, the Servant he summons, Shirou allies himself with the magus Rin Tohsaka and takes part in the Holy Grail War.
But the battle starts to go awry as secret maneuvers by unseen forces are put into play.
If you are the ultimate anime fan then this Giveaway is for you!
To Enter Our FATE stay night: Heaven's Feel The Movie Giveaway you will need to answer this Question correctly.
FATE stay night: Heaven's Feel The Movie is an extension of:
A: Anime / Manga TV Series
B: Cosplay
C: A musical
You can give us your Answer by placing a Comment below, hitting us up on Facebook, Tweet to us, or Email Us.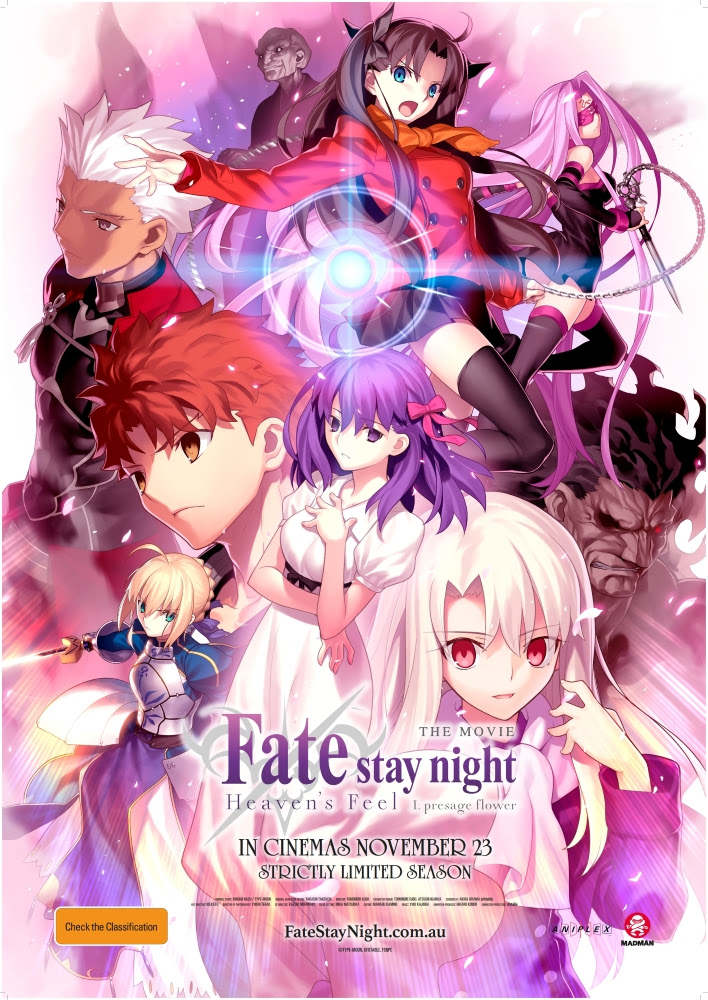 * Winner(s) will be randomly selected from those that Comment below / Facebook Comment / Email in accordance to the above Question. Winner(s) will receive a Double Pass to the film FATE stay night: Heaven's Feel The Movie. Tickets are not transferable, FATE stay night: Heaven's Feel The Movie is rated PG in New Zealand. Double Pass holders must adhere to the conditions on the ticket. Competition ends on the 29th of November 2017. There is no Age Restriction to Enter this Promotion. New Zealand Entries ONLY.