Mini golf is one of those things I was super excited about doing as a kid. Every year we would go to the local course and take our turn putting a small ball around the same holes.
Vertiginous Golf promises to let me relive those glory days of putting a small ball around ridiculous courses. Vertiginous Golf has been in Early Access on Steam and has recently hit its 1.0 release in May 2015. Developed by Australian studio Kinelco & Lone Elk Creative and published by Surprise Attack, it is the final expression of two years' hard work.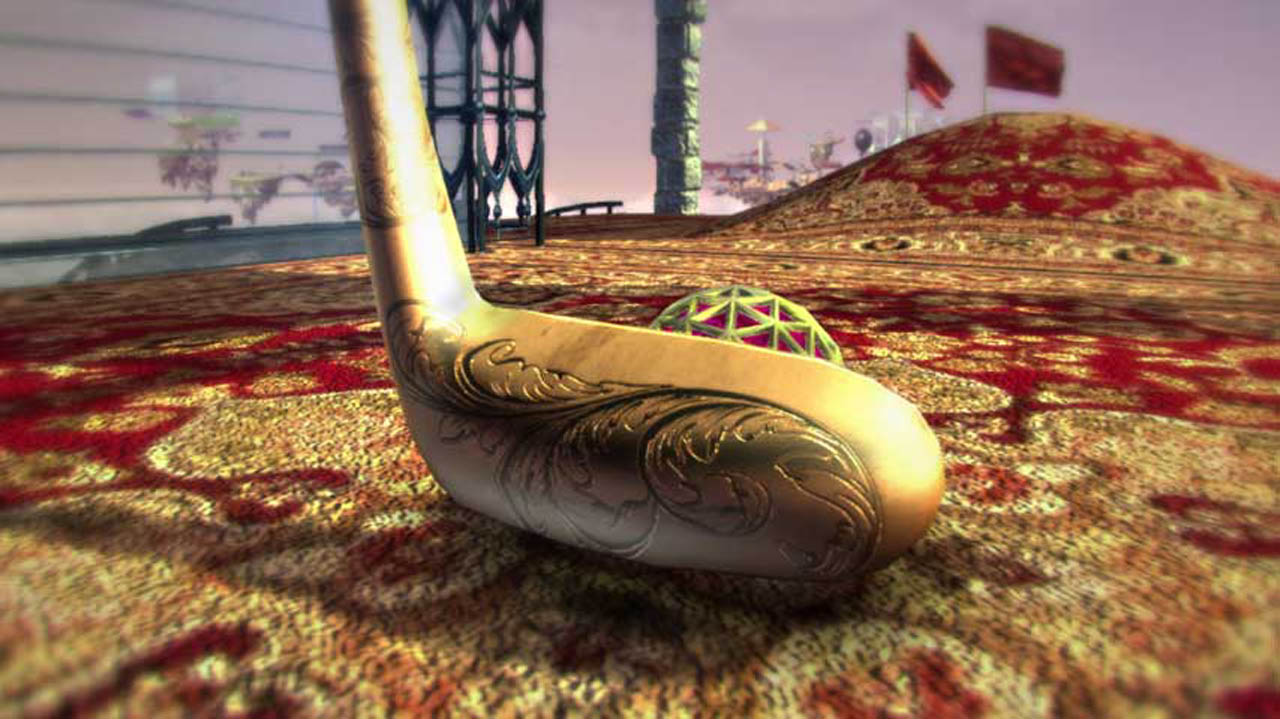 Understanding what this game is about, though, (well, apart from the golf) can be a bit more difficult.
Vertiginous Golf features one of the strangest descriptions of any game I've played – the game bills itself as "a dystopian steampunk mini golf adventure game set in the skies above an alternate world where life on the ground is enveloped in permanent smog, constant darkness and never-ending rain." If you thought these would not go together in any meaningful way, think again. The developers have brought these strands together in an intricate thread that complements the game's core golf activities.
Also strangely, for a golf game Vertiginous Golf features a backstory, one that leans heavily on tropes introduced in 2013's Bioshock Infinite. It features big-ticket items such as a 1920s aesthetic, a dystopian floating environment and, an uprising against the wealthy inhabitants of the floating city of New Lun-donne (get it?).
This leads to a distinct feeling that it has come from a Bioshock Infinite game jam – the developers certainly owe much to Ken Levine. Unfortunately, that it such a high standard to put yourself and your work up against it can't help but feel not quite up to scratch.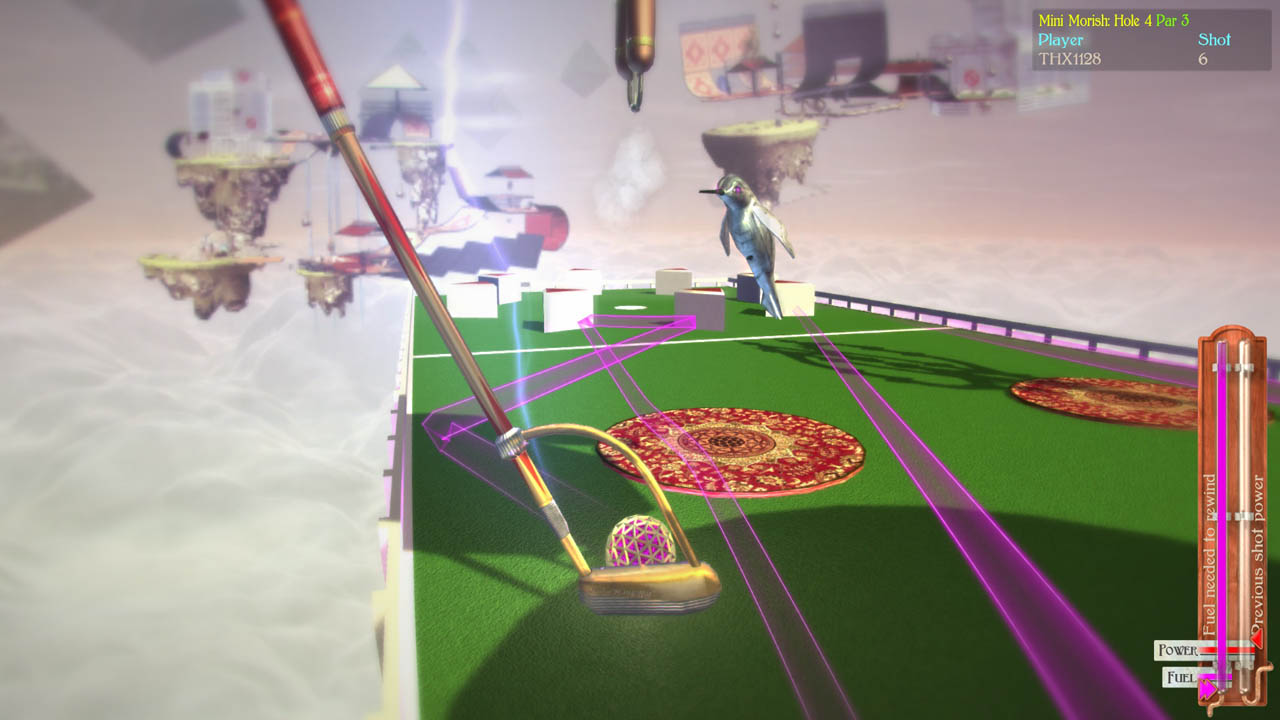 Take the set up for example. In the game, you are playing a virtual reality version of a real game played in a floating city that occasionally people are allowed to go to. On top of this, you yourself can play Vertiginous Golf on the Oculus Rift!
The story plays out through a number of recordings found throughout the game's courses and annoyingly, part of the course challenge is to reach these recording en route to the actual hole. Sometimes I found I could get to the hole on par without trying to get to the recordings, but couldn't with the recordings included.
While I understand it's part of the challenge, it's frustrating in a golf game that priority is shifted away from playing golf to searching for a backstory – something that I feel should be entirely optional in a sports-like game.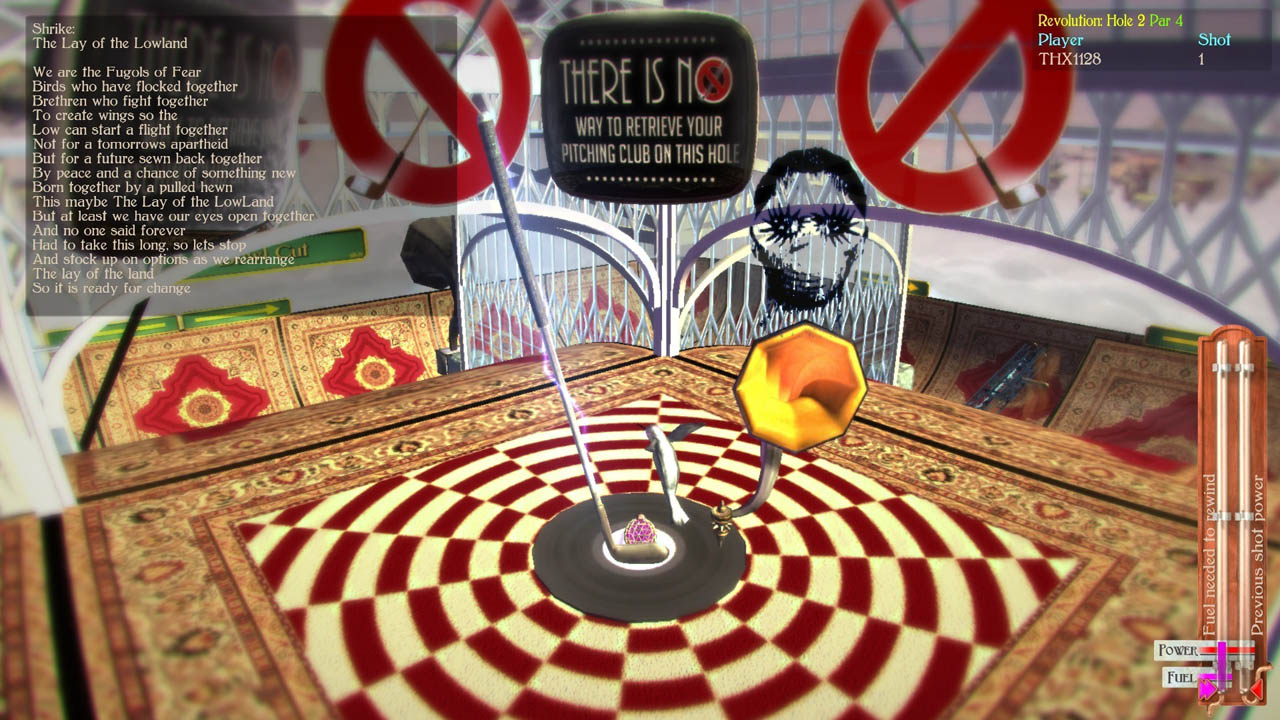 Putting though is generally good, though the power needed for each shot takes some getting used to.
There are a huge variety of clubs and balls to choose from, and the finely tuned physics always seems fair. Once your shot it taken, you can modify the path's trajectory with slightly with the power of a jewel-encrusted beetle. If you're looking for a pure golfing challenge this is a feature best ignored, but for the others who aren't as proficient (such as myself), this addition can make the game immeasurably less frustrating if you've misjudged one of the other many shot variables.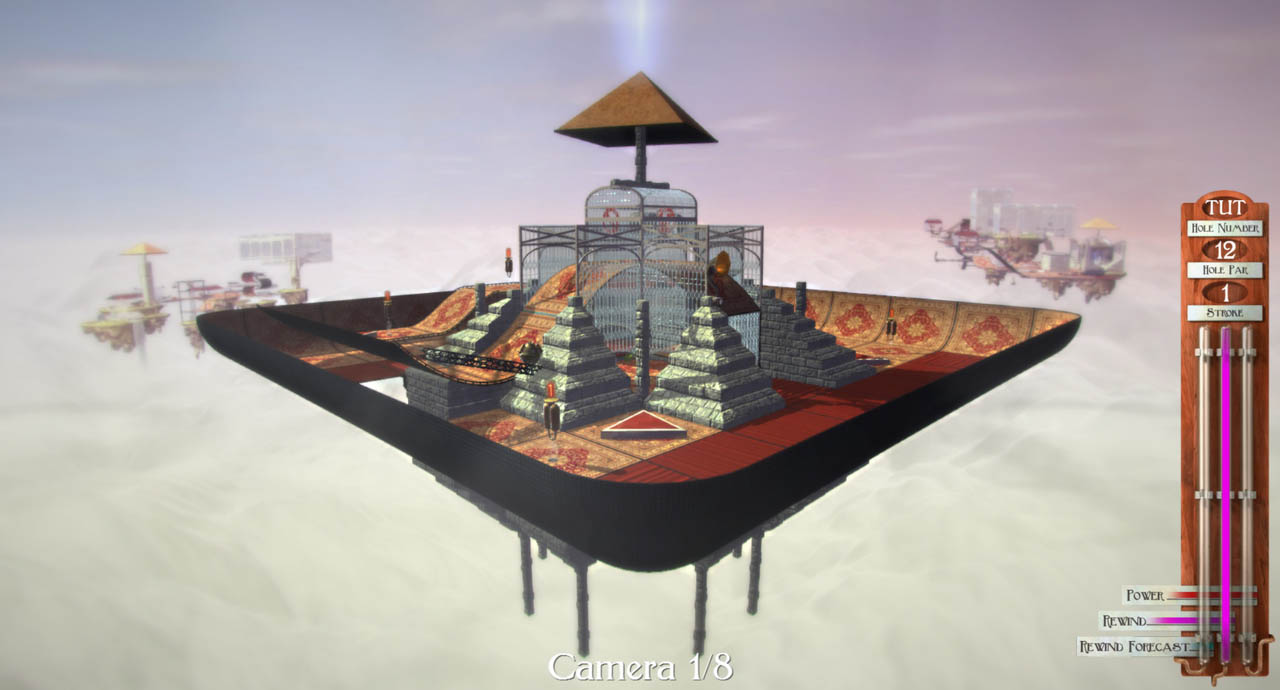 As you can't reset one hole, (only the entire course), the one request I would make is to have a proper hole reset shortcut.
It is easy to reset your shot, but this adds a stroke to your total. The game features both controller (tested with an Xbox 360 gamepad) and Keyboard and Mouse controls, though I ended up using a keyboard and mouse for most of the game as I felt it was more accurate.
Vertiginous Golf also features user-generated courses. These courses can be shared across the internet and since it has already been in Early Access for two years, there are plenty of nefarious or goofy options to choose from.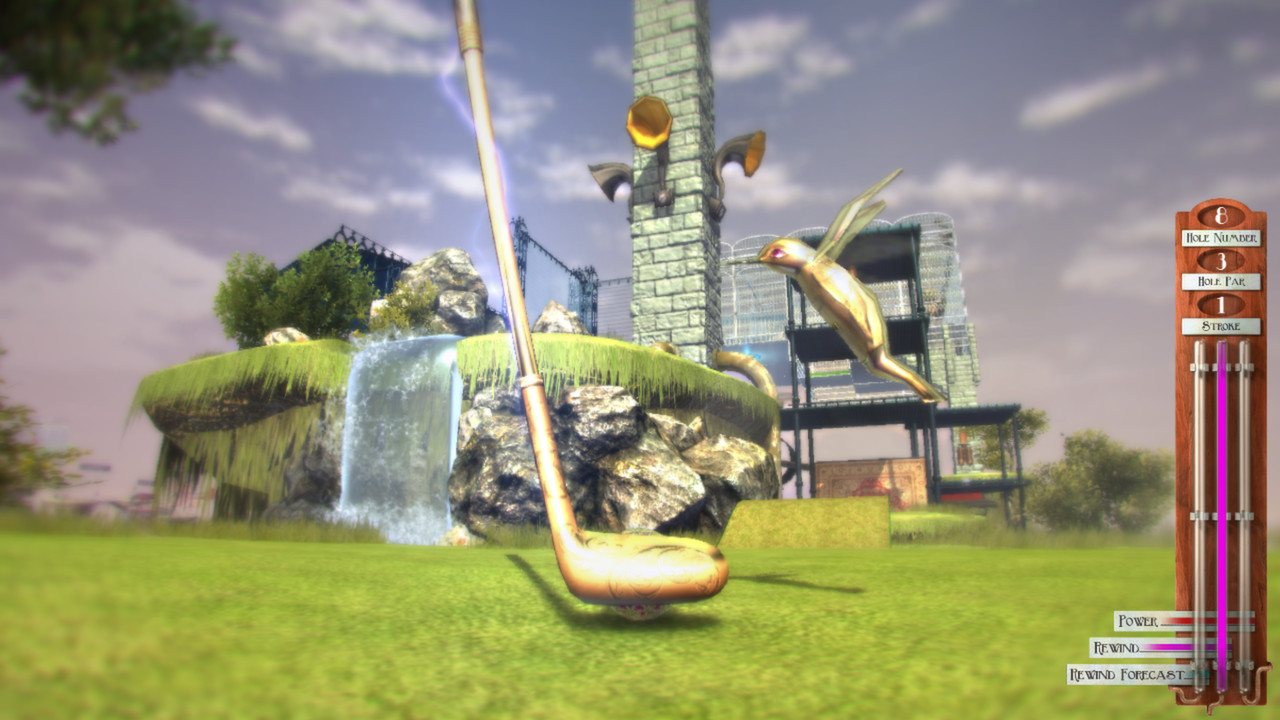 All courses can be played both locally and online, single or multiplayer. Multiplayer sessions can be tense, and mistakes that you would forgive yourself for in single player can be disastrous when facing a companion.
The game has a huge amount of content available. At US$20 (approximately $25 Australian dollars) Vertiginous Golf is not the cheapest indie title available, but it certainly provides excellent and long-lasting value, as long as you appreciate the core gameplay.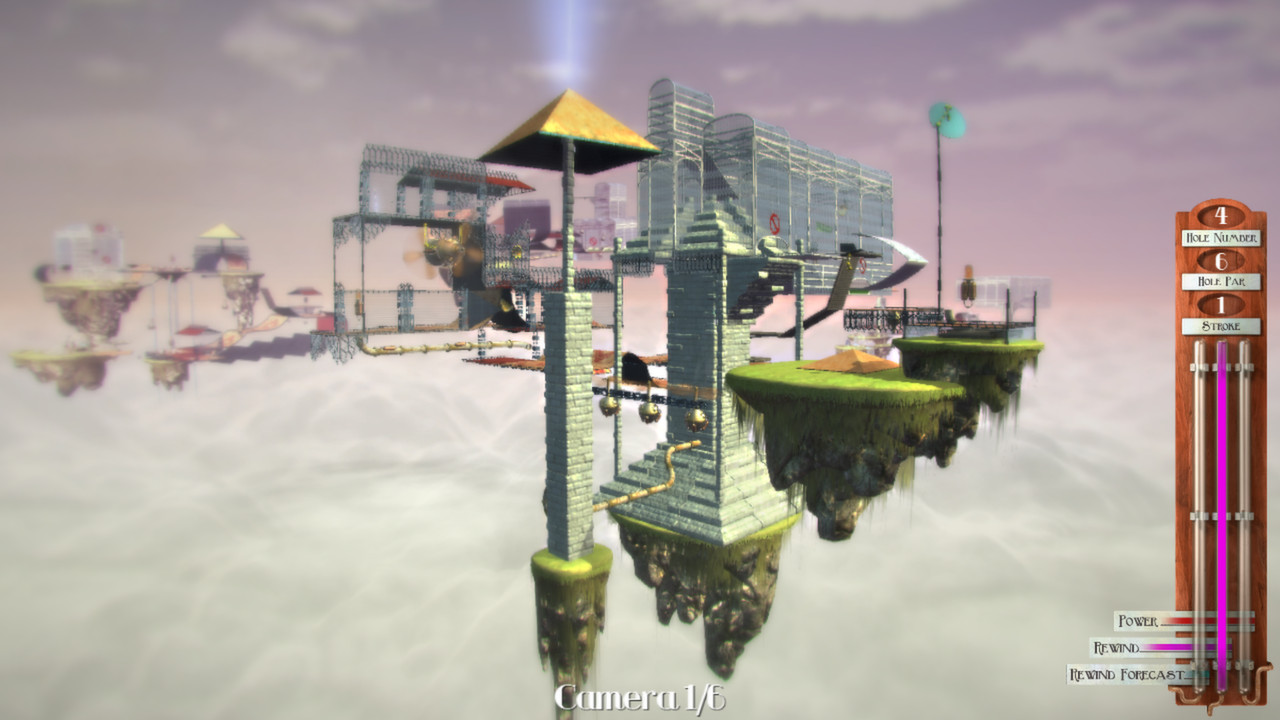 It doesn't quite endear the same type of nostalgia as those courses of my childhood, but provides gameplay with potentially hundreds of hours in replay potential, so is well worth picking up.
Vertiginous Golf is now available for PC, Mac and Linux platforms from Steam.