In Uncharted 4: A Thief's End, everything is in service to the narrative. In Naughty Dog's grand send-off to the Nathan Drake and his crew, they have created a game that gets to the heart of what has endeared the series to so many millions of hearts. It's a grand finale, and provides intriguing clues to what comes next.
If last year's Rise of the Tomb Raider was Falling Simulator 2015, then Uncharted 4 could easily be tagged as Almost Falling Simulator 2016. And why do you almost fall? Well, your brother has come back from the dead and needs you to prevent his real, second death. While in many games, this old narrative technique of resurrection and abduction would be boring, and illicit complaints of unoriginality, Naughty Dog has been able to make even this old and tired trope work. This is particularly due to the always reliable and excellent voice acting chops of Nolan North and Troy Baker. And although the story builds slowly, after a few hours your patience and investment pays off. Rather than the staccato of action found in previous entries in the franchise, Uncharted 4 takes its time to cook. In my opinion the game is better for it, allowing for deeper character development. And when action sequences do come, they are more meaningful and make a greater impact.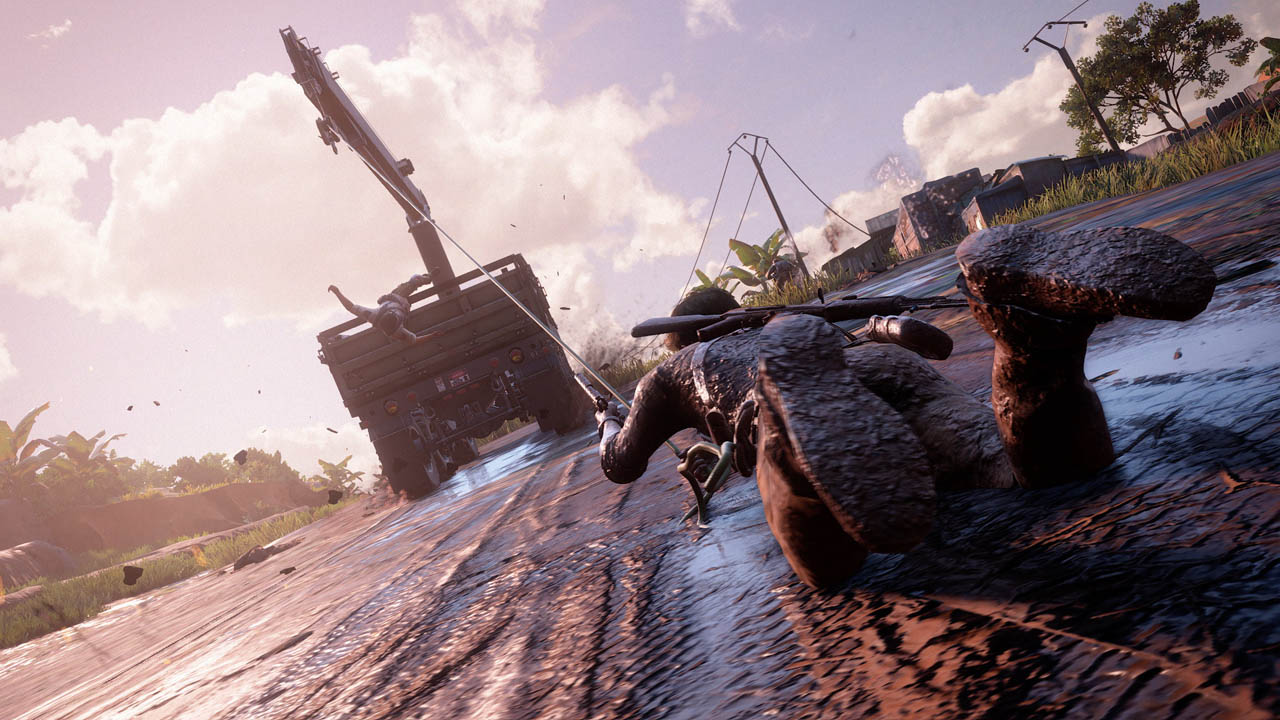 That said, I'm not sure what adding a new character does for the story. The narrative would have been just as well served with Victor Sullivan retaining his pride of place as main wingman, except that perhaps it would have been seen as a do-over of Uncharted 3. Together with a weak ending and unconvincing villains the story isn't the highlight many were expecting. It nevertheless provides context and motivation for a huge range of set pieces in beautiful locations.
And what locations. There is an amazing attention to detail that far exceeds what could be expected from almost any other studio. I often imagined the hours that some designer had to put in to make the vinyl covers of the market, or stonework in a fictional cathedral. The list of technical achievements is huge here, including (but certainly not limited to) a beautiful use of bokeh and depth-of-field effects, the most expressive face capture I've ever seen and in my opinion the most fluid and more importantly realistic animations in a video game to date. In a word the graphics are stunning, and it is almost unbelievable that the PS4 can manage such image quality, especially at 1080p.
I spent an inordinate amount of time in Photo Mode, trying to capture the majesty of what Naughty Dog have put together. My only complaint here is the camera is locked to Nate rather than free-roaming such as in The Order:1888 or The Last of Us Remastered.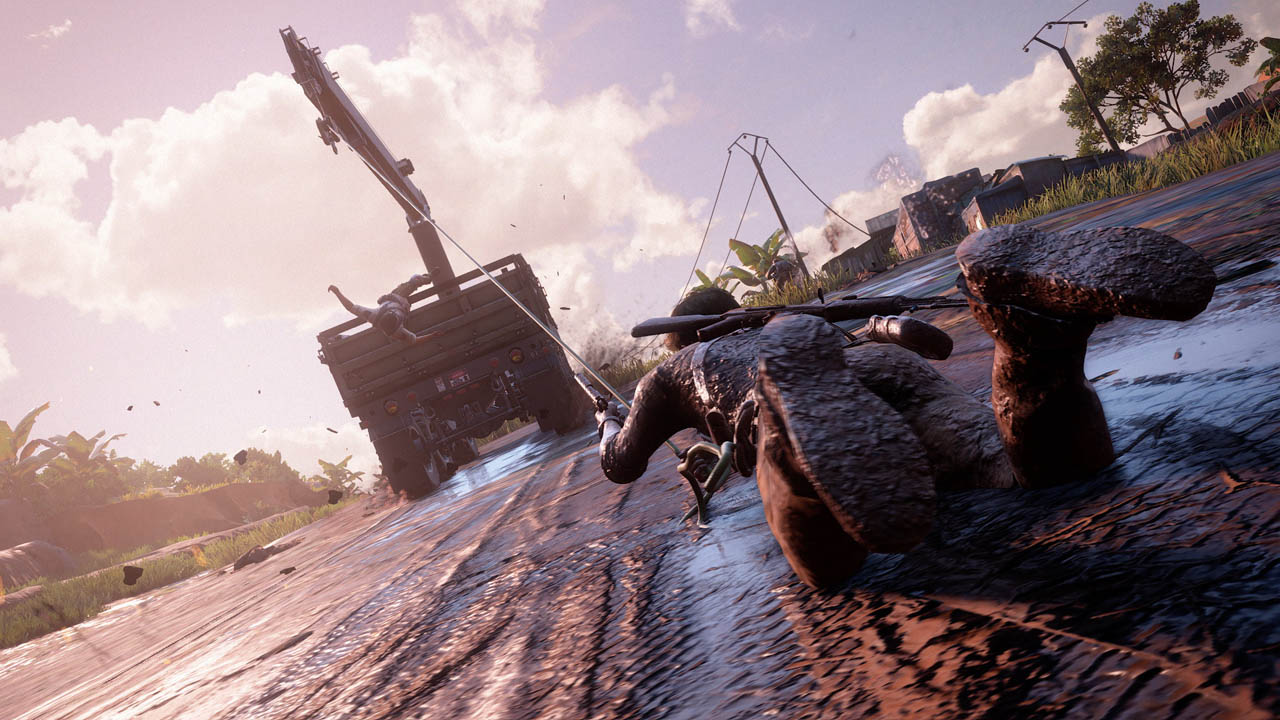 Naughty Dog's attention to detail extends to the Accessibility and advanced audio options. These options further demonstrate how their attention to detail and care for every aspect of the game is unparalleled in the industry, and I hope they become pioneers.
Uncharted 4 compares well to Rise of the Tomb Raider and 2013's Tomb Raider reboot. It learns from some of the highlights of those games, such as including an increased focus on puzzles. It steals the icepick climbing aid from the series and there's even a moment during the game where I'm sure the developers are making a sly nod to a crossover. That could just be me dreaming of a Hercules/Xena style crossover however.
Throughout your travels, you will be climbing a lot of cliffs and making improbable leaps of faith. Luckily climbing looks and feels fantastic, though where and what you can climb is highly scripted. There were occasions where there were simple boulders which I wanted to get on top of to undertake a reconnaissance, but couldn't due to the technical limitations. Nate's climbing powers are like a superheroes' – powerful whenever the narrative needs them to be, and ineffective at other times. You can only climb certain objects and in particular ways. While it is welcome that Uncharted 4 does provide you multiple climbing paths, I couldn't help but think of what more could have been done. Of course this is part of the clever Level design, which gives you a much greater sense of freedom than is actually the case. Naughty Dog are masters at funneling you along the critical path without you being conscious of it.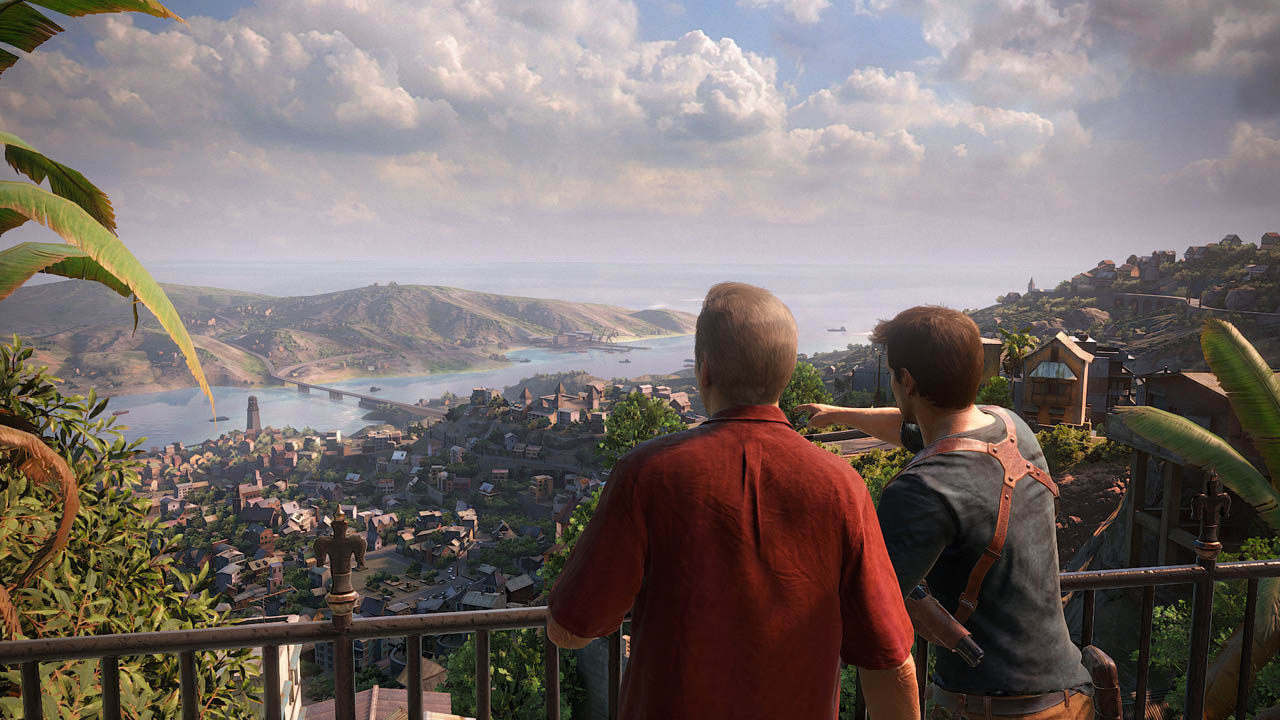 The gunplay and combat encounters are easily the worst parts of the game. Uncharted 4 introduces some stealth elements that are very similar to Assassin's Creed, but this isn't enough to make the combat interesting or the weapons satisfying. You can mark out enemies a la Far Cry or Metal Gear Solid to methodically make your way throughout the arena unnoticed. But if unlike me you like the fights, there's a new encounter select mode so you don't have to wade through story or climbing to reach the actual fights.
Another issue is how Nate moves far too many boxes to reach slightly out of reach places than he should. It's a mechanic worn out fairly quickly and by its twentieth appearance is long past its welcome. Speaking of tired mechanics, there were far too many times where I had to mash triangle to lift something. There was also one unnecessary motion control action but it was thankfully limited to 10 minutes of game time.
You might be surprised to know that after all of the focus on the single player Uncharted 4 also has a full featured multiplayer. It can be an enjoyable romp. For example, using the grapple to escape can be fun and the ability to call down reinforcements such as an armoured machine gunner is a great addition. Nevertheless, I doubt that Uncharted 4's multiplayer will remain popular for long. It adds too little to the genre to draw anybody away from what they're already playing. It's a bit too generic and as I mentioned before, the gunplay isn't compelling enough to garner much devotion.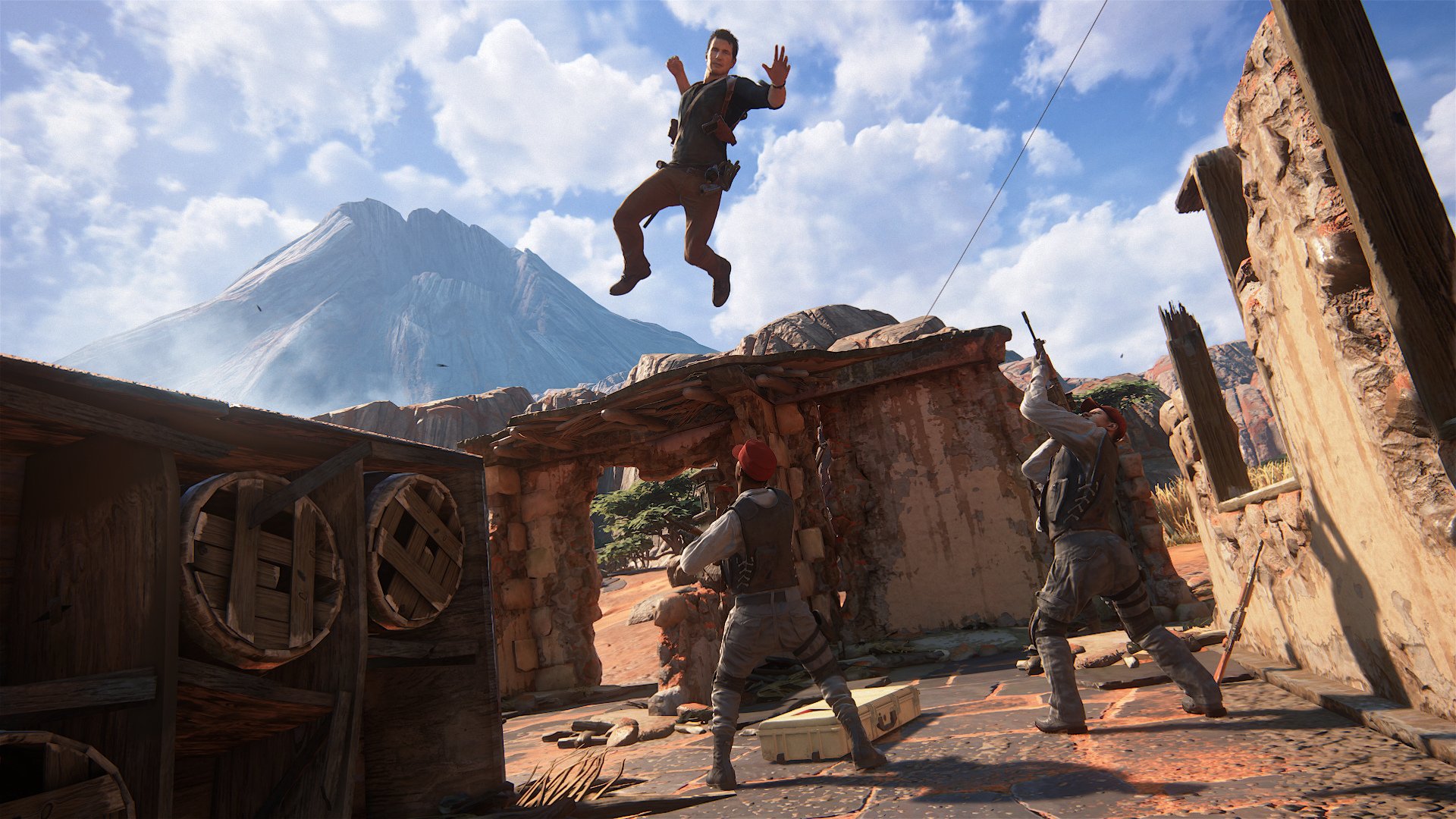 Collecting treasures during the game unlocks a couple of fun effects, such as playing the game in simulated cell shading a la Borderlands which looks great, or 8-bit style, which is less successful. Others such as infinite ammo or no gravity are also there to make the game a bit more repayable.
There are a few areas that let Uncharted 4 down. While solving puzzles, your companions tell you what to do a little too quickly. Sometimes I needed more than 15 seconds to figure out a puzzle, or I was just off exploring for a collectable and knew exactly what to do. Almost constantly hearing them tell me how to play the game was irritating, and points to how Naughty Dog really just wants you to engage with the story above all else.
Companions can be annoying in other ways. While you often have multiple companions with you, you are unable to make effective use of them. In the new stealth sections for example, they just follow you around, rather than acting independently and with initiative. Granted, sometimes they take an enemy down if the enemy is walking directly towards them, but I feel there was room to include something like a command system, so you could tell them to hang back, or stealthily take down guards, or even go in guns blazing. It broke the immersion somewhat.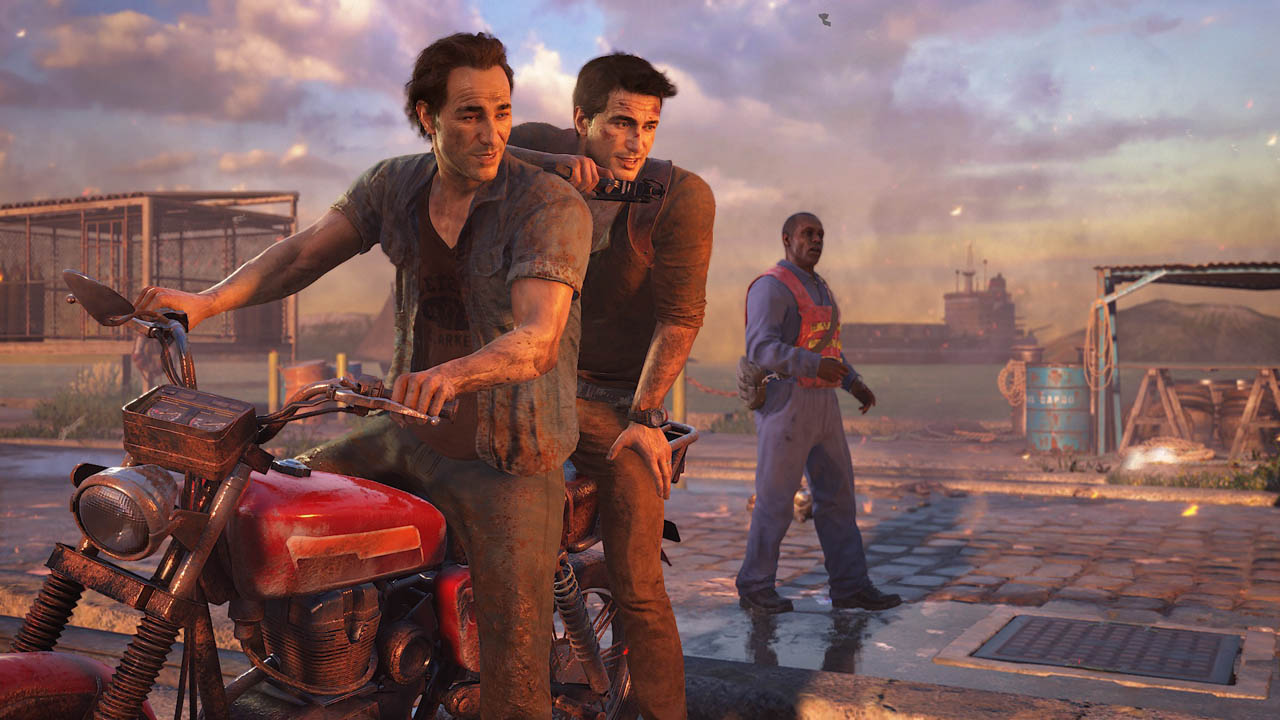 Another annoyance is how it sometimes did the very gamey thing where you win the fight in terms of game mechanics but ended up "losing" in the scene. For example, I "won" a sword fight but as soon as I did the villain took the sword from me. It robs the player of their victory and makes all the preceding action ultimately meaningless.  Sure it's a personal hobby-horse, but it degraded the game experience for me anyway.
On a technical level, weirdly, the audio was very soft in the game, and needed me to increase the volume to what would otherwise be dangerously loud levels. If I switched away from the game to watch Netflix for example, I had to be extremely cognizant of the increased volume.
But these are only minor quibbles. Uncharted 4: A Thief's End remains a triumph of the PS4, and an essential part of any PS4 collection. If you have it I'm sure you're already loving it, and if you haven't, you need to go find a copy as soon as possible. Combining the very best of the rest of the franchise, Naughty Dog have raised the bar once again – I haven't even had time to describe the beautiful scoring that permeates the game.
While it is sad to farewell Nathan Drake, we are certainly not saying goodbye to Naughty Dog who are at the very height of their game.
Uncharted 4: A Thief's End (PS4) Review
Released: May 2016
Rating: R13
Platforms: PlayStation 4
Genre: Action, Adventure
Developer: Naughty Dog
Publisher: Sony