If you haven't got on to the foldables bandwagon yet due to pricing it might just be time to flip in to it.
Samsung released their newest smartphone model Z Flip at a more reasonable pricing tier and boasting a 6.7 inch foldable display in a compact design.
So compact infact that when folded the squared smartphone is around the same length as a credit card.
The Z Flip does have a wider than other Galaxy phones screen bezel, this naturally is to protect the edging of the foldable screen but they have done an outstanding job at the folded width where it is only millimetres chunkier than your present day flagship device.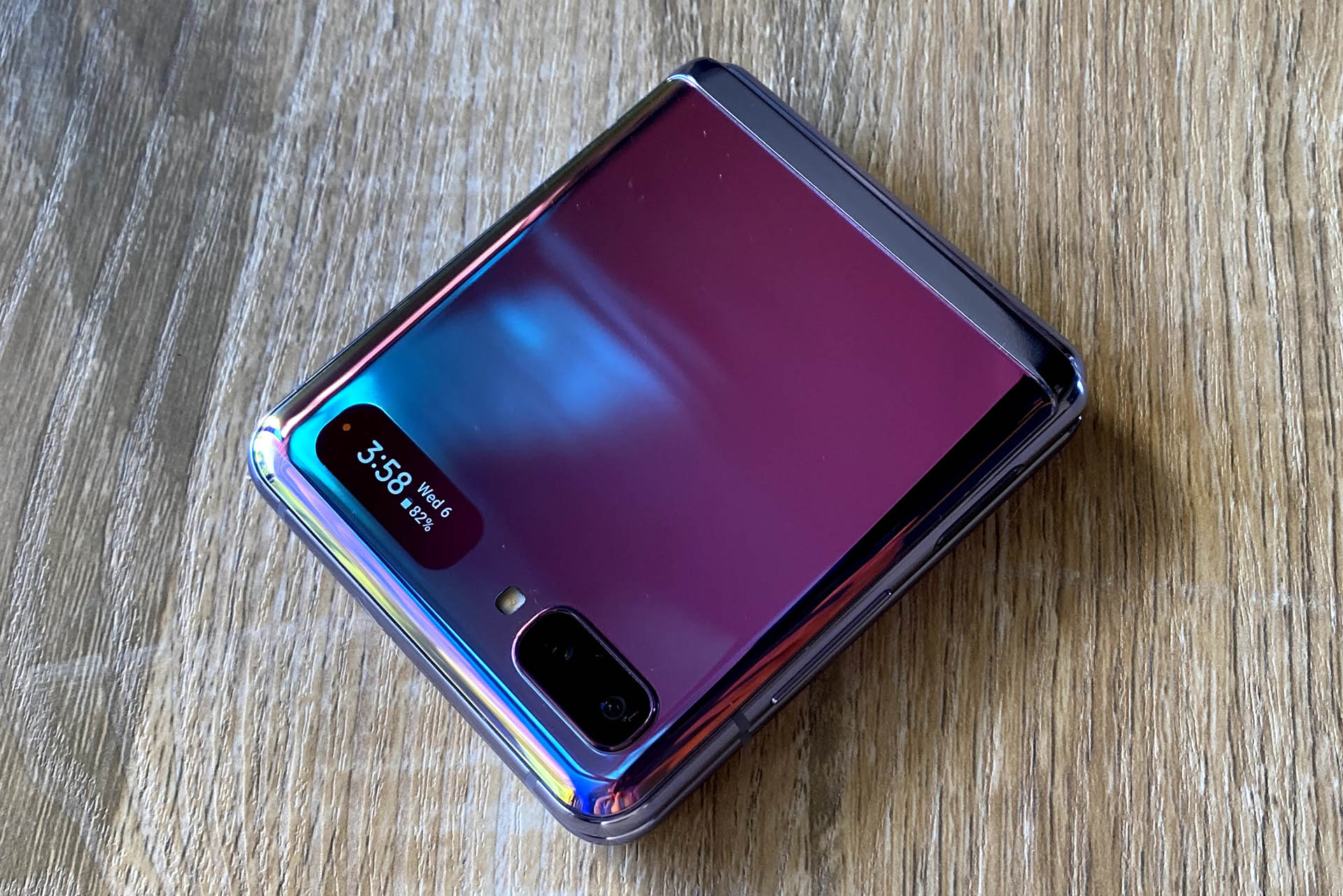 On the sides of the mirror finish casing are the volume toggle buttons and an indented power button that also acts as a super slim and super quick fingerprint scanner for unlocking the device when unfolded.
Need to see if you have any notifications when folded? Samsung thought of that too.
The 1.1 inch display is touch recognizable and will wake up at a double tap. A small swipe across will let you know what notifications you have and you can even read a small excerpt from an email or message.
This tiny but informative display also acts as the dual 12MP rear camera view when the Z Flip is closed. Double tap the power button and boom you can take breathtaking selfies in compact mode.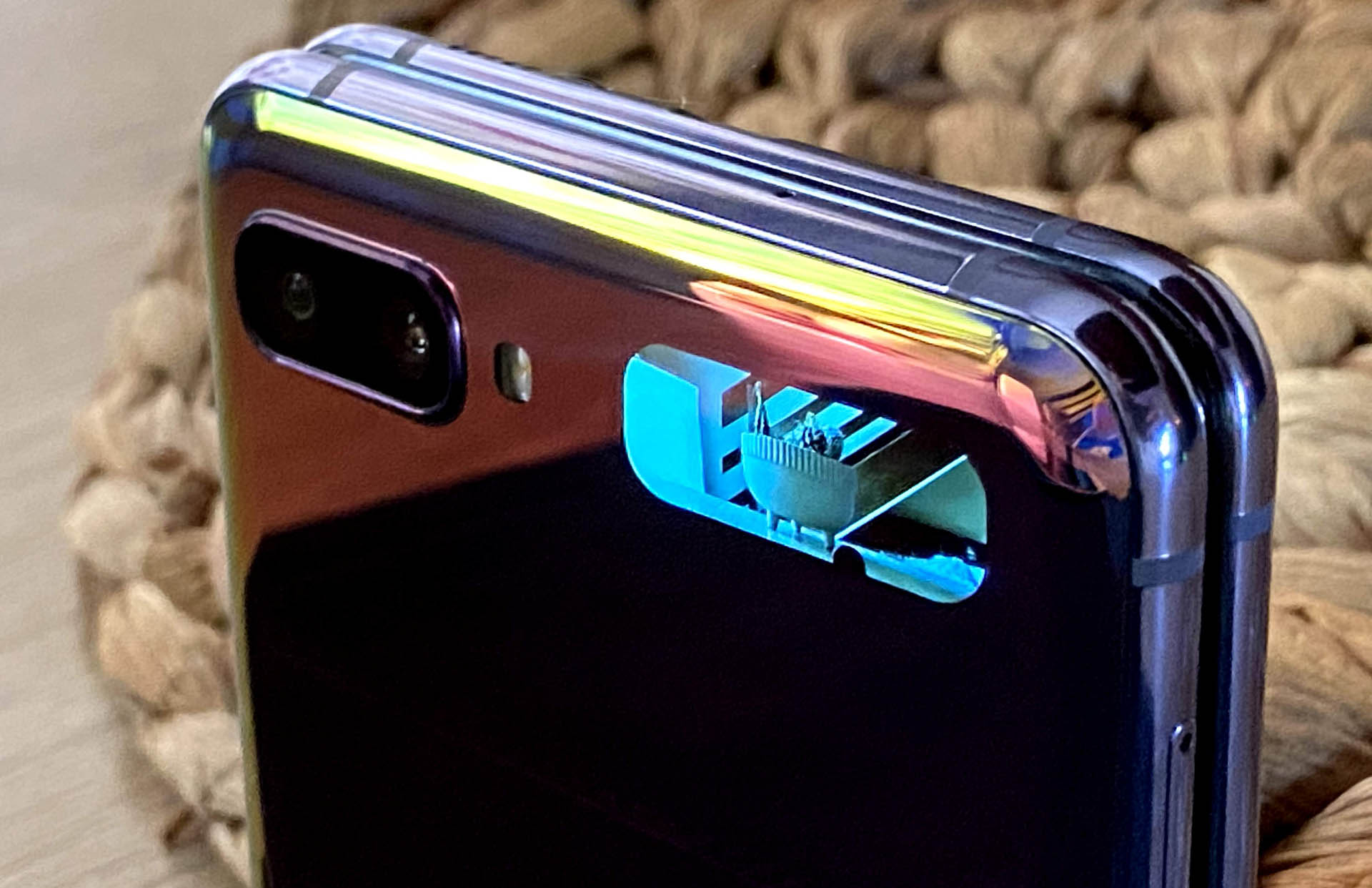 Unfolded the screen will initially act as one long scroller. But you can multi-window halving the screen split at the almost invisible fold crease with one app on top and one below. Stream Netflix while replying to emails.
Using the front 10MP camera and bending the Z Flip into an 'L' shape will split the screen at the fold crease with the camera buttons on the lower part and camera view on the top. Perfect for vloggers, bloggers and content creators.
Inside however the specs are moderate.
Storage comes in at 256GB and the dual SIM tray does not allow for a microSD expansion. I place this down to a spacial requirement being the Z Flip is indeed one of the most compact smartphones to date.
Memory (RAM) is only 8GB. Enough for most but given the content creating capabilities of this device bumping it up to 12GB would have been ideal.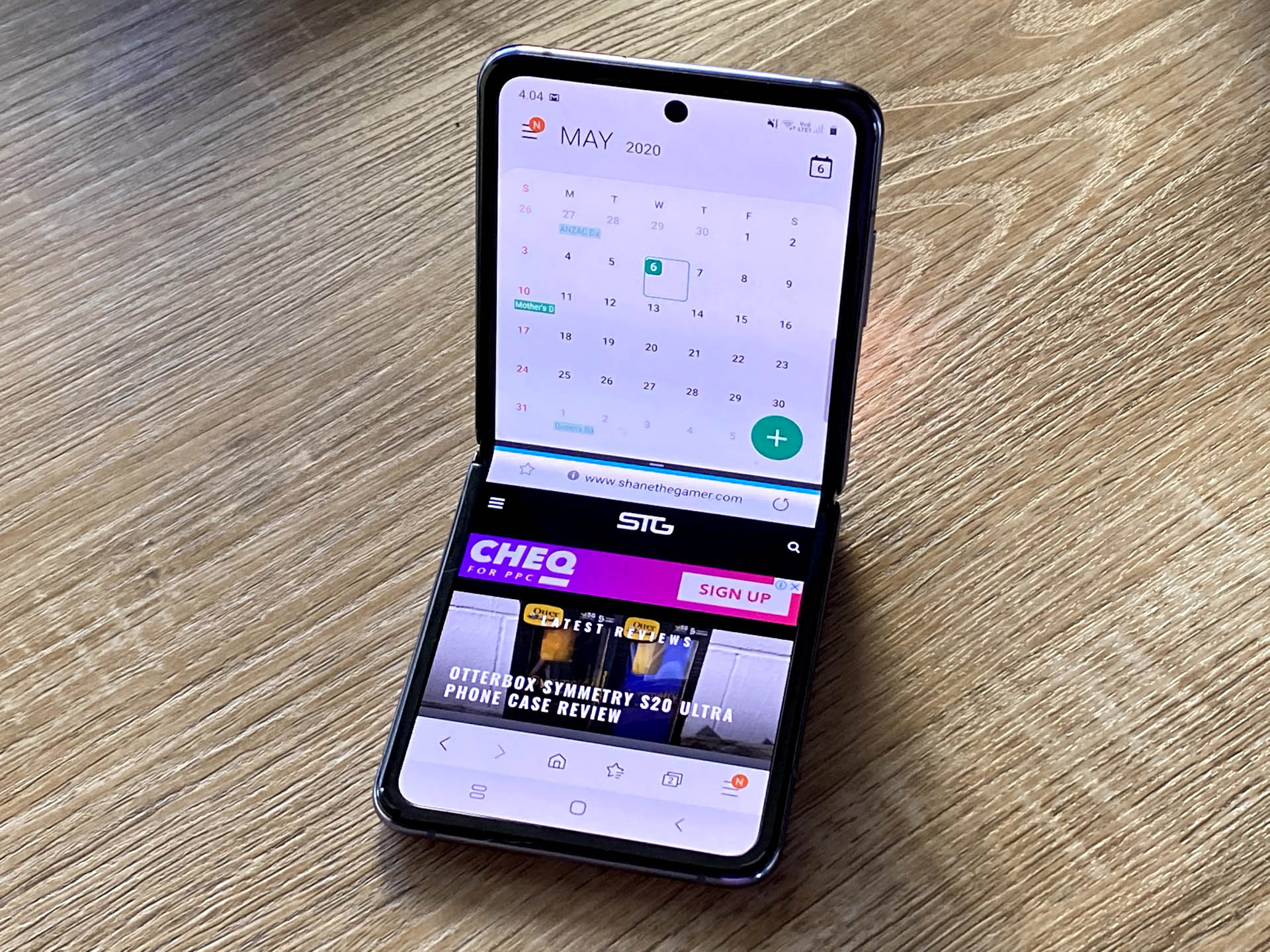 To make up for the RAM shortfall is a powerful 855 Snapdragon processor which will see you multitasking like a pro and snapping pics using all of the available modes (now even better with the recent update for Samsung phones porting over camera functionality from the S20 devices).
Taking in the OS, camera specs, hardware and features the Z Flip is very much a mid range S10 or S20 that is able to fold.
The screen itself is a flexible ultra-thin full HD AMOLED at 2636 x 1080 and the fingerprint magnet casing a hard plastic.
Opening and closing the Z Flip is a two handed affair, no it's not like the flip phones from the days of yore so you can't you be like a secret agent and flip your phone open with a flick of finger.
The Z Flip felt alot more robust than the first Samsung Fold. Perhaps inpart that is due to its compact size – but I did not feel as though I had to put on kid gloves while using it as my main everyday smartphone.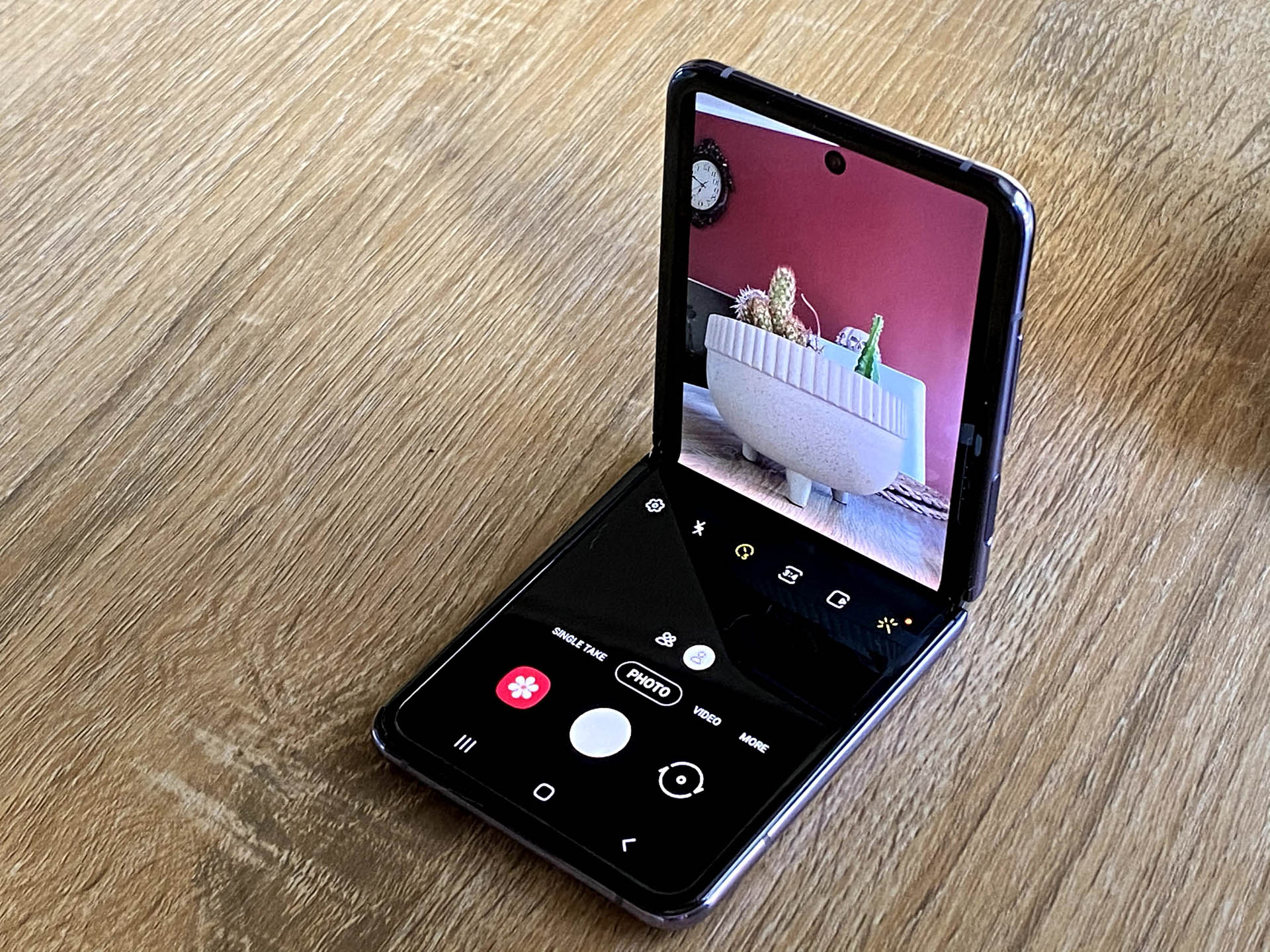 The 3,300 mAH battery life was not so good.
The Z Flip can last a day and I suspect that for those less busier than me it would get you through a full day through to late evening.
I would begin running on empty anywhere from 5pm or on a good day around 9pm from a full charge at 6am. It is wireless charging and powershare capable – but missed out on the 5G boat.
The Samsung Galaxy Z Flip is an exciting phone to use and one of the best uses of a foldable screen so far.
It does slightly lack on the inner specs but makes up for this with the innovative folded UI (User Interface) tweaks and the novel rear clock / notification / camera view built in to the more than compact body.
The Z Flip is a beautiful innovative variation within the Foldable range of Samsung flagships, designed in and out for all fitting in the palm of your hand flipped open or closed.
My pick of the best foldable smartphone, so far, in 2020.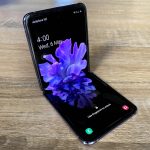 Samsung Galaxy Z Flip Review
Device details
Released: April 2020
Device Name: Galaxy Z Flip
Chipset: 855 Snadragon
Memory: 8GB
Internal Storage: 256GB
Camera: F: 10MP. R: Dual 12MP
Price: $2,399.00 (NZD)