Make mine a 9. A Note9 infact.
Samsung have today released their next phablet wonder to the masses and the hordes of 'Note' fans across the Globe.
Thanks to Samsung New Zealand I was privileged to spend a small amount of personal time with a 128GB model before the official release date.
Assuming that anyone who reads this review is aware of the 'Note' series, an Android based smartphone that comes with a stylus, called the S Pen.
This year we see the S Pen having it's own identity in the way of personalised colouring, not only in the digital ink but also in it's physical appearance. The clickable S Pen comes with it's own smarts making it not an accessory but an integral part of the entire Note9 experience.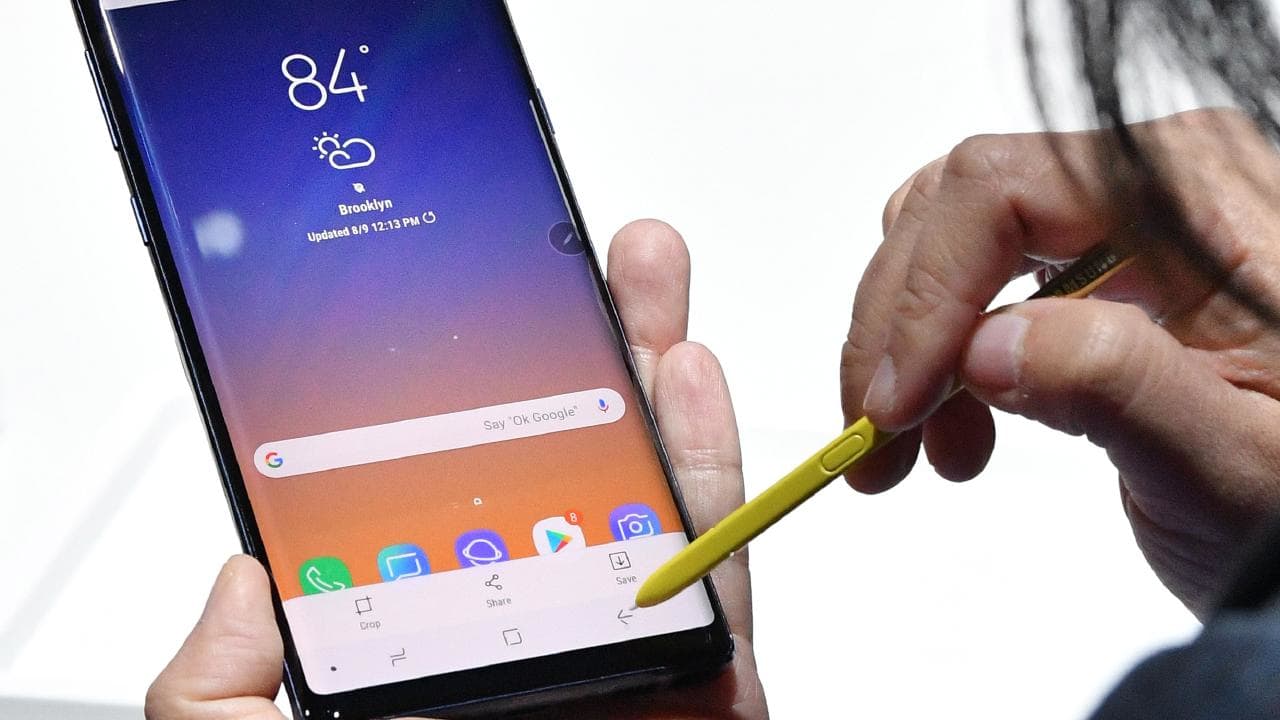 Sitting flush at the base of the Note9 the S Pen when popped out will enable either screen writing instantly (for super quick notes) or the S Pen dial Menu that we have seen in the Note7 and Note8. What's more its 4096 points of pressure make it the perfect artists tool. From light sketches through to full and thick paint dabs. The S Pen has also been built to work with the camera function of the Note9, whereby you can use the click function to remote snap pics.
For me – using the screen writing was something I had been missing in my life. It was so handy.
Jotting down a phone number, a grocery list, a reminder, the number plate of a van that backed in to me and drove off (true story).
The 6.4 Inch OLED screen with an almost no top and bottom bezel and the virtual Home Button (which has been improved upon immensely since the S9) is wide angled for viewing and watching media.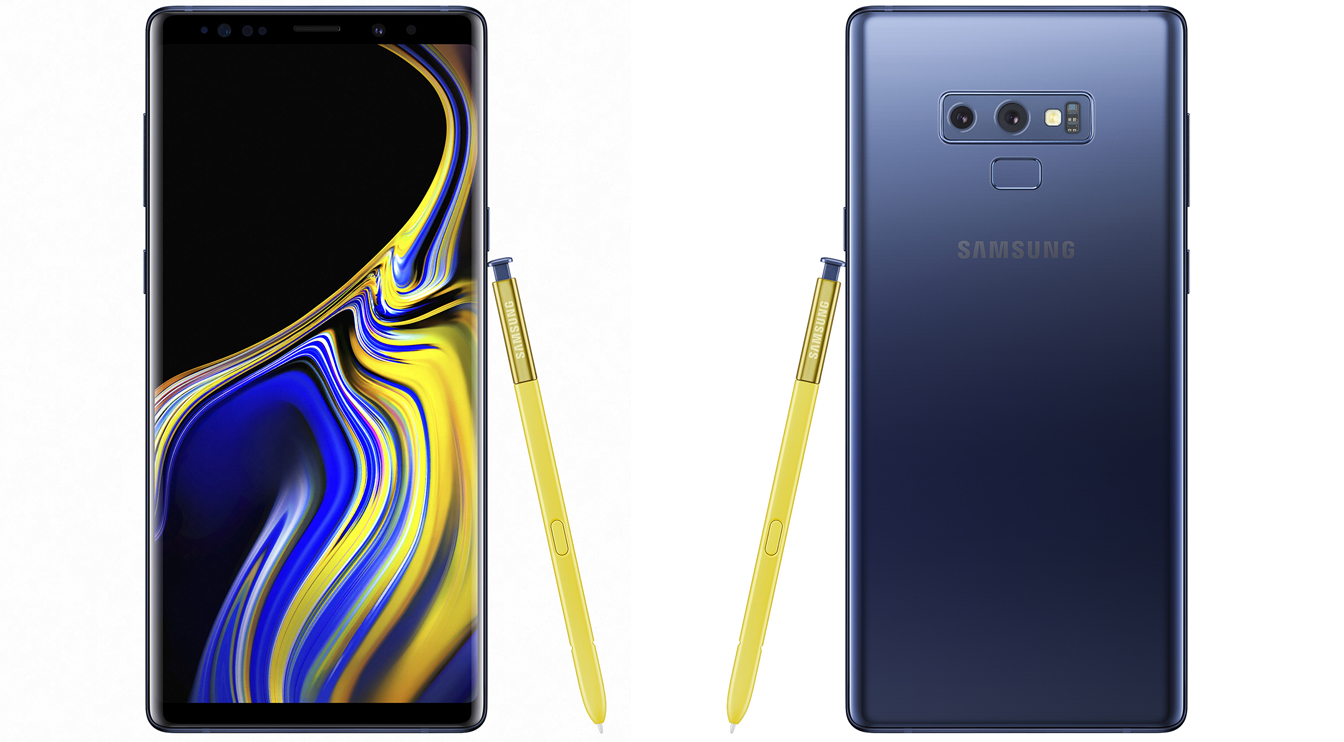 Camera's front lens is a surprisingly a low 8MP and the dual rear dual lens 24MP (x2 12MP) and while still a fantastic rear camera outputting larger than live detailed snaps there maybe a little bit of a spec catch up needed when compared to comparing to other Android based smartphone manufacturers.
The funtastic A.R. (Augmented Reality) filter is there for selfies amongst a few other Samsung-esque favourites.
But, the Note9 is not all about fancy pics and breathtaking selfies– it's a complete all rounder. Designed for anything that you would like to do with it.
Samsung partnered up with Epic Games for their Fortnite mobile game, ported from PC and console. Implementing a Exynos 9810 2.7GHz chipset partnered with 6GB RAM (128GB Model) or 8GB RAM (512GB Model) the Note9 is the world's first super computer in your pocket.
Couple this turbo speed and data caching ability with the AKG enhanced dual internal speakers make the Note9 a serious mobile gaming device.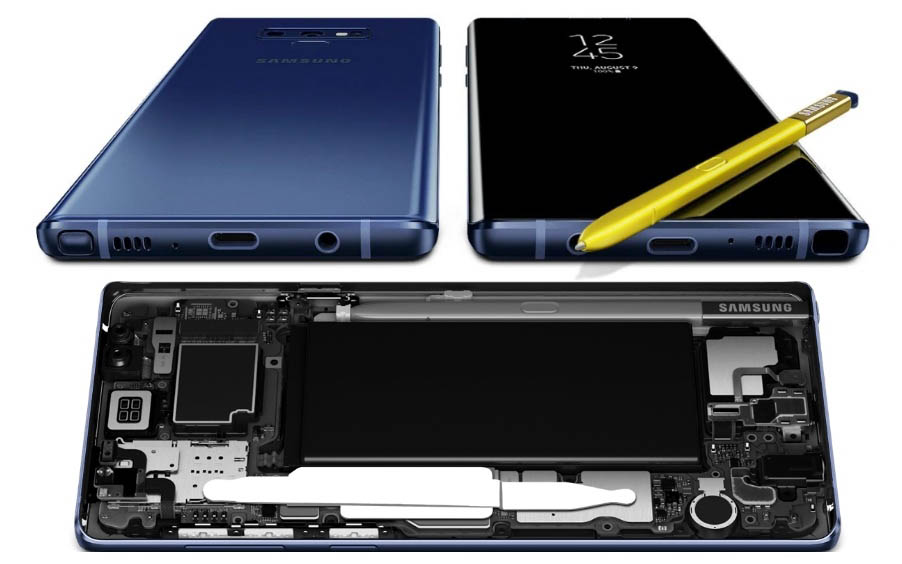 Samsung have switched things up with device security. There is Samsung's Knox digital security software builtin to the OS, however hardware wise, the finger print sensor has been relocated from beside the rear camera lenses (Note8) and is now placed directly under the dual lens housing. Then there's facial recognition and iris scan.
Facial recognition uses a 3D scan of your smiley dial to unlock the phone to the Home Screen. This was flawless and worked with glasses on aswell (including sunnies). The iris scan was also good – however tended to work better without wearing prescription glasses and I found that you needed to stare directly at the scanner sensor which would illuminate like a red laser. The iris scanner worked 8 out of 10 times.
The Note9 still houses the 3.5mm audio socket which is a definite plus and while audio through wired headphones uses AKG enhancements, it was real good but sound volume seemed to a teeny bit limited. For most users it will be loud enough though. The dual sim bay has two trays, one sharing a Sim placement or microSD.
The 512GB model will take a 512GB microSD – thus giving you up to 1TB in digital storage. That's more than enough, even for me who tends to be a digital hoarder. (Other Models will also take a up to 512GB microSD card aswell).
With all of these hardware and software enhancements naturally you'll need a heftier battery. Samsung know this and and placed a 4,000mAh in which will most definitely get you through an entire day. With moderate to light use the Note9 will see you right for around three days.
A mere 40 second charge will top you up and keep you going for 30 minutes. A complete charge from totally flat takes less than one hour (around 30 – 40 minutes). The fastest charge (for a minimal top up) I've ever experienced. And of course there is wireless charge.
Samsung have really gone a few steps forward with the Note series and have aimed to please both Note fans aswell as offering up a pocket sized super computer for the masses, but at a heavier price tag though.
Still, if you have the budget the 512GB model is the one to go for with the additional RAM. You don't need to be a super multitasker to reap the benefits of the 8GB – even in every day usage the extra memory will be duly noticed.
The Samsung Galaxy Note9 – a pocket sized powerhouse of creativity.
Samsung Galaxy Note9 Review
Device Details
Released: August 2018
Device Name: Galaxy Note9
Chipset: Exynos 9810 2.7GHz
Memory: 6GB (128GB Model), 8GB (512GB Model)
Internal Storage: 128GB 0r 512GB
Camera: F: 8MP. R: 24MP
Price: $1,699.00 NZD (128GB Model), $1999.00 (512GB Model)</p