Seven years ago Microsoft took on the tablet market which at the time was predominantly Apple based.
The original Surface Pro was new tech back in 2012 and made Windows workable on a smaller touchscreen.
Combined with a stylus (Surface Pen) which back then was included with the Surface and purchasing a keyboard case you were able to work and play as you would on a desktop or laptop without the need to lug about large bags or be confined to a desk.
I have always been a fan of the Surface and look forward to each new generation's annual release. We are now at gen 7, so the new surface that we have received from Microsoft is aptly named Surface Pro 7.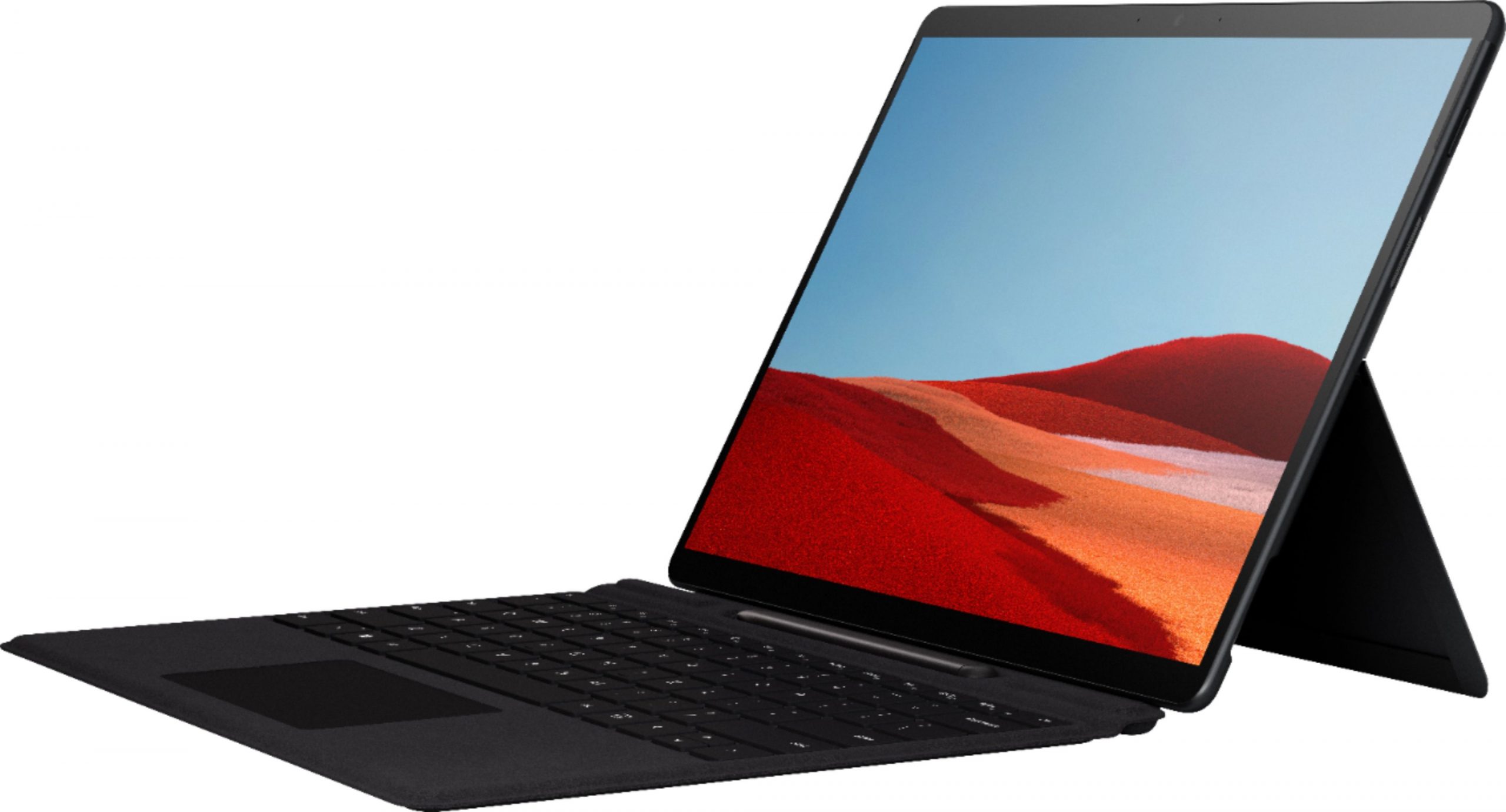 On the face of the tablet it's still very much the same as the last generation. One USB 3.0 port to the right (in landscape mode), a traditional 3.5mm socket for headphone or mic and the Surface universal magnetic charger port.
To my surprise and delight Microsoft have continued to retain a easily missed feature of the Surface Pro's – the microSD card slot that is found at the back of the device under the kick stand.
The inner workings of the Surface Pro 7 are where differences lie between past present models.
The 12.3 inch screen with a moderately slim bezel weighs in a maximum resolution at 2736 x 1824. This means that while the device is FHD, it hasn't broken the 4K mark.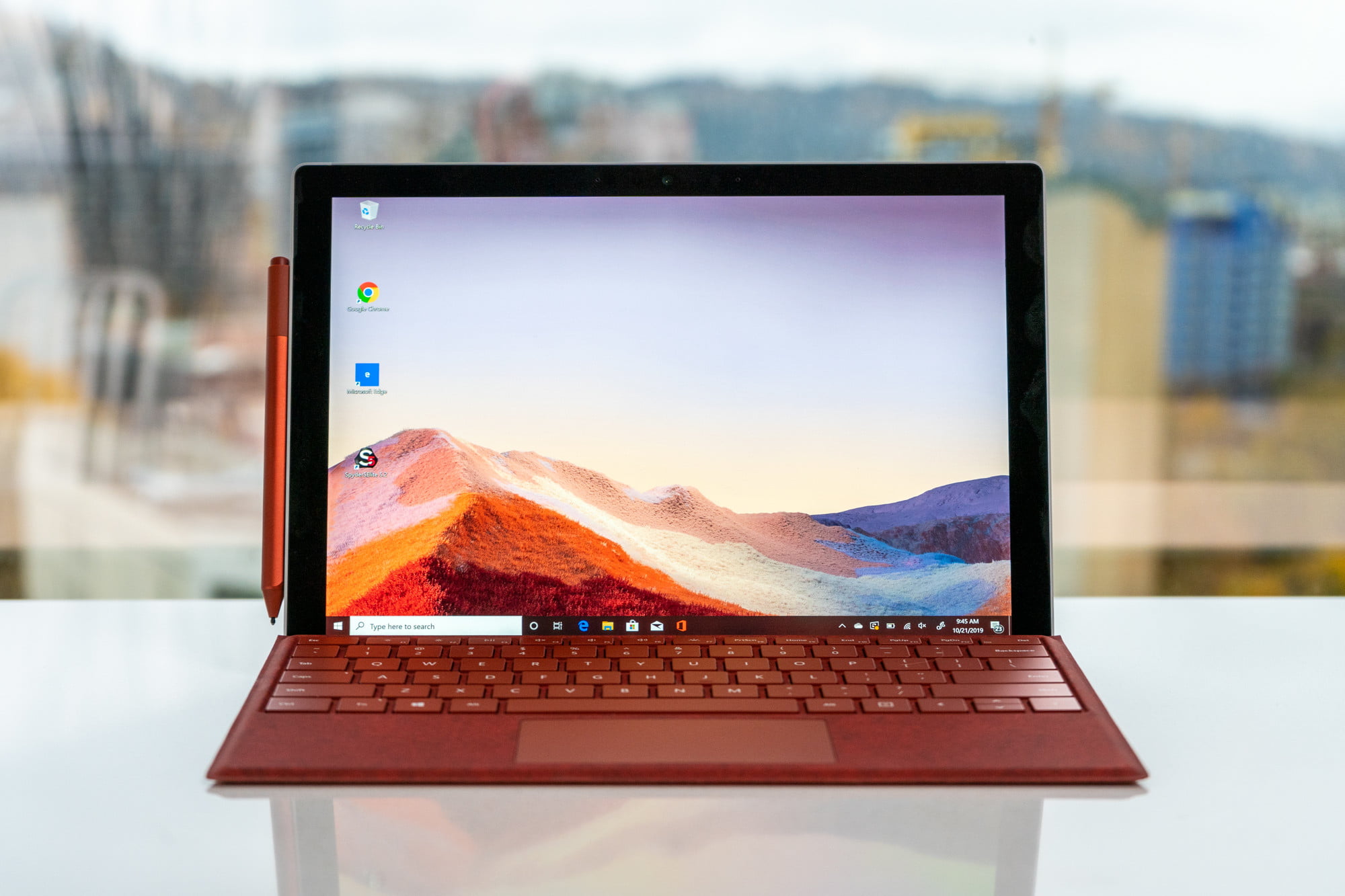 The Surface Pro 7, as with its predecessors, has two cameras, front and back. The front is super low at 5MP, but can perform HD recording, functions exceedingly well for video calls and Windows 10 face recognition for security.
The rear camera comes in at a low 8MP. I still can't come up with a designated use for the rear camera – other than it keeps that tablet feel and is great for augmented reality apps.
The model received in to STG is on the higher spec range. An SSD storage of 256GB (expandable by way of microSD), 16GB RAM and the latest (2019) Intel i7 processors.
The data crunching speeds of the Surface Pro 7 are high enough for the hybrid device at 150 GHz and whether you use a Surface Pro 7 for work or play, or both, it's going to see you right for most tasks.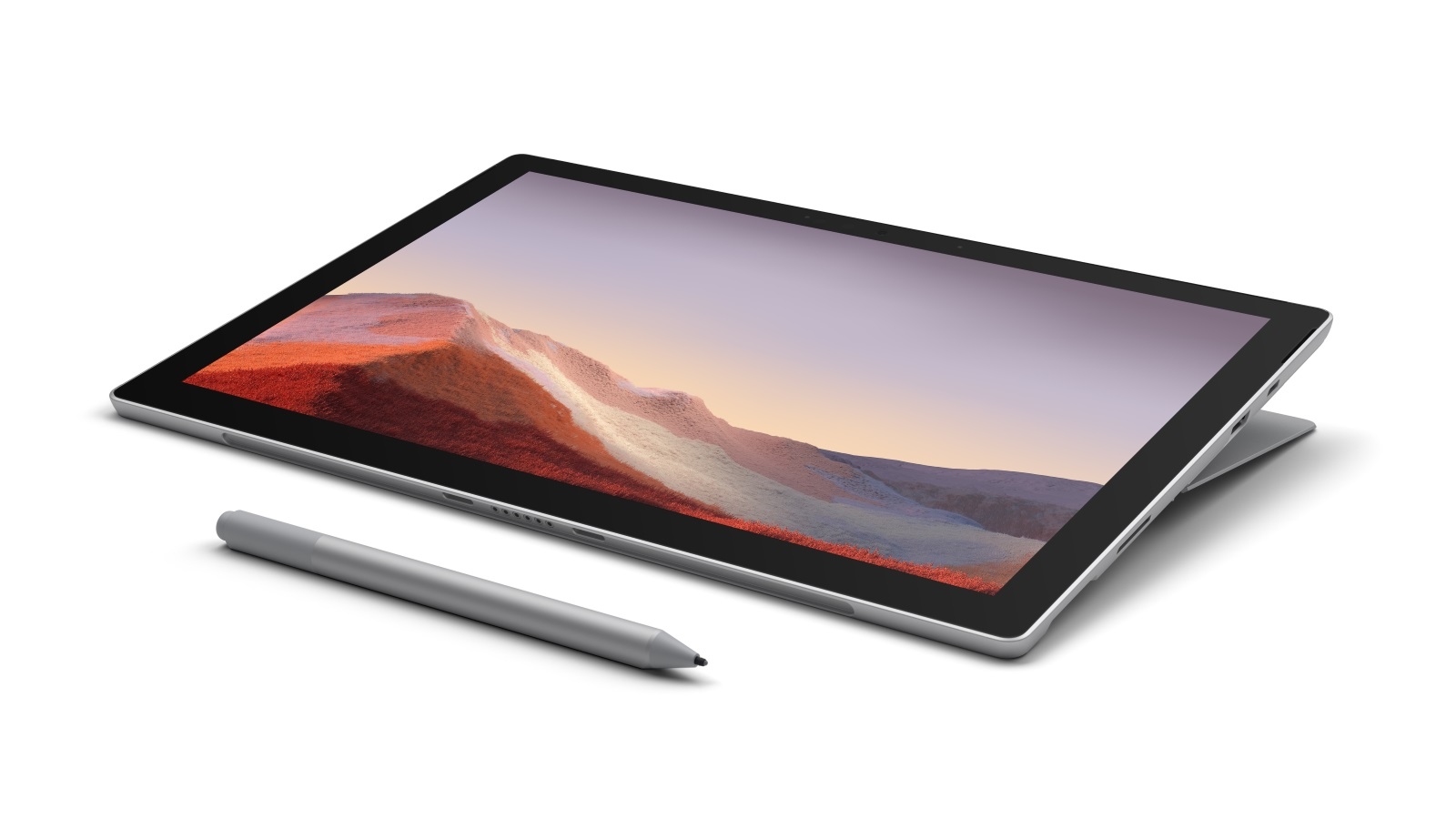 While the processor speed is on the mid-to-lower side of the computing sphere we need to remind ourselves that this is a tablet with Windows – not a mid-range gaming laptop.
Still, even with these specs the Surface Pro 7 should be able to play the odd game, right?
Yes and no.
The onboard Intel Iris graphics chip lets the device down as far as rendering any high graphics – but low to mid resource games sure do work.
PUBG didn't perform too well and became very laggy, Fornite perfectly and any bite sized indie games from the Microsoft Store or Steam play as expected.
I do get a sense of geeky satisfaction when I am able to game on a Windows based tablet with my wireless Xbox One controller. But you may not be able to game for too long though.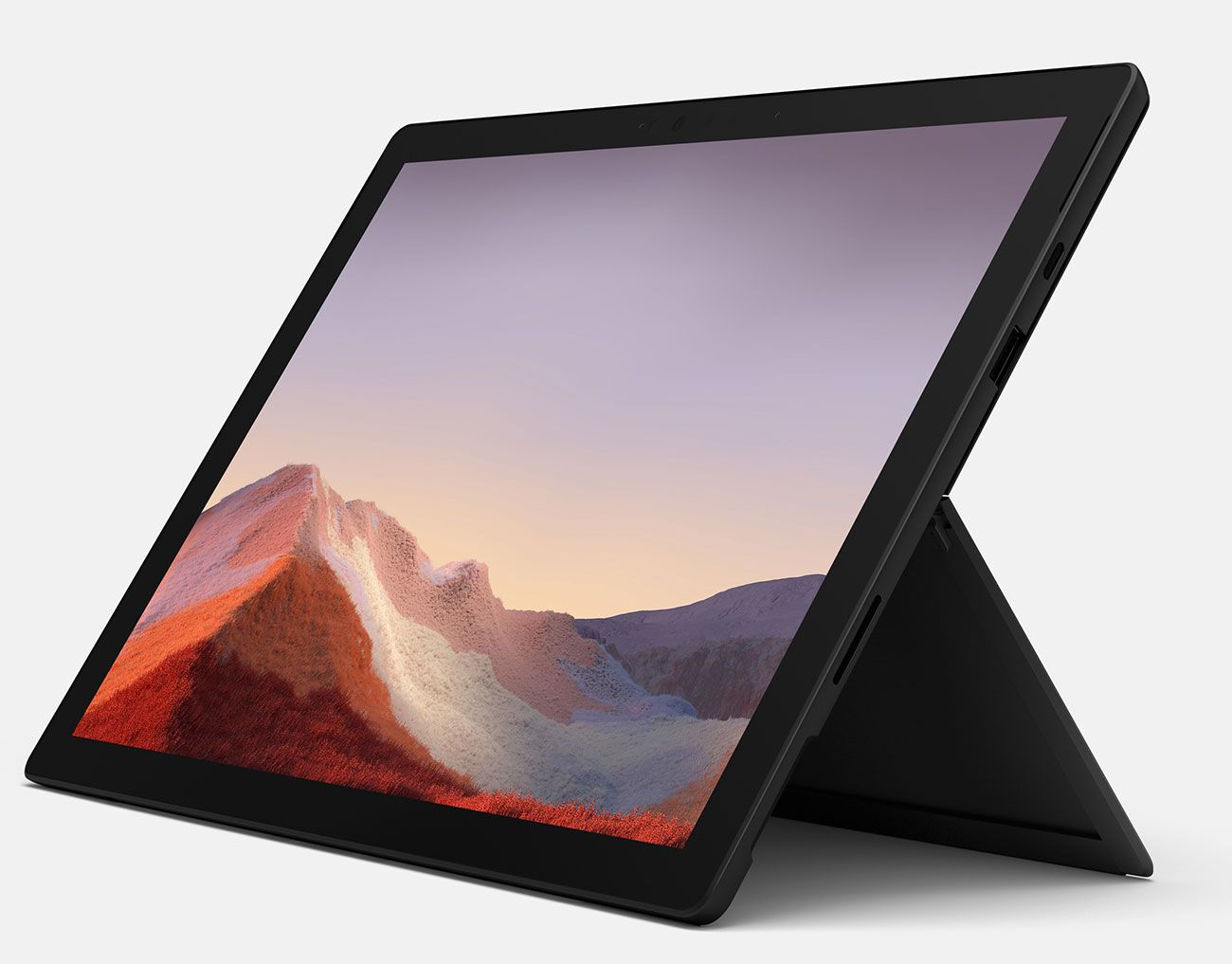 PUBG and Fortnite were the worst culprits for battery gobbling where I got around one hour from full charge on either game.
Interestingly Cuphead (which also performed well) lasted the longest with just over two hours of play on a full charge.
If you're an aspiring eSports gamer and playing the likes of Fortnite or LoL (League of Legends) a Surface Pro 7 would be a step in the right direction if you require pick up and play and super light portability. It's not going to play anything too grunty – but as mentioned the Surface range is not really intended for serious gaming.
The Surface Pro 7 boasts an up-to 10.5 hours battery life for 'normal use'.
Providing that you do not throw anything to resource intensive at the tablet you are actually likely to receive this amount of longevity.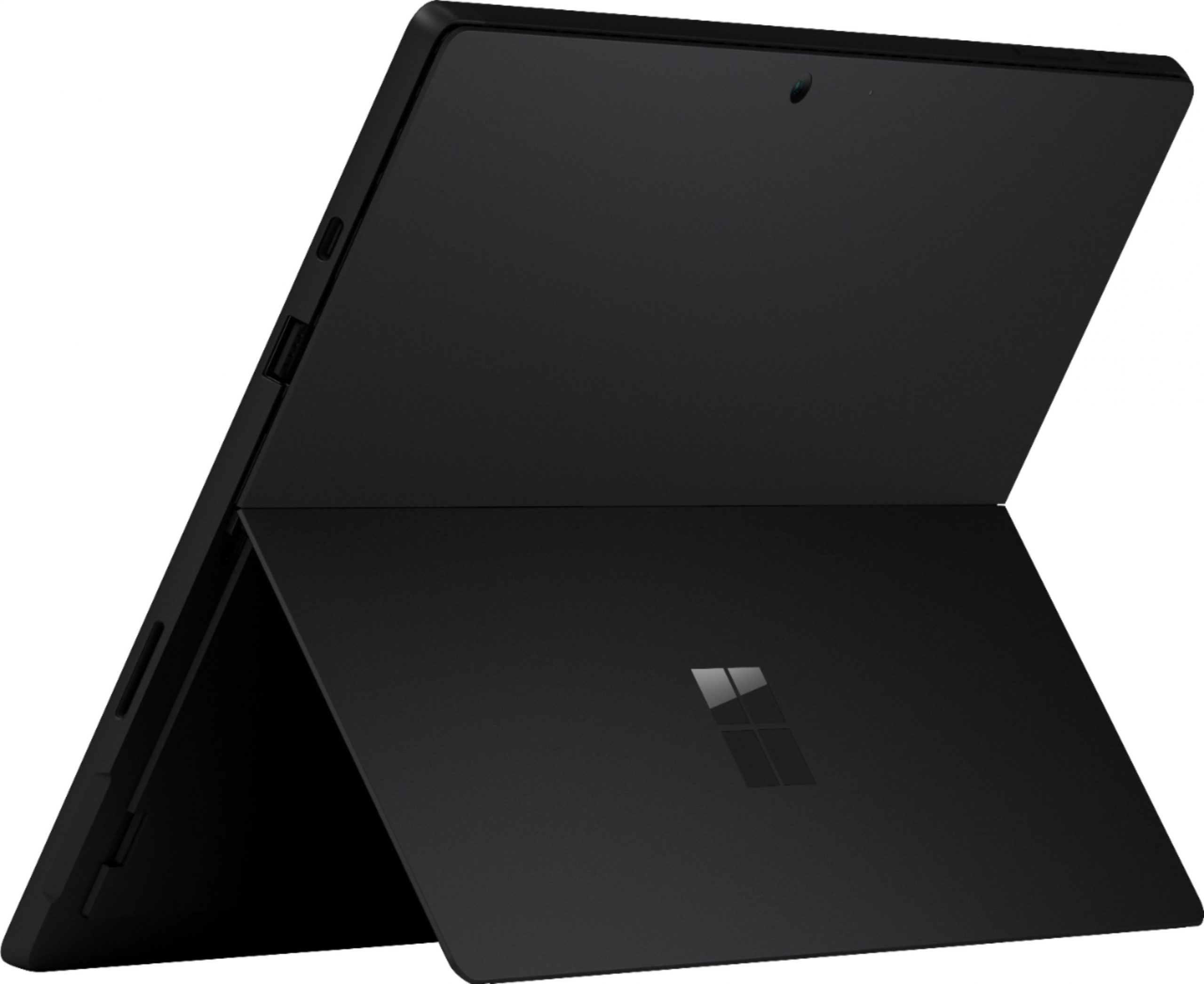 Streaming media (Spotify, Netflix and Disney+) over a period of two days resulted in approximately 7 hours use from full charge.
Day to day admin type stuff, emailing… and emailing some more, editing, subbing, and publishing articles on this website you are reading this review on right now saw around 9 hours of use before the Surface Pro 7 went in to energy saving mode.
The Surface Pro 7 easily handles Adobe's resource munching Creative Suite aswell.
There's a bunch of accessories available for the Surface Pro 7. The official keyboard case (which in my experience is a must have) is a magnetic protective case that comes in a variety of colours. The Surface Pen is essentially a stylus and mouse in one.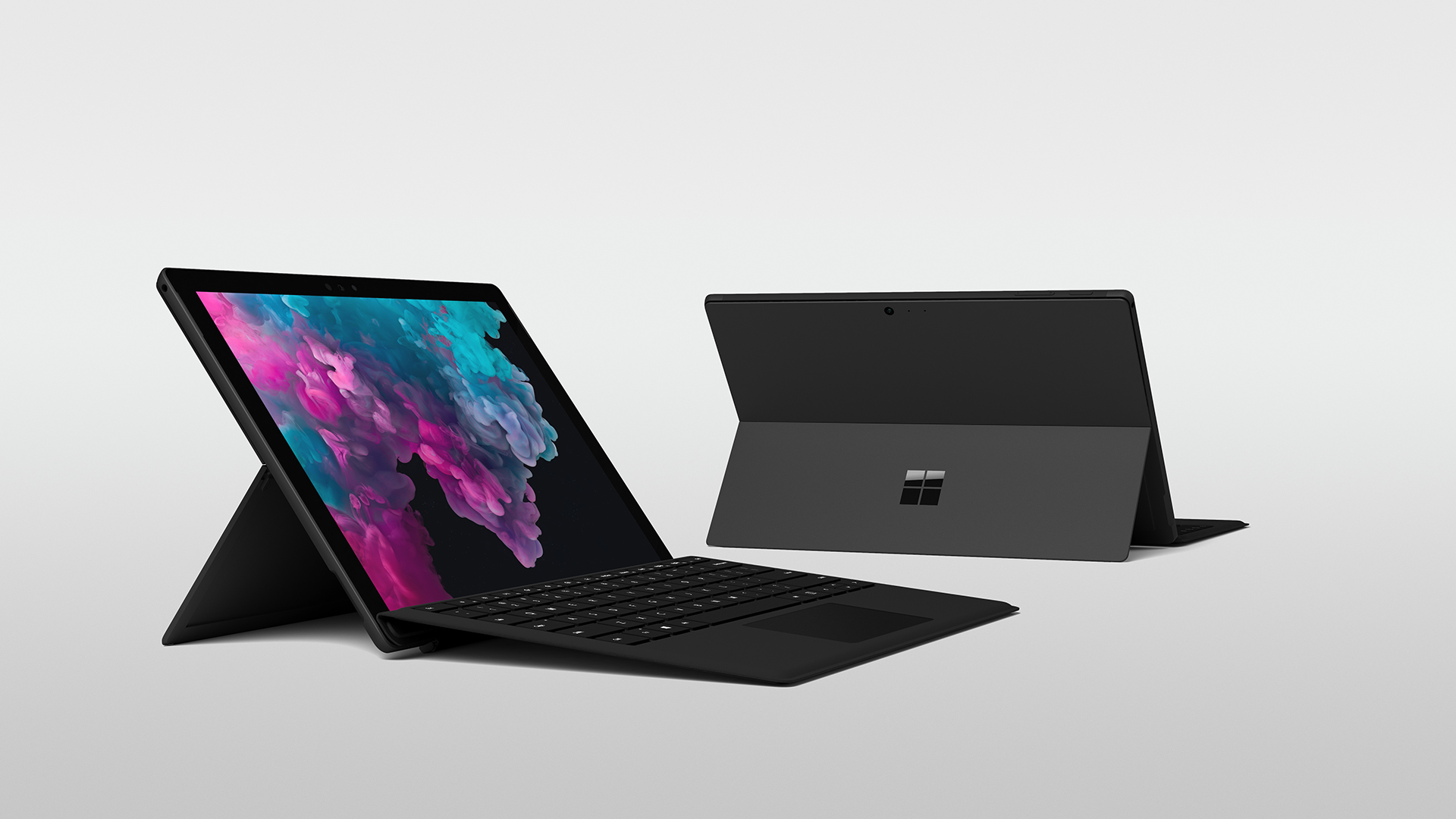 If you decide to be the ultimate Surface fanboy or girl there is also a dedicated Surface mouse and Surface wireless headphones.
Generation 7 of Microsoft's Surface Pro adds in more firepower to meet most computer based tasks. It's not a desktop replacement – yet – but those lines are blurring with every new edition.
With previous reviews of Surface Pro's I have made mention of the price being a bit excessive.
Surface tablets traditionally have been pricey. This 256Gb model for generation 7 not so much coming in at $1,799.00 NZD.
However now, in our current state of smart devices if you compare the price tag of a mid-range Surface Pro 7 to that of a current top shelf high brand smartphone they are nearly equal – yet the Surface Pro 7 offers you the productivity and convenience of Windows 10, personal computing with superior mobility.
Surface Pro 7 sees some of the same pulled over from generation 6 but with improved processors and a dramatically increased battery life which should see you right through an entire day.
Device details
Released: December 2019
Device Name: Surface Pro 7
Chipset: Intel i7
Memory: 12GB
Internal Storage: 256GB
Camera: F: 5MP. R: 8MP
Price: $1,799 (NZD)