Huawei has just announced the New Zealand launch of its latest device in its acclaimed HUAWEI WATCH GT series: the HUAWEI WATCH GT 3 Pro.
Huawei's latest flagship smartwatch has recently picked up the EISA Best Smartwatch 2022-2023 Award, and comes with a new interface design, premium materials, an ultra-clear large screen, up to 14 days battery life, ECG tracking and improved water-resistant performance that supports freediving up to 30 metres deep.
The award-winning HUAWEI WATCH GT 3 Pro makes it easy to support a healthy lifestyle, with ECG analysis and TruSeen 5.0+ data monitoring technology that enable accurate heart health measurement, as well as blood oxygen monitoring. The HUAWEI WATCH GT 3 Pro has received a CE-marking for its ECG app, an administrative sign highlighting its compliance with EU safety, health and environmental requirements allowing the service to expand to 33 European countries.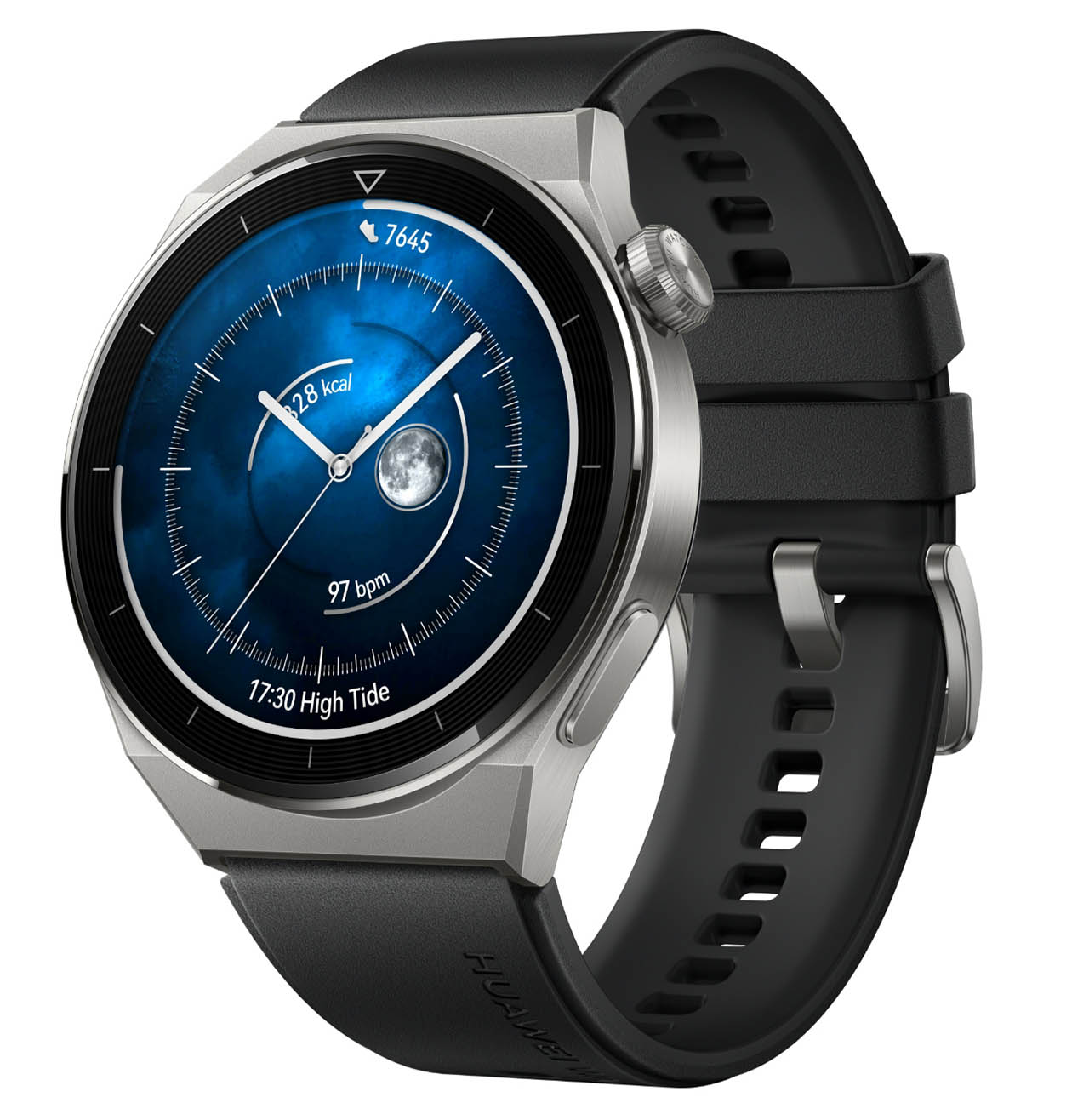 The device has also taken its sporting capabilities to the next level, with an all-new freedive mode in addition to over 100 other workout modes, for a truly bespoke workout experience. A combination of a smart running plan and Dual-Band Five-System GNSS positioning for more accurate geographic location helps runners of all abilities go the extra mile.
One of the HUAWEI WATCH GT 3 Pro's most exciting new features is its increased water resistance. After 200 rounds of water pressure testing, it complies with the engineering standard EN 13319 and achieves ground-breaking diving-level water-resistant performance, which can support freediving up to 30 metres deep.
There's even a new Free Diving Mode, which provides real-time diving information and can be hugely beneficial for anyone learning to freedive. An apnea training feature with customisable tables helps users as a personalised training assistant for improving their breath-holding capability.
Speaking at the Auckland launch event, Nathanial Fairweather, the Treasurer of Freediving New Zealand and Training Officer of Auckland Freediving Club said "technology and innovation have always played an important role in helping to train the human body to dive to depths beyond what was previously thought possible. It is great to see Huawei take an active interest in the world of freediving and develop features to support those new to the sport."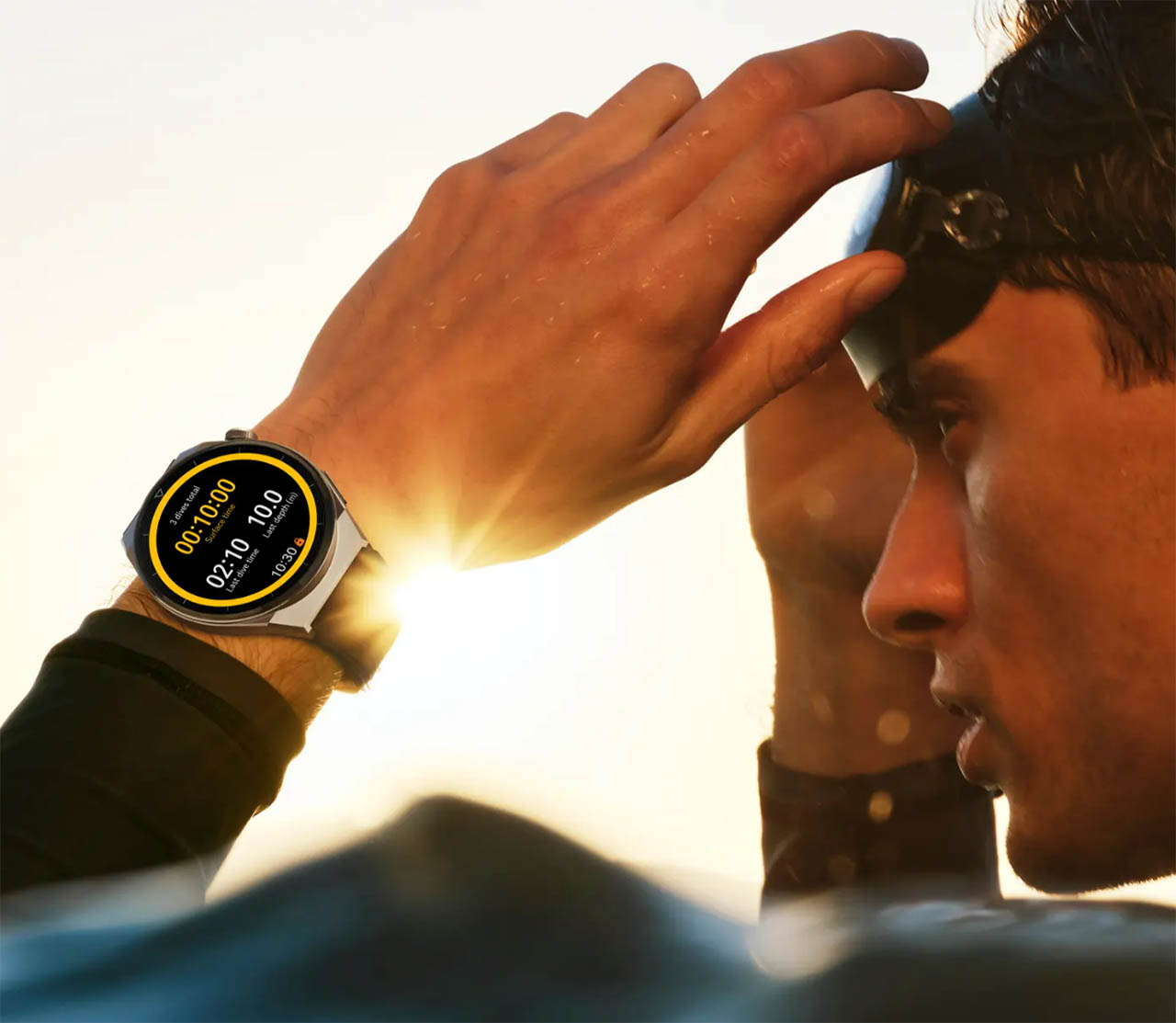 The HUAWEI WATCH GT series is inspired by the automotive industry and is named after the high-performance yet luxurious station wagon, the 'Grand Tourer' or 'Gran Turismo'. The GT was one of the first high-performance, high reliability and high horsepower sports cars and became synonymous with glamour, adventure and endurance. The HUAWEI WATCH GT series has harnessed that association with a smartwatch which holds the same ground-breaking and long-lasting qualities.
The first device in the series made a huge impact when it was launched in 2018. With its two-week-long battery life, scientific exercise guidance and professional health monitoring capabilities. It disrupted the market and became the must-have device for anyone serious about tracking their health.
The new iteration of the watch has seen innovative new features, dedicated workout modes, and even more precise health monitoring. The design has been perfected over the years, for a smartwatch as luxurious to look at as it is to use.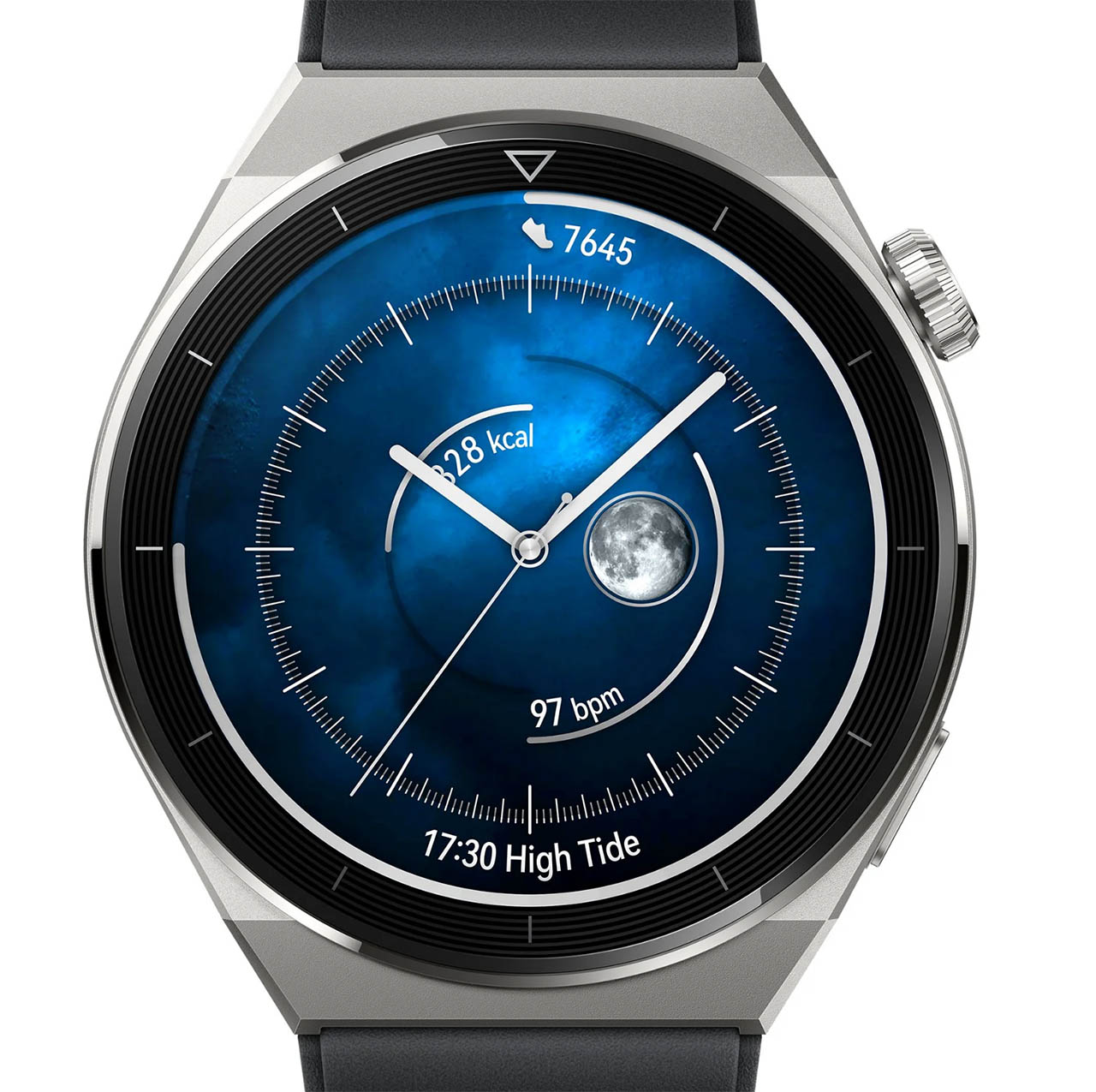 The design of the HUAWEI WATCH GT 3 Pro Titanium Edition combines the 19th century concept of futurism with cutting-edge modernity, adding up-to-the-minute design twists on the previous generation in the series.
It's equipped with a 1.43-inch AMOLED high-definition colour display. The larger face and 466 x 466 high-definition resolution offer even more clarity than previous versions so that all data can be read in an instant.
The quality of the watch's materials is evident at first glance. The strong but lightweight titanium case is designed to withstand the test of time and has been polished by master craftsmen for a three-dimensional finish. The display is made of sapphire glass, and the materials will be able to sense even the slightest changes in body temperature.
Huawei's constant pursuit of better user experience has made the watch even more comfortable to wear than its predecessors, with the overall thickness reduced by 0.5 mm compared to the HUAWEI WATCH GT 2 Pro offering unprecedented quality and comfort.
HUAWEI WATCH GT 3 Pro Titanium Edition has a tactile 3D rotating crown in a traditional watch style. It allows the user to zoom in and out, slide through different interfaces, or adjust settings, all by clicking and rotating the crown.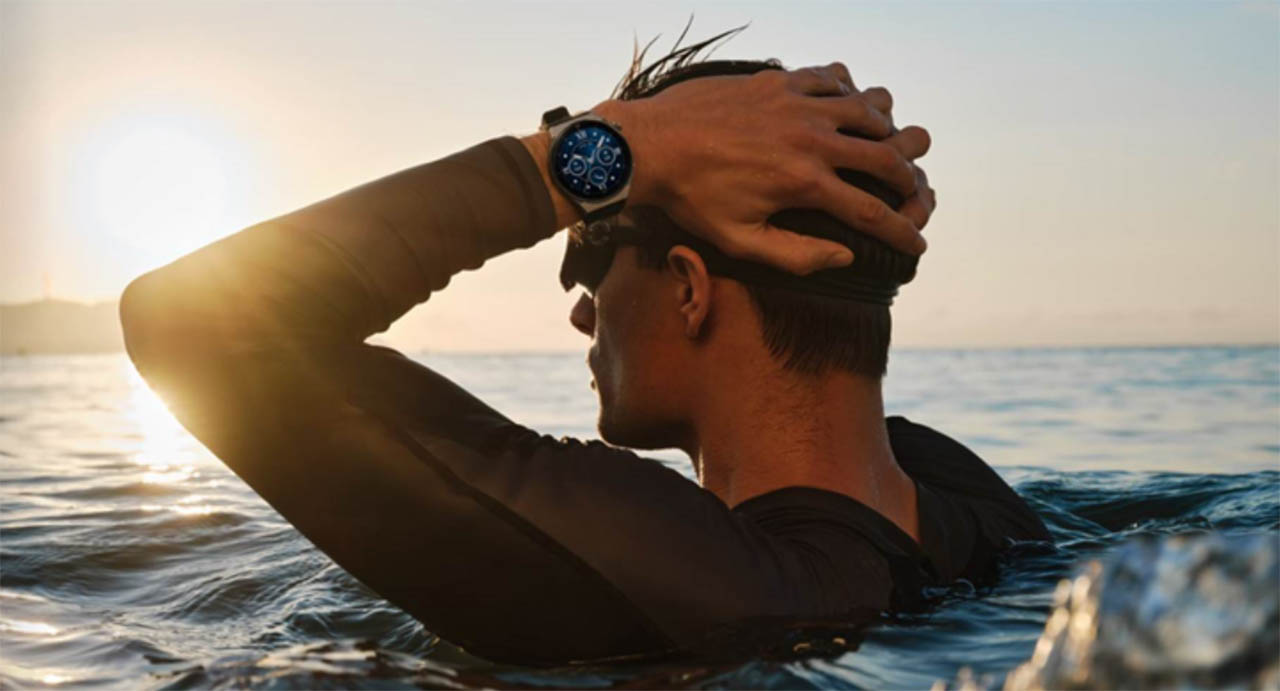 As well as looking and feeling great, it also makes prioritising health easy with an ECG button – an upgraded version of the feature of the HUAWEI WATCH GT 2 Pro ECG. The button combines with electrode technology to collect and measure ECG data to an incredible level of elegance and accuracy.
HUAWEI WATCH GT 3 Pro inherits the sporting DNA of the GT series but with upgraded hardware and software capabilities and even more comprehensive sports modes. It has a built-in dual-band five-system GNSS and features five major satellite systems: GPS, Beidou, GLONASS, Galileo, QZSS, spanning the entire globe with excellent anti-interference performance, minimising the likelihood of any error.
Sport is a social activity, and HUAWEI WATCH GT 3 Pro allows users to share their workouts with their friends, and invite them to join in. The watch can keep up with wherever your workout takes you, with offline and Route Back Navigation to help you find your way.
Among the over 100 workout modes is the intelligent running plan. It helps create a personal running plan based on an individual's physical and running history and performance goals. It assesses data such as pace, heart rate, distance, and more to offer professional advice which evolves with the runner.
Other workout modes range from golf to cross-country skiing to free training and there's plenty of storage space as well as Bluetooth music playback, so you can listen to your workout playlist anytime, anywhere.
One of the main functions of a smartwatch is health monitoring, and HUAWEI WATCH GT 3 Pro comes with more accurate health features than before including the electrocardiogram function (ECG). Huawei's ECG app packs a high-performance ECG sensor module, which provides single-lead ECG measurements, real-time analysis, and sinus rhythm, atrial fibrillation, and atrial and ventricular premature beat reminders, to stay informed and proactive about heart health-related risks. Plus, HUAWEI TruSeen 5.0+ supports SpO2 monitoring, allowing you to measure your oxygen levels at any time.
HUAWEI WATCH GT 3 Pro has a whole host of other health features to help monitor your general wellbeing. There's a menstrual cycle management function, which keeps track of your cycle and reminds you in advance so you never get caught short. You can set yourself health challenges, track your sleep and water intake, set reminders to take medication and more.
HUAWEI WATCH GT 3 Pro Series inherits the ultra-long battery life of the HUAWEI WATCH GT Series, typically providing HUAWEI WATCH GT 3 Pro Titanium Edition up to 14 days battery life (or eight in heavy usage scenarios. Wireless charging and a 30% faster charging speed compared with WATCH GT 2 Pro make it quick and easy to charge when you're on the go. HUAWEI WATCH GT 3 Pro supports Bluetooth calls, and an intelligent voice assistant and so much more.
HUAWEI Watch GT3 Pro Titanium Edition with the black fluoroelastomer strap is available from 21 October 2022.
Be a supporter of STG