ASUS Republic of Gamers (ROG) today announced to us at StG the launch of Zephyrus, the world's slimmest gaming laptop powered by a 7th Generation Intel Core i7 (Kaby Lake) processor and the latest NVIDIA GeForce GTX 1080 graphics, which was also on display at Computex 2017.
Zephyrus features the Windows 10 Creators Update, which improves the performance of PC games via the all-new Windows Game Mode, and makes it easier to perform native game-streaming with Beam, Microsoft's streaming service.
The 15.6-inch Zephyrus features an ultraslim profile and incorporates the ROG-exclusive Active Aerodynamic System (AAS) — a specially designed cooling system. It also features customizable ASUS Aura RGB lighting effects and a super-fast 120Hz panel with wide-view technology, 100 percent sRGB color gamut and NVIDIA G-SYNC for breathtaking gaming visuals.
ROG Zephyrus is the result of persistent dedication to gaming innovation. ROG aims to create laptops that are slimmer, cooler, quieter and more powerful than ever before — to fully address the needs of today's highly mobile gamers. Zephyrus has a blade-inspired design, resulting in an ultraslim and sleek profile that tapers from 17.9mm down to just 16.9mm at its thinnest point. Its compact dimensions make it the world's thinnest gaming laptop powered by the 7th Generation Intel Core i7 processor and the latest NVIDIA GeForce GTX 1080 graphics, delivering unstoppable gaming performance. The incredible CPU and GPU combination allows Zephyrus to compete successfully with larger devices and desktops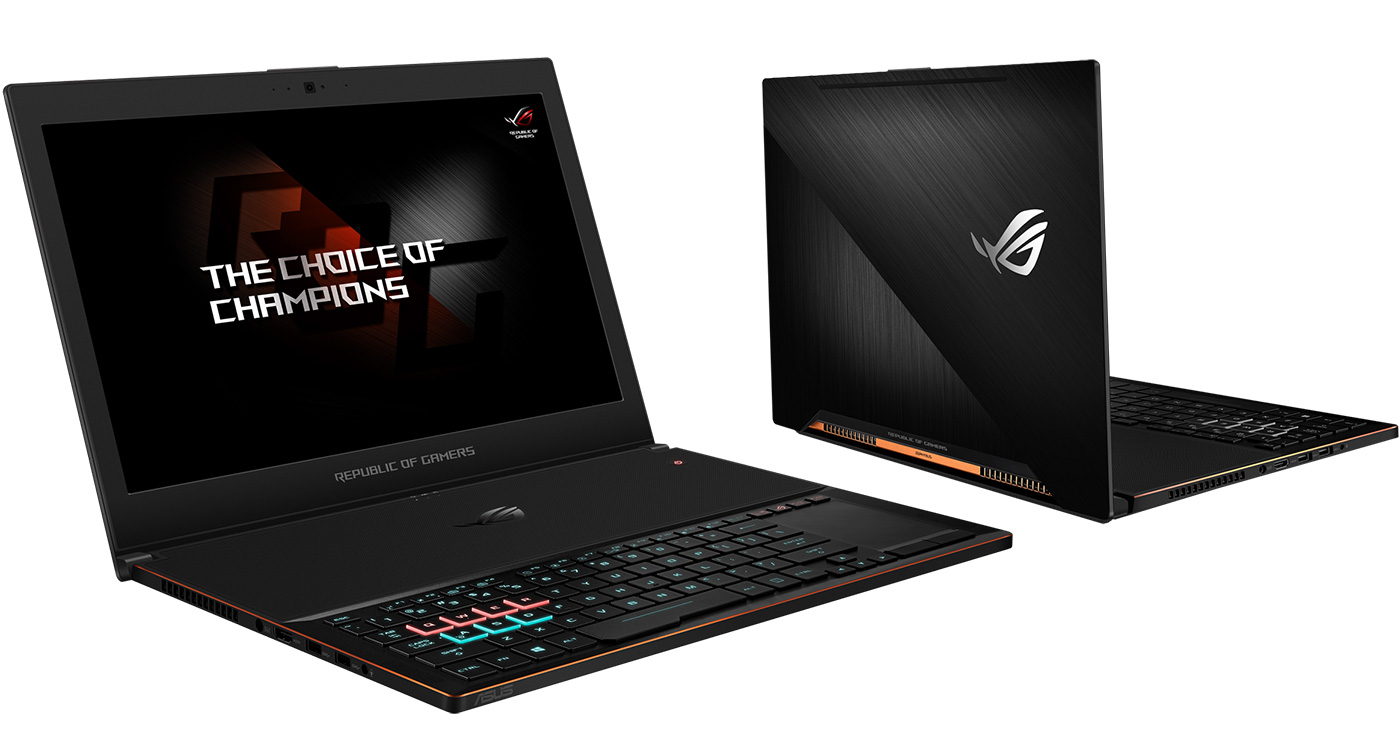 ROG Zephyrus is cooled by an exclusive Active Aerodynamic System (AAS) that runs cooler and quieter without sacrificing performance. AAS incorporates unique AeroAccelerator (AA) technology that increases the speed and efficiency of airflow through the laptop.
The fan's 3D-curved surface cover and accelerator guides enhance airflow and move heat away from the components more efficiently. When Zephyrus is opened, a portion of the bottom of the chassis flexes to increase the airflow volume by 20 percent and further increase air circulation. AAS maximizes system stability as well as gaming and thermal performance, and it allows full utilization of the CPU and GPU, so gamers can engage in marathon sessions without fear of interruption.
ROG Zephyrus features a keyboard positioned at the front of the chassis — a design that allows better cooling of internal components while providing a more comfortable and familiar experience for gamers accustomed to desktop keyboards. ASUS Aura RGB lighting technology provides dynamic and customizable lighting effects over the entire keyboard, as well as separately highlighted customizable effects for the WASD and QWER key groups, allowing users to create a gaming ambience that matches the feel of their game.
Anti-ghosting keys ensure commands are instantaneously and correctly interpreted — even when up to 30 keys are pressed simultaneously. The keys have been ergonomically designed to provide optimum comfort and typing accuracy. Zephyrus positions the touchpad to the right of the keyboard and also integrates a 10-key function that is easily activated by a hot key. When activated, a red backlight illuminates the 10-key functionality.
ROG Zephyrus is equipped with a 120Hz display that enables smooth gaming at a true 120Hz frame rate. NVIDIA G-SYNC display technology synchronizes the display's refresh rate with the NVIDIA GeForce graphics card's frame rate, ensuring ultrasmooth visuals. G-SYNC reduces lag, minimizes perceived stutter, and eliminates visual tearing — providing the smoothest, fastest and most breathtaking gaming imaginable, without affecting system performance.
Wide viewing angles and a 100 percent sRGB color gamut also allow the panel to produce outstanding, lifelike colors from any angle. The laptop is also equipped with a USB Type-C (USB-C) port with Thunderbolt 3, allowing G-SYNC and 4K UHD display output, fast data transfers and power delivery.
Official retail release date is yet to be confirmed – so stay tuned.