Lights, sound and survival.
JBL's full sized over the head Quantum 910 gaming headphones have it all, customisable RGB lighting on the outer side of the ear cups, immersive spatial 360 sound and best of all they're wireless.
Connecting up via bluetooth or via the 2.4GHz USB-C dongle (adaptor included for standard USB) you can literally pair up these bad boys to any gaming device.
And like all late model JBL headsets you can dual pair – meaning that you have these connected up to more than one device, which saves you from having to disconnect from one to play on another.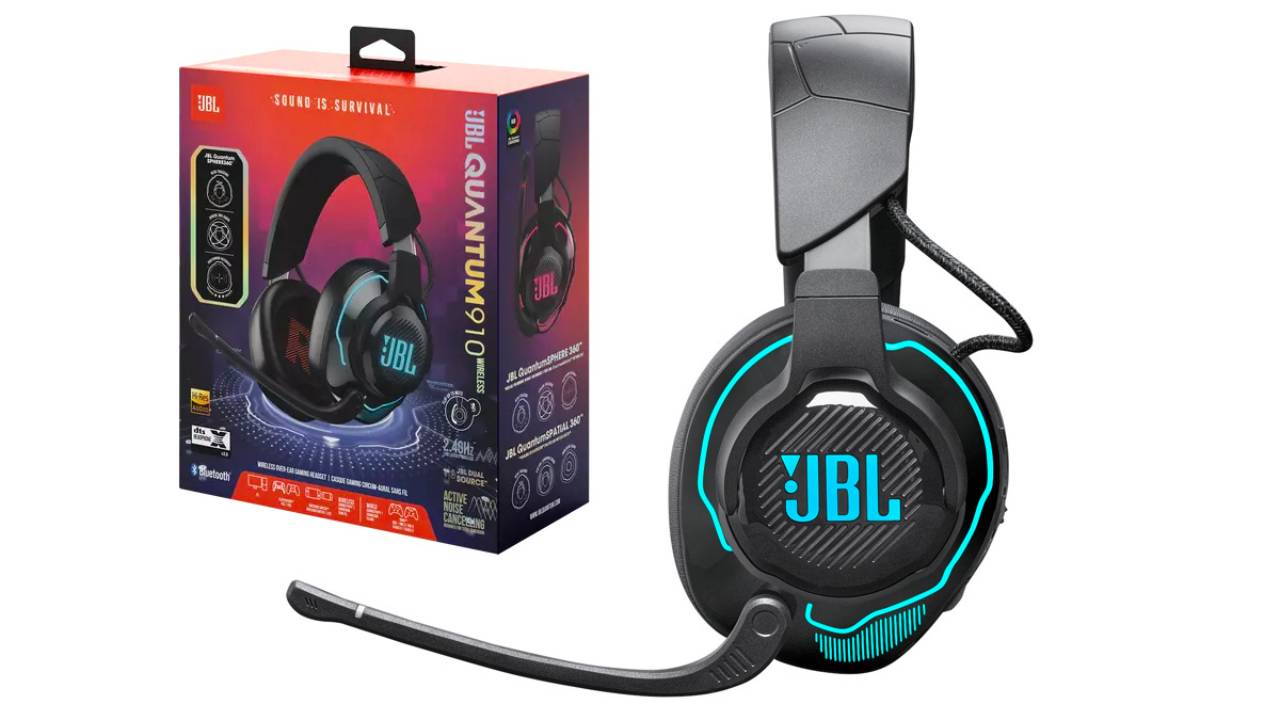 PS5, Xbox, PC and even mobile, and I'll mention here how great the Quantum 910's sound with media streaming and music.
When using these on PC you'll experience the optimal output as the builtin JBL QuantumSphere360 with headtracking kicks in and gives a true-to-life and almost surreal 3D audio soundscape.
Honestly there's nothing quite like being stealthy in-game and being able to hear even the most minute whisper of movement as someone tries to quietly sneak up on you.
If you're a social gamer, JBL have you sorted here to.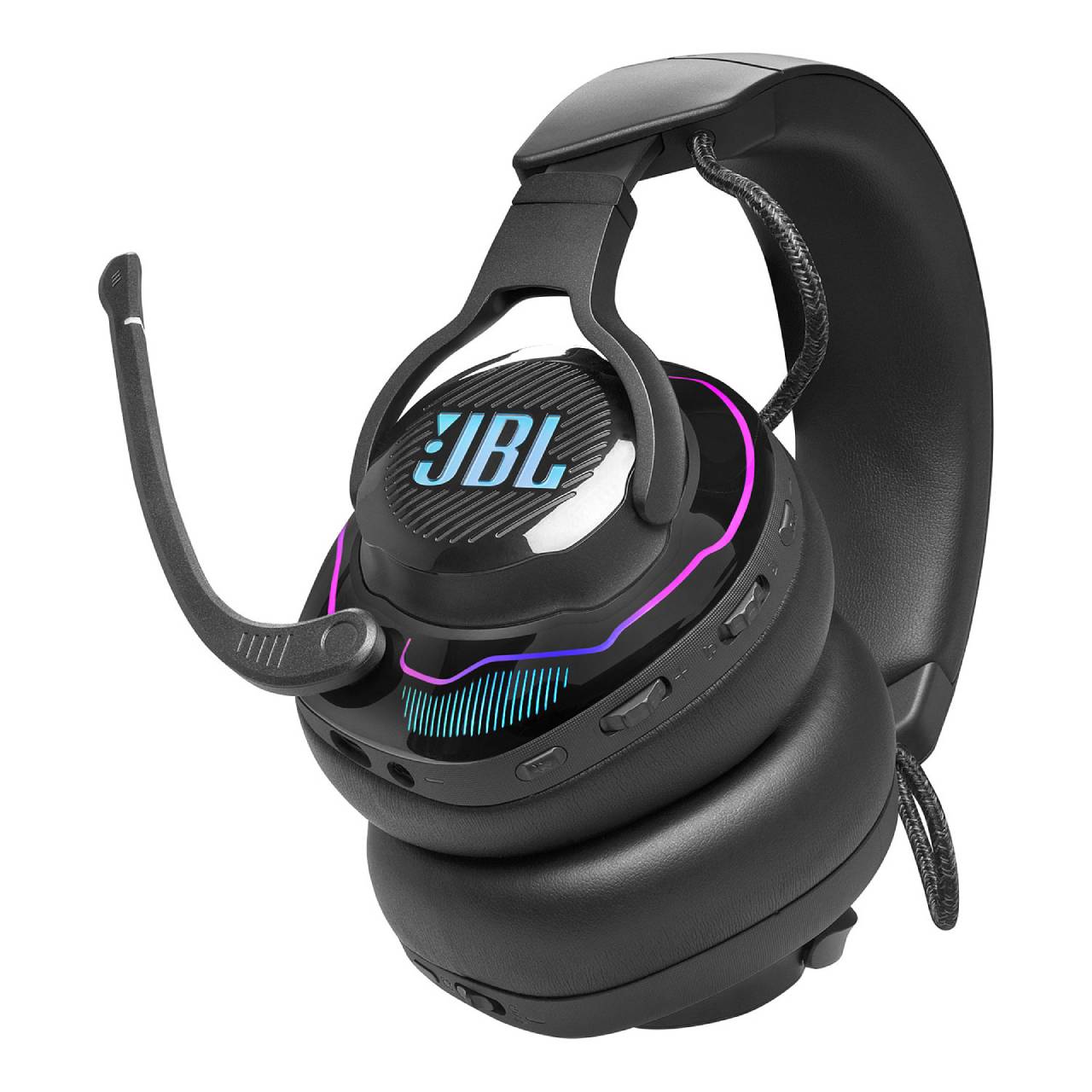 The ANC (Active Noise Canceling) is second to none. To test this, I started chatting on Discord all the while slowly pumping up the volume on a Spotify stream via an Alexa device in the background.
While I was able to hear it, albeit muffled by the comfy large ear-cups, the gamer I was talking with couldn't hear my background one person party. Impressive.
JBL have added everything to the Quantum 910. Clarity and A.I. technology for voice, the aforementioned Spatial Sound and of course the killer audio output overall.
Being wireless you will need to charge them.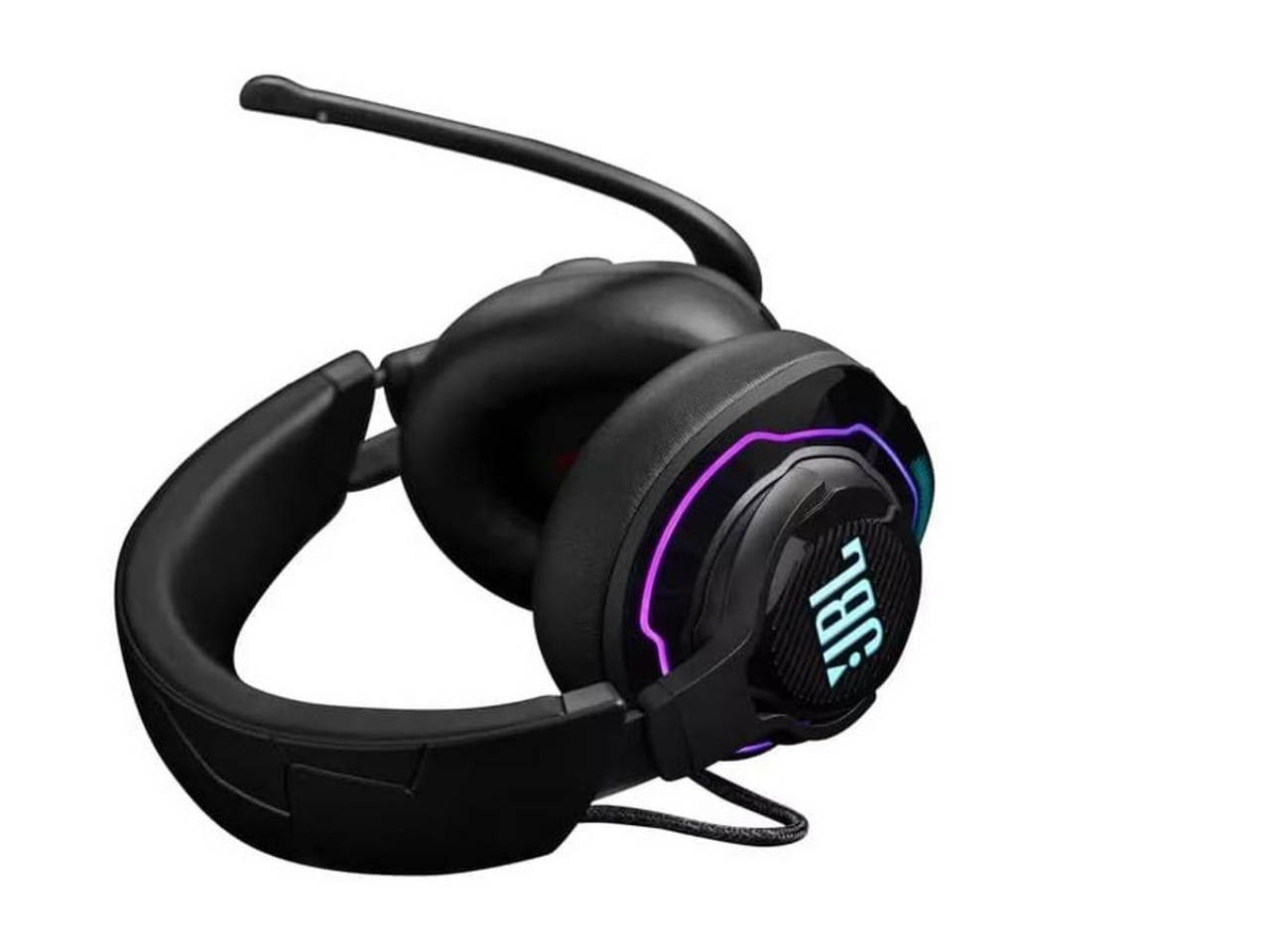 I thought that a wireless headset with an RGB light-show would drain the battery real quick, if used.
Essentially it doesn't. Overall you'll get up to 45 hours consistent use on a full charge. That's over one week of 8 hours a day gaming, with the RGB turned off.
But, if you're like me and you like flashy lights it is only going to limit the battery life by roughly 39 hours.
Charging is via the supplied USB-C cable and if you're caught short and need to game, there's a 3.5mm socket to plug yourself in.
Testing this very generous battery life (with RGB lighting enabled) over a two week period (roughly 9 days, 5 – 6 hours of gaming), I've not needed to charge them up yet.
The boom mic can bend so that it's not in your face if you're not wanting to be chatty and you have toggle buttons for audio etc on the left ear-cup.
The JBL Quantum 910 gaming headset has well exceeded expectations, and is now my forever go-to for gaming audio.
Whatever your into (console, mobile or PC) the JBL Quantum 910's is the best weapon to have in your arsenal.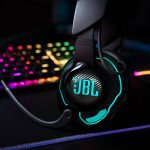 JBL Quantum 910 Gaming Headset Review