Yoshi vs Mario, Peach vs. Bowser, you vs. the entire Mario world.
Mario Tennis Open for 3DS has just released and is fast becoming a must have contender for your gaming on the go collection.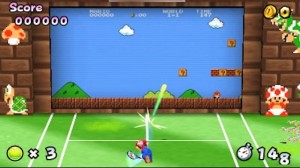 Focusing on actual real world Tennis rules, you will have a vast selection of characters before you; Yoshi (Green), Mario, Peach, Donkey Kong, Bowser, Boo and more.
There are 12 characters in total when you first start out, however four Bonus characters are able to be unlocked, and/or you can also opt to use your Mii character (for which you can open up over 20 costumes throughout play).
Each of the characters has their own specific skills, strengths and weakness. You can also volley up powered shots and seriously, once you start becoming competitive in play, you will find yourself being picky about whom you actually play as.
You can also buy equipment and clothing/accessories for your nominated character(s) within the game.
Game Menu is divvied up by way of Tournament, Exhibition and Special Games.
Tournament is the main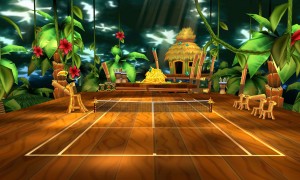 stay, the slice of tasty cheddar within the sandwich.
Broken into different selections this is your 'Career' part of the game where you strive to gain Stars.
Infact Star earnings are the only way forward, if you do not have enough, you cannot proceed and will find yourself having to repeat Levels to get your tally up.
World Open is the first set under Tournament. This is then meted out by varying Cup stages; Mushroom Cup, Flower Cup, Banana Cup and Champions Cup.
Once you have worked your way through these (and making sure you have enough Star earnings) it is then on to the Star Open, again comprising of various higher ranking Cup matches (another 4 in total).
Exhibition is similar to Quick Play, where you choose your character, Doubles or Singles game and then embark on a full out racquet jaunt against your CPU chosen opponent.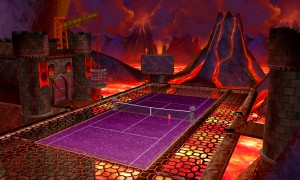 Special Games features exactly what it says. Super Mario Tennis is under this game option and it is a fantastic singles battle against you as Mario with a ball and racquet and, well, the original Super Mario world. (I think I got more hooked on this than the actual Tournament).
Others are Ring Shot, Galaxy Rally and Ink Showdown. Each game (feels alot like a mini-games) have their own respective Rules for play and also allow you to reap differing rewards.
In all, there are family friendly endless hours of varied gameplay to be had with Mario Tennis Open, and all in glorious 3D.
Kiddy-fied and signature to Mario and crew, a good solid title that I found to be a great pick up and play.
[jwplayer config="STG Player" mediaid="435″]
Genre: Sports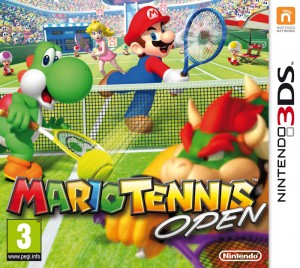 Platform: Nintendo 3DS
Publisher: Nintendo
No. of Players: 1 – 2